If, like us, you're a huge fan of the latest celebrity goings-on, you'll no doubt be interested to find out what products they love to use – as well as the places they like to visit. Impressed with how fresh-faced and glowing a certain star's skin looks? Checklist knows the brand she uses to keep her complexion pimple-free. Read all about the latest reality couple's wedding day and want to know more about the venue they tied the knot in? Again, we're here to help. Checklist has even unearthed the aesthetics procedure a TV star has to alter her looks, as well as the latest books and endorsement deals your favourite famous faces have been getting on with. Read on for who's doing what in the UK celebrity world.
1. LISA SNOWDON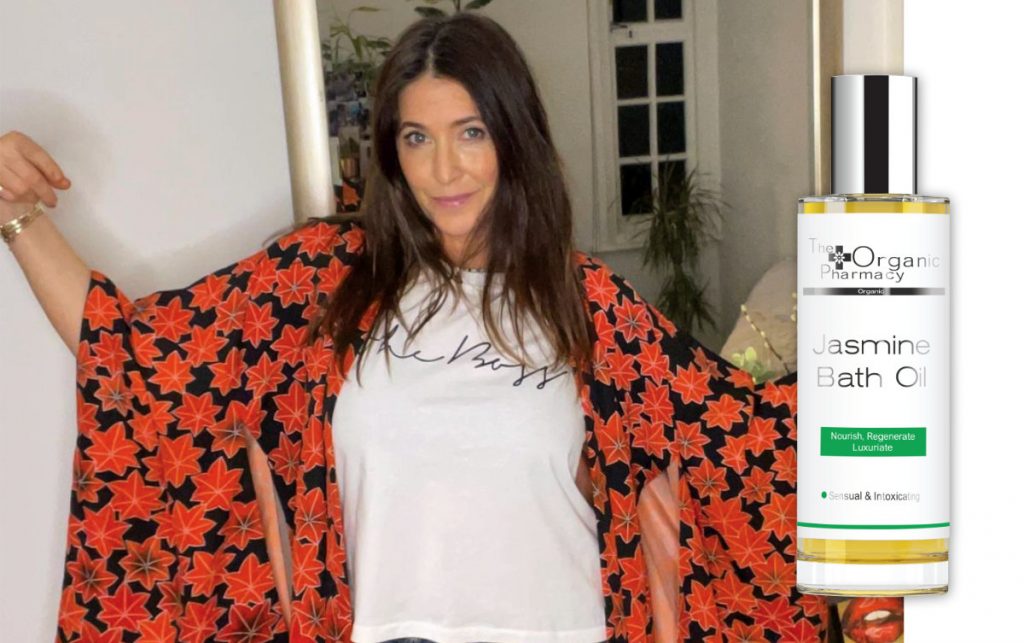 Want to know what the TV and radio presenter uses when she's in need of a soak in the bath to destress and relax? Checklist's got you covered – we've discovered Lisa Snowdon is a huge fan of The Organic Pharmacy, singing the brand's praises on her vlog on Facebook. In particular she shouted out about the wonders of the Jasmine Bath Oil, £45, an uplifting and deeply relaxing bath oil packed with cold pressed Jojoba, Rose Hip, Wheatgerm, Sunflower and Jasmine. Leaving the skin incredibly soft and nourished, it also works to relieve stress and makes a brilliant bedtime bath ritual. "It smells amazing – so good," said the star back in November. "I love it [as it] just helps you unwind [and] obviously helps to eliminate anxiety." If it's good enough for Lisa it's good enough for us.
2. MILLIE MACKINTOSH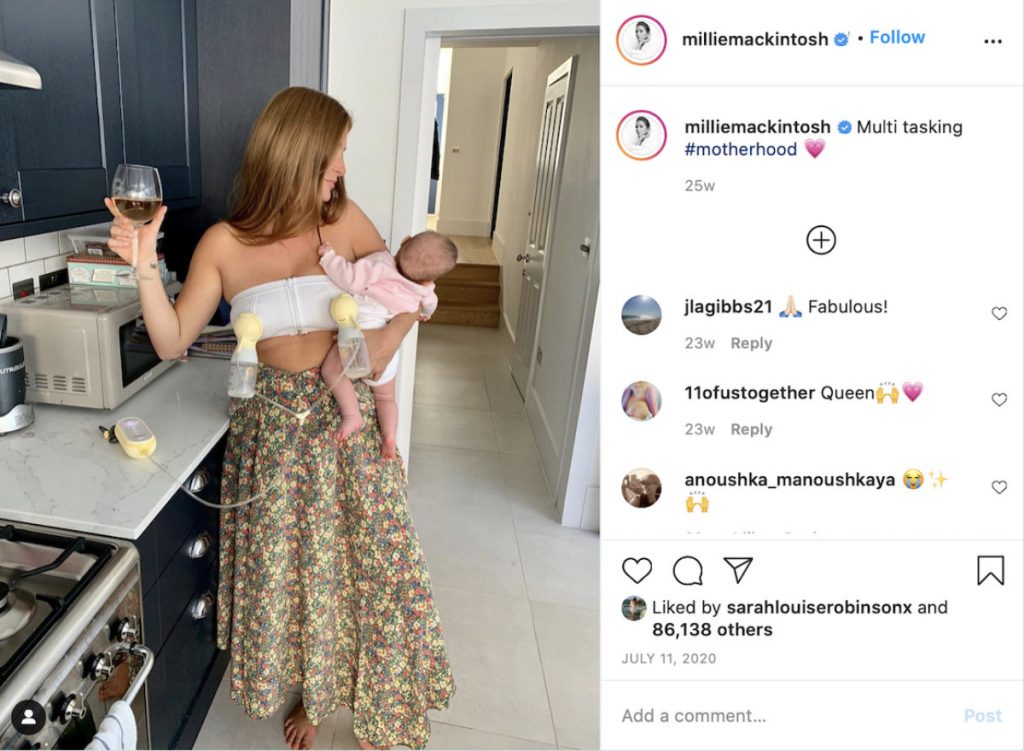 Former Made in Chelsea star Millie Mackintosh isn't afraid to portray the less-than-glam side of being a mum, posting a photo of her pumping breast milk to feed to her daughter Sienna! Millie, who wed former co-star Hugo Taylor back in 2018, was snapped in her kitchen while holding her daughter and pumping using the Medela Freestyle Flex 2-Phase Double Electric Breast Pump, £349. Designed to easily fit in to your life as a new mum, the innovative device is lightweight and simple to use, including smart technology which connects to the MyMedela app, helping mothers track their progress and patterns. It easily charges via USB, providing up to two hours on a single charge. The soft and flexible rim is clinically proven to get 11% more milk, and it even comes with the brand's revolutionary PersonalFit Flex, a unique oval-shaped breast shield that offers a truly personal fit for mums.
3. JESS IMPIAZI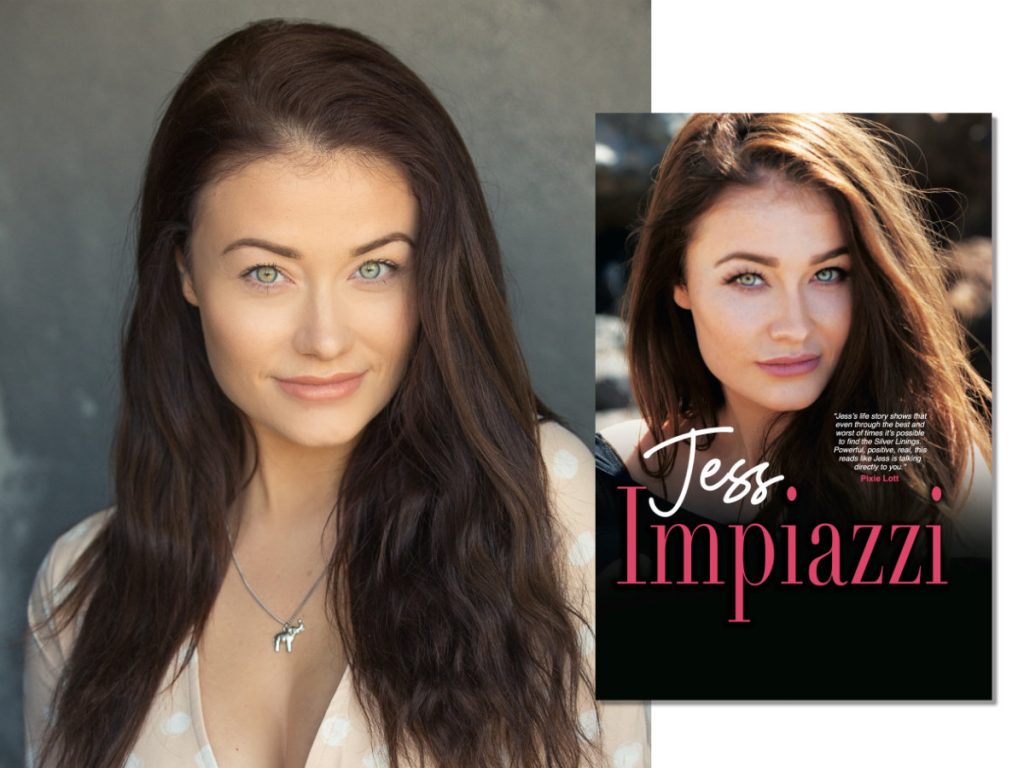 Living your life while being filmed for a TV series isn't all glitz and glamour, as reality TV star Jess Impiazi writes about in her new book, Silver Linings. The celebrity memoir from the Ex on the Beach and Celebrity Big Brother star reveals the raw truth behind life on the big and small screens. Showing her battles with mental health, infidelity and divorce, you'll discover how Jess supported her alcoholic father, saw her mum hit by sudden blindness, and find out how she felt after losing her 13-month-old nephew to meningitis while in her care. An extract about her time on Ex on the Beach reads: "There was a huge amount of pressure to just 'get with' boys as quick as possible to make better storylines. Because of this pressure, I ended up with a really bad bout of anxiety I couldn't shake. This was especially true after one of the producers, during the first or second night, said, 'Lots of shagging tonight please, girls.'"
4. LUCIE DONLAN & MOLLY SMITH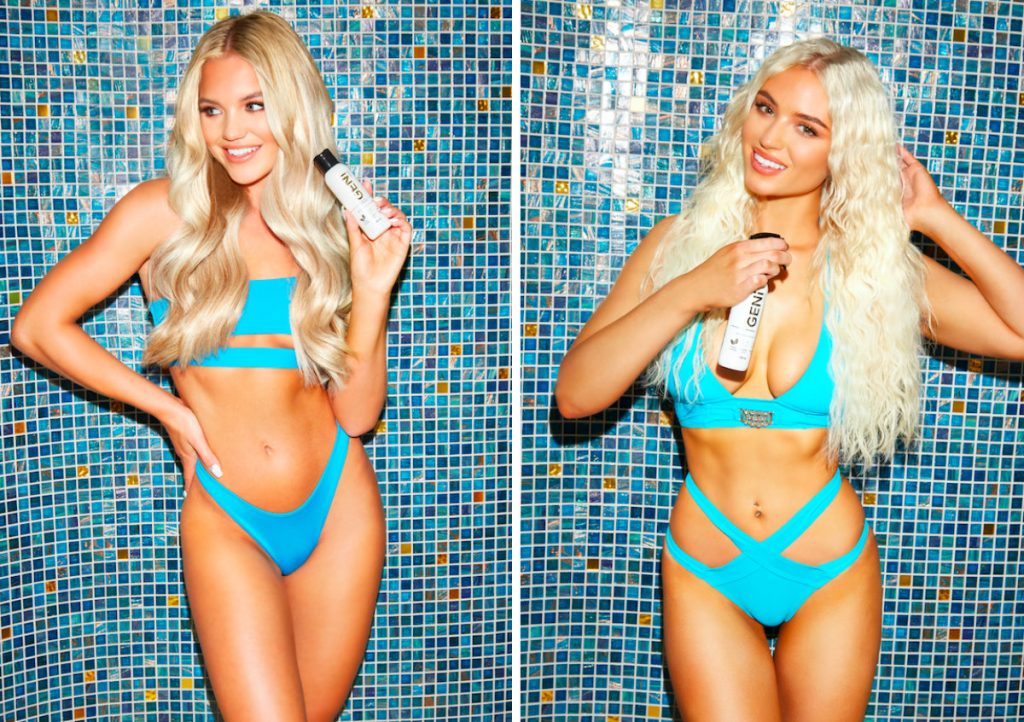 Love Island contestants are known for preening during their time on the show, bagging endorsements for beauty, fashion and grooming brands the minute they leave the villa. Two such stars – season five's Lucie Donlan and season six's Molly Smith – are no exception, recently announced as the faces of at-home hair smoothing kit, GENi Hair. This revolutionary treatment eliminates frizz and dryness in one application, achieving long-lasting volume and incredible silkiness for up to 12 washes – without straighteners or a trip to the salon. Including a smoother and leave-in treatment, the GENi hair kit transforms hair and extensions in 20 minutes. "'I surf nearly every day and couldn't believe how my normally curly hair turned straight, glossy and sleek," says Lucie. Fellow Love Islander Molly agrees: "I put the treatment on before I went away and my hair wasn't frizzy dry or flyaway. GENi was a game changer for me."
5. KATIE PIPER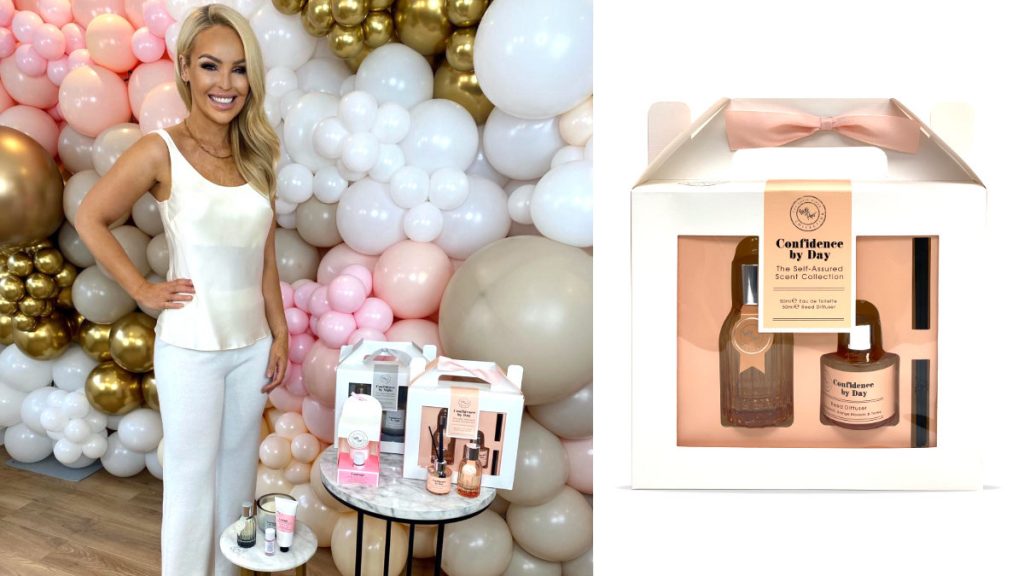 We've long been a fan of author and TV presenter Katie Piper, who continues to inspire and amaze ever since she was subjected to a violent acid attack back in 2008. Her latest project sees the philanthropist launching her very own product range, available exclusively at Superdrug. Featuring in 400 stores and online, Katie's debut collection includes Confidence by Day (£22), Confidence by Night (£22) and Courage – Perfect Little Perfumes (£6). Each product has been specifically designed by Katie herself, with special attention given to producing scents which inspire feelings of confidence and courage. What's more, for every purchase made, five per cent of profit will be donated to The Katie Piper Foundation, supporting burns survivors in their rehabilitation and recovery.
"I'm thrilled to be launching my debut Katie Piper product line in Superdrug," says the star. "I think what we've all learnt [last] year is that it's important to treat yourself and look after 'YOU', so I hope my products act as a much needed pamper after a tough year for all of us."
6. STACEY SOLOMON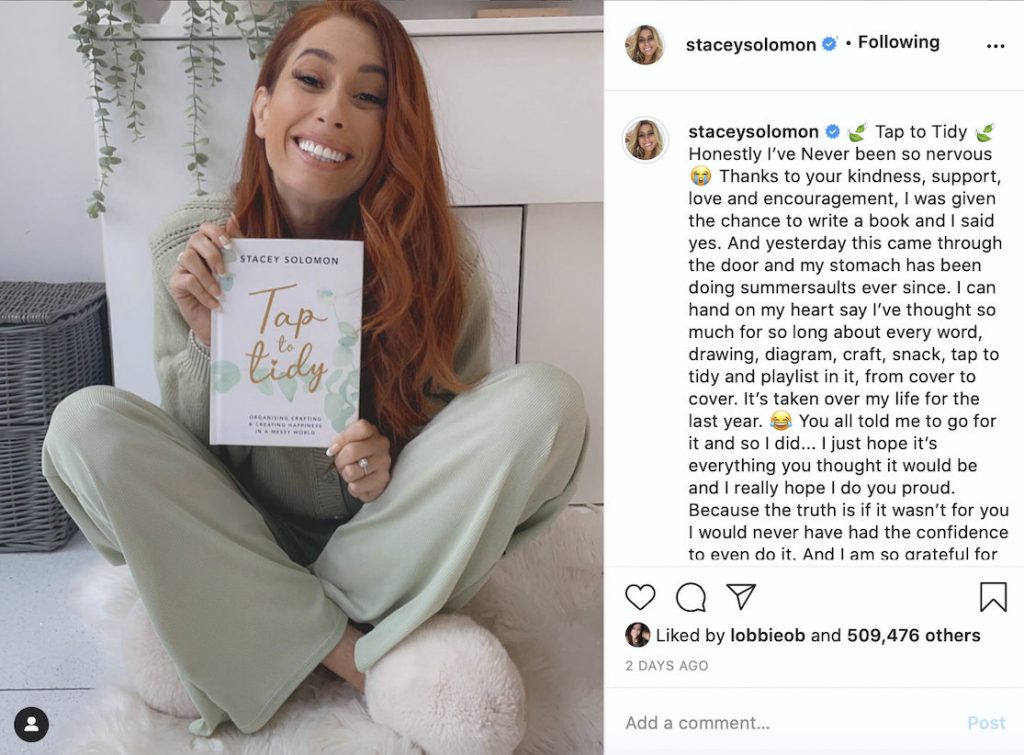 If you're one of Stacey Solomon's four million followers on Instagram you'll know a few things about her: she has a junk trunk in her back garden, she makes animals out of fruit and is partial to a fejka or two (or 10!). You'll also know her favourite three words, Tap To Tidy.
Stacey's Instagram stories show her 'tap to tidy', from an overflowing snack cupboard to any crafting project she sets her mind to. Open and honest about the ups and downs of everyday life with her community of followers, it's crafting and tidying that brings calm to Stacey's mind in the midst of a busy family life. Now, for the first time, Stacey is sharing her Tap To Tidy method, hacks, recipes and crafting make-ups all in one place in her new book, Tap To Tidy. "Honestly I've never been so nervous," writes the star on her Instagram. "Thanks to your kindness, support, love and encouragement, I was given the chance to write a book and I said yes. I can hand on heart say I've thought so much for so long about every word, drawing, diagram, craft, snack, tap to tidy and playlist in it, from cover to cover."
7. ANNA VALKI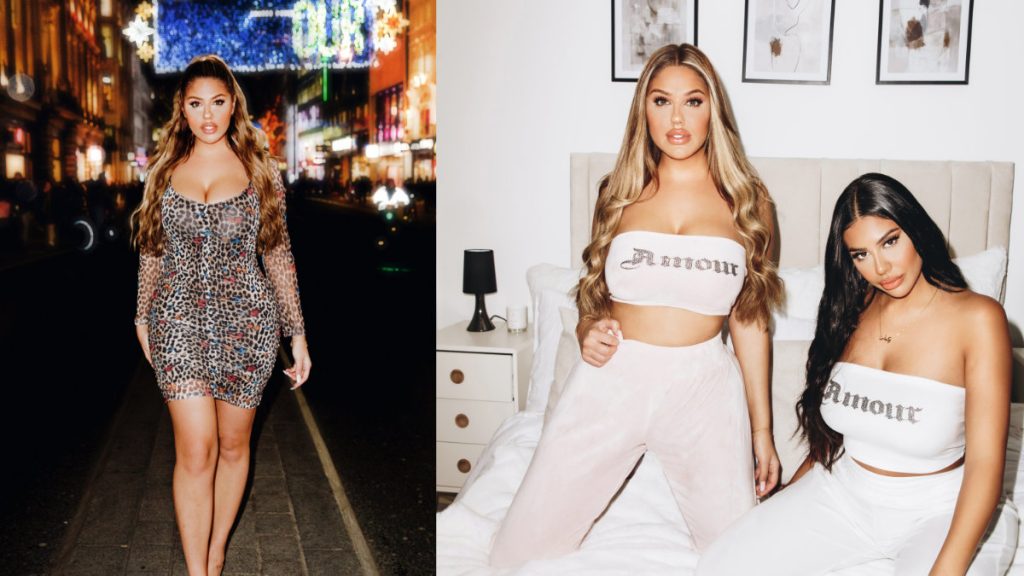 While loungewear might still be the number one choice while we're staying at home, here at Checklist we're hoping for a slightly more glamorous line-up of fashion trends to emerge post COVID-19. Heading up that glamour is none other than Love Island 2019 star Anna Vakili, who, along with her sister Mandi, has announced a collaboration with Select Fashion. Entitled Select x Vakili Sisters, this streetwear-inspired, sultry, urban glam and comfort line-up consists of must-have garments, timeless silhouettes and amazing quality fits. The head-turning 56-piece range, embodying both the sisters' style and vision, centres on eye-catching wardrobe staples, from ruched detailing and luxe faux fur to chic loungewear sets and novelty knits. "It gives us so much joy and enthusiasm to announce the launch of our edit with Select Fashion," says Anna and Mandi. "With cool, casual styles that can be dressed up or down, get ready to stand out in our Vakili-inspired select pieces."
8. ZARA MCDERMOTT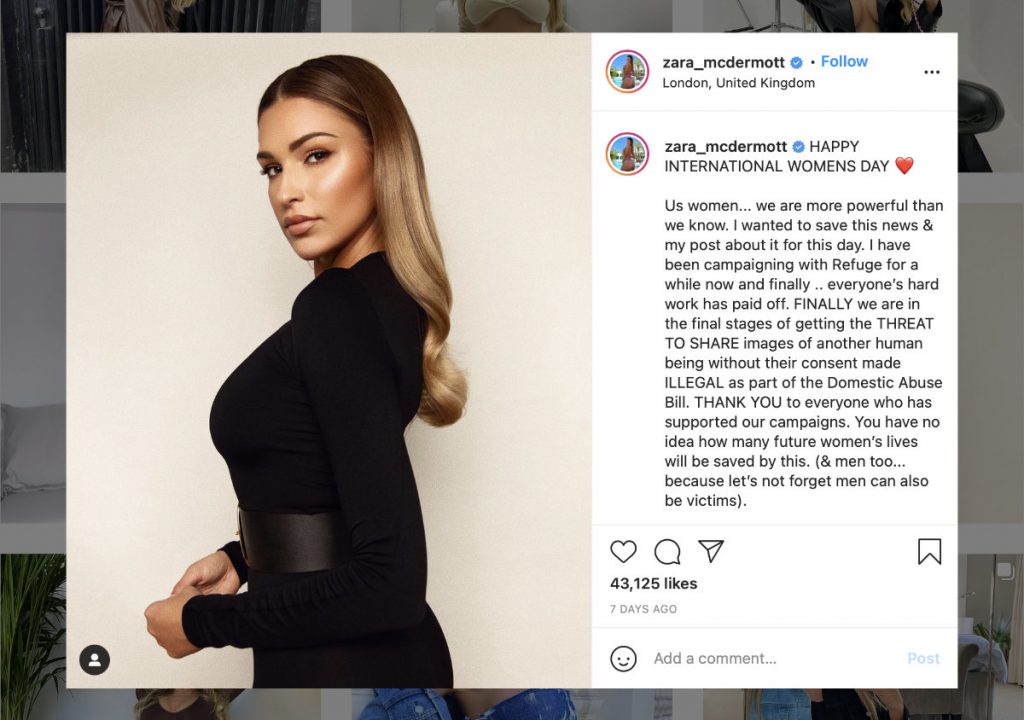 Love Island star and Sam Thompson's girlfriend Zara McDermott has always looked incredible to us. However, the reality star was unhappy with her appearance, turning to Kiss Aesthetics in 2018 to help her address the problem. "[A] crevice in my right jaw was causing me to look like I had a bad double chin from my right side," said the star. "Also I felt like it was getting worse as I got older. I've always had it since I was younger and it's where the artery runs down my face. So Kiss Aesthetics put a little filler into the crevice and then balanced the whole thing out with the other side. And now it's completely perfect and symmetrical!"
Kiss Aesthetics offers an exclusive range of industry leading non-surgical cosmetic treatments, with 10 clinics operating across the UK in Essex, Windsor, Newcastle, Wales, Manchester, London, Birmingham, Glasgow or Kent.
9. VERITY BOWDITCH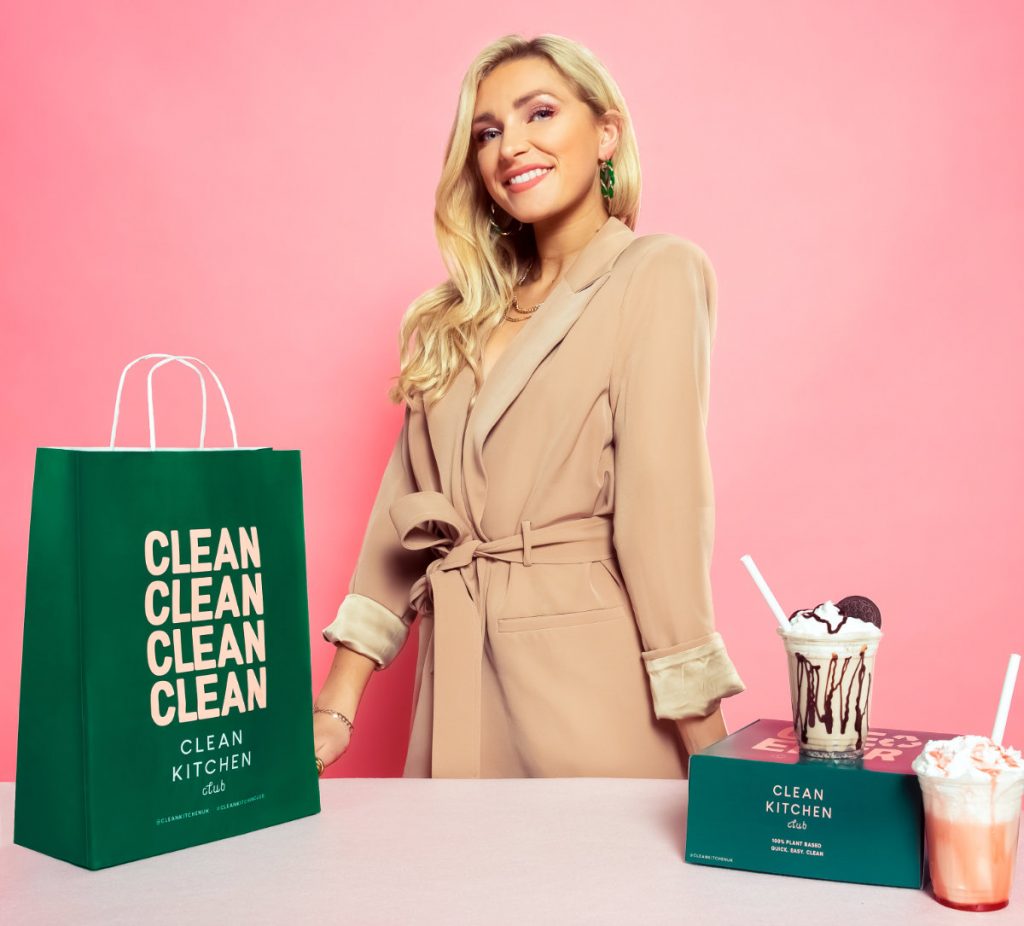 With the number of vegans in the UK quadrupling between 2014-2019, plant-based businesses are most definitely booming. Clean Kitchen are one-such company, currently revolutionising the UK's plant-based scene by offering a quicker, cleaner and healthier alternative to fast-food. Now new brand partner, Made in Chelsea star and clean-living advocate Verity Bowditch, has come on board, helping bring Clean Kitchen to the forefront of the UK food scene for 2021.
Verity brings on board an initiative to implement the UK's first re-usable delivery system, to align with their zero-waste strategy on packaging and their ultimate goal to become an entirely carbon neutral company. Her joining coincides with the launch of a new, ultra-nutritional 'Quick and Clean' menu alongside nutritionist Emily English.
Available on Deliveroo, Signature burgers start from £10 and include the 'Classic Clean', best-selling 'Truffle Burger' and the one we can't live without, the 'Chicken Mayo'. Also available is a Greek 'it's not chicken' Gyros, a Mexican Bowl, Asian Satay Salad, and so much more.
10. ALEX & OLIVIA BOWEN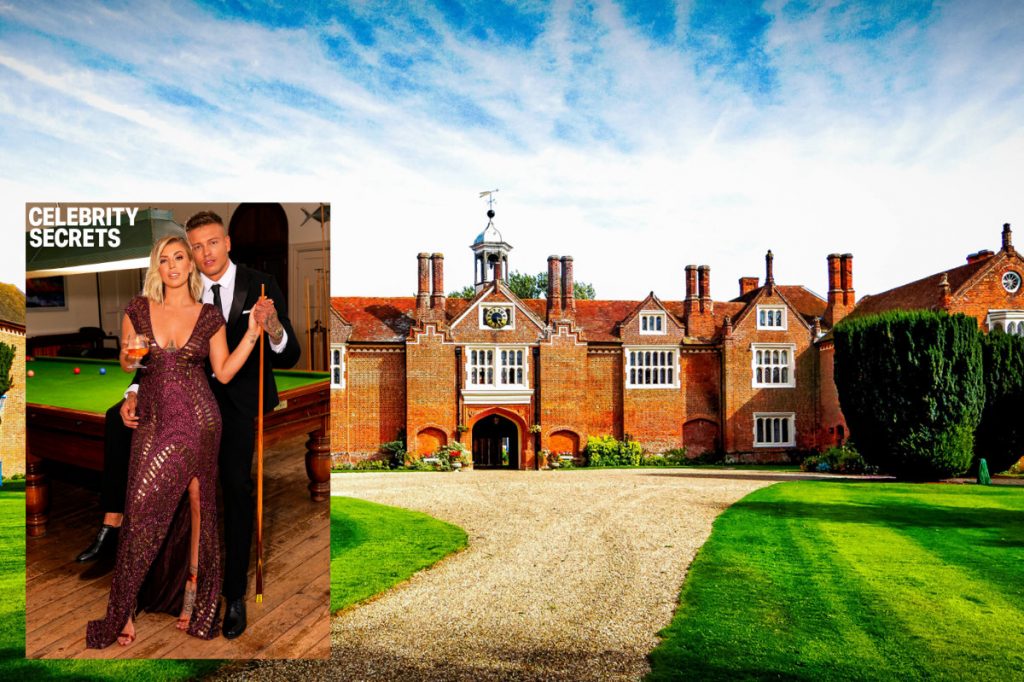 Weddings may have been somewhat small and intimate of late, but with vaccines rolling out across the country it's time to restart planning your special day. Looking for a wedding venue worthy of the hottest UK celebs? Turn to Love Island stars Alex and Olivia Bowen, who tied the knot in style at Essex wedding venue Gosfield Hall in 2018. This award-winning former royal residence offers easy access to London and Stansted. Say your vows at the end of the 120-foot-long aisle in the Queen Charlotte's oak-panelled gallery, or opt for an alfresco affair in the inner courtyard. Next, dine in the former Marquis of Buckingham's Ballroom – seating up to 116 guests under crystal chandeliers and double-height mirrors – before finishing off your day with all your close friends and family under one roof. Boasting 23 suites, comprising 14 double rooms and nine family rooms, guests can rest peacefully at the end of a fun-filled day. There's also the recent addition of The Marquis offering a further eight guest bedrooms for the night of your wedding.