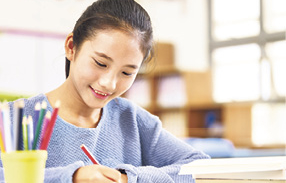 DISCOVER THE MOST detailed answers and explanations available anywhere.
Do you wish that your child could learn:
How to write a brilliant comprehension answer?
How to find the best path through a tricky maths problem?
How to craft a beautiful and engaging story?
Do you want them to see what original and creative work really
looks like?
After many years of teaching, Oxford-educated tutor Robert Lomax had an idea for a new kind of home learning material. Taking a wide range of question styles and matching them with example answers and friendly, step-by-step walkthroughs, he set out to offer the experience of expert private tuition in printed form.
RSL Educational's books have become popular with families across the world. Since 2017 they have been joined by 11 Plus Lifeline, a service that sends you printable learning resources by email every week, with full solutions and advice in the RSL style.
The resources in 11 Plus Lifeline can make a huge difference for any child aged 9 to 11 who wants to perfect their English, maths and reasoning skills – ready for a strong start at secondary school.