It's the final days of November, which means we are well underway with the countdown to Christmas. Few experiences are as magical as the festive period, with its ambience, mood and overall excitement.
One tradition which has grown in popularity is the concept of advent calendars. Advent calendars can be traced back to the 19th century, when families would mark every day in December until Christmas Eve with a chalk line. The concept of the advent calendar has grown exponentially, transcending popular culture. The suspense, intrigue and mystery of what is behind each advent calendar door is a truly exciting way to count down to Christmas.
Why not take that experience to the next level. and make it a truly mouth-watering affair? Count down to Christmas in style, with these foodie advent calendars. Checklist's comprehensive roundup features sweet, savoury and coffee advent calendars, from well-known and local brands, meaning you won't have to wait till the big day to indulge…
LAKRIDS BY BÜLOW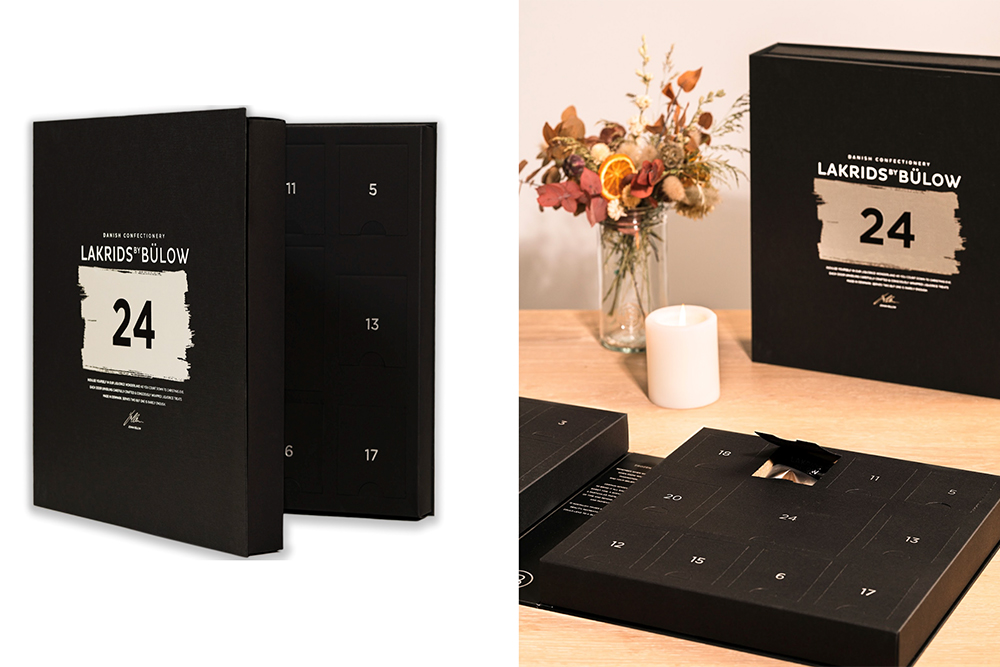 There surely aren't many better ways to enjoy December than with 24 days of sweet, unique taste experiences. Danish brand LAKRIDS BY BÜLOW present the mouth-watering LAKRIDS BY BÜLOW CHRISTMAS CALENDAR.
They have gathered a selection of all-time favourites along with new, exciting flavours including an added touch of extra indulgence with the premium SLOW CRAFTED range. Creating sweet, magical moments this Christmas, every calendar door reveals two carefully crafted liquorice treats, consciously wrapped in renewable natural materials. Indulge in chocolate, liquorice and fruity flavours together in a perfect combination that are both gluten and gelatine free.
The calendar is as stylish as any you will lay eyes on, featuring frozen details and a new dark and stylish look on the inside. With sustainable packaging used, the calendar is reduced to only a few grams of plastic, emphasising LAKRIDS BY BÜLOW's environmental commitment.
View the calendar at LAKRIDS BY BÜLOW
The Original Cake Company's cake advent calendar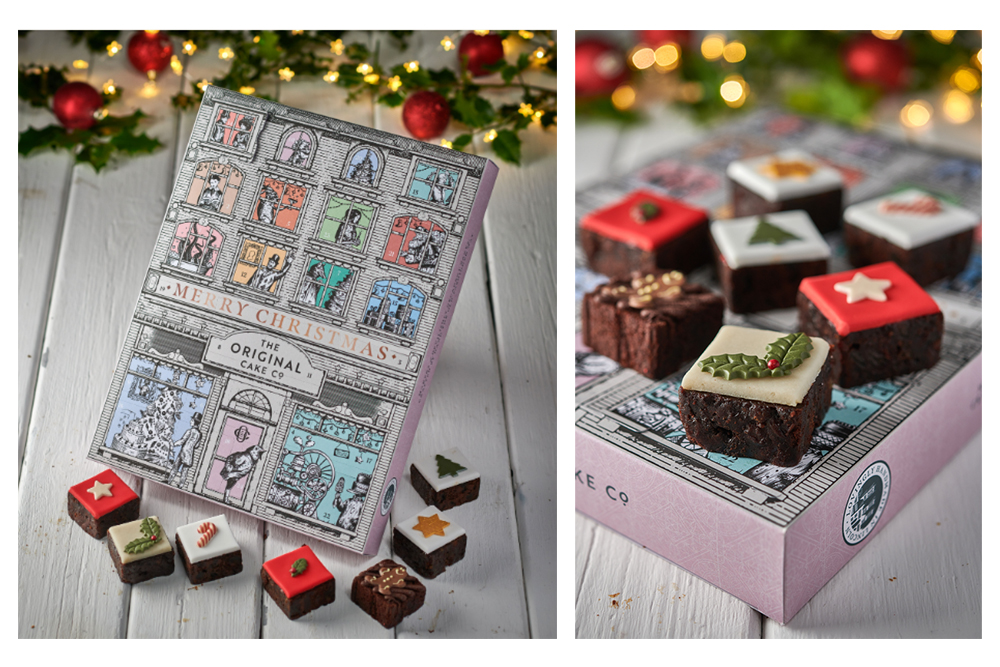 Here's a sweet way to count down to Christmas. If you're a cake lover, then what could be better than a deliciously decorated Christmas treat behind every door throughout the month of December. Renowned UK brand, The Original Cake Company, has produced the only cake advent calendar on the market and it's mouth-wateringly delicious.
The calendar is packed with 24 individually wrapped, hand-decorated and hand-baked chocolate truffle cakes and luxury fruit cakes, made by hand in their Lincoln-based artisan bakery. Freshly baked and carefully decorated, each door hides a bite-sized chunk of the finest chocolate truffle cake or a decadent fruit cake.
View the Advent Calendar at The Original Cake Company
Niederegger Café Chocolate Advent Calendar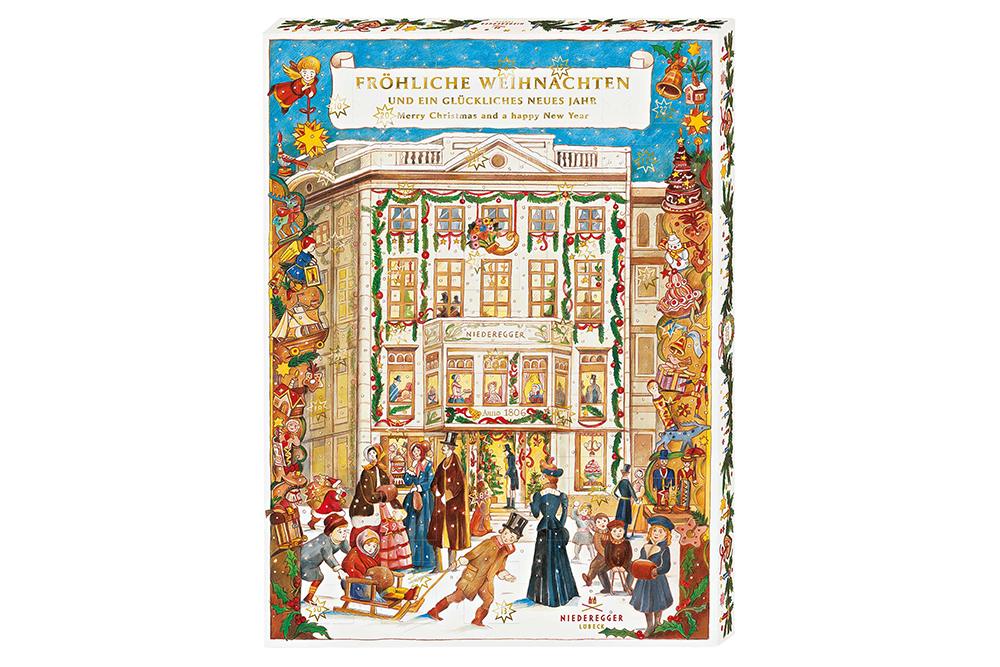 Join Father Christmas delivering gifts with this festive wonderland advent calendar. Share with friends and family the wonder of the Christmas period – on some days hide more than one treat inside.
This advent calendar is a chocolate lover's dream, with treats to suit a range of tastes. Open each calendar door to find an assortment of dark and milk chocolate pralines, croquant with milk chocolate, flambeed marzipan and marzipan. Niederegger marzipan is made from 100% finest marzipan paste, made using traditional roasting cauldrons with production supervised by a master confectioner.
View the Advent Calendar at John Lewis
Lindt Teddy Advent Calendar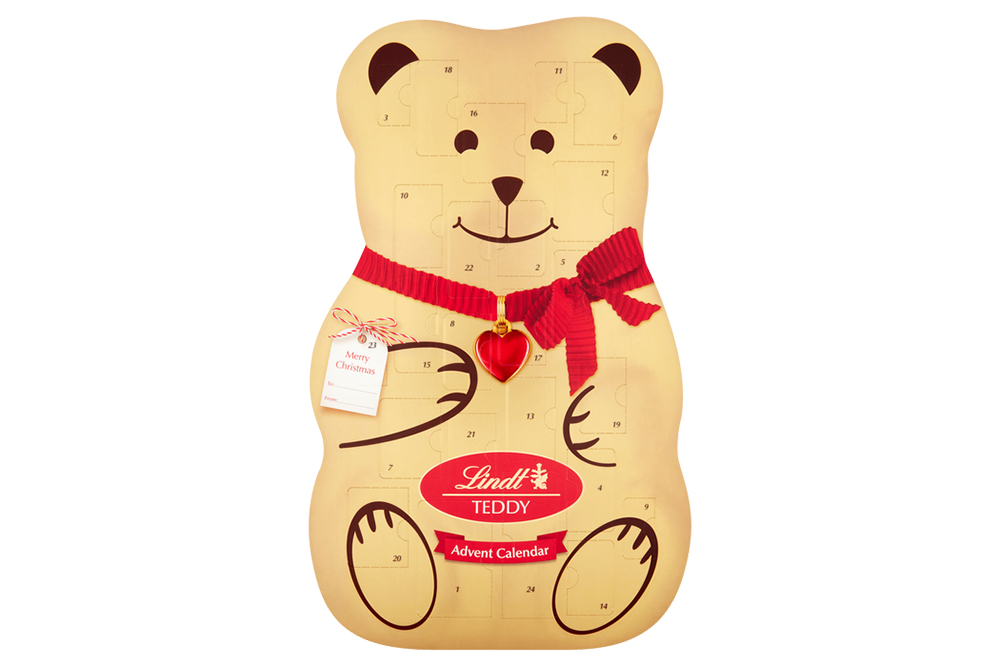 Bring home the magic this Christmas with the Lindt Gold TEDDY Advent Calendar. Lindt, the world-renowned Master Chocolatiers have combined their unrivalled expertise with the finest ingredients to create 24 delicious festive chocolate treats hidden behind an adorable 3D TEDDY.
Uncover a tasty selection of Swiss chocolates, from their iconic LINDOR Chocolate Truffles, to their signature chocolate and the creamy chocolate Snowdrops. Indulge in a luxury, smooth, gluten-free Swiss chocolate surprise with Lindt as you count down to Christmas.
View the Advent Calendar at Lindt
Joe & Seph's Gourmet Popcorn Advent Calendar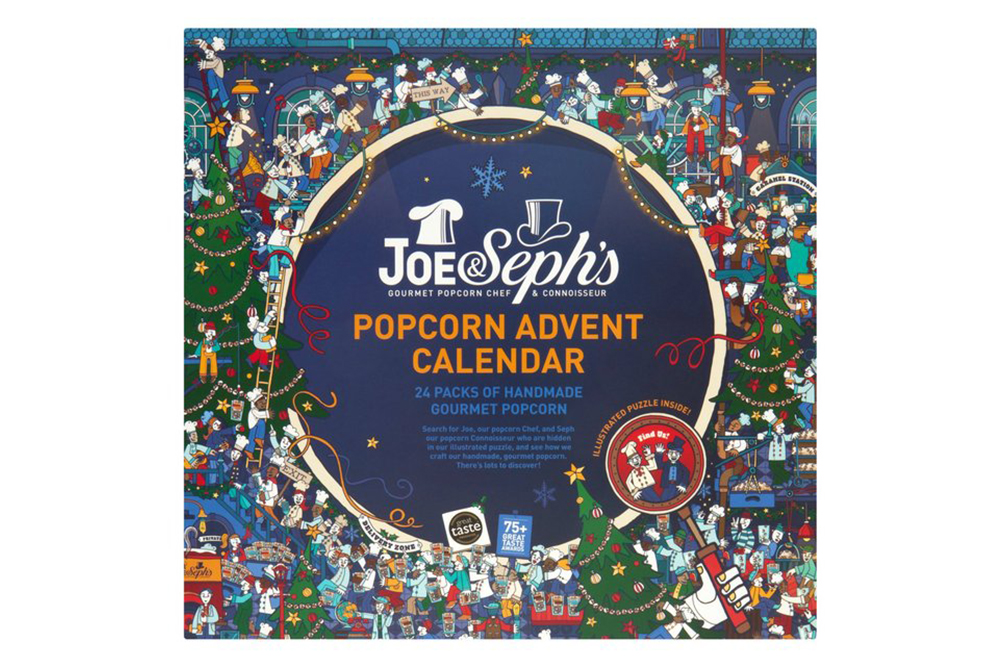 Joe & Seph's advent calendar is back once again this year. The renowned popcorn brand's latest offering is tastier than ever, bringing you 14 of their best gourmet popcorn flavours, including the ever-popular Chocolate Popcorn Bites, and two new and exclusive flavours to tuck into. Which window will your favourite flavour be hiding behind?
Before you feast on the delicious treats, solve their illustrated puzzle. Individuals will be tasked with finding Joe, their popcorn Chef, and Seph, their popcorn Connoisseur, who are hidden away in the illustrated puzzle. Whilst on the quest, see how Joe and Seph craft their handmade, gourmet popcorn.
With 24 packs of lovingly-handmade gourmet popcorn to feast on, there is much to uncover. Not to mention, Joe & Seph's Gourmet Popcorn Advent Calendar is gluten free and vegan friendly.
View the Advent Calendar at Ocado
Gourmet Marshmallow Advent Calendar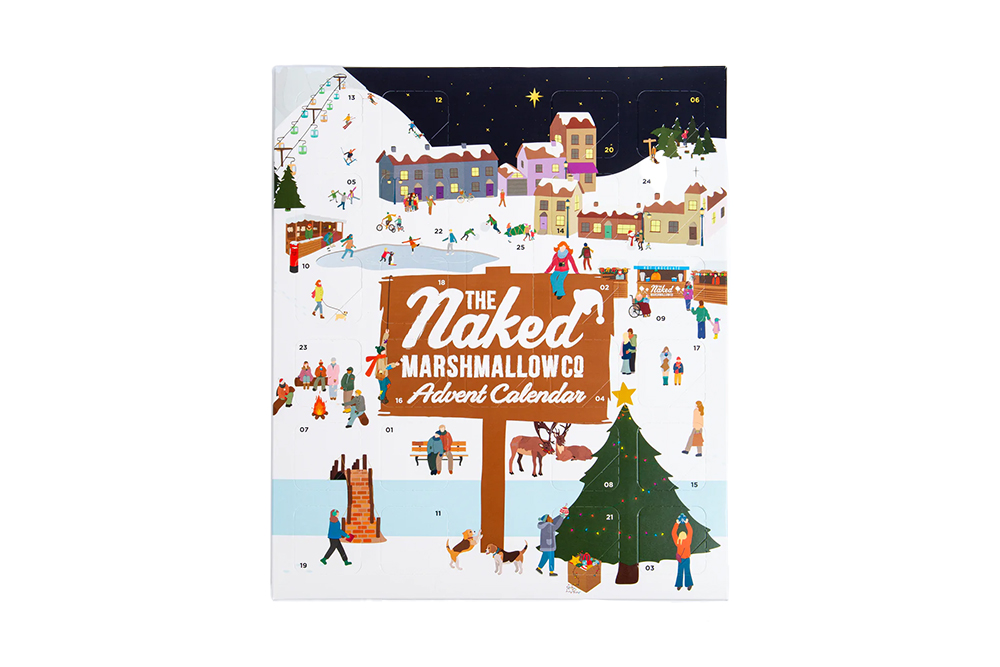 The world's first gourmet marshmallow Advent calendar returns for its fifth year, featuring a selection of festive and sweet-tasting flavours. Behind each calendar door, you'll find a delicious piece of handmade gourmet marshmallow in a selection of sumptuous flavours. What better motivator is there for getting out of bed on those winter mornings?
On the reverse of each door, you'll find out which flavour you'll be enjoying that day, as well as either a festive joke, fun fact, or exclusive online discount code to be redeemed on their website. The Gourmet Marshmallow Advent Calendar features an incredible 12 alternating flavours from their different ranges. Sample a wide range of flavours, including Vanilla Bean, Salted Caramel, Cookies & Cream, Strawberry Cream, Candy Floss, and many more delicious flavours.
View the Advent Calendar at The Naked Marshmallow
Friends Central Perk Nespresso-Compatible Capsules Advent Calendar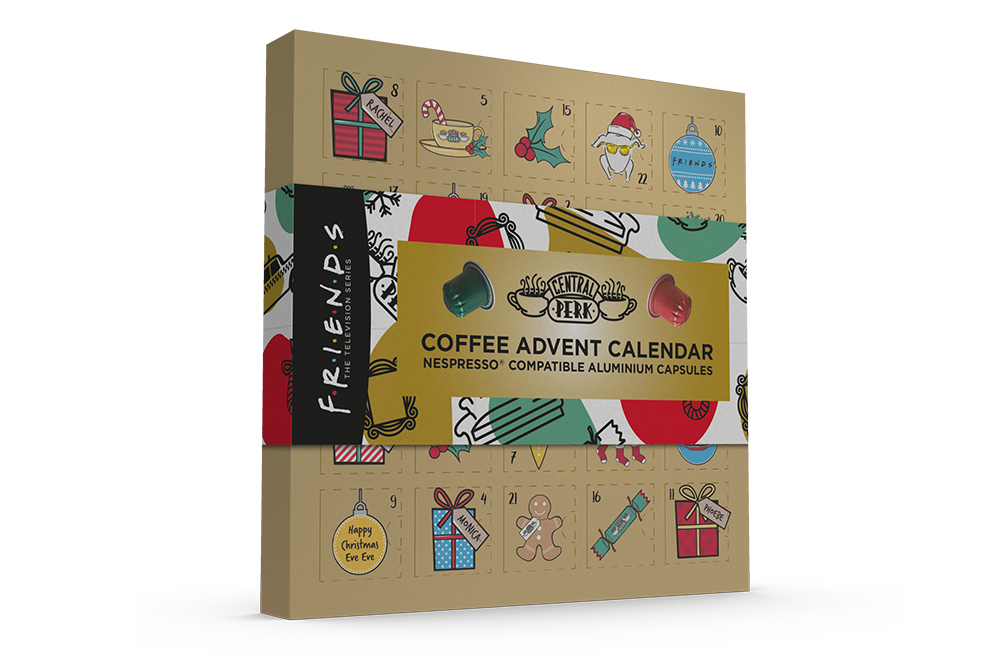 For ardent coffee drinkers, and fans of the legendary TV sitcom, the Friends Coffee Advent Calendar is a must-have for the countdown to Christmas.
Start or finish your day the Central Perk Way and immerse yourself in the ambience of numerous Friends' locations behind each calendar door. Discover 24 capsules compatible with Nespresso, featuring both ground coffee and flavoured ground coffee, with an abundance of tasty and delicious flavours.
Choose from a wide variety of ground coffee flavours, including Choco Cherry, Caramel Toffee, Cinnamon, Crème brûlée, and many more individual flavours.
View the Advent Calendar at Groupon
Pringles Advent Calendar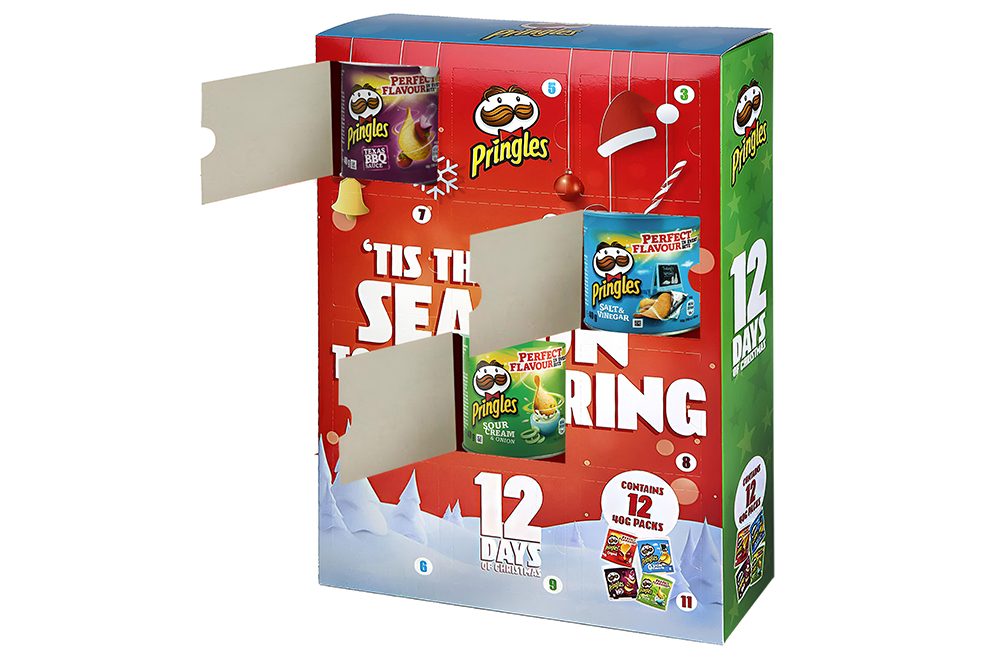 'Once You Pop, You Can't Stop'. The 12 or 24 Days Of Pringles Advent Calendar is the ideal advent calendar for all the crisp lovers out there to count down to the magical day .
Pringles' 2022 offering is packed full of delicious, crunchy Pringles. No matter your preferred flavour, the calendar includes Original, Sour Cream & Onion, Salt & Vinegar and Texas BBQ Sauce. The Pringles Advent Calendar is a fantastic choice for those looking for alternatives to the usual chocolate or sweets advent calendars, and who prefer savoury over sweet.
Suitable for vegetarians, the crisps can be enjoyed straight from the tub, or to make it more even fun, why not enjoy it with dips, sweet chilli sauces, wine, pub snacks, cheese, chutney, and other dipping sauces that you fancy.
View the Advent Calendar at Amazon
The 12 Days of Discovery – coffee advent calendar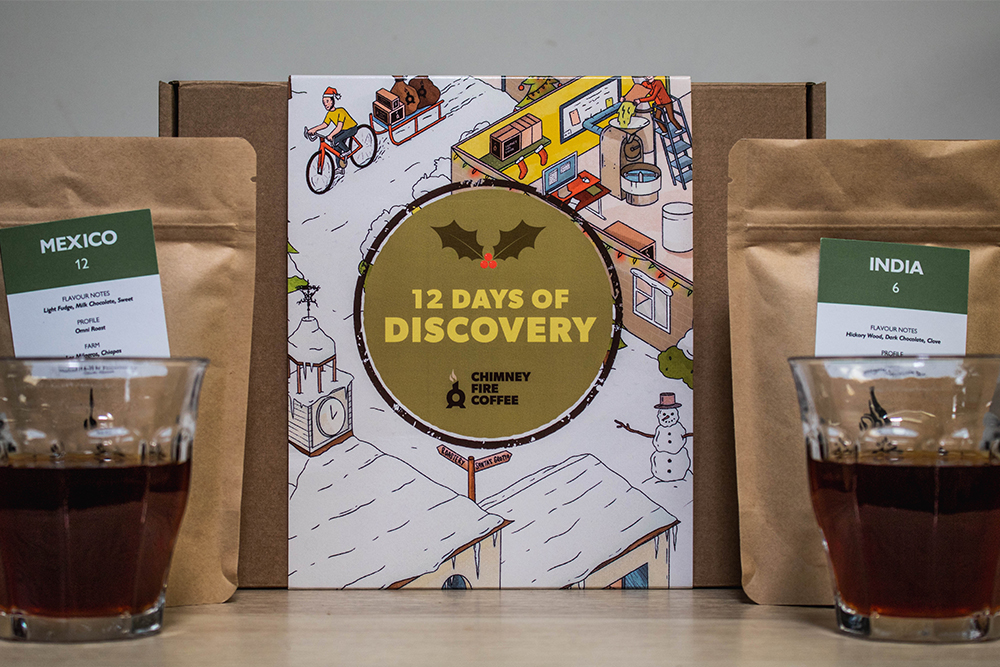 The second coffee-themed calendar in our roundup, The 12 Days of Discovery Advent Calendar is a curated collection of coffees from the Chimney Fire Coffee 2022 Discovery Coffee range.
Their calendar features 12 bags of coffee, either whole bean or pre-ground, complete with a comprehensive booklet, information and map of the coffee source you are sampling. Each coffee has been carefully selected to satisfy a range of tastes, and introduce a new and interesting coffee from around the world – be that a new origin or region, a new process or varietal, or something seasonal with a unique flavour profile.
With coffee sourced from Malawi to India, coffee lovers will be sure to find something new and exciting as they count down to Christmas. Additionally, £1 from every box is donated to charitable causes.
View the Advent Calendar at Chimney Fire Coffee
T2 Sip the Future Hello tea bag advent calendar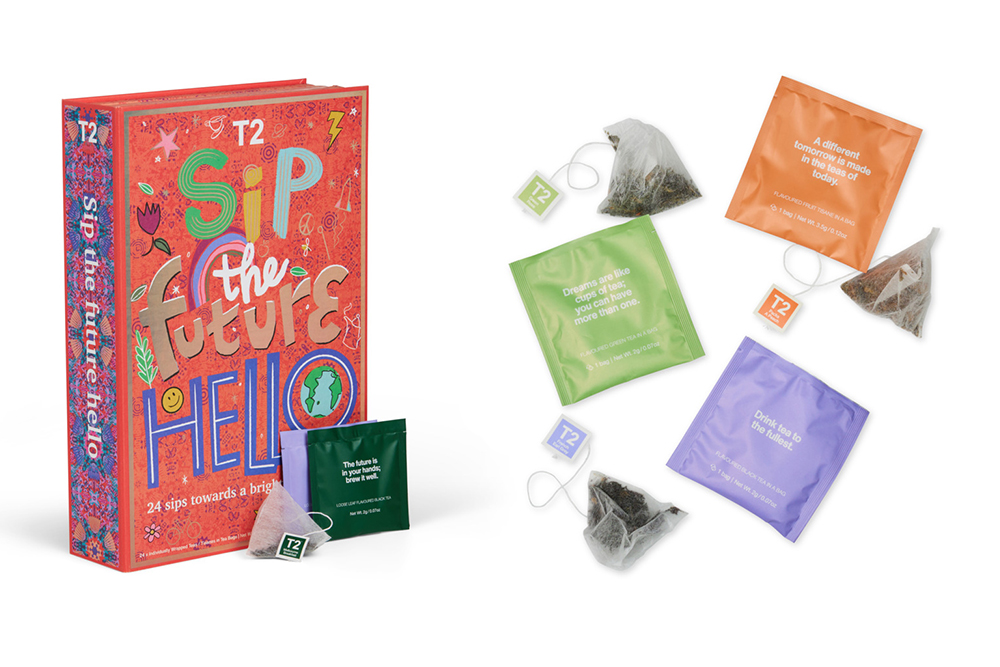 Tea lovers everywhere, step forward and have your cups at the ready. The countdown is on and each of these teas, courtesy of T2, is here to help you count down to Christmas in style.
T2 have put together a carefully curated collection of teas to help you sip your way through December. A collection of 24 teas and tisanes in teabags await your discovery – ready to dance on your palate, sing to your senses and leave you with an aftertaste of pure joy.
The individually wrapped tea/tisane teabags feature a selection of individual flavours, notably Chai, Earl Grey, Turmeric Ginger Ninja, and many more.
View the Advent Calendar at T2
To see your company in any upcoming features we are arranging please email editorial@hurstmediacompany.co.uk