10 TOP Tech
Tech
Incredible upcoming games: 10 Top video games to look out for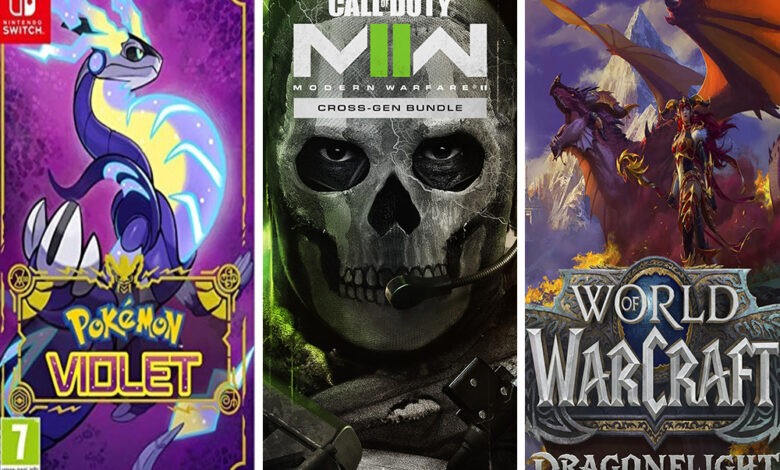 The video games are coming thick and fast in the final few months of 2022. Whether a sports gamer, a fan of RPGs, a first-person shooter gamer, a get lost in a vast open-world type gamer, the landscape of gaming has arguably never been better, and the upcoming releases only serve to strengthen that argument.
God of War: Ragnarök, Call of Duty: Modern Warfare II, there is an incredible selection of video games soon to be released. Checklist has compiled a selection of major upcoming releases you will surely want to make note of, whether for yourself, or as a birthday or Christmas gift for the avid gamer in your life.
1. God of War: Ragnarök
One of the best video game series of all time is back, with the hotly anticipated God of War: Ragnarök. The ninth instalment in the series, and a follow up to 2018's lauded God of War, this action-adventure title has followed its predecessor in terms of early critical acclaim and numerous accolades.
Set in ancient Scandinavia, players will once again follow series protagonists Kratos and Atreus, father and son who must set everything on the line in their latest quest. Inspired by popular Norse mythology, the game's premise covers Ragnorak, a series of events that will bring about the end of days.
Kratos and Atreus' conflict will lie with Thor, the infamous Norse God of Thunder who is seeking the ultimate retribution. Embark on an epic and heartfelt journey, as the dynamic between father and son is once again integral to the main plot, with the latter truly coming more into his own in Ragnarök.
Gritty, unflinching and resolute; Santa Monica's approach to combat is everything players have come to expect. Lead combat designers Mihir Sheth and Denny Yeh said "Kratos plays with his food" in regards to his fighting style, and that in God of War: Ragnarök they found Kratos "new toys and ways of playing with his enemies and strategies."
Available on Platforms: PS4, PS5
Find out more at PlayStation
2. Call of Duty: Modern Warfare II
The 19th instalment of the overall Call of Duty series, Call of Duty: Modern Warfare II is an upcoming first-person shooter game and a direct sequel to the 2019 reboot. Published by Activision, players can expect a large variety of gameplay options. This includes offline single-player campaigns, as well as a multiplayer option, featuring several new game modes, including Knockout and Prisoner Rescue.
A continuation of the previous game, the game's events occur in 2022, several years after the Task Force 141, a counter-terrorist task force, is formed. After a series of high-profile events occur, the task force is called in to deal with and contain a troubling situation, whilst dealing with internal and external threats. Many characters return, whilst the game also introduces new and intriguing faces into the mix.
Modern Warfare II brings with it a roster of notable changes to the Call of Duty gameplay. Players can expect a revamped Gunsmith system, enabling them to fine-tune specific attachments to suit their playstyle. The levelling system has also been revamped. Now when players get attachments for a gun they will receive attachment for all weapons in the same weapon tree.
Available on Platforms: PS4, PS5, Xbox One, Xbox Series X | S, Battle.Net, and Steam.
Find out more at Call of Duty
3. NHL 23
The 32nd instalment in EA Sport's popular NHL series is almost here. Released on all PlayStation and Xbox platforms, NHL 23, the newest entry in the ice-hockey simulation series, contains many features that loyal gamers have come to expect, as well as a whole host of new features.
Early reviews indicate that NHL 23 has been given a massive overhaul, in comparison to its predecessors. A new physics-based game engine allows for a number of improvements to the game. These include more accurate puck physics, better skating animations, and a more realistic gaming experience, truly bridging the gap between real life and in-game play.
EA have seemingly listened to criticisms of previous entries and placed an emphasis on realism. From AI-controlled teammates who actually have chemistry to new physics-based goals and shoot-blocking goalies that don't let pucks go straight through them. Players are constantly trying to find their way around the ice, backcheck on defence, and fire pucks past goaltenders, all at once. Throw that level of speed and skill into a video game and the end result is NHL 23.
Available on Platforms: PS4, PS5, Xbox One, Xbox Series X.
Find out more at EA Sports
4. Mario + Rabbids Spark of Hope
A mysterious entity threatens the galaxy, are you up to the task of taking this threat head on?
Everybody's favourite Italian plumber is back, in Mario + Rabbids Spark of Hope. In this Nintendo Switch exclusive, team up with Mario, Luigi, Princess Peach, Rabbid Peach, Rabbid Luigi, and their friends on a galactic journey to defeat a malevolent entity, save your Spark companions, and ultimately bring back order to the universe. Explore unique planets throughout the galaxy as you uncover mysterious secrets and embark on compelling quests.
Players find them up against Cursa, the main antagonist of Rabbids Spark of Hope. An evil entity, Cursa is running rampant throughout the universe. It wants to consume the mysterious Sparks – uncanny and powerful creatures formed by the fusion of Lumas and Rabbids – and it threatens to destroy all who stand in its way. Are you up to the herculean task of stopping it?
Available on Platforms: Nintendo Switch.
Find out more at Ubisoft
5. Gotham Knights
For gamers in search of an immersive, action role-playing game, look no further. Gotham Knights, developed by WB Games Montréal and published by Warner Bros. Interactive Entertainment, is an open-world, action RPG set in the most dynamic and interactive Gotham City to date.
Inspired by the Batman: Gotham Knights comic series, the game focuses on the characters, the Knights – Nightwing, Batgirl, Robin, and Red Hood and their efforts to restore justice to Gotham City during a tumultuous period in the immediate aftermath of Batman's death. Playing as the aforementioned characters, you will be investigating Batman's disappearance, whilst coming into conflict with the Court of Owls, a secret society as old as Gotham itself, and their legion of brainwashed assassins called Talons.
In arguably the most gritty and grimy depiction of Gotham City, players must bring hope to its citizens, discipline to its cops, and fear to its criminals. Save the streets from lawlessness and chaos by defeating villains in blockbuster confrontations, solve mysteries that connect the darkest chapters in the city's history, and so much more.
Available on Platforms: PS4, PS5, Xbox One, Xbox Series X.
Find out more at Gotham Knights
6. Football Manager 2023
Budding football managers up and down the nation, it's your time to shine once again. Football Manager 2023 is set for release on November 8, with this year's instalment packed with features designed to bring you closer than ever to the heart of the beautiful game.
There are a range of new headline features to excite players. New recruitment and squad planning tools have come as a result of EA consulting with leading Directors of Football, Data Analysts, and Scouts, to deliver a more realistic recruitment process, with an emphasis on your recruitment team's initiate to deliver smart signings.
Smarter AI opponents enable players to test their tactics and skill against the smartest, most intelligent AI managers in Football Manager history. Big changes have been made in regards to how AI managers select their formations, the specific player roles they choose, as well as their ability to adapt to the changing nature of a match.
As well as in-game tactical tweaks, matches in Football Manager 2023 take on a much bigger spectacle, enhancing the overall player experience. A deal struck with UEFA to be able to licence the UEFA Club Competitions for the first time in Football Manager history means big European nights are now a feature. Goosebumps are sure to be felt as the Champions League anthem rings out in the stadium. Quality cut-scenes and details such as fan-polls and fan clubs also enable players to become more intertwined with the fans, creating the most immersive Football Manager experience in years.
Available on Platforms: PS5, Xbox One, Xbox Series X. Football Manager 2023 Mobile will be available on both Android and iOS devices; and Football Manager 2023 Touch will be released on both the Nintendo Switch.
Find out more at Football Manager
7. World Of Warcraft: Dragonflight
The massively multiplayer online role-playing game World of Warcraft, releases World of Warcraft: Dragonflight, the upcoming ninth expansion pack.
Set in and around the world of Azeroth, a majestic, high-fantasy setting, players will discover and roam the Dragon Isles. World of Warcraft: Dragonflight enables players to discover new and exciting ways to play and adventure across Azeroth, with significant updates to existing game systems.
Master the art of Dragon riding, a new feature allowing players to raise and customise a dragon. Explore the land and obtain unique, customisable mounts that can be truly made your own, with no two mounts the same. As you grow in skill, new manoeuvres will become available, that will aid your conquests and help to uncover additional challenges all over the Dragon Isles.
: Nintendo Switch, PlayStation 4, PlayStation 5, Windows, Xbox One, and Xbox Series X/S
Find out more at Blizzard
8. Sonic Frontiers
A Sega franchise classic, experience the beloved Sonic the Hedgehog like never before, in this upcoming action-adventure 3-D platformer, Sonic Frontiers.
Worlds are colliding in Sonic the Hedgehog's newest high-speed adventure! In search of the missing Chaos emeralds, Sonic finds himself stranded on a strange island crawling with unusual creatures. Players take on large groups of powerful enemies head-on, all the while exploring a breathtaking world to discover at their leisure.
Accelerate to new heights and experience the thrill of high-velocity, open-zone platforming freedom as you race across the five massive Starfall Islands. Jump into adventure, wield the power of the Ancients, and fight to stop these new mysterious foes. The Sonic combat system features the usual boosts, jumps and spins, in a game where you start with a limited number of moves and then unlock more by collecting the aptly-named 'skill pieces.'
Available on Platforms: Nintendo Switch, PS4, PS5, Windows, Xbox One, and Xbox Series X/S.
Find out more at Frontiers
9. Need For Speed: Unbound
Start your engines and go from 0-60 in no time, in Need for Speed™ Unbound. The latest offering from EA Sports, players can expect an environment that incorporates a visual style that blends elements of the freshest street art with the most realistic looking cars in Need for Speed™ history.
The game is set in a fictional city called Lakeshore City, in an open-world environment, a marked departure from previous titles. To reach the top, one must take risks; but the more you race, the more heat you build…
With an emphasis on street racing, players must race against time, outsmart the cops, and take on weekly qualifiers to reach The Grand, Lakeshore's ultimate street racing challenge. Pack your garage with precision-tuned, custom rides and light up the streets with your style and exclusive fits that leave rivals in the dust.
The world is your canvas in Need for Speed™ Unbound. The onus is very much on the player, with a game in which tactical decisions can make or break a chase from cops, or whether you win a race or finish as the second placed loser. A whole host of driving styles are rewarded in Unbound, where players will also discover incredible artists in the game's official soundtrack.
Available on Platforms: PS5, Windows, and Xbox Series X/S.
Find out more at EA
10. Pokémon Scarlett and Violet
On November 18, Pokémon Scarlett and Violet, the newest chapters in the Pokémon series are released. In what is the first instalment in the ninth generation of the series, players can expect a raft of new experiences and changes, unlike any previous titles.
Pokémon Scarlett and Violet feature incredibly vast open worlds that are set in the Paldea region, taking inspiration from the Iberian Peninsula. The landscape features both urban and open wilderness areas without constricts or borders – enabling players to roam as they please.
Players can explore Paldea and find their own treasure, and from there, three stories open up for the player to experience. Face off against a gang of rebellious students called Team Star, whilst the Path of Legends storyline has the player team up with allies to fight giant Pokémon.
In order to prove one's trainer credentials, players must follow the series tradition of fighting the region's eight Gym Leaders in order to face the Champion and become the best Pokémon Trainer. In a marked change from previous Pokémon games however, there is no set order to follow in facing each respective Gym Leader.
Available on Platforms: Nintendo Switch
Find out more at Nintendo
To see your company in any upcoming features we are arranging please email editorial@hurstmediacompany.co.uk