Win one of five garden-care bundles, Worth £140 each!
Competition Closed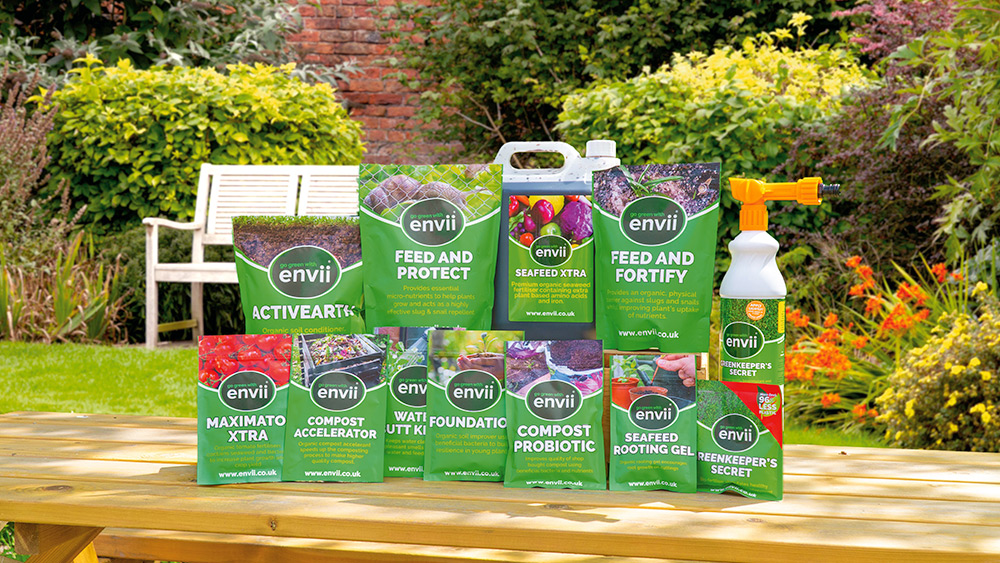 Closing Date: Wednesday 2nd of November 2022
Terms & Conditions: Click Here
Creating your own green space provides many benefits for you and the environment, from organic produce to a haven for wildlife. Envii specialise in creating innovative solutions that help you grow your green space naturally and sustainably.
Using highly concentrated, natural ingredients, Envii have created a range of award-winning products including an organic seaweed fertiliser that harnesses all the natural goodness of seaweed, along with other added benefits, to improve plant root development and crop yield.
But it doesn't stop there, they also provide soil conditioners, pest control products and so much more, helping you to achieve bigger blooms, greener lawns, and fuller harvests. They are also safe for all pets and wildlife; it really is easy to 'Go Green with Envii'.
Envii are giving five people the chance to win one of five garden-care bundles worth £140. This incredible bundle ranges from lawncare and pest control to organic vegetable gardening.
The prize includes:
– One Compost Accelerator
– One Compost Probiotic Packets
– One Feed and Fortify (400g) slug control
– One Feed and Protect (1kg) slug deterrent
– One Foundation Root Enhancer
– One Greenkeeper's Secret (1L) lawn feed, with sprayer (plus refill)
– One Maximato Xtra tomato fertiliser
– One SeaFeed Rooting Gel
– One SeaFeed Xtra (5L) liquid fertiliser
– One Water Butt Klear (20 tablets)
– One Activearth bag soil conditioner.
Visit envii.co.uk to shop the full range.
This competition has now closed, no more entries.