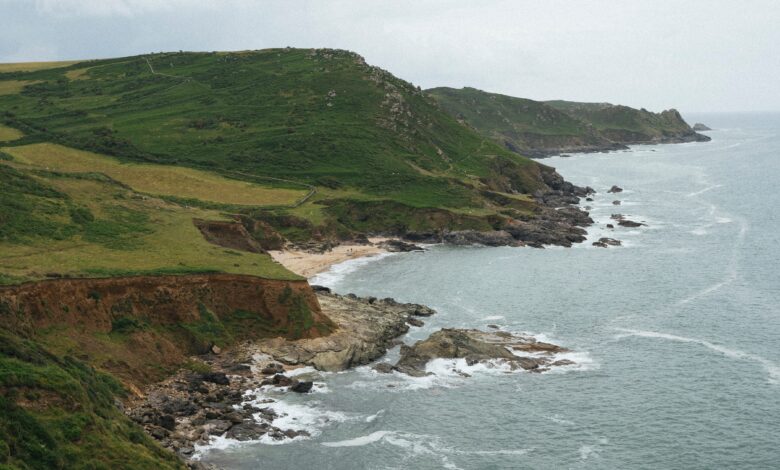 Lately, it's been pretty easy for the majority of UK residents to get to beautiful beaches across Europe. Whether in France, Spain, Italy, or even a seemingly under-the-radar destination, beach destinations are just a few hours away.
But perhaps, it's time Brits explored their own backyard. This summer, take a trip to one of the UK's most underrated beach destinations, and find out why paradise is not always a flight away. There are plenty of charming towns in the South West.
Newquay, Cornwall
Newquay is a small town that packs a big punch. While it might seem a bit far out of the way on a map, it has some great attractions. It's Cornwall's surf city, as well as its party capital, and it has a ton of family-friendly options. So, whether you're coming for the waves, the clubs or the beaches, Newquay has you covered.
Beaches
Newquay has beaches in spades. Great Western Beach is right in town, below the rocky cliffs. Tolcarne Beach is right beside it, as is Towan Beach. Still in town is Newquay Beach, and around the corner is Porth Beach. All of these are great options for those who want to stay in town, and they're all equally beautiful.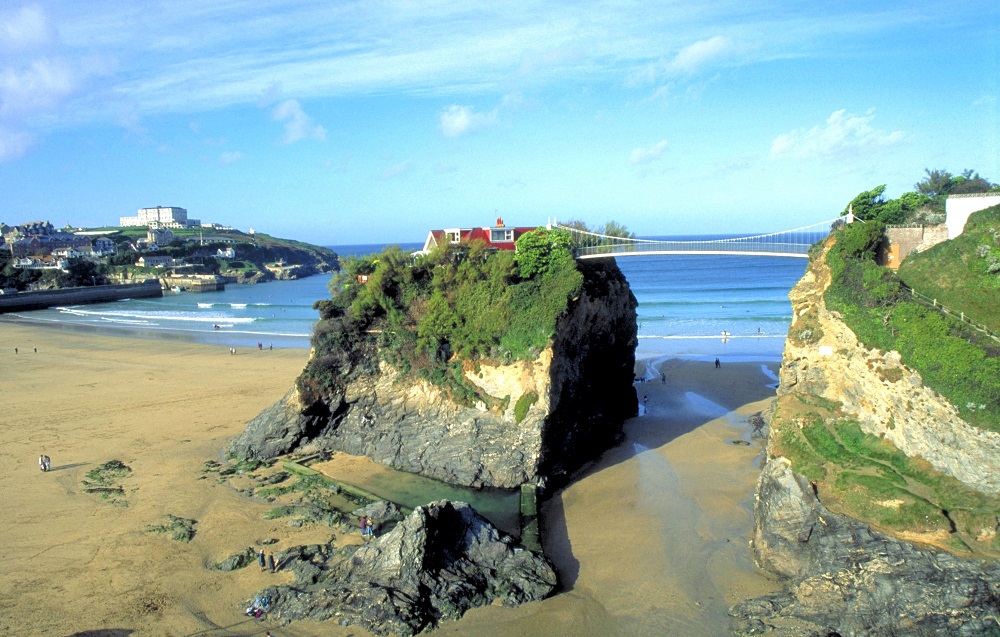 If you don't mind heading a bit further out, Watergate Beach is the longest stretch of sand north of town. Mawgan Porth Beach is just past it, and a 15-minute drive away.
Towards the southwest, Fistral Beach hugs the coast just below Newquay Golf Club. On the other side of River Gannel, sits a beach with very calm waters – depending on the tides – called Crantock Beach. Just past there are the stunning Polly Joke and Holywell Bay, the latter has large boulders right on the sand. The furthest-to-the-south beaches that are worth the trip are Perran Sands Beach and Perranporth Beach, with the former offering probably the quietest beach atmosphere of the lot.
Sights and activities
You couldn't talk about Newquay without mentioning the surfing. Fistral Beach Surf School is highly rated, and Fistral Beach gets very consistent waves. Escape Surf School is also a great option, as are Blue Wings Surf School and SSS Surf School. If you want to surf, every school in town can get you on a board and learning in no time.
If you're not in it for the beaches and surfing, there's still plenty to do in the area. As mentioned earlier, Newquay Golf Club sits at the edge of town, overlooking Fistral Beach. The links-style course can be a tough test in the wind, but has lovely, manicured grounds.
Newquay is good for a lads' or girls' night out. There are a number of distinct bars, pubs, and nightclubs, so if you're looking to party, there's definitely a spot in town that suits your style. Bertie's Club has your classic nightclub vibes – dance floors, strobe lights, VIP booths and all that fun stuff. Other options include Whiskers, Belushi's and The Dead Famous Late Night Liquor Lounge.
If you want to walk off a hangover, the South West Coast Path is a beautiful stretch of coastal hiking that takes you to all the hits. The 630 mile (1,014 km) trail surpasses the town's limits, so you will need to turn back eventually. The coves, cliffs and beaches along this stretch of land are some of the most beautiful in England. If you're looking for a shorter walk in town, why not stroll along Fore Street and the surrounding area. There, you'll find trendy surf shops, eclectic cafés, and a host of other shops. Trerice Manor's beautiful grounds are pretty close to town as well.
After all that walking, it's time for some relaxation. The Headland Spa at Headland Cornwall has all your spa needs in one place. Whether you're looking to use the pool, get mud treatments, a massage or a day-long package, they have a highly rated experience for you. Oceanflow Yoga is another relaxing option, and they hold yoga classes with an ocean view.
For kids
There are plenty of options for families in Newquay. Newquay Zoo and Blue Reef Aquarium are great for kids with an interest in animals. For more active kids, Newquay Trampoline and Play Park is right nearby, as is Jungle Jack's soft play. There's also Oasis Fun Pools for those that aren't as interested in swimming in the ocean.
If you're looking for somewhere to golf that is kid friendly, Holywell Bay Golf Club is nearby. They have a mini-golf course, a family-friendly pitch and putt course, and a par-three course at one convenient location. For something a bit different, check out Pirate's Quest Adventure Golf.
Drinks
There are two lovely choices for those who enjoy a trip to a winery or cidery. Trevibban Mill Cornish Vineyard is around 20 minutes away and has tours and tastings. Healeys Cornish Cyder Farm is a bit closer, and there you can ride vintage tractors, tour their cydery, tour their distillery, and taste some fresh cyder.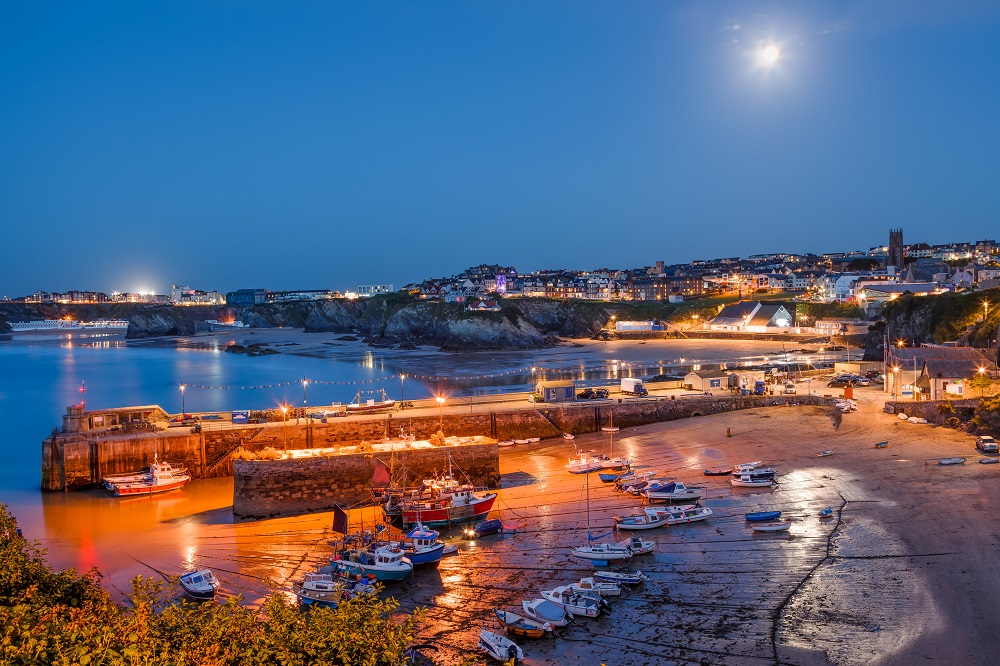 For some of the most creative cocktails around, Tom Thumb is the place to go. With over 120 bottles of hand-chosen spirits and innumerable combinations, you're sure to find something delicious to sip on.
Eats
It wouldn't be right to visit Cornwall without a visit to a Cornish bakery. A few of the best bakeries are located in a singular area of town, so you can sample a few of them and pick your favourite. But of course, you must try a Cornish Pasty.
If you want a sit-down meal, there are tons of possibilities. Bush Pepper does everything well from breakfast to dinner, Little Italy is popular, The Mussel Shoal is the mussel spot, and Sea Spray Fistral has amazing cliffside views. For takeout, Newquay Food Cartel is nice and Sushea has the best sushi.
Stays
As mentioned earlier, Headland Cornwall is one of the most picturesque and comfortable stays in Newquay. Other great stays include Fistral Beach Hotel and Spa, The Harbour Hotel, Oceanside Hotel, The Quies Hotel, Lennick Lodge, and many more.
For camping, Treago Farm Caravan and Camping Site and Gwinear Camping are two areas amongst many.
Weymouth, Dorset
Weymouth is a popular seaside resort town with a beautiful harbour and great location, approximately halfway along the Jurassic Coast. Just a two-and-a-half-hour train and a four-hour bus from London, it's accessible and has many yearly events that are worth visiting. Nevertheless, Weymouth is still not as highly rated as some of Europe's big destinations.
Beaches
The main attraction in town is Weymouth Beach, a long stretch of water that reaches from Nothe Fort to River Jordan. One of the benefits of this area is that due to the shape of the land and the offshore island, the tides are half as strong here, which creates a more consistent beach size. The beach can sometimes be busy, but it is so long that you are sure to find your own little slice of paradise.
At the north-western end of the beach, there is Bowleaze Cove, with beautiful views of the Riviera Hotel and a short pier.
The real stunners can be found outside of town. Man O'War Beach has gorgeous blue waters and is surrounded by cliffs, including the striking Durdle Door, which is just around the corner. The beach is just 30 minutes from Weymouth, and certainly worth checking out. If you want to check out all of the spots along the way, the South West Coast Path leads you on a three-hour walk to Durdle Door and Man O'War Beach.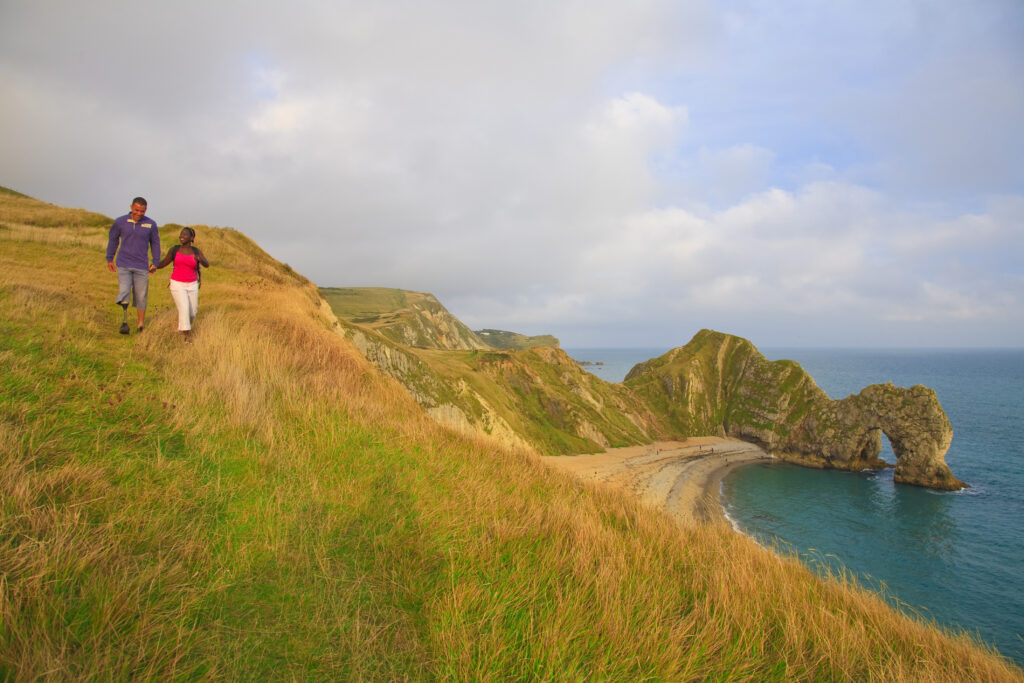 On the other side of town sits the long, pebbly Chesil Beach. The beach is a great fishing spot if you have your rod and is probably suited to confident swimmers only. Come during the evening for a lovely expansive sunset.
Sights and activities
This town is a fisher's dream, with many opportunities to fish by the shore, or take a charter and learn from the professionals. With them, you'll have the opportunity to follow dolphins, see massive cruise ships, and catch some fish, whether deep-sea fishing or something a little different.
Just outside of town, on the Isle of Portland, there are a few attractions to check out. At the very southern tip of the isle, the colourful Portland Bill Lighthouse is a sight to behold. On the way to the northern side of the isle, you can walk the South West Coast Path to see stunning cliffs, such as Jess's Cliff, and Rufus Castle. When you reach the northern side, you can visit Portland Castle, complete with cannons and all.
Back towards town, stumble into Nothe Fort and Nothe Gardens for a leisurely experience. The three floors of history and exhibits are interesting, and the grounds throughout the gardens are filled with splendour.
Nearby, you can find The Official Test Centre for all sorts of board-sports and water-sports lessons. From windsurfing to stand-up paddleboarding, this is one of the best places to learn.
Outside of town, towards the northeast, the Abbotsbury Subtropical Gardens area is a unique experience for those who haven't experienced the sub-tropics before. Filled with gorgeous flowers, delicate sculptures, a rope bridge, and a café, it's sure to calm the senses.
Weymouth Golf Club is a storied golf venue, with golf played there as early as 1876. With views of town and beautifully manicured greens, it's a great spot for seasoned golfers.
For kids
If your kids are into fishing, or you want to show them the ropes, head over to Weymouth Camping and fish in Wally's Lake and Meadow Lake. These lakes make it easy to catch your first fish, and up to 30lb carp.
Another great water-based activity for kids is Moonfleet Adventure Sailing. On it, you can escape to the past aboard the almost 100-year-old vessel. Your kids can also help raise the sails or take control of the ship themselves.
For a newer experience, head over to Weymouth Player Ready, where they have virtual-reality gaming rooms, escape rooms, and laser tag.
Just north of the main part of town, you'll find a collection of activities and attractions for kids. The SEA LIFE Centre has an aquarium with seals, otters, sharks, and a host of fish. Weymouth Bay Miniature Railway is around the corner. Leisureranch is a small amusement park with go-karts, bumper boats, and giant slides. Weymouth Pirate Adventure Mini Golf is your standard mini golf experience, and finally, Sandworld is a stunning collection of sand sculptures, with themes including Disney and many other popular television shows and movies.
Drinks
For an intimate visit to a vineyard, check out Little Waddon Vineyard, just north of town. They have wine and cheeseboards, and aren't too crowded.
The Doghouse Micro Pub source most of their ales from England's southwest, so you're sure to get a taste of the area at their pub.
For live music and a great atmosphere, House of Sounds is a popular option. The décor is all music-themed, and they have live shows often.
Eats
For the best eats in town, just north of Nothe Fort has plenty of options. Seafood is obviously a popular choice, and a few of the best are: Catch at The Old Fish Market, Sea Beats, Rockfish, and Crustacean. For seafood with a view, The Lobster Pot and Crab House Café are the spots.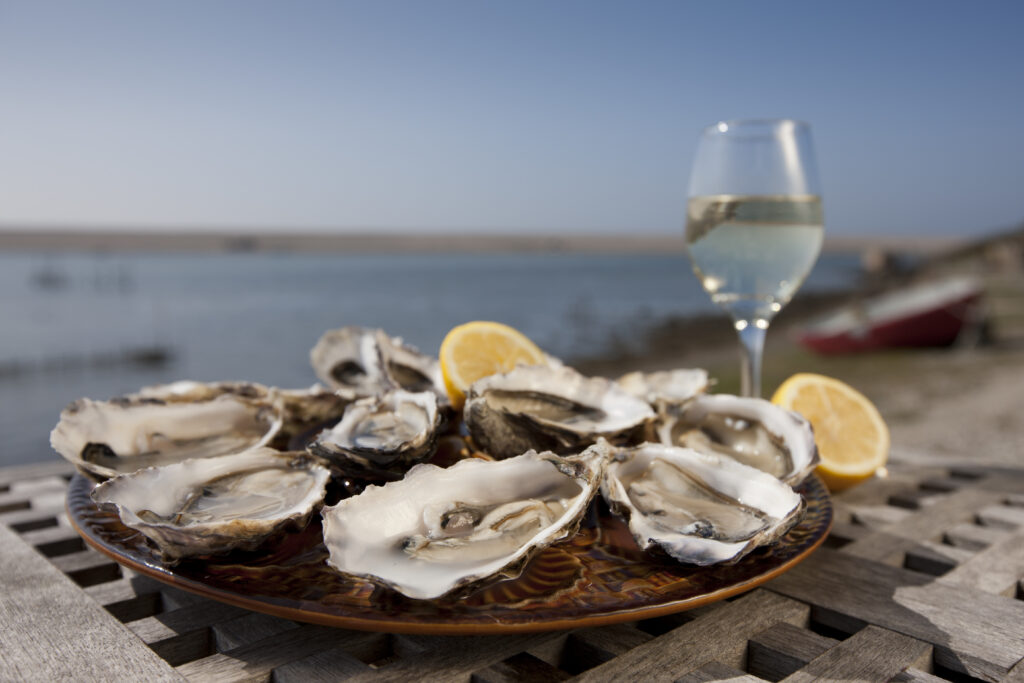 If you're interested in something other than seafood, The Dorset Burger Company, Mona's Thai and Asian Cuisines, and Littlemoor Spice are great choices. For something quick, head over to Fresh Bites for delicious sandwiches.
Stays
With an uncountable number of stays in Weymouth, you will have no problem finding something to fit your needs.
Gloucester House is a good upscale option. Beach View has exactly that, a beach view. Moonfleet Manor is slightly outside of town and has beautiful pools, gardens, and rooms.
For camping, Higher Moor Farm Campsite has a good glamping atmosphere. For a more standard option, try Sea Barn Farm.
Mumbles, Wales
While Mumbles might not have the same diversity of activities of some of the other areas on this list, it has some of the most beautiful beaches in Wales, and it's close to Swansea if you're looking for some nightlife. The proximity to Swansea might make it a bit busier, but it's still worth a visit, and you're bound to find your own little piece of paradise in one of the many coves.
Beaches
Beaches and coves are aplenty near Mumbles. Start with Mumbles Beach, with amazing views towards Swansea Beach. For views of Mumbles Lighthouse and the rocky cliffs, head to Bracelet Bay. But, be aware that swimming isn't as easy from this side of town.
Further east is Langland Bay, and the accompanying Rotherslade Bay and Lambs Well Beach. These are definitely popular spots that are still easy to reach.
On the other side of Newton, but still just a five-minute drive away, is Caswell Bay Beach. This cliffy bay has beautiful sand and plenty of space, or if you're feeling adventurous, take the path to Brandy Cove for a more secluded spot.
Pwll Du Bay Beach is a lovely secluded public area, but takes some adventuring compared to some of the other beaches on this list. It's accessible via car and public transport at nearby Bishopston or Southgate. You can also access the beach along the coast path or through Bishopston Valley. The distance between the car park and the beach is over 400m, though.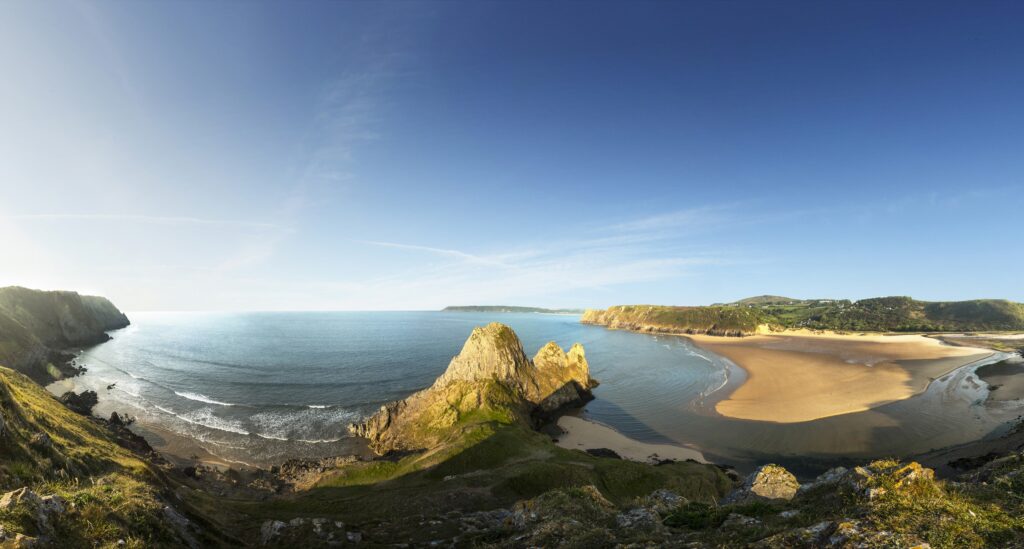 Another beach with a 400m walk is Three Cliffs Bay. The picturesque beach is lined by three limestone cliffs. The beauty is surreal, but watch out for strong tides and currents at all times. From here, you can also trek to Tor Beach and Oxwich Bay Beach. This entire area is special.
Sights and activities
There are a few nice castles in the general area. Oystermouth Castle is the first and most obvious choice to visit, as it's large and right in town. There is a one-hour parking limit, so get in and get out.
The ruins of Pennard Castle are close to Three Cliffs Bay, and are really beautiful. The view towards the bay is one of a kind. If you want to go even farther for a castle, Castell Oxwich is a good choice, but it's temporarily closed at the time of publication.
There are three lovely golf courses in the general vicinity. Langland Bay Golf Club is right on the coast, Pennard Golf Club is a bit further but also has great views of the water, and Clyne Golf Club is a bit further inland, but still a good choice.
For kids
Mumbles doesn't have the most options for families, probably because nearby Swansea has it all. Nevertheless, there are a couple places to check out.
Swansea Footgolf is halfway between Mumbles and Swansea for the football-loving families.
The Gamez Room at Mumbles Pier is a family friendly spot with a host of games and activities. Activities include table tennis, shuffleboard, karaoke, and much more. You can rent out the space for your family and enjoy food and beer as well.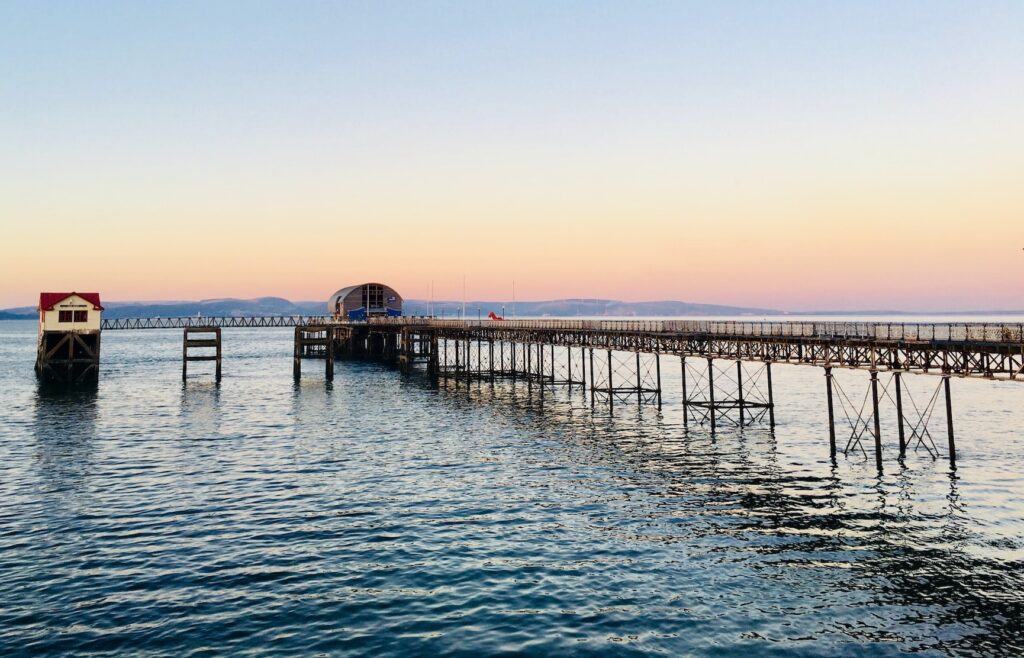 Underhill Park has expansive space to explore and a play area for children.
Drinks
There are a few interesting places to grab some brews. MumbAles is an amazing little craft beer shop and bar. The Taproom by Gower Brewery is the spot to get a taste of your local Gower beers. For a good dog-friendly option, Mumbles Ale House is your traditional option.
Eats
There are a lot of food choices along the promenade, and a few out of the limelight. The Lighthouse Brasserie, Bar & Kitchen and Lounge has a lovely view of the sea. Verdi's also has a great view for those looking for some Italian, and La Dolce Vita is good as well if you want some more Italian.
For something more refined, head to Mor for the fanciest dinner in town. Gower Seafood Hut should be your quick pit stop for seafood. Pobbles Pizza is a great choice for those who venture out to Three Cliffs Bay.
Stays
There aren't as many boarding options in Mumbles as there are in some of the other nearby towns, especially when compared to Swansea. But what they have in town is quite nice.
Among the best options is Coast House Bed and Breakfast, Langland Road Bed and Breakfast, Tides Reach Guest House, and Langland Cove Guesthouse.
Salcombe, Devon
Located in the South Devon Area of Outstanding Natural Beauty, Salcombe is a town that looks like it's out of a postcard. From the estuary, there are hints of Italy and Spain, as the town sits on a hill and the water is dotted with sailboats. Besides the natural beauty, there are also many things to do in the area.
Beaches
There are seven beaches that are within reach of the city's limits. Two are located on the Salcombe side of the Kingsbridge Estuary, while five are located on the east side of the estuary.
The two nearest to town are Salcombe North Sands and South Sands Beach. Both are covered in lovely fine sand and the crystal-clear blue waters are usually calm due to their location on the banks of the estuary. They are about a 10-minute walk from each other, so you could reasonably visit both in a day.
To get to the other five beaches, you have to take the Salcombe Ferry, which runs continuously until 6:30pm every day. While it might look swimmable, it is not recommended to swim across the estuary, due to boat traffic.
On the other side you have many options, including East Portlemouth Beach, Small's Cove, Mill Bay, Sunny Cove Beach, and Salcombe Outer Beach. Each beach has a different view and a different level of popularity. To get the iconic Salcombe harbour view, East Portlemouth Beach is your best option.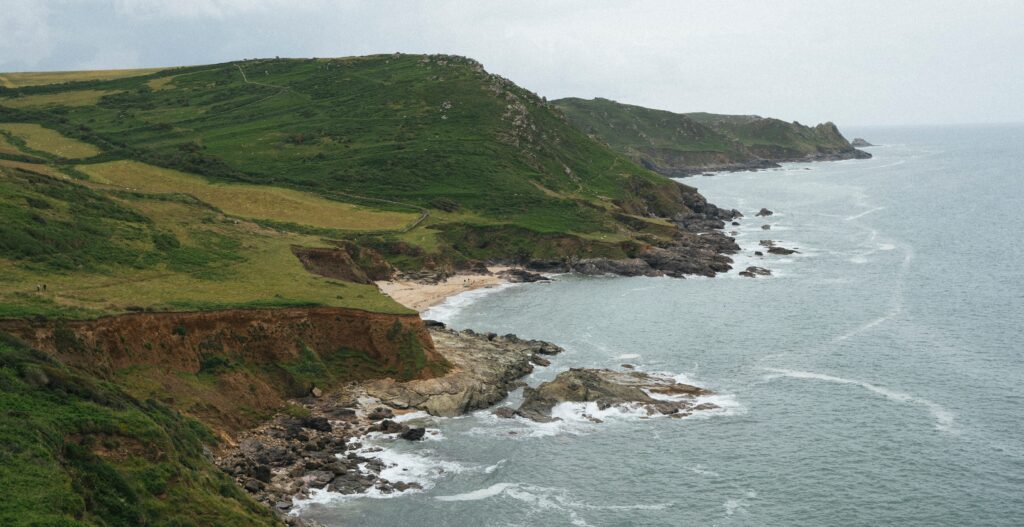 Outside of town, there are two more beautiful beaches to discover. On the Salcombe side, Soar Mill Cove is a lovely sandy cove with large cliffs and boulders and an island view. Gara Rock Beach, on the East Portlemouth side, is a striking open beach area with unlimited views out to the ocean.
Sights and activities
Get your walking shoes on, because once you're done basking in the sun, there are a few good spots to check out.
Salcombe Castle sits at the edge of the water near Salcombe North Sands. The ruins are slightly overgrown at this point, and there isn't really access to walk them, but on a nice day, the ruins on the rocky outcrop are cool.
Another spot to check out in the south-western part of town is Overbeck's Garden at Sharpitor. The hidden paradise of subtropical gardens is bursting with colour and filled with exotic plants. There's also a Gastrobus where you can find snacks and drinks.
Back in town, Fore street is the best place to shop. One store that stands out is Quba & Co, with their iconic sailing jackets.
Once you've had your fill on land and are ready to head back to the water, there are plenty of choices for boat, kayak, and stand-up paddleboard rentals. Salcombe sailing does boat hires from Island Street, and there are many options for kayak and stand-up paddleboard hires and lessons.
For kids
Salcombe doesn't have tons of activities for kids, but there are a few things around to keep the kids busy.
Why not hire a bike from Salcombe Bike Hire? Salcombe is a very bikeable town, even though it is hilly, and you could even make your way to one of the beaches by bike. Or ride over to Victoria Quay, the best spot for crabbing in town. It would be a great way to teach the kids about crabs and end up with a cherished memory.
Or bike over to Cranch's Sweet Shop for an old-fashioned twist on the candy store. If it's hot out, you could also stop at Salcombe Dairy on your way back for some ice cream.
Drinks
Locally made drinks are always worth a try. Salcombe Distilling Co have many ways to experience gin and rum. They do distillery tours, tasting experiences, a gin school, and a rum school. Their award-winning gin school allows you to learn the art of distillation and make your own custom gin. If you fancy rum, you can make your own rum instead!
Devon Rum Co offer similar experiences, with a tasting and tour experience, and a cocktail masterclass. At the end of your visit, be sure to grab a bottle to bring home with you.
Eats
If you're in Salcombe, it's already crab o'clock. Head to Crab Shed for some of the freshest crab in England. The Winking Prawn is on the other side of town, but has a nice, chill vibe and a sweet patio. For a quick sandwich, The Salcombe Deli has you covered. For dessert, The Salcombe Crêperie has all the decadent goodness you're looking for.
There are also some amazing restaurants in nearby Kingsbridge, just a 15-minute drive away. The selection in this area is very diverse as well. If you're there on a Sunday morning, Mangetout Delicatessen has nice brunch.
For lunch, there's Ceylon Cinnamon Restaurant, serving up Sri Lankan cuisine. Dream Turkish Kitchen serves up lunch as well.
For dinner, Restaurant Twenty Seven has a beautiful interior and menu to boot. La Ranchera has all of your Mexican cravings covered. Wild Artichokes is a good option as well.
If you just need some fresh fish, head to Catch of The Day.
Stays
Salcombe is a great place for camping or glamping. There are tons of sites outside of town within a reasonable distance. One of them is Higher Rew Camping Park.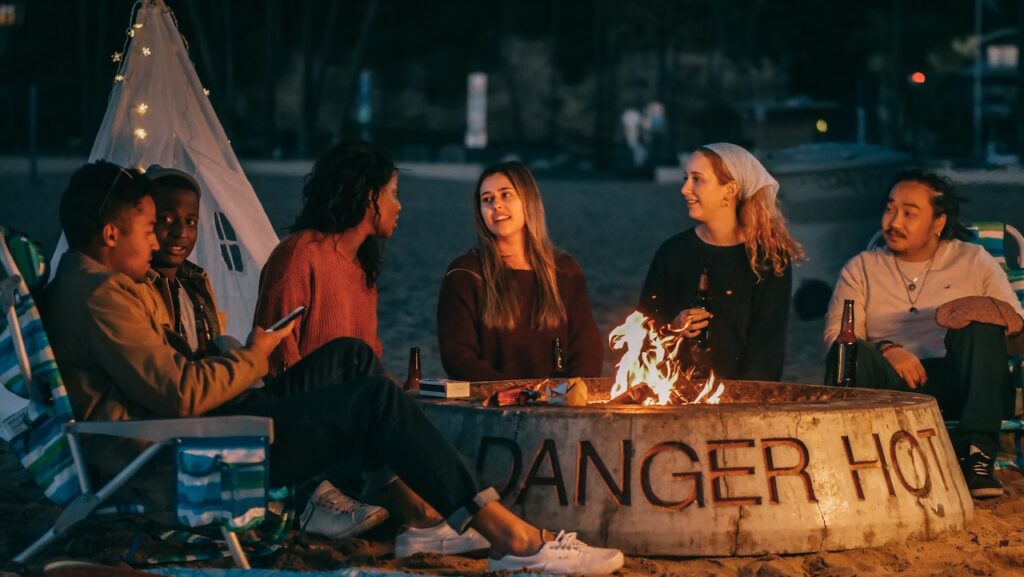 For more traditional, indoor accommodations, there are plenty of hotels in town. Near the South Sands, your two best choices are Harbour Beach Club Hotel and Spa, and South Sands Hotel and Restaurant.
Right in town, you have The Marine Quay, Harbour Hotel, Victoria Inn, and The Fortescue Inn, all with nice views out to the water.
With so many beautiful beaches and charming towns in the South West, this summer is the perfect time to go on a weekend break for some sun and sand. Check back soon for more features about beaches in other parts of the UK and around the world.
To see your company in any upcoming features we are arranging, please email editorial@hurstmediacompany.co.uk