Win a TV stand, Worth £1,295!
16 Days Left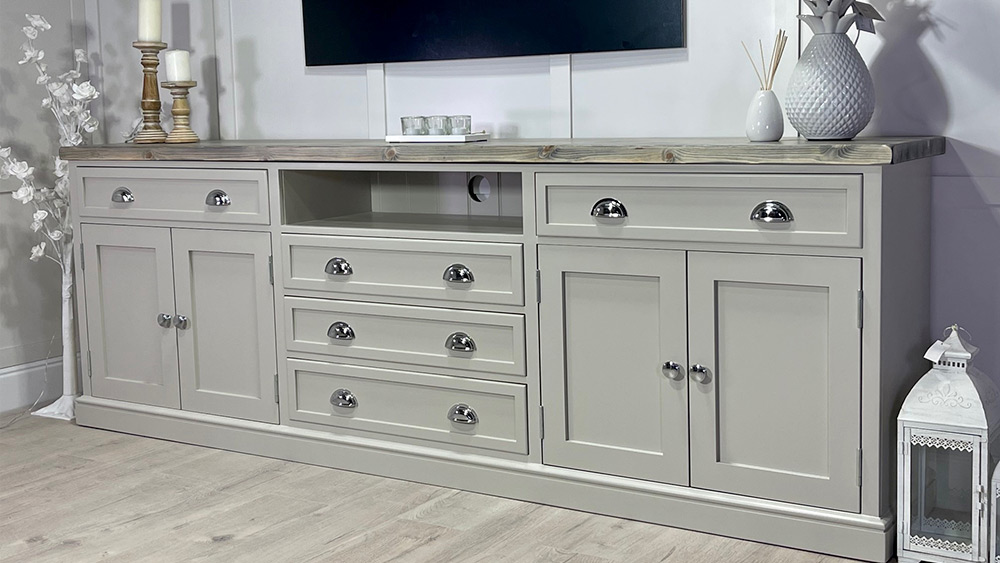 Closing Date: Monday 18th of December 2023
Terms & Conditions: Click Here
Farmhouse Furniture believe your home deserves more than just furniture – it deserves a story. They specialise in crafting bespoke furniture that transcends functionality and becomes an exquisite reflection of your very own taste and style.
Farmhouse Furniture are an established, family-run furniture manufacturing business based in Essex with over 25 years' experience. They produce beautiful, handcrafted bespoke furniture, which they ship throughout the UK. They tailor each piece to their clients' unique tastes – you get to choose the paint colour, top colour and handles.
Furniture building is a skill that Farmhouse Furniture have passed down from generation to generation in their family, using only the finest-quality wood, unique designs and traditional techniques. They pride themselves on amazing workmanship and attention to detail – and they always strive for perfection. They can honestly say they love what they do and hope this sentiment shows in the furniture they produce. Their range includes dining sets, dressers, sideboards, TV cabinets and so much more.
Quality is at the heart of everything they do. They source the finest materials, ensuring durability without compromising on aesthetics. Their commitment to excellence guarantees that each piece not only looks stunning but stands the test of time, and can be passed down through generations, making their range a quality investment in your home.
Transform your space into an oasis of sophistication and comfort. Farmhouse Furniture's bespoke furniture isn't just something you own – it's an heirloom, a conversation starter and an expression of your refined taste.
Join Farmhouse Furniture and embark on a journey where your imagination meets craftsmanship. Elevate your living space to new heights of elegance with their bespoke furniture creations.
Visit farmhouse-furniture.co.uk to find out more.