Win a voucher to spend on NeoThotics Orthotic Insoles, Worth £100!
17 Days Left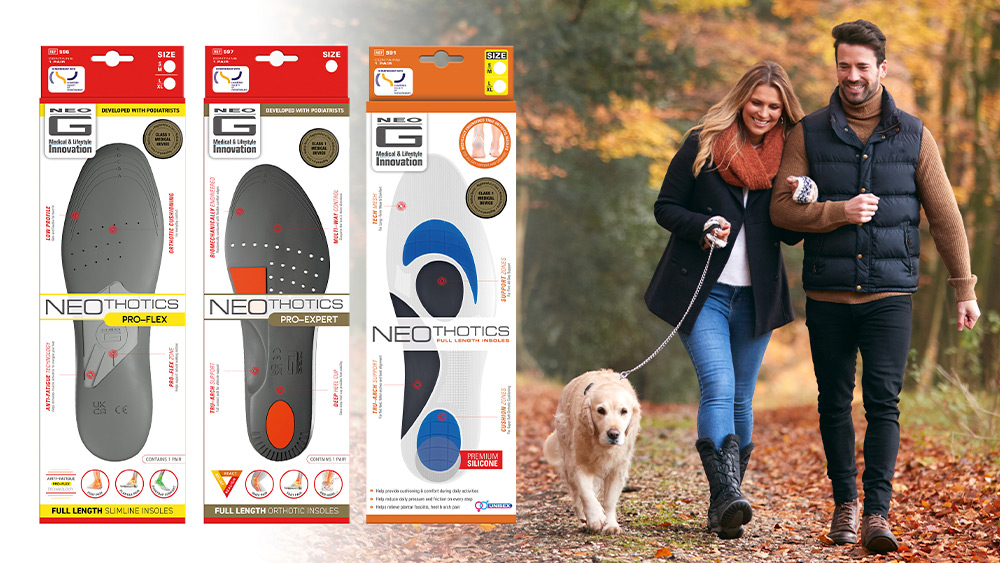 Closing Date: Saturday 4th of June 2022
Terms & Conditions: Click Here
Wondering how to treat aching feet, heels, legs, knees, or lower back? Do you suffer from plantar fasciitis, Achilles tendonitis or flat feet? Orthotic insoles are medical devices designed to replace the footbed of your shoes, support your feet, provide stability, and help realign your feet, relieving pain from plantar fasciitis and other conditions. Neo G is offering one individual the chance to win a voucher to spend on NeoThotics Orthotic Insoles of their choosing.
Your feet carry your entire body weight, and shoes do little to support them. While basic insoles simply absorb shock and provide ineffectual cushioning, orthotic insoles provide what your feet need, stability. NeoThotics Pro-Flex Insoles give everyday comfort and support, easing foot discomfort and energizing tired, aching feet by giving energy back to you on every step via Anti-Fatigue technology.
Their most advanced orthotic yet, NeoThotics Pro-Expert Insoles are biomechanically engineered in conjunction with leading podiatrists to provide true support and effective relief from pain and underlying conditions associated with misalignment and abnormal movement of the feet.
NeoThotics Silicone Orthotic Insoles are constructed from Premium Grade Silicone (with an embedded Hexagonal Tech Mesh for strength) for orthotic cushioning and shock absorption, combining firm support zones and soft cushion zones for support, comfort and pain relief.
Coming in full length, ¾ and heel cushion size, consider what condition you need insoles for, what you'll be doing wearing them and what shoes you'll wear them in. it's a case of picking the best insole for the job. With this voucher you can cover all your bases!
Visit neo-g.co.uk to view their new range of medical grade, advanced orthotic insoles.