Win an Evolution Cordless Beginners Tool Bundle 18v Li-Ion EXT (Loaded), Worth £584.75!
Competition Closed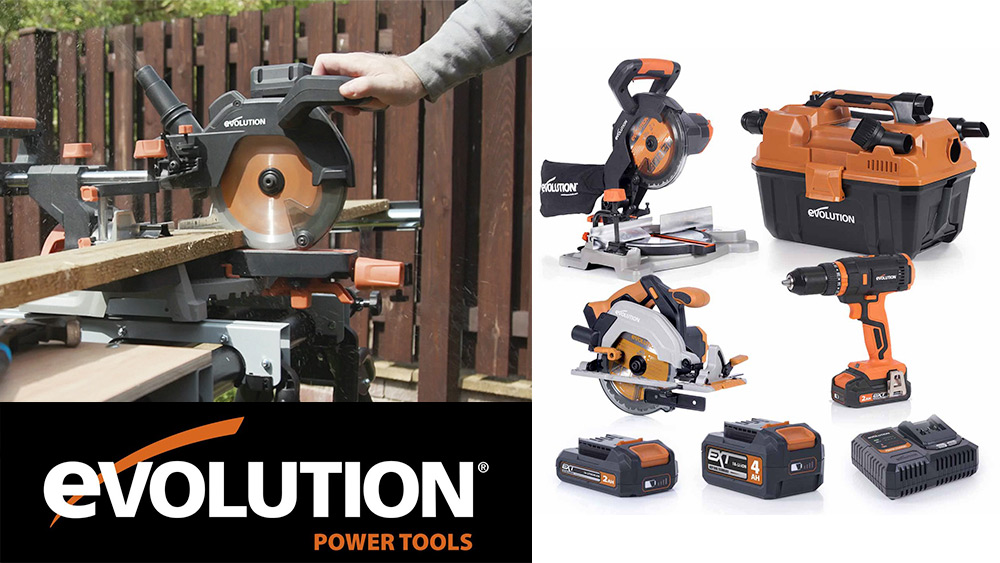 Closing Date: Monday 24th of July 2023
Terms & Conditions: Click Here
The Beginners Bundle packs together the four essential cordless tools that every DIY'er and homeowner should have. These four tools will allow you to tackle the most common DIY tasks with ease, saving you time and money and giving you the satisfaction of a job well done.
The cordless Beginners Bundle from Evolution will help you complete any job around the home, indoors or outdoors, you can tackle tasks in timber, metal, plastics and more. From making and installing your first shelves, to touching up decorative woodwork to installing decking in your garden. With this bundle, you'll be sure to get the job done with Evolution. The Beginners Bundle includes:
R185CMS-Li 185mm Cordless Compound Mitre Saw
Based on the Red Dot Design award-winning R210CMS the new Evolution R185CMS-Li Cordless Compound Mitre Saw delivers precise cuts in new and reclaimed wood, plastics, composites, and metals. Its powerful motor, accuracy, long run times, compact size and Multi-Material blade technology make it ideal for every home project.
R165CCS-Li 18V Li-ion Cordless Circular Saw
The R165CCS-Li 18V Li-ion Cordless Circular Saw is packed with features. Multi-Material cutting technology, and a vacuum attachment port, while its best-in-class 55mm adjustable depth of cut and 0-50° bevel capability provides real versatility. This circular saw will make light work of long cuts through sheet materials, timber studs, metal strut and plastics.
R13CMB-Li Cordless Combi Dill Driver
The R13CMB-Li Combi Drill is the perfect tool for any busy woodworker or keen home user. Versatile, compact and powerful the R13CMB-Li delivers 45nM of torque and long battery life to help you complete your assembly and DIY projects with ease. With a hard-working 13mm keyless metal chuck, hammer, drill and driver settings as well as 20 user-adjustable torque increments the R13CMB-Li is a versatile performer.
R11VAC-Li cordless Wet & Dry Vacuum
The Cordless R11VAC-Li is the ideal tool for dust extraction and general cleaning tasks at home, at work, indoors and outdoors. Our high-performance motor provides long run times and the 21.2 L/s airflow competes with much larger plug-in vacuums to make light work of dust, debris, dirt and liquid spills. Equipped with 3 nozzle attachments, all with onboard storage and a 1.8m extending hose the R11VAC-Li facilitates versatile cleaning with its wet & dry vacuum and blower functions.
R18BAT-Li2 18V 2Ah EXT Li-Ion Battery
The 2Ah R18BAT-Li2 is designed for our compact handheld tools where weight and easy handling are prime considerations. Weighing just 440g this powerful 5-cell battery charges in just 30 minutes and offers long run times.
R18BAT-Li4 18V 4Ah EXT Li-Ion Battery
The 4Ah R18BAT-Li4 is designed to deliver extended run times to our compact handheld tools where weight and easy handling are prime considerations. Weighing just 720g this powerful 10-cell battery charges in just 50 minutes and offers long run times.
Evolution's new EXT Cordless 18v Li-ion batteries provide outstanding run times with all of our new 18V cordless tools. Built using premium 18650 cells they're fitted with an intelligent battery management system that protects them from over voltage, over current and over temperature degradation to keep you working for longer.
Single Port 18v Fast Charger.
The R18RCH-Li1 Smart Battery Charger from Evolution is designed to keep your tools fully charged and you working efficiently all day long. This compact single-bay charger uses intelligent battery management to extend battery life and minimize charge time by selectively varying charge voltage and current while monitoring cell temperature for the optimum charge profile.
See our products online at Amazon & Very, or instore at B&Q, Howdens, Machine Mart, Screwfix, Toolstation, Trade Point and many other reputable power tool sellers.
This competition has now closed, no more entries.