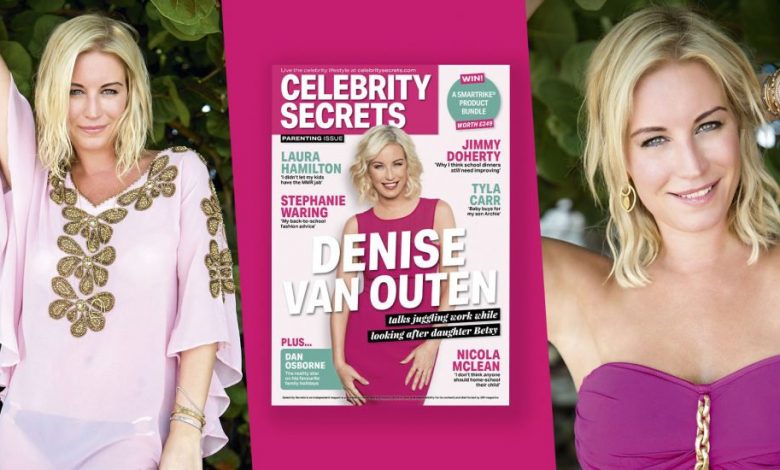 The TV presenter and actress talks exclusively to Celebrity Secrets about maintaining the perfect work/family life balance
Interview by Claire Muffett-Reece
The HomeAway campaign you're involved in guarantees to return any cuddly toy left in one of their rental properties via the 'HomeAway Teddy Express'. Why did you choose to get involved?
'If a child's upset about leaving their toy behind then parents get upset, too. For many kids a favourite teddy is a comforter to help them sleep and make them feel at ease. I'm not surprised that in HomeAway's poll 91% of the parents surveyed said it was their worst fear for going on holiday.'
Leaving a toy behind must happen a lot…
'Even this morning one of my best friends messaged to say she'd left her daughter's teddy bear on the plane when they landed on holiday. It's not as if you can easily buy a replacement, either. I tried that when I left Betsy's two favourite toys, Foxy and Rabbit, behind. I quickly bought her another teddy which she was delighted with, only for her to cry, "I want my Foxy and Rabbit!" when she went to bed that night.'
Is Betsy happy in her new school?
'At her previous primary I felt she was being alienated a lot from her peers, which wasn't very nice. She was constantly being taken off to another room to work with a teacher. I feel like we've definitely found the right place for her now. It's hard helping her with her dyslexia and dyspraxia, and my ex-husband Lee [Mead] and I have had to learn to understand it. Now she's that little bit older she can tell us what she's struggling with, and we figure out the right way to help her.'
Do you make an effort with your hair and make-up for the school run?
'I don't do a thing – not even trying to disguise the fact I'm make-up free with a big pair of sunglasses! I don't think the school's ever seen me in make-up and they'd be quite shocked if I turned up all glam. I literally get up in the morning, stick on my gym gear and drop Betsy off.'
How are you finding the school holidays while trying to juggle work?
'Betsy goes to see her dad and we split the holidays between us. I always feel like it's nice for us to just have a bit of time on our own, so Betsy and I have been away to Spain. My boyfriend Eddie loves it, as he gets the house all to himself. He can't wait to get rid of me!'
Does Betsy also go to any holiday clubs?
'It's easier for us to have her between me and Lee. Luckily her dad's really hands-on and we're great friends, so we just work it out between us. I've also been busy filming Neighbours in Australia, and it wouldn't have worked having Betsy there with me. It's winter in Melbourne and it would have meant she'd be in the apartment most of the day, which is no way for a nine-year-old to spend their summer holidays!'
Denise has been working with HomeAway on their Teddy Express campaign homeaway.co.uk
Read Denise's full interview in the Parenting issue of Celebrity Secrets, available in OK! magazine bumper packs, on sale now for one week only!