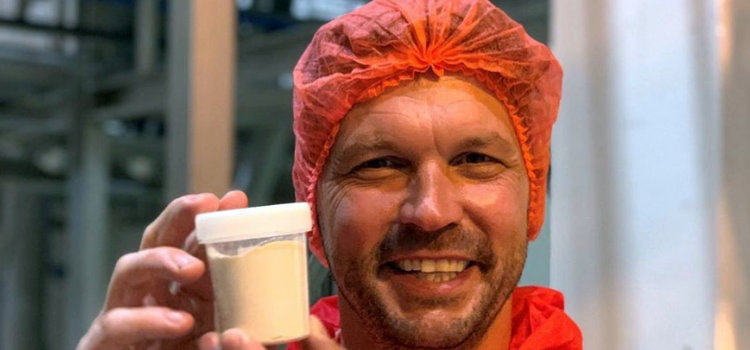 The TV presenter and dad of four on eating as a family and the school dinners he used to love
Interview by Claire Muffett-Reece
What family food rules do you stick by?
'We all sit down for breakfast together, which I love. It's really important for us to eat at a table together and discuss what we've been up to.'
What are your girls like with food?
'We've been lucky because the kids always want to try different stuff. They naturally have things they don't like as much as others, but they're not fussy eaters. They love typical kids' snacks – they can't get enough of PomBears!'
Where do you go as a family when eating out?
'We often get the whole family together, including the dog, for a lovely walk to the pub for fish and chips, which is a real treat. The kids also love an all-you-can-eat buffet – they go totally nuts! I remember one of the girls coming back once with a plate that consisted of sweet and sour chicken, pork crackling, roast potatoes, chocolate cake and profiteroles!'
And what about if you're eating at home?
'A nice Saturday afternoon often involves the kids playing outside, so I'll do a gin and tonic for myself and my wife, Caela, then put out some nice antipasti of fresh salami, pickles and olives. Suddenly a herd of kids will come over and hoover up the lot!'
What do you cook to impress your wife?
'Caela loves anything with butter and garlic, so I'd rustle up some prawns in chilli and garlic butter with a big crust of bread. I'd follow that with salt and pepper squid or some seabass – or serve a lovely fish mezze with a crisp white wine.'
Let's talk school dinners. What do you remember about them when you were at school?
'We had proper dinner ladies at primary who made all the meals on site, before the older kids would serve it. It all changed when I moved up to secondary, as a lot more of the food was brought in from outsider caterers. It was much more classic in the day, including a fair amount of processed food like spam fritters and saveloys. I loved them both!'
Do you make packed lunches for your girls?
'They eat school dinners, so I only tend to make packed lunches if they're off on a trip. They get cheese and pickle or ham and mustard sandwiches with an apple and plenty of water. It's the same sort of thing I would have had myself when I was young.'
For more information on Jimmy's Farm visit jimmysfarm.com
Read Jimmy's full interview in the Parenting issue of Celebrity Secrets, available in OK! magazine bumper packs, on sale now for one week only!