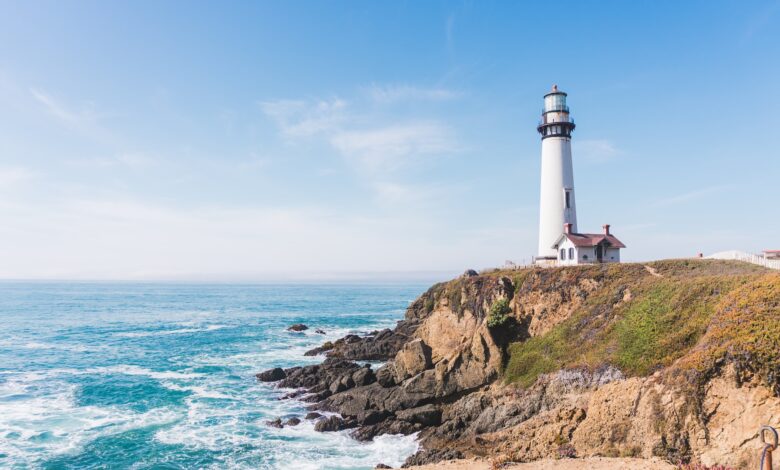 There's no shortage of beach destinations across mainland Europe, and recently, flights are inexpensive enough to allow many UK residents to get to them easily. Whether you're considering Greece, Monaco, or even a seemingly under-the-radar destination like Montenegro, beach destinations are just a few hours away.
But perhaps, it's time Brits discovered their own backyard. Why not take a trip to one of the UK's beach destinations?
Caernarfon and Beaumaris, Wales
Caernarfon and Beaumaris are two small towns on the north-west coast of Wales, separated by the Menai Strait and about a 20-minute drive. Each brings its own charm; Caernarfon was occupied by the Romans until 383 AD, while Beaumaris was originally a Viking settlement and has since been revered for its beautiful castle.
Beaches
Sandy beaches aren't common in the area, but there are still many beautiful seaside spots.
Near Caernarfon, there are a pair of pebbled and sandy beaches, which are probably the most beautiful ones in the area. Penmaenmawr Beach is 25 minutes away, and so is Llanfairfechan Beach. They both feature some lovely mountain backdrops and areas nearby for snacks and drinks.
Just 15 minutes away, is Dinas Dinlle Beach. It has lovely views towards the island of Anglesey and is big enough to still give you a private corner of your own, no matter how nice the weather is.
Closer still to Caernarfon is Felinheli Waterfront, which can't quite be classed as a beach, but it could be a good spot if you're not intent on swimming, and are happy hanging by the water.
There are a few more options on the Beaumaris side of the Menai Strait. Beaumaris Beach is right in town, composed of mostly sand and shingle, and has some of the best views towards Eryri (Snowdonia) National Park.
Within five minutes of town is Lleiniog Beach, another beach with stunning views towards the national park. While not sandy, it offers lovely walks and good seating areas for picnics.
Further along the coast of Anglesey, Traeth Penmon is around the corner from Penmon Point, and has some views out to Puffin Island. If you want to spot any birds, you should probably bring your binoculars.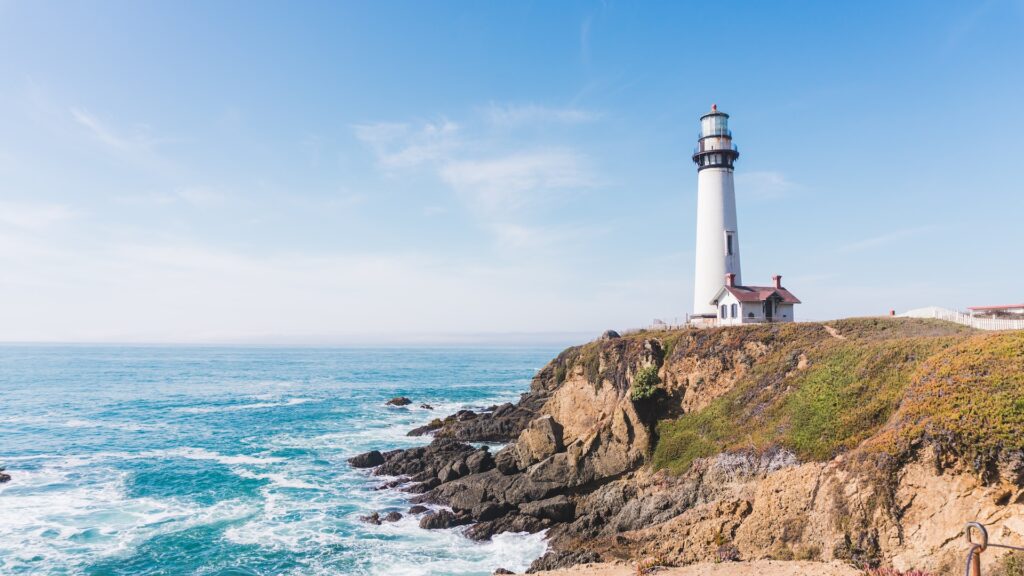 One of the more beautiful beaches in the area is Traeth Gwyn, also known as White Beach, due to its colour. The crescent-shaped cove is mostly pebbles, but it is quite secluded so you could end up with your own private view.
Further west, you can find an even more secluded spot for the adventurous ones in your crew. Tan Dinas Beach is close to the formerly operational Tan Dinas Quarry.
If you're craving some sand, Llanddona Beach is probably your best option. It has free parking and is big enough that even when the carpark seems crowded, you're sure to find a little slice of paradise.
Sights and activities
Castles are always on tap in the older UK towns, and both Caernarfon and Beaumaris have lovely castles.
Caernarfon Castle has plenty to explore. The castle blends heritage and modernism well, with exhibits and one of the best views of town from the top of the turrets.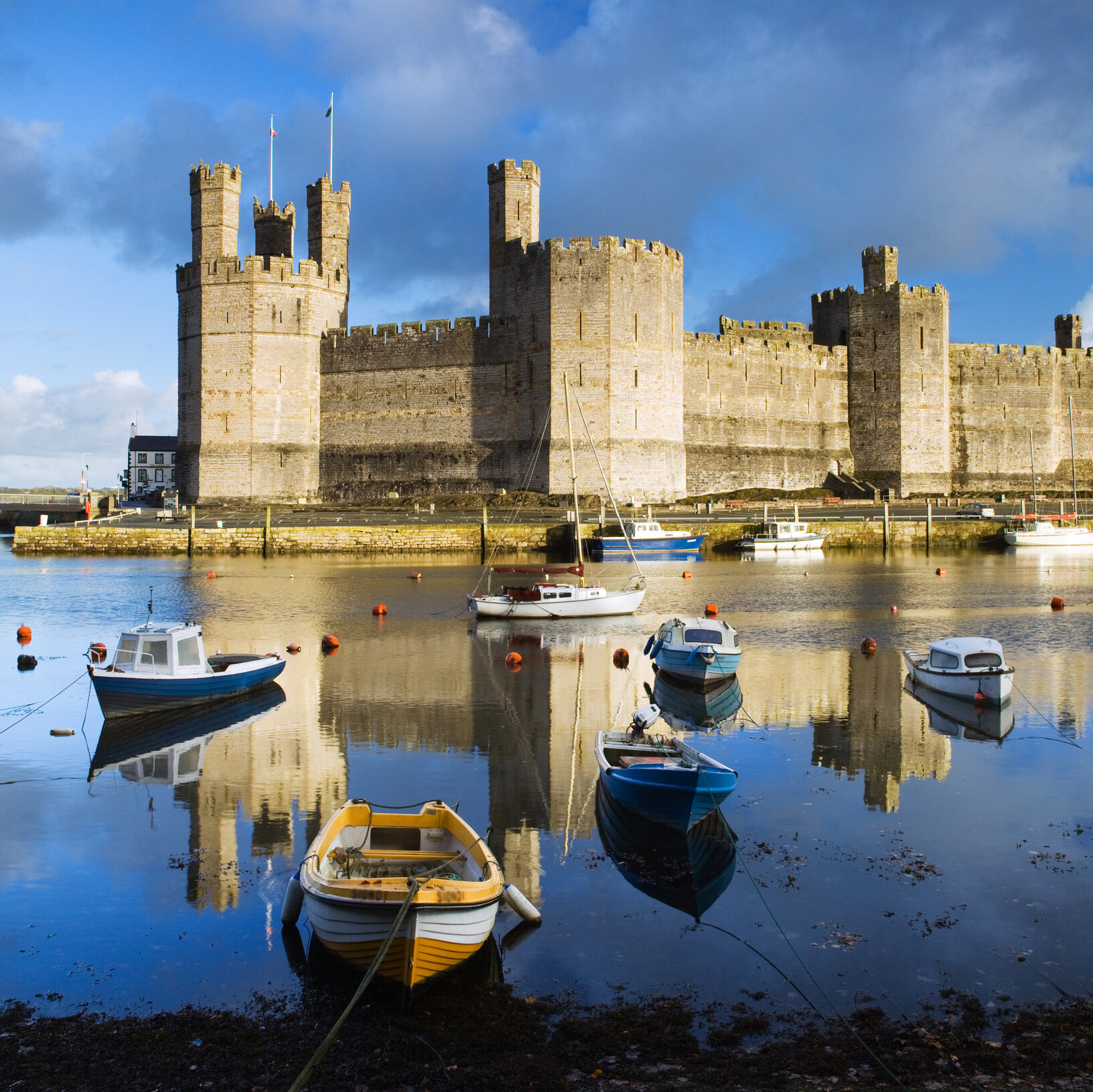 There is also an old Roman fort in Caernarfon, called Segontium. Back in the day, it was one of the most important military bases in Wales. While it might not look like much today, the history it possesses is quite interesting.
Caernarfon is one of the best towns to use as a base to explore Eryri National Park. The park has numerous mountains to climb and lakes to explore, including the tallest mountain in Wales, Yr Wyddfa (Snowdon), and Llyn Tegid, the largest natural lake in Wales. The edge of the national park is just 10 minutes from town, so it's definitely worth the trip.
There are a number of slate and copper mines in the area as well, which are interesting options for more adventurous families. Most of them include some kind of cave excursion, so prepare yourself for the dark and wet.
Near Beaumaris sits the iconic Beaumaris castle, complete with a moat and drawbridge. With plenty of nooks and crannies to explore, and tall towers to climb, it's definitely worth a visit.
Beaumaris Gaol is another fascinating sight for those with an interest in history, and that don't mind hearing some gruesome stories from the past. The guides there are very knowledgeable and bring a light-hearted attitude to the venue.
If you're in the mood for a walk or hike, there's a coastal path that follows the entire coast of the Isle of Anglesey. The stretch from Beaumaris to Penmon will take you to the lovely Penmon Point Lighthouse, and if you go the other direction, you could check out the incomparable Traeth Llanddwyn, although it could take you all day if you start from Beaumaris.
For kids
Near Caernarfon, there are a few awesome spots to keep your kids busy. Beacon Climbing Centre might not be specifically designed for kids, but they have fun climbs for kids over the age of five. If you're new to climbing, they have a welcoming atmosphere and friendly instructors.
While it's on the pricier side, Welsh Highland Railway offers a fun steam train ride for the whole family, and dogs are allowed on board too. You will see sights inaccessible by car if you choose the right route.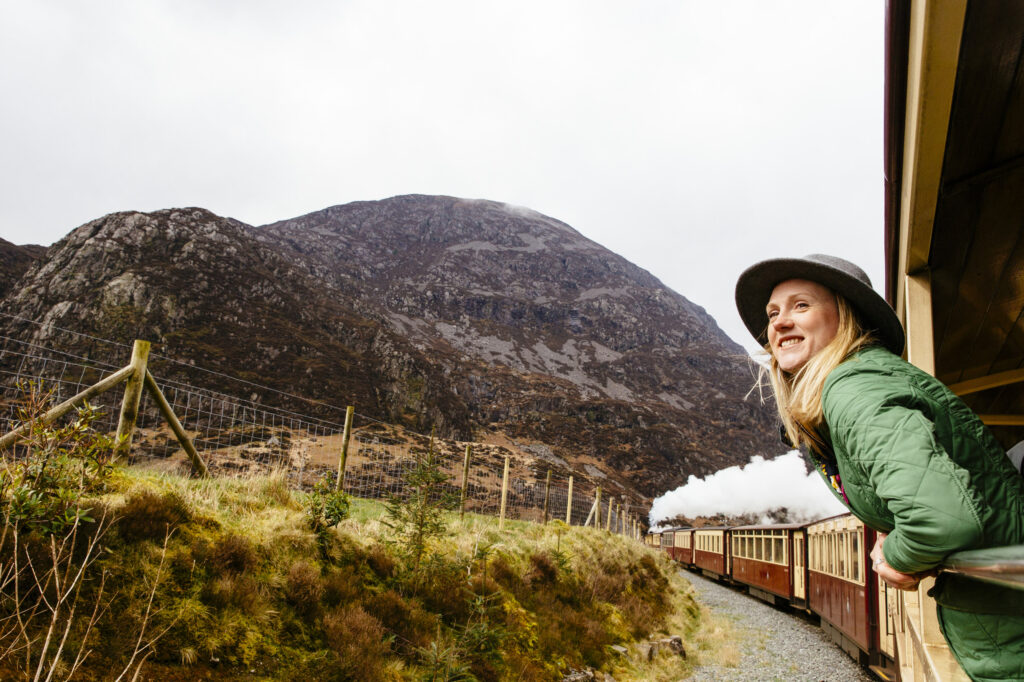 Just outside the edge of the national park, you can take your kids for a pleasant horse ride at Snowdonia Riding Stables. They cater to beginners and the views of the park are wonderful. The horses are always in great shape and are clearly well taken care of.
In Beaumaris, take your little ones to Beaumaris Pier. The views from the pier are lovely, and it's a good spot to teach your kids about crabbing. You can also get a boat to Puffin Island from the pier, which is a great way to get your kids interested in wildlife.
Drinks
South of Caernarfon sits Pant Du Vineyard and Cafe. From June to September, you can indulge in a guided tour and tasting. They also have a wide variety of red, white and rosé wine available in their shop, as well as cider, gin, juice and honey. All of these can also be ordered online at pantdu.co.uk if you run out at home.
In Beaumaris, The Spirit of Anglesey is the spot for gin making and tasting. Choose from over 50 flavours to add to your special customised gin, and try a few others along the way.
Eats
There's no shortage of places to eat in these two coastal towns. In Caernarfon, you can treat yourself to fine dining at Sheeps and Leeks, Italian at Osteria, Greek classics at Ouzo & Olive and if you're in the mood for Chinese, head to Fu's.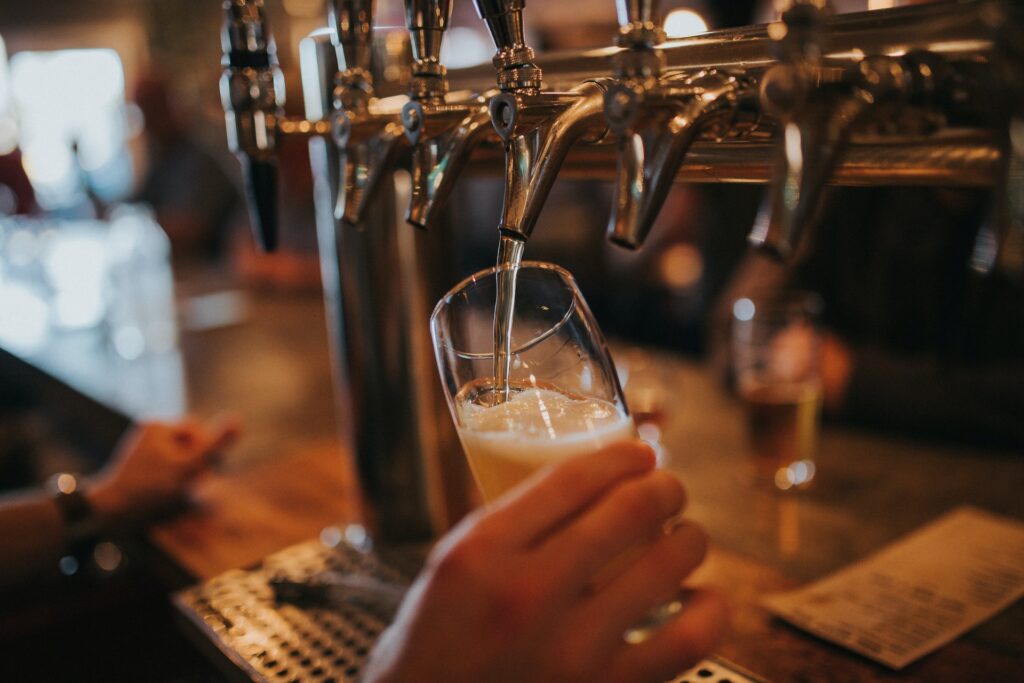 Across the Menai Strait, in Beaumaris, you can find a few local gems. Just outside of Beaumaris Castle is Happy Valley Pavilion Cafe, which has your tea and quick bites covered. There's a lovely butcher called Mercado, while Sarisa Indian Kitchen is great for those craving a curry, and The Midland Tapas and Wine Bar is a sweet spot for sharing plates.
Stays
Caernarfon is well situated on the coast and central to many good spots to visit. In town, Black Boy Inn is a great spot and has a killer restaurant as well. Victoria House B&B is another stay with great reviews. If you feel like staying out of town, Plas Dinas Country House is a marvellous spot, and Coed Helen Holiday Park is a sweet holiday park with a swimming pool and a great little restaurant, Molly's, around the corner.
In Beaumaris, which is slightly farther from some of the main attractions in this article, there are a few highly rated places to rest your head. Bishopsgate House Hotel is one of the top-rated hotels in the area, and The Bulkeley Hotel, The Bull's Head Inn, and Castle Court are all good backup choices. Outside of town, you can venture to Wonderfully Wild for glamping lodges and more.
Tobermory, Isle of Mull
While the general area of Tobermory has been inhabited for over 3,000 years, Tobermory itself was established in 1788, created by the British Fisheries Society. Tobermory was built by cutting away slope and rock to make room for the town. Tourism was a key factor in keeping the town alive during lean years, and the deep water pier constructed in 1864 assured larger vessels could dock, which cemented it as a trade and tourism hub which now supports over 1,000 residents.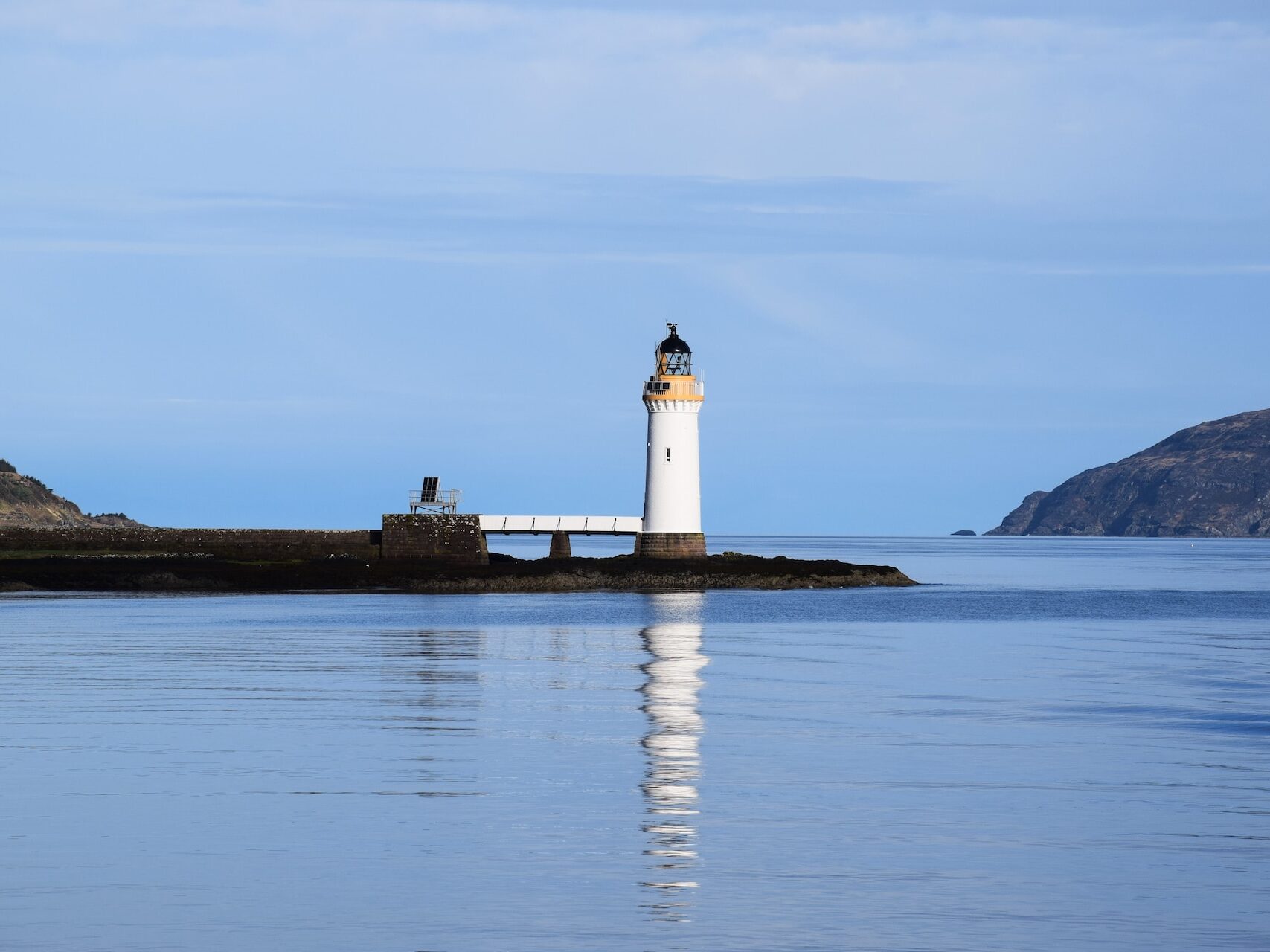 Beaches
Sadly, there are no 'real' beaches directly in town. However, there is a small 'beach' right on the harbourfront called Tobermory Beach with nice views of the colourful buildings, and technically, you can swim. However, when you see the other beaches within a half hour drive, you will want to check them out.
Calgary Bay is the largest beach in the area, and it has pristine blue water. North from there, and a bit farther from Tobermory, is Langamull Beach. While it's smaller, it still has big, beautiful rocks and clear blue water. There's a smaller beach to the east of it as well. Port na Ba is another bright blue option, and it's quite secluded. You might be the only people there, but don't be surprised if you have some sheep for company.
Keep in mind, the water here is cold all year long, so save the swimming for the bravest in your squad, or for those who want to enjoy the wellbeing benefits of cold-water immersion.
Sights and activities
Tobermory is a quaint little town that packs many sights and activities. A 30-minute walk towards Tobermory Lighthouse offers a beautiful view of mainland Scotland. In the opposite direction, Aros Waterfall is a lovely cascading waterfall for the whole family to enjoy. If the Easter Island statues don't fit in your itinerary, why not check out the Standing Stone Glengorm? These standing stones are just 15 minutes away and are interesting little structures.
If you have some energy left after the sightseeing, Tobermory Golf Club is an undulating and challenging course the offers views of the sea and windy, links golf. If a more gentle stroll is more interesting to you, walking by the colourful buildings on Main Street is great, and you can pop-in to The Picture Gallery while you're there.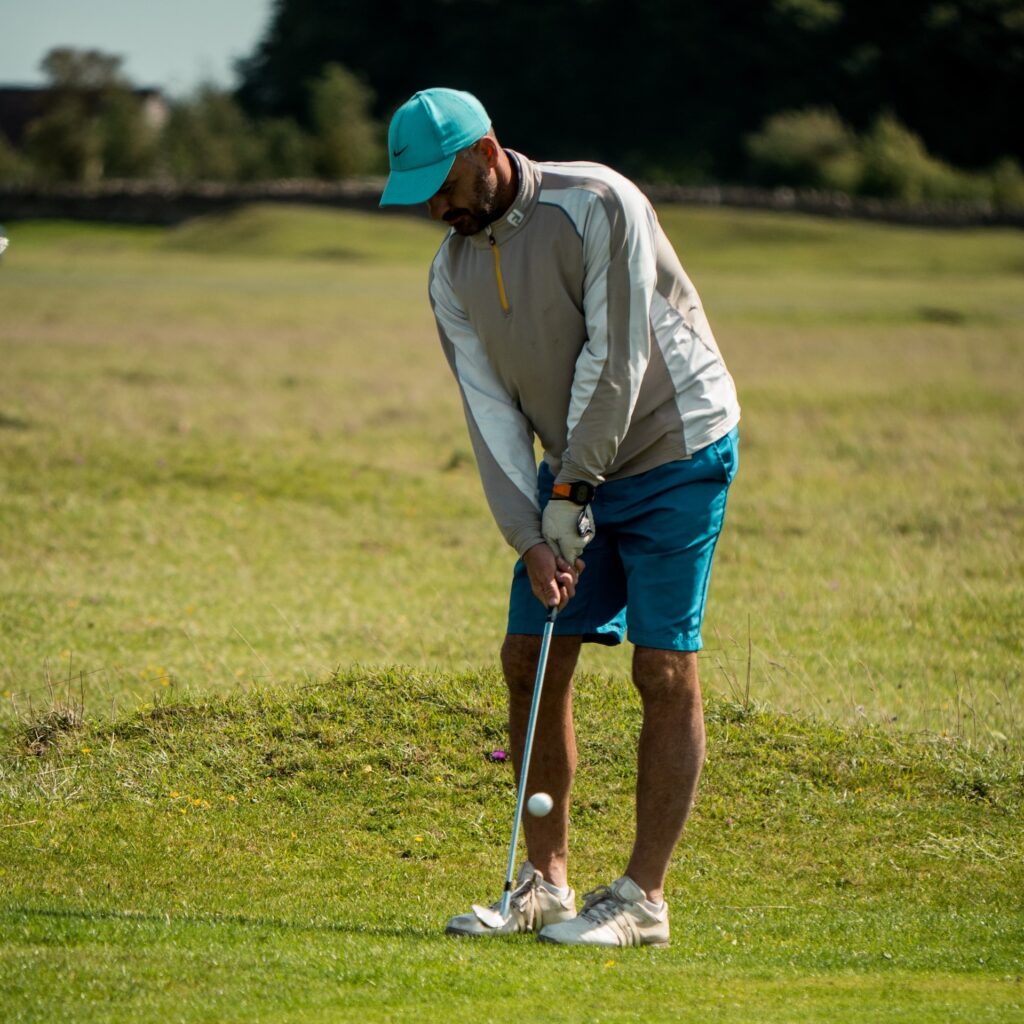 For the most adventurous in your group, and the highly qualified, there are opportunities to scuba dive near Tobermory. There are a number of companies that can accommodate divers, however, most of them do not provide training, support or equipment, they are mainly just charter companies that can get you out to sea. The nearest is Lochaline Boat Charters, although there are a couple of companies listed on Google Maps with phone numbers, but no website.
For kids
If you're hoping to entertain the little ones for a couple hours, check out Mull Aquarium. The aquarium is Europe's first catch and release aquarium, so the animals are brought in from local fishermen, divers and farmers. This guarantees that no two visits are the same.
On a warm summer day, there's nothing better than an ice cream cone. Isle of Mull Ice Cream has a diverse and crowd-pleasing range of flavours to suit every taste. Their flavours change every few days, so you're sure to discover a new taste if you visit more than once.
Drinks
There are a couple places to get quality bevvies in and around Tobermory. Tobermory Distillery is an award-winning distillery with scotch whiskies and gins. They've been creating amazing spirits since 1798, so exploring and tasting at their distillery tour is worth your while.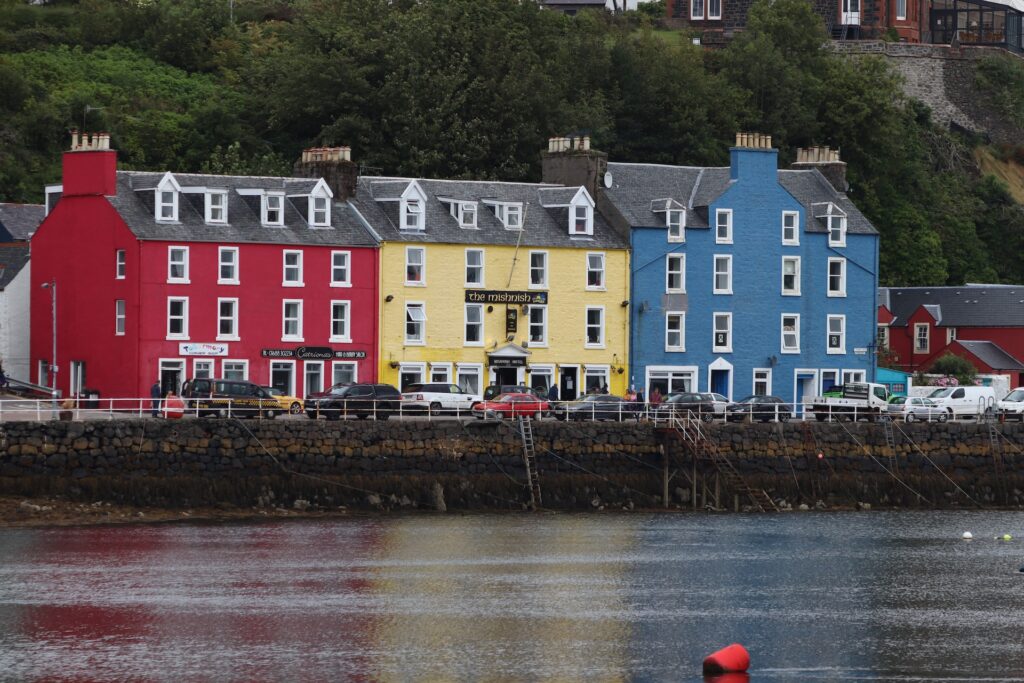 If you're not interested in whiskey or gin, head to Mishnish for your standard pub. On cold Scottish evenings they have the fireplace roaring and a pool table to keep you entertained.
Eats
Main Street in Tobermory is your best option to find good eats. If you'd like some fish and chips, Fisherman's Pier and Hook'd are the best spots in town. For high-end, locally sourced dishes, The Galleon is the best Tobermory has to offer. Cafe Fish serves fresh fish and seafood and offers lovely views of the bay and Calve Island.
Isle of Mull Cheese is a bit outside of town, but it has some of the best cheese on the island. All of their milk and cheese comes from their singular herd of cows, and they have some other picky bits if you fancy a quick meal.
There's also a mobile vendor, The Foodie Shack, which serves up pizza that's cooked in a wood-burning oven. Online reviews confirm that their pizza is outstanding, so check out their socials to locate them on the day.
Stays
Tobermory has a number of charming little bed and breakfasts. The Tobermory Hotel is a four-star hotel that sits right on the water and a few doors down is the Harbour Guest House, another four-star stay with great reviews. If you'd rather stay a bit off the water, the Park Lodge Hotel and the Western Isles Hotel are both reasonably priced and still very close to Main Street.
Tobermory Campsite is a good choice for those interested in staying off the beaten path. If you want to get real fancy with it, Glengorm Castle could be the start of your next fairytale, and it's just 15 minutes from Tobermory.
Morecambe, Lancashire
Morecambe is located by Morecambe Bay, part of the Irish Sea, and on the west coast of England. With stunning views of Lake District National Park and a boatload of activities, it's definitely worth the trip.
Beaches
With many beaches within half an hour, Morecambe is a great choice for beachgoers. In town, Morecambe Beach has beautiful views, and is best enjoyed when the tide is in. If you're looking for even more spectacular views, head north and check out Cove Road Beach or Silverdale Beach. Cove Road Beach has some spectacular rocky outcrops. Blackstone Point is also within driving distance.
Sights and activities
Any trip to Morecambe needs to start with a walk or bike along the promenade or bay cycleway. They stretch from Heysham (which has ferries to Isle of Man) to Morecambe, with plenty of stops and views along the way. Near the middle of the journey, take a stop at the Stone Jetty and the Eric Morecambe Statue. The sunset views from the Stone Jetty are also breath-taking. If shopping is on your list, stroll through the various independent shops in town to get your fix.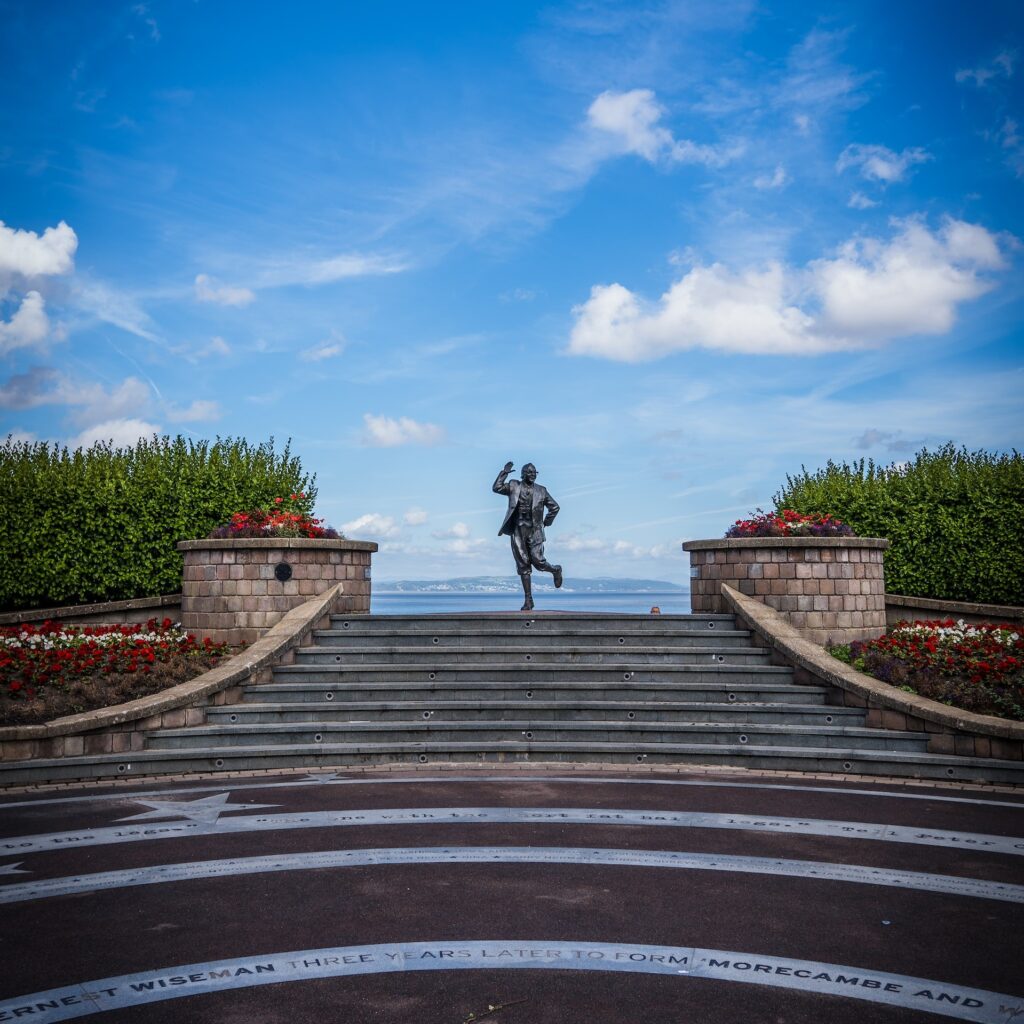 Just outside of town is the Forest of Bowland Area of Outstanding Natural Beauty. With mountain hikes, stunning rivers and a handful of great country pubs, it's definitely worth the drive.
If you're planning an autumn trip, make sure to check out the Vintage by the Sea Festival. This year is the 10th anniversary of the festival, and will feature live music, performances, dance, classic cars, vintage marketplaces fashion parades, workshops and street food. The festival is inspired by the styles of the 1920s all the way to the 1990s.
Just 15 minutes outside of Morecambe, Lancaster is home to the Lancaster Castle. Featuring a prison and a lovely café; take a tour and explore the premises to their full potential. It's truly an amazing building with a rich history.
While in Lancaster, a trip to Williamson Park is a must-do as well. The beautiful butterflies, mini zoo and kids' play area will keep you busy for hours. Lancaster is also home to an axe-throwing venue for those who want to test out their skills.
For kids
For your little ones, Soul Bowl is right in the heart of town and offers fun bowling for hours. Nearby there is also Jump Rush Trampoline Park.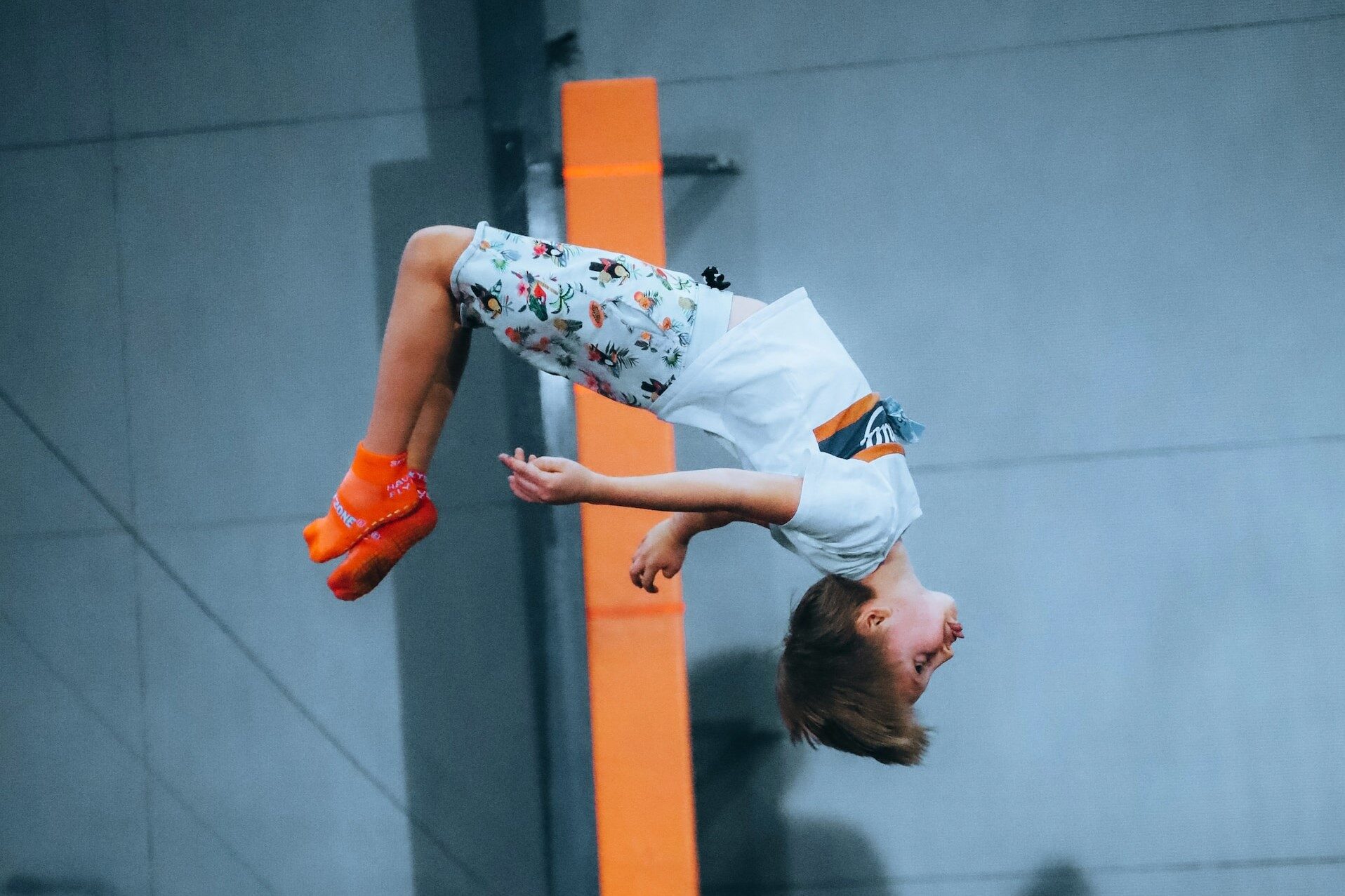 If that doesn't tire them out, make your way to The Platform for a number of different live events. The Platform is an entertainment venue located in a restored Edwardian railway station. With dance classes, music, live theatre performances and more, it's always a good pick for a fun night out.
If you're in town in late June, head to the Catch the Wind Kite Festival, a lively event that regularly welcomes 20,000 visitors.
Drinks
If you're not sure where to go, follow the Morecambe Food and Drink Trail. This handy map takes you on a culinary and thirst-quenching journey through town, and hits all the best spots.
Some good options are Brittlestar Wine Bar and Coffee House, Coffeys of Morecambre Microbar, and enough English pubs to keep you happy for weeks! If you want something locally brewed, Cross Bay Brewery are in the area, and Accidental Brewery and Lancaster Brewery can be found in Lancaster.
Eats
While the Food and Drink Trail covers almost everything, some hits include The Brasserie Greek Restaurant, The Morecambe Restaurant, No9, Miaitalia, and for something fast and different, try Chicker's & Wafflex. If afternoon tea is more your style, head to the Midland Hotel for something truly special.
Stays
If you're looking for somewhere in town to rest up, The Midland, the Broadwater Guest House, and the Berkeley Guest House are all good options. There are also plenty of Airbnbs in the area and Sunnyside Camping & Caravan Site is just on the outskirts of town.
Portrush, Northern Ireland
Portrush is a naturally beautiful town built on the one-mile-long Ramore Head peninsula on the north coast of Northern Ireland. Its main attractions are the cliff-lined beaches and spectacular links-style golf courses.
Beaches
Portrush definitely has some of the best beaches in the UK. West Strand Beach is right in town and hugs the peninsula. It features beautiful views of Inishowen and reliable surfing. On the other side of the peninsula sits East Strand Beach, with views of the Skerries Islands, and of course, more surfing.
If you want to venture out of town, head east towards Salmon Rock Beach, Runkerry Beach, and Bushfoot Beach, all within 15 minutes of Portrush. You can also head west from town to Portstewart Strand, just 10 minutes away. If you're willing to drive up to 30 minutes, there are a couple more stunning beaches on the other side of River Bann, Castlerock Beach and Benone Beach, which might be the nicest beaches in the area.
Sights and activities
There are some great natural and manmade sights in and around the Portrush area. On the way to Salmon Rock Beach, there is Dunluce Castle. While the castle is mostly ruins, it's still worth the visit, even if just for the coastal views.
Past Salmon Rock Beach, the Giant's Causeway is a group of stunning cliffside formations. From the 'Organ Pipes' to the hexagonal basalt columns, it's almost unfathomable that this area wasn't man made.
About 30 minutes from Portrush, you'll find the Carrick-A-Rede Rope Bridge. If you're afraid of heights or bridges, make sure to bring a spare set of underwear!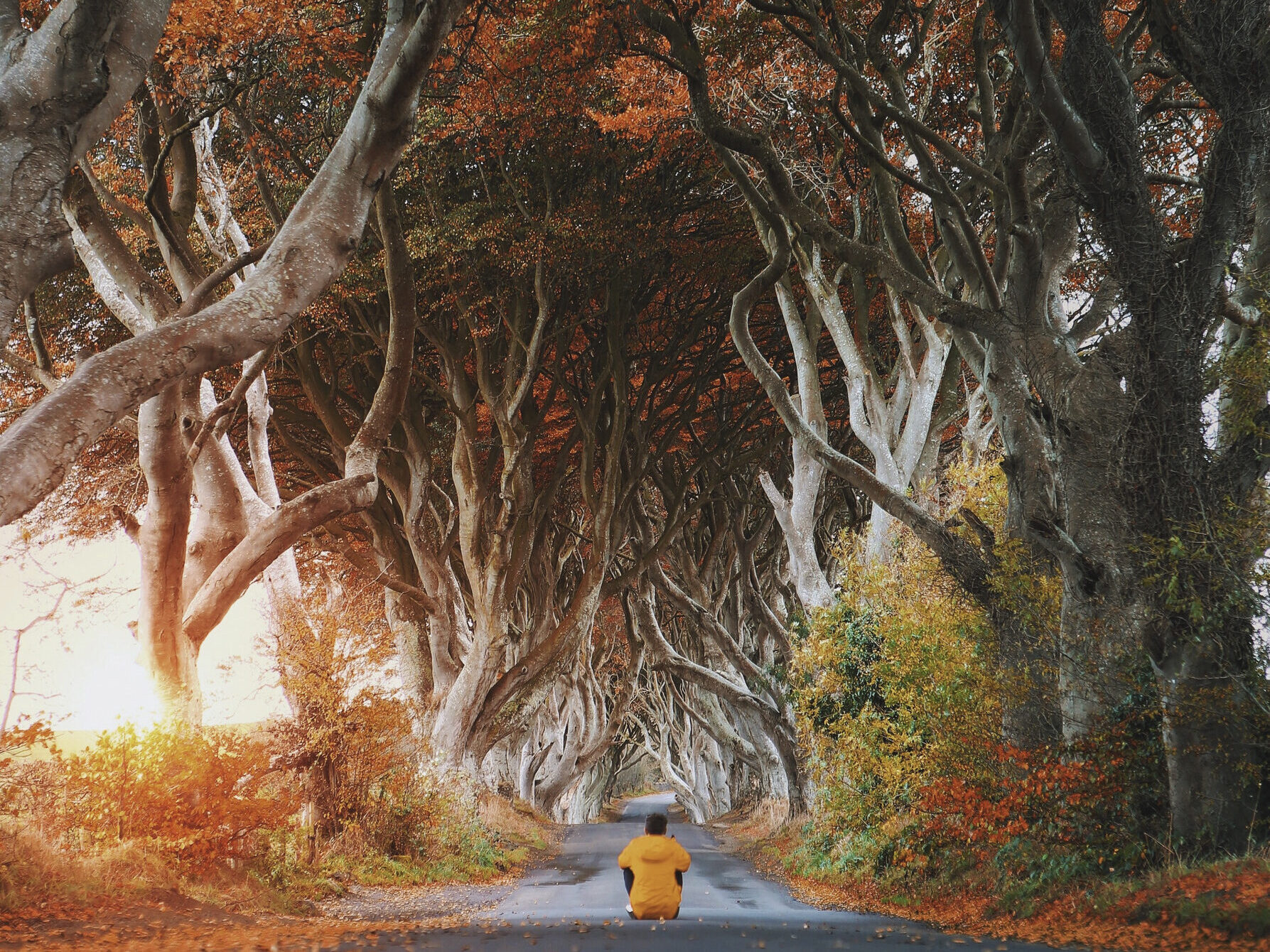 For those of you that are Game of Thrones fans, and perhaps those who aren't as well, a trip to the Dark Hedges would be an interesting change of scenery. This moody stretch of road was an iconic film spot for the series, and features spindly, finger-like branches that imprison the road.
If you're into golf, or just want to give it a try, you're in luck in Portrush. There are several world-class courses in the area, including 2019 British Open course Royal Portrush, which is situated on the edge of town and overlooks the ocean. Other options include Ballyreagh Golf Course, Portstewart Golf Club, Castlerock Golf Club and Bushfoot Golf Club.
For kids
If you don't want to bring your kids to the course, there's a little mini golf spot in town called Mini Golf Portrush. While it's only nine holes, it's reasonably priced and will keep the kids busy for a bit.
Around the corner from there is Curry's Fun Park. With a water ride, a Ferris wheel, and much more, this is a great option for the little ones. Sportsland Amusement Arcade is another good option in town, and Portrush Coastal Zone is a small educational experience for kids as well.
Drinks
After all of those activities, you'll need a drink. Head to Bushmill's Distillery for some great tours, and great whiskey. Their guides are equally knowledgeable and funny. Definitely pick up some whiskey from the gift shop on the way out.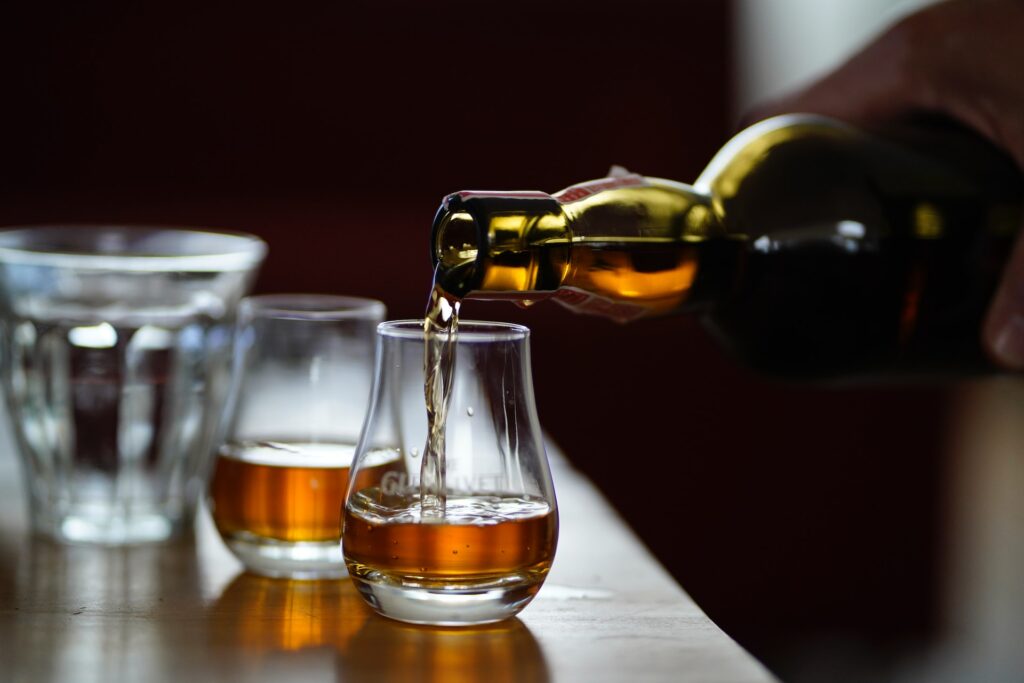 Kiwi's Brew Bar is an easy choice for the beer lover in your life. They have an immense selection of craft brews. The Harbour Bar is another popular venue, as is The Harbour Gin Bar. If you're itching for some live music, head to The Station Bar, where you can dance the night away.
Eats
There are plenty of great restaurants in Portrush. Shanty is right on the tip of the peninsula. Kellys Kitchen is away from the peninsula and serves some of the best pizza in Portrush; and another good pizza joint is Igloo Pizza Co. Urban Restaurant is in town and serves down-to-earth meals. The Tides Restaurant is tucked just outside of town and has comfort food and ocean views. Indigo Cafe has great breakfast, with huge portions and a lot of vegan options as well.
Stays
There are a number of great places to lay down in Portrush, including an innumerable amount of quaint bed and breakfasts. Portrush also has a bunch of hotels, including the Inn on the Coast, the Royal Court Hotel, and Adelphi Portrush. There are also a few holiday parks dotted around the town.
With so many beautiful beaches and charming towns in the UK, it's the perfect time to go on a weekend break for some sun and fun. Check back soon for more features about beach towns in other parts of the UK and around the world.
To see your company in any upcoming features we are arranging, please email editorial@hurstmediacompany.co.uk