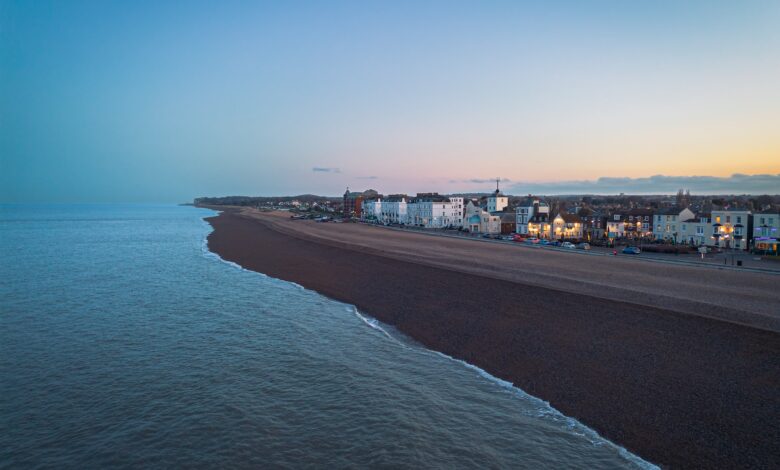 With so many options for UK residents to get to beautiful beaches across Europe, Brits might not know about all the possible choices. Whether you're considering Portugal, Croatia, or even a seemingly under-the-radar destination like Morocco, beach destinations are just a few hours away.
Perhaps, it's time Brits discovered their own backyard. This summer, take a trip to one of the UK's beach destinations, and find out why it's worth staying closer to home.
Deal, Kent
Deal is an old town, possibly settled around the first Roman invasion in 55 BC. It was simply a small fishing village for a long time, yet became an important port by the end of the 13th century. It was a 'limb port' of the Cinque Ports, and eventually became the popular seaside resort town it is today.
Beaches
One of the best things about Deal is the size of its beach. Deal Castle Beach is the name of the section near town, but the entire complex stretches all the way from Cliffsend to Kingsdown, so you can walk in either direction to find yourself a nice spot and feel like you're the only one there. The only 'problem' is that the beach is covered in pebbles rather than sand, so it's not the best place to play, especially for little ones. However, it's really not a big deal, and with a nice blanket, it's quite a pleasant place to hang out.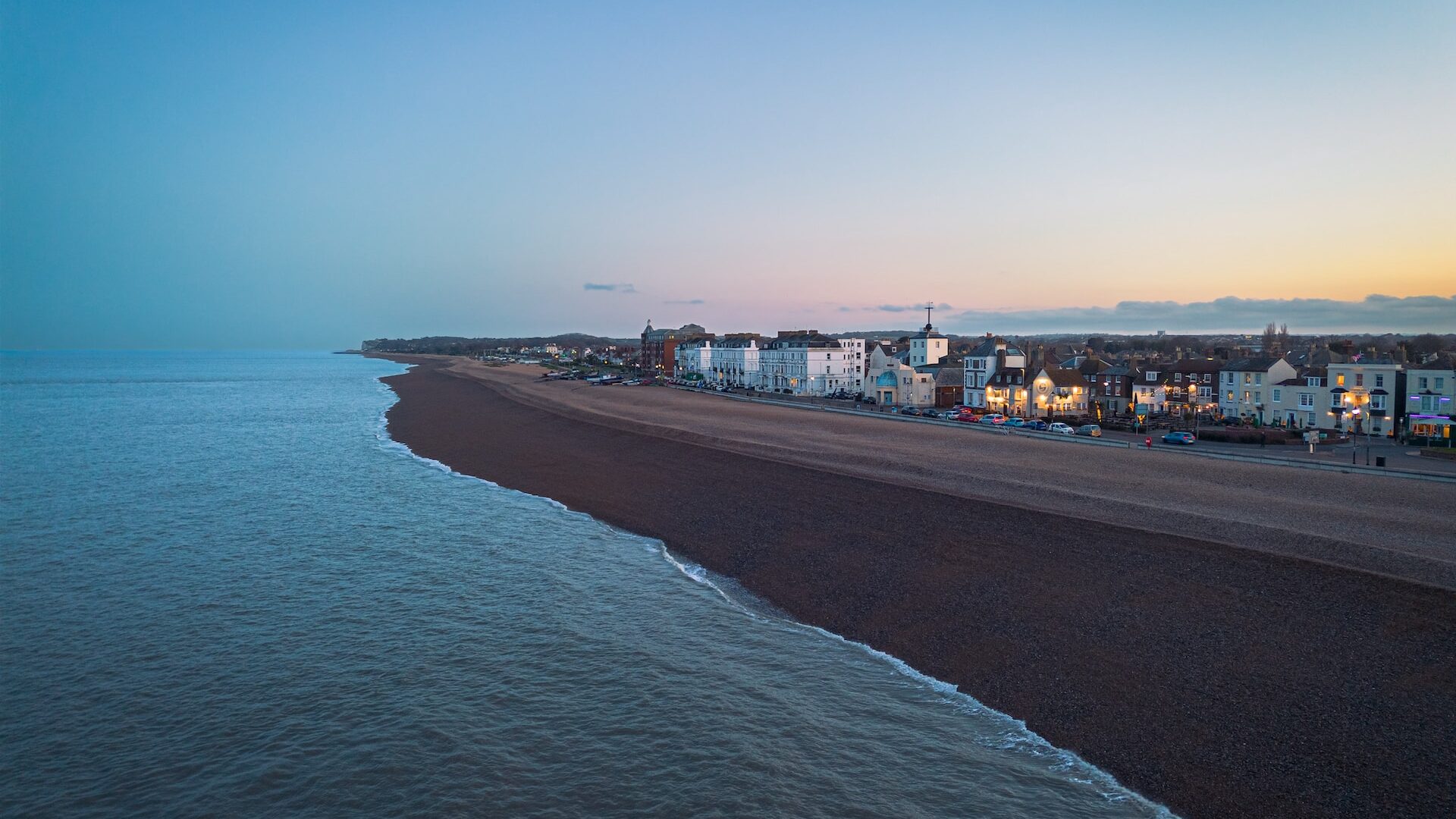 Sights and activities
Some of the best things to see in and around Deal are the castles. Deal Castle is right in town, and has iconic circular bastions topped with cannons. It's worth taking a tour and doing the rounds, there are many tunnels to explore and lots of history to learn, complete with beautiful views out to sea.
There are two other castles in the general area. Walmer Castle and Gardens is exquisite and certainly worth a visit. Many believe the gardens are more fun than the castle itself!
If you make your way south towards Dover, there are two must-see spots. Dover Castle sits pristinely on a hill overlooking town and the sea. Just east of town are the famous White Cliffs of Dover, and they can be spotted in certain parts of town as well.
There's also some great links golf in the Deal area, including The Royal St George's Golf Club – home to 15 instalments of The Open Championship. A bit closer to town, you can find Royal Cinque Ports Golf Club, a beautiful course in its own right. South of town is Walmer & Kingsdown Golf Club, another links course.
If you're in Deal on a weekend, Deal Saturday Market is open from 9am to 2pm and has everything from cakes and cheese to flowers and art.
Another nice hidden gem is Smugglers Records. It's an independent record label and record shop, and it's worth a stop.
For kids
While there are many options for adults to enjoy Deal, there are really only two solid options for kids in Deal.
Boonies is an outdoor activity area that pushes everyone, from kids to adults, to challenge themselves in the muddy assault course. Mini Boonies is designed for children aged three to nine, so kids can have a splash in the mud too.
If you'd like a bit of cleaner fun, head over to Pier View Amusements. The traditional arcade has modern machines and most games are under 50p, with some as low as 2p.
Drinks
As is with most UK seaside towns, there are plenty of choices for places to get your liquor on. For wine and cocktail lovers, Le Pinadier is the premier wine bar in town and Bloody Mary's has a great selection. For beer people, Taphouse Beer Café has a sizeable selection. The Kings Head has your authentic pub feels. Landmark Bar is a great hidden gem, with an open mic night for the braver souls in your squad.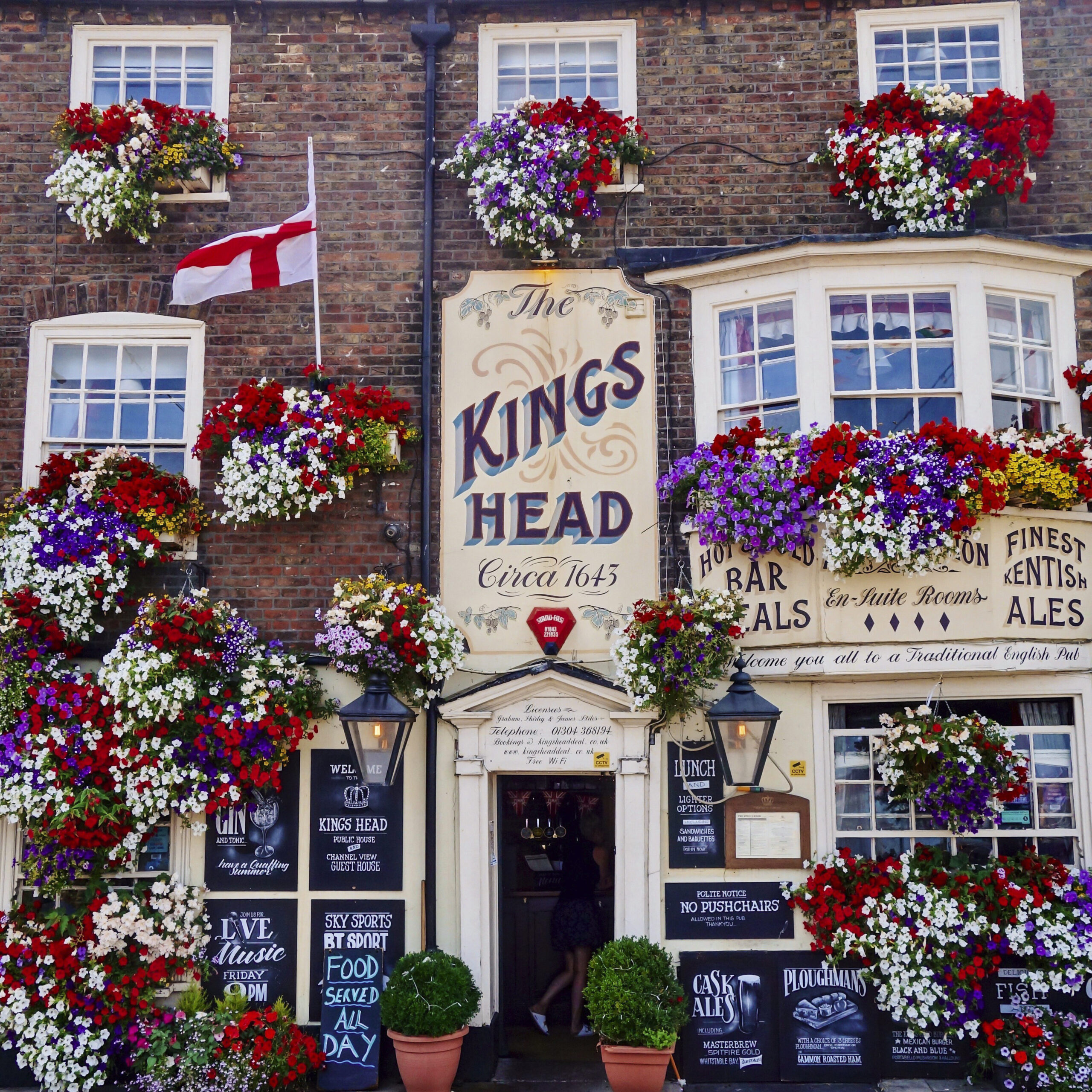 Eats
Deal has some of the most highly rated restaurants amongst British seaside towns. There are numerous options for those looking for pub grub, including Deal Pier Kitchen, with some of the best views out of their massive windows.
For other international cuisines, there are a few good places to eat as well. Bangkok Pavillion serves up traditional Thai food and The Sicilian has you covered for Italian food, including a bakery and groceries. Star of India has all of the classic Indian you're looking for and Aspendos has your traditional Turkish options.
Stays
There are a number of lovely stays right in town. Number One Bed and Breakfast is a highly rated, five-star bed and breakfast close to Deal Castle. Waterfront Hotel has amazing reviews and is right by Deal Pier.
Outside of town, there are two great camping spots for the more adventurous groups. Lillyroo's has a stunning mix of bell tents to make you feel like you're living in a movie. Kingsdown camping has your more traditional camping options, as well as kitchens and cabins.
Bamburgh, Northumberland
Bamburgh is a beautiful beach town with a tiny population of just over 400 people. It is located within the Northumberland Coast Area of Outstanding Natural Beauty, and has been an important English settlement for centuries.
Beaches
Bamburgh and the surrounding area have a plethora of beaches to choose from. While you won't find as many cliffs as some of the other seaside towns in the UK, the area of Bamburgh has nice sand and the beaches aren't too crowded, which is good for kids and adults alike.
Bamburgh Beach is the crown jewel of Bamburgh. Located near the iconic Bamburgh Castle, it has views out to sea and towards the castle, and due to the location and lack of crowds, you may sometimes feel as if you've gone back in time while enjoying a sunny break.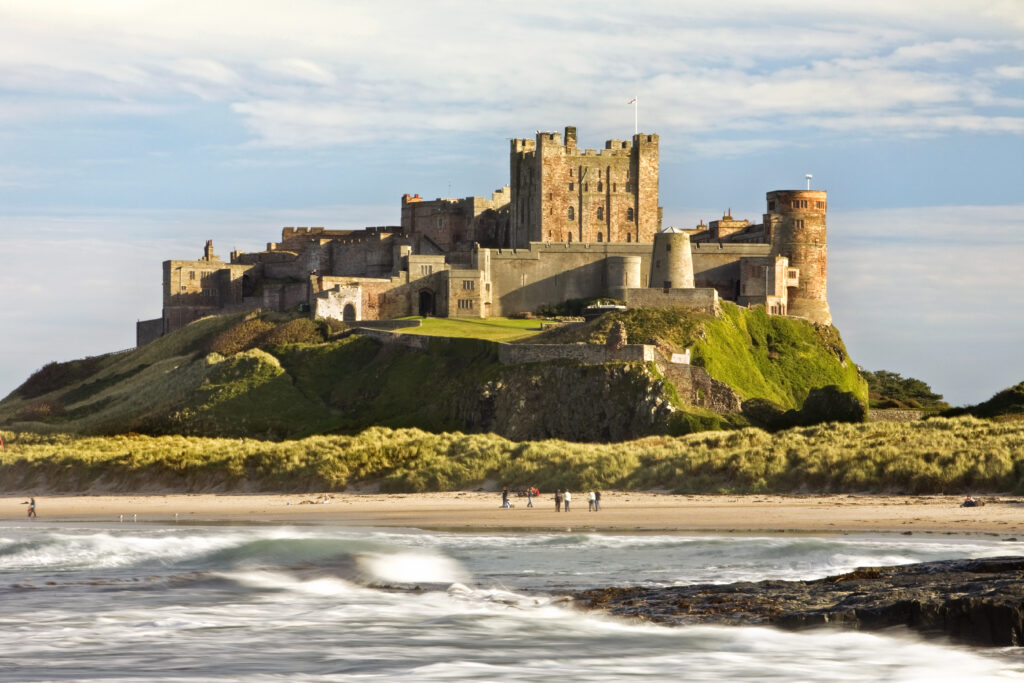 Further north, you can find Ross Sands, a picturesque stretch of sand and dunes with views back towards Bamburgh Castle and across the estuary to Lindisfarne Castle. The beach is a bit of a walk from the carpark, but once you reach it, you will likely be one of the only people there. Look out for seals if you venture northwards.
Towards the south, there are a few choices for beaches. Beadnell Bay Beach is an easy-to-access beach with views of the bay and towards the neighbouring Dustanburgh Castle. A bit further, but still within a 20-minute drive is Link House Beach, a wide open, 3km-long beach with free parking after 6pm.
Sights and activities
The top thing to do in Bamburgh, is, of course, visit the iconic Bamburgh Castle. The views of the castle from the outside are stunning on their own. But a visit inside is sure to be a treat as well. From the aviation museum and artefacts to the battlements and tea room, there's enough to keep you busy for a few hours.
If you want some more castle time, Lindisfarne Castle rests on Holy Island (which isn't exactly an island) and is a stunning residence with an art exhibition. While there isn't as much to do there compared to Bamburgh Castle, it's still a beautiful area worth the walk or drive. Just make sure to check safe crossing times to confirm that you won't get stuck when the tide comes in.
In addition to these two castles, there are a bunch of others in the general vicinity of Bamburgh, including Chillingham Castle, Dustanburgh Castle, Alnwick Castle and Ford Castle.
There's one golf course around Bamburgh, called Bamburgh Castle Golf Club. The course is always in good condition, but there are a few blind shots, so it would be worthwhile to go with someone who has been there before.
If you feel like giving surfing a try, NE Surf is the best surf school in Bamburgh. They have amazing reviews and the breaks around Bamburgh are surprisingly consistent.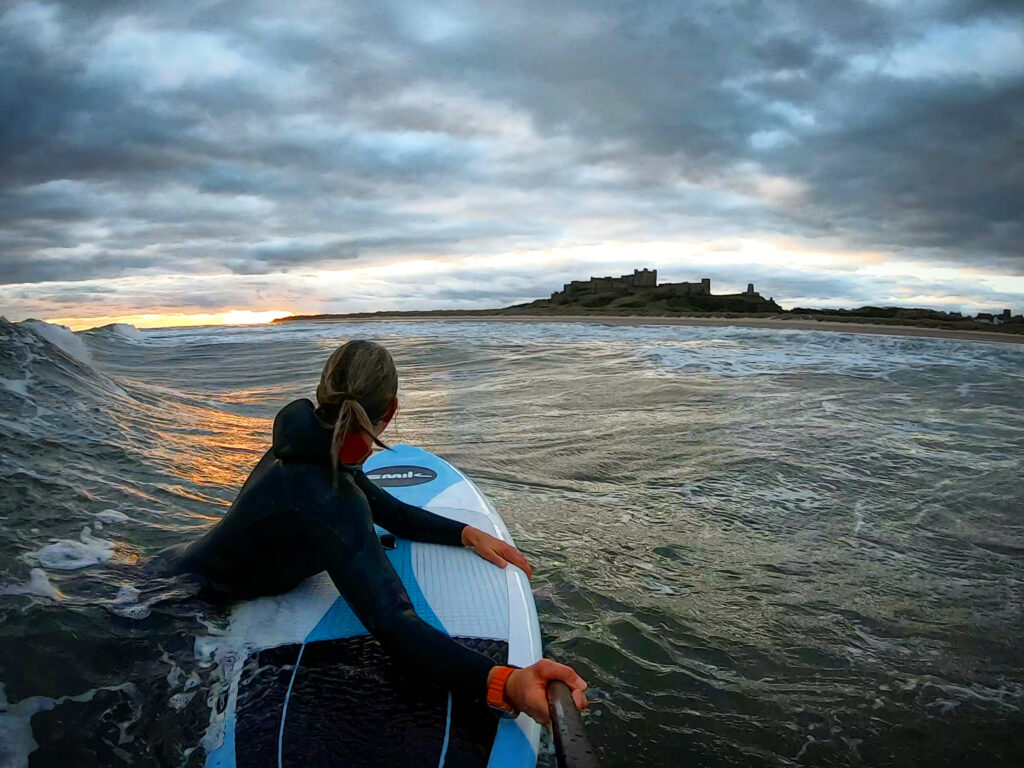 If you fancy a walk in the evening, head south along the beach to Seahouses, where you'll find the Schooner Inn. They have live music on Fridays and Saturdays and good value pints.
For kids
Bamburgh is truly a small town. As such, there aren't many attractions for kids. However, there are a couple of options to keep the kids busy and excited.
Bamburgh Castle holds open-air cinema nights. They start after sunset, so depending on when you visit, it can start quite late. You can check the Bamburgh Castle website to see what's coming up.
If you're looking to get your kids excited about animals, a cruise to the Farne Islands is sure to pique their interest. On one of the many tour options, you can see puffins, seals, dolphins and much more.
Drinks
Again, due to the size of Bamburgh, the drinking options are limited. Two of your best options in town are The Lord Crewe and The Castle Inn. Both have a good selection of beers and cocktails.
If you've ventured to Seahouses, they have a few more options for watering holes, including Black Swan Inn and the aforementioned Schooner Inn.
Eats
In town, your best two options are to check out The Potted Lobster for the best in-house dining or Creel & Reel Seafood Trailer for a quick bite.
Again, nearby Seahouses has a larger selection of restaurants. For your classic fish and chips, Neptune Fish Restaurant. For Indian cuisine, there are two restaurants pretty much side by side, Indian Brasserie and Spice House. Insieme has your Italian needs covered, and Élan Pizzeria is the pizza spot.
Stays
The most obvious and elegant stays are at one of the various accommodations curated by Bamburgh Castle. From self-catering stays to beachfront cottages, they have you covered if you're willing to shell out a bit of money.
Other options include The Victoria Hotel, Sunningdale Hotel and Hillcrest House Bed and Breakfast. If you fancy a camping trip, Bamburgh Under Canvas is just outside of town and offers the best camping experience in the area.
Southwold, Suffolk
Southwold is a great destination for the entire family. Located on the eastern English shores of Suffolk, this old fishing town has a bit of everything to keep you busy or help you relax.
Beaches
In terms of beaches, Southwold has a few very nice, sandy options. Just south of the pier is the main beach in town, and it is covered colourful in beach huts. These can be rented through beachhutsouthwold.co.uk, and each one contains two chairs, two bench seats, a table, hooks, and shelves. They're also quite close to the main lifeguards' station.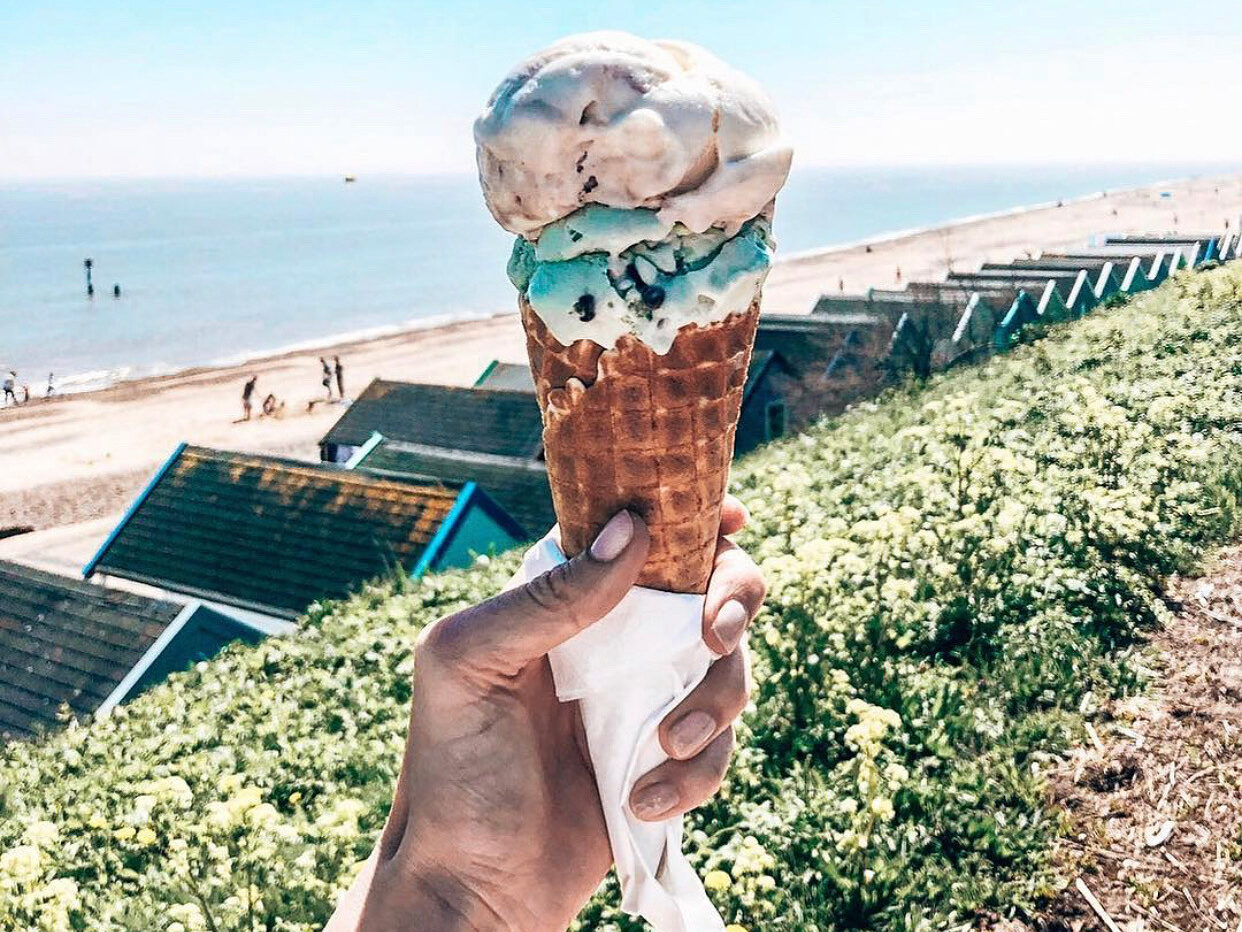 A bit outside of town is The Denes Beach, which can be quieter than the main beach in town. Parking is easy to find and the sand is beautifully fine. This beach has lovely dunes and some colourful beach huts as well.
Walberswick Beach is slightly further south, across River Blyth, and is situated close to the town of Walberswick. You can take a ferry to get to the town to experience great swimming spots, especially in low tide, and if you're lucky, you might see a seal or two! Walberswick is known for crabbing, and you can buy crabbing equipment right near the beach. There are nearby paths if you fancy a stroll as well.
Sights and activities
If you're looking for attractions and things to do, Southwold has a plethora of possibilities.
Some of the signature sights include exploring the pier, checking out the lighthouse or visiting the museums in town, Southwold Museum and the Southwold Sailors' Reading Room. If you don't mind a bit of a drive, you could head to one of the two castles in the area, Orford Castle and Framlingham Castle, which are within 40 minutes of Southwold.
For the more active members of your family, Southwold Golf Club offers a quick nine-hole excursion with 18 different tees. There is also a set of tennis courts nearby. One of the best water-based activities in Southwold is taking a surf lesson from Southwold Surf & Bike Hire. You can also canoe the River Alde with a rental nearby.
If you time your trip just right, you could also head to nearby Henham Park for Latitude Festival. There will be live music and live comedy, as well as great food and clay model making for the kids.
For kids
Speaking of kids, no guide to Southwold is complete without some great tips for parents.
Two attractions stand out, the Southwold Maize Maze and the Under the Pier Show. The Maize Maze is just outside of town, and features two mazes, three jumping pillows, ziplining, and go-karts. While you're waiting for the kids to tire out, grab a bite at the Old Hall Café & Walks.
The Under the Pier Show is like being transported to a different dimension. With odd arcade-style games that are sure to grab your attention, it's worth visiting.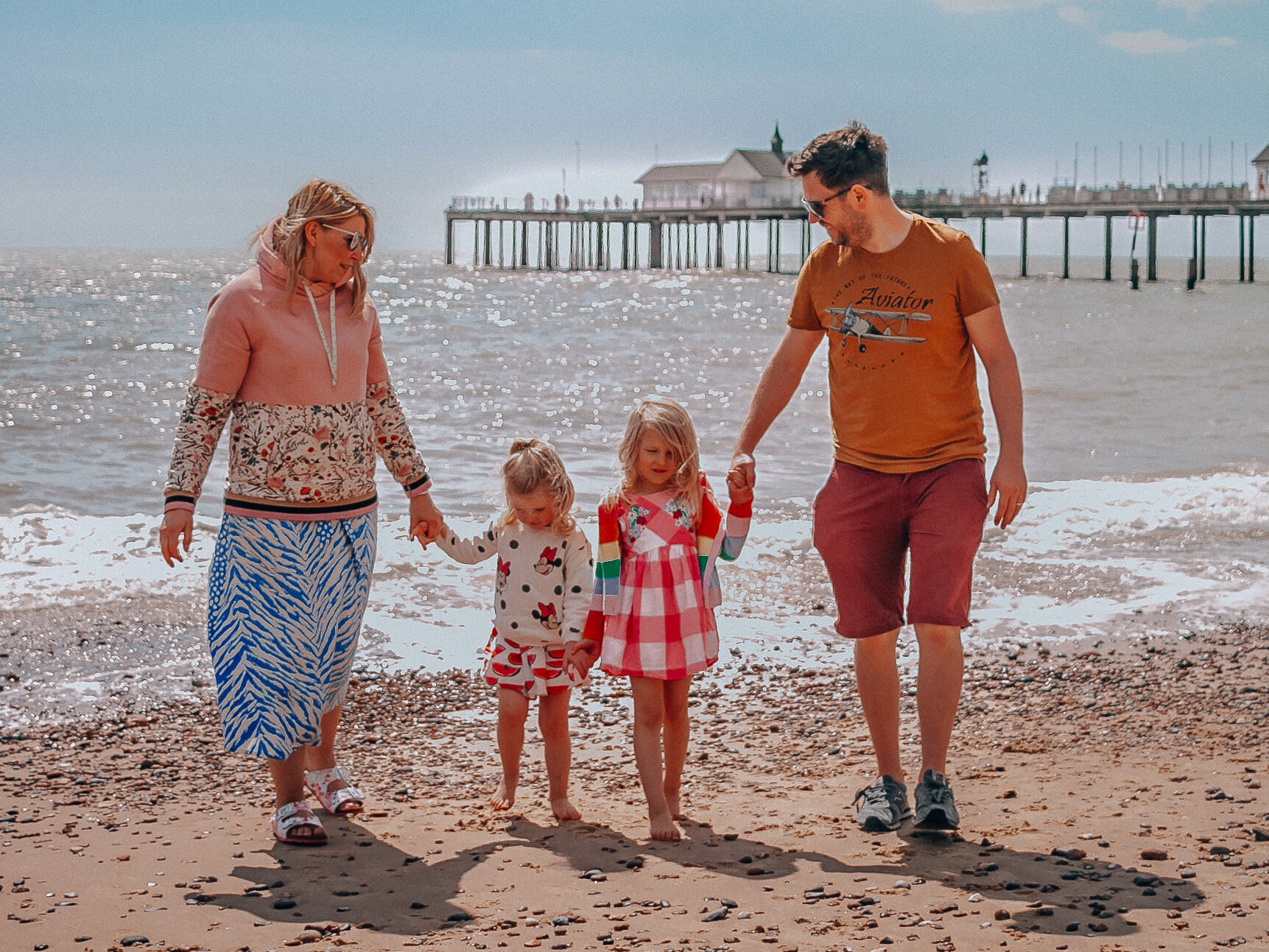 Drinks
If you're looking to wet your whistle, there are a number of great pubs to check out in Southwold or nearby Walberswick. For a more local twist, head over to Adnams Brewery and Distillery, where you can find locally brewed beers, distil your own custom gin, and take tours through the premises.
Just 20 minutes outside of town, you'll find Valley Farm Vineyards, a small and passionate wine producer. Take a tour, have a picnic or just stroll through their vineyard and take a bottle home with you!
Eats
What's a coastal trip without some good grub? There are a ton of restaurants in Southwold and the surrounding area.
Beginning at the end of the pier, visit The Boardwalk for great value seafood and a welcoming atmosphere. For a long list of gins and beautifully presented English seafood and pub fare, Coasters is a good option. Sole Bay Fish Company is one of the best places for fish and chips, and The Little Fish & Chip Shop is equally marvellous. For something a bit different, head to Black Dog Pizza Co for great pizza right off the beach.
Stays
There is a diverse range of stays in and around the Southwold area. In town, the Swan Southwold and the Crown are two great choices. The Fishermans Cottage is right near the beach for those who want to be right in the action.
For others who enjoy being out of town, Pigs in Blankets and Little Wren Glamping are great for an outdoor experience.
Whitby, Yorkshire
Whitby is an old whaling town on the western shores of England, facing northwards towards the North Sea. The town was famous for its sturdy vessels, known as Whitby Whalers. Now the town is better known for its beautiful beaches and castles.
Beaches
On the edge of town sits a long stretch of beach that begins with Whitby Beach. The beach features breathtaking views of Whitby Abbey, and the orange roofs nearby. The Captain Cook Memorial and the Whalebone Arch are just behind the beach as well.
Further along is Upgang Beach, and a bit further than that is Sandsend Beach, both with beautiful cliffs caressing the shore. If you fancy a trip further out of town, Kettleness Beach is a smaller cove with a nice waterfall behind it.
In the opposite direction is Saltwick Bay, which is normally quieter than the main beach in town, and Robin Hood's Bay Beach is a 15-minute drive away, and is quite picturesque.
Sights and activities
Your first stop in Whitby should be to take the 199 steps up to Whitby Abbey. The stone ruins are worth the climb, and there's also the Caedmon Memorial and the Church of St Mary (and a brewery to mention later).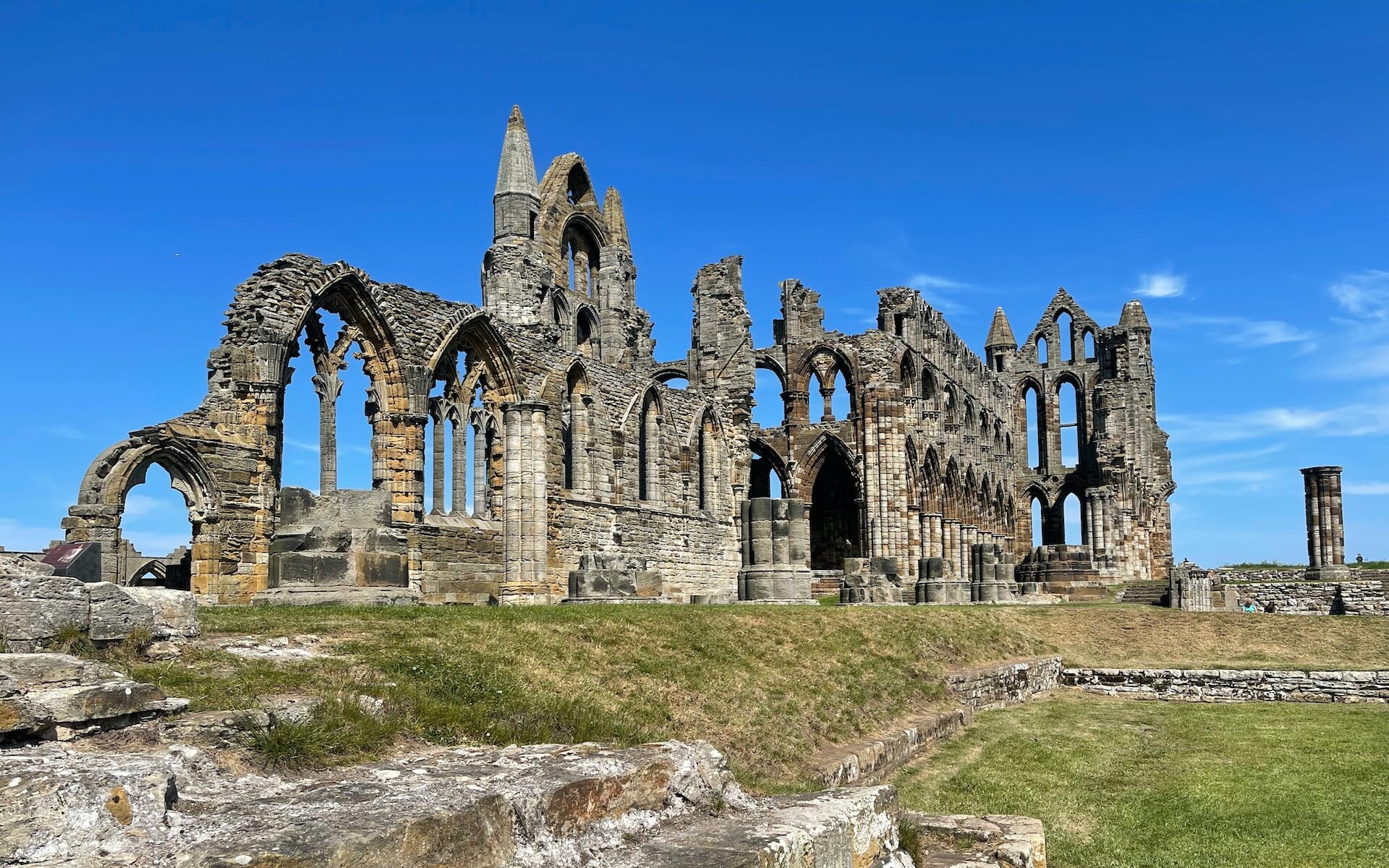 If you're done there but still craving castles, you can visit Sneaton Castle just outside of town. Mulgrave Castle is a bit further, and can be slightly tricky to find, but it's worth the trip. If you head that way, be sure to stop at Falling Foss Tea Garden.
Make your way down one of the piers in town to find the twin lighthouses of Whitby. The east and west lighthouses are unique and make for a great view into town or towards the sea.
The Whitby Jet Heritage Centre is a great place to get your hands on some unique jewellery. Whitby Jet can only be found along a short stretch of coastline surrounding Whitby, and each piece they make is handcrafted.
There are also two interesting museums in town, Captain Cook Memorial Museum and Whitby Museum. Both have interesting artefacts and are easy to spend a few hours in. If you're up for a scare, check out Dracula Experience, an interactive museum with live actors.
If you're in town in October, get ready for a completely different experience in Whitby, when the Whitby Goth Weekend begins. It features over 100 indoor stalls and has grown to become one of the world's premiere Goth events.
For kids
There are a few choices in and around Whitby for those with kids. Mini Monsterz is an amusement centre with slides, games, laser tag, a climbing wall, and a sensory room for kids with special needs.
Near the seafront, there is a pitch-n-putt golf course, a footgolf course, a skatepark, and an outdoor swimming pool all within a few metres of each other.
If your kids are on the adventurous side, take them out on the water with the Captain Cook Experience. The short boat ride takes you on a journey around Whitby's waters, while you hear the story of Captain Cook. Dogs and ferrets ride free!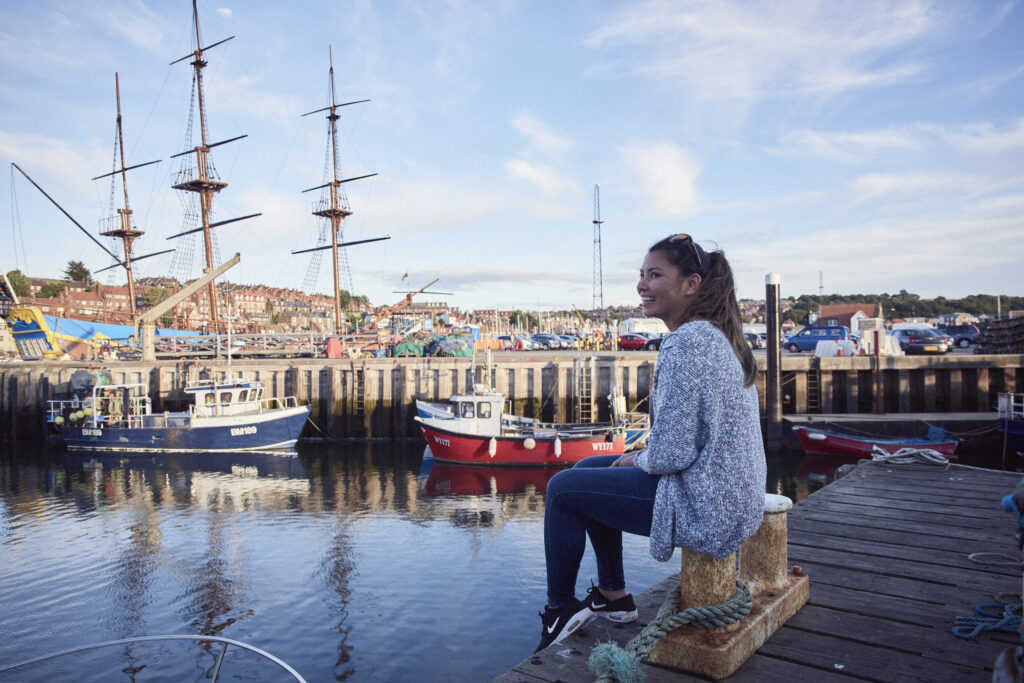 Drinks
Why not take a tour around Whitby Brewery? The 45-minute tour explains the brewing process, the ingredients, the tools, and the technology they use, as well as their history. At the end, you'll get a short three-glass flight to sample their ales. Children are welcome to join as part of a family group with free entry.
It doesn't end there, head over to Whitby Distillery for a tour of their facilities as well. Their one-hour tours include a Whitby Gin and tonic, a history lesson on the distillery, a botanical masterclass, three different tasters and a free Whitby Gin glass to take home with you.
There are also numerous pubs and bars in the area, with favourites including The Moon & Sixpence, Arch & Abbey, and The Endeavour.
Eats
There's no shortage of food options in Whitby, and fish and chips are definitely on the menu. Magpie Café serves some of the best, while Trenchers and Hadley's Fish & Chips are comparable. Al Taco serves up, you guessed it, tacos. The Garden Room Bar & Restaurant at Sneaton Castle has a great atmosphere and amazing cocktails and food. Koko Korean Food is great if you're craving some Korean.
If you're looking for smoked kippers, there probably isn't a better place to get them than Fortune's Kippers. It's well hidden, but worth the walk.
Stays
If you have the opportunity, stay at Sneaton Castle. The magical grounds will lull you to sleep easily. If you'd rather stay in town, the Dolphin Hotel and The Old Boatman's Shelter are both located in great spots, and La Rosa Hotel and The Dracula Rooms are quirky options for those looking for something different. There are also a bunch of bed and breakfasts, as well as a few camping areas outside of town.
With so many beautiful beaches and charming towns in the UK, this summer is the perfect time to go on a weekend break for some sun and fun. Check back soon for more features about beach towns in other parts of the UK and around the world.
To see your company in any upcoming features we are arranging, please email editorial@hurstmediacompany.co.uk