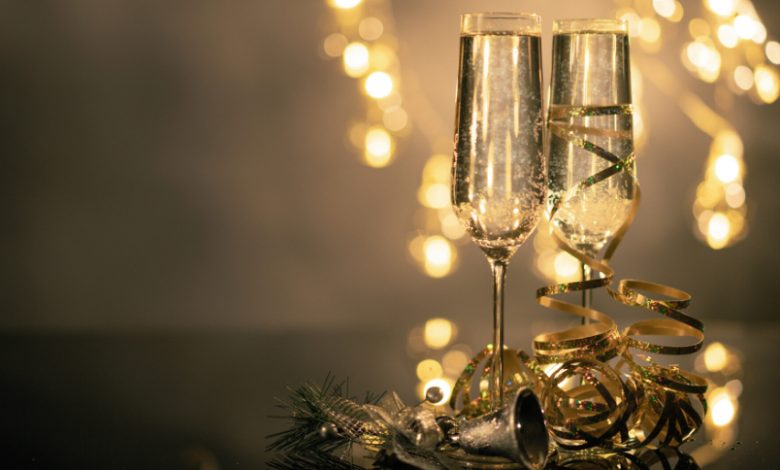 'Tis the season to be merry! Here's our guide to the best drinks to serve your guests over the holidays
BY CLAIRE MUFFETT-REECE
Apothic Red
A masterfully crafted smooth red blend with four distinct red grapes – Zinfandel, Merlot, Syrah and Cabernet Sauvignon. With rich layers of blackberry, sweet cherry and hints of mocha, chocolate and vanilla, Apothic Red is opulence in a bottle.
£10 apothic.co.uk
Baileys
Who doesn't enjoy a Baileys at Christmas? Now when you purchase a bottle of Baileys Original you'll also receive a Baileys Chocolate Reindeer! Hollow in the middle, it's been created as the perfect vessel for filling with deliciously decadent Baileys Original Irish Cream.
Barefoot Malbec
Big juicy flavours of blackberry and currant merge with vanilla, caramel and toasted oak in this delicious red wine. It's no surprise that Barefoot Malbec is the latest award-winner to the brand's already acclaimed range.
£6.99 barefootwine.co.uk/our-wine
Cazcabel Honey Tequila
Satisfy a sweet tooth with the world's first honey tequila. It's crafted from locally sourced, blue weber agave grown for around seven years. It's then harvested in the highlands of the Jalisco Mountains, Mexico, in an independent micro-distillery in Arandas.
From £24.74 amazon.co.uk
Citadelle Gin
What is a more perfect gift to a gin lover than the world's MOST awarded gin? Citadelle 'Gin de France' is a true chateau-to-bottle gin distilled with 19 aromatics and botanicals grown on the estate at Chateau de Bonbonnet, Cognac. A beautifully balanced gin with herbaceous notes of juniper on first sipping, notes of anise are prominent with a final lingering nose of spice. Perfect served with a 3:1 ration of gin to tonic with a slice of lemon peel.
£29.59 masterofmalt.com
Collagin Rose Gin
A floral twist on the world's first gin – with added collagen! An elegant and refined flavour, Collagin Rose hosts 11 botanicals with the innovative addition of pure collagen and steam distilled with rose petals. The result is a deliciously smooth, velvety gin with floral notes, finished with a subtle Turkish delight flavour.
£34.99 collagin.co.uk
Coole Swan Irish Cream Liqueur
This uniquely combines single malt Irish whiskey, Belgian white chocolate and fresh Irish cream to deliver an amazing taste experience. Best served neat or over ice, but always chilled – it's ideal as an aperitif or as a dessert alternative.
£34.95 cooleswan.com
Copper Dog Speyside Blended Malt Scotch Whisky
Named after a device used to sneak whisky from the cask to smuggle home, Copper Dog has that same irreverent, cheeky spirit without losing the classic Speyside tradition. Deliciously fruity with a hint of honey and spice, why not make it all the more special and personalise your bottle today?
£35 getitinkd.com
Cranes Cranberry Gin
This award-winning gin is smooth and fruity, yet delightfully sharp. Made from premium cranberries, it's handcrafted in Cambridgeshire in small batches by co-founders and identical twins Ben and Dan Ritsema. The cranberries blend in harmony with the junipers, staying true to the origins of a London dry gin. A must-try for any gin enthusiast!
£31.99 ocado.com
Cut Overproof Spiced Rum
No pirates or sea monsters, just good flavours. Made with beautiful rum sourced from Worthy Farm, Jamaica and Trinidad, it's aged in copper pot stills. The smooth 151 proof rum is infused with natural spices and essences, and, at over 70% ABV, it has a real depth of flavour.
From £43.37 amazon.co.uk
D1 London Gin Christmas Gift Set
D1 London Spirits gift sets make the perfect stocking fillers. This Potato Vodka is available in full sized 70cl bottle or miniature gift set complete with ice mould in the shape of the brand's iconic skull.
£9.99 d1londonspirits.co.uk
Denbies Demi-sec NV
The enticing aromas of brioche and pear are complemented by an underlying honeysuckle quality. This wine has a broad mouthfeel that is soft and rounded and gives a long lasting, sweet apple finish. Serve with Christmas cake or simply enjoy it as an aperitif.
£22.50 denbies.co.uk
Don Julio Añejo
Barrel aged in smaller batches for 18 months in American white-oak barrels, Don Julio Añejo Tequila is a testament to the craft of making a superior tasting, aged tequila. Rich, distinctive and wonderfully complex, its flavour strikes the perfect balance between agave, wood and hints of vanilla. Best experienced neat in a snifter or simply on the rocks.
£51.75 thewhiskeyexchange.com
Dreamchaser Gin Liqueur
Dreamt up and distilled right here in the UK, Dreamchaser turns bland and boring into bright and exciting with heavenly flavours and a spell of magic shimmer. The range includes three flavours; Cotton Candy, Strawberries & Cream and Parma Violet. Best enjoyed neat with ice, paired with tonic, or even added to a glass of bubbly.
£17.95 amazon.co.uk
Eisberg Alcohol Free Wine
Not drinking over the festivities? Try Eisberg, the UK's number one alcohol-free wine. Made in exactly the same way as regular wine, but with the alcohol gently removed at the end, it's good for the waistline, as well as your head!
£4 ocado.com
Gigglewater Prosecco
For fans of the fizzy stuff, Gigglewater has the perfect offering this Christmas. Gigglewater is available in bottles and cans, with lower alcohol and alcohol-free products available. The brand's Mediterranean roots are reflected through the product range inspiring a feel of 'Forever Summer' – even in winter!
£11.99 gigglewater.com
Gin Mare
This award-winning gin is steeped in an abundance of botanicals that hail from the Mediterranean. Created with Arbequina olives, thyme, rosemary and basil, Gin Mare is distilled in a fishing village just outside of Barcelona where the owners capture the very essence of Mediterranean air.
£39.50 waitrose.com
Gosnells Mixed Cans
Perfect for any occasion, Europe's first canned meads come in four delicious flavours, colourfully packaged and all at 4% abv. There's Gosnells Citra Sea: A rich blend of honey, lemon, tarragon and hops with a tantalising salty finish; Gosnells Hibiscus: Gosnells' only pink mead brewed with antioxidant rich hibiscus flowers for a fruity tart finish; Gosnells Hopped: Inspired by juicy IPAs, spiced with big IPA hops for a long dry finish; and Gosnells Sour: Complex layers with honey notes.
£15 gosnells.co.uk
Kavka Vodka
Celebrate Christmas 2019 with arty Kavka 'vodka how it used to taste' with subtle notes of apple and plum, ensuring the ultimate flavoursome Christmas Martini every time.
£29.95 masterofmalt.com
Keepr's Mint Chocolate Vodka Liqueur
Created to taste just like after dinner mint chocolates, Keepr's premium English Vodka has been infused with chocolate and fresh British mint with a touch of the brand's raw, unadulterated honey from the Cotswolds in Oxfordshire. This indulgent delight makes for the perfect after dinner tipple.
£37.50 britishhoney.co.uk
Ken Forrester Petit Rosé
This is a lovely, elegant drink that's great with cold meats, salmon or a fondue. Grapes for the Petit Rosé were hand-picked, and after crushing and pressing were left to soak and infuse the delicate copper salmon colour unique to Grenache.
Loch Lomond 12 Year Old
Loch Lomond 12 Year Old has a deep fruity character and hints of peat and smoke. Matured in three different cask types, the expertly crafted single malt delivers fruity notes while the taste is fruity, vanilla and biscuit. The finish is gentle wood smoke with a lingering peaty tang.
£36.95 lochlomondwhiskies.com
Louis Jadot Bourgogne Chardonnay Couvent des Jacobins 2017
A perfect introduction to the delights and complexity of real white Burgundy, this is mainly Cote d'Or fruit together with some from the Maconnais. Fresh with lovely weight, delicate creaminess and judicious oak, it's a beautifully balanced dry white wine.
£17.85 thedrinkshop.com
Mionetto MO Collection Prosecco DOC Treviso Extra Dry
A stylish festive sparkler, the Mionetto MO Prosecco DOC Extra Dry hails from the historically-celebrated Prosecco DOC Treviso zone. Showcasing the Glera grape's finest qualities, it boasts a creamy, lingering bead of pin-point bubbles, with notes of apple, acacia blossom, citrus, and almond.
£12 sainsburys.co.uk
Orange Sherbet Gin
A refreshingly zingy, orange sherbet flavoured gin made in the heart of England. They add real sherbet to create that sherbet fizz we all know and love. Tickle your taste buds with our zesty and fizzy gin! Served chilled with tonic, in cocktails, or simply over ice.
£23.95 amazon.co.uk
Pierre Ferrand Ten Générations
The drink connoisseur's dream, with flavours of baked pear, fruity spice cake, pineapple and cloves, Ferrand 10 Générations is the perfect tipple to enjoy with your Christmas pudding and closest loved ones.
£37.13 masterofmalt.com
Plantation XO Barbados 20th Anniversary
Plantation XO is a special edition, aged rum with notes of chocolate, vanilla, ripe banana, roasted coconut and a touch of fresh mango. Using a double ageing process whereby selected Barbados rums are aged in Bourbon casks then finished at the Château de Bonbonnet in France, a marriage made in heaven.
£53.95 masterofmalt.com
Pommery Brut Royal NV
Pommery launched the first commercial successful Brut Champagne in 1874. The Brut Royal follows in that tradition with lively, fresh and vivacious flavours of citrus and apple with floral notes. The wine is round, ample, and delicate, with a nice finish.
Ramsbury Single Estate Vodka
Initial dried fruits, then cocoa and layers of caramel are to be found in this delicious tipple. Elegant, medium-bodied creamy texture, its dark chocolate richness is perfect throughout the festive period.
£38 amazon.co.uk
Salcombe Brewery Company Christmas Tide
A presentation pack of Salcombe Brewery's Christmas Tide, with an ABV 4.9%, makes the perfect gift for any beer lover. Christmas Tide is a very special limited-edition yuletide ale, hand crafted in Devon using crystal, chocolate and wheat malts which give it warmth and body.
£7.20 salcombebrewery.com
Taittinger Les Folies de la Marquetterie Champagne
This Champagne originates from the La Marquetterie vineyard, the original Champagne plot of the Taittinger family. A sustained gold with an intense and fruity nose, IT delivers vine peach and stewed apricot notes, followed by grilled brioche and vanilla.
£67.60 champagneking.co.uk
Tanqueray No. 10
Tanqueray Nº TEN, named after the stills of its origin, is small batch gin crafted using fresh citrus fruits. An exquisite citrus burst in every sip, best enjoyed with premium tonic water and a slice of pink grapefruit.
£21.99 amazon.co.uk
Tequila Rose Gift Set
Why not try this delicious 500ml bottle of Tequila Rose at Christmas? A strawberries and cream tequila, it's perfect for shots, over ice or as a cocktail – along with two Tequila Rose shot glasses to toast the festive period in style!
£19.32 amazon.co.uk
Tomatin Cask Strength
Matured in a classic combination of first fill ex-Bourbon and ex-Oloroso Sherry casks, with Tomatin you'll enjoy aromas of golden syrup and ginger biscuits accompanied with flavours of malt loaf and marzipan. The result is a dry, lingering spicy finish. This whisky is best enjoyed on its own, with some water to open up the flavours.
VK Festive Mixed Pack
The VK festive mixed pack is perfect for Christmas parties and contains two bottles of the new VK Candy Cane flavour, alongside a selection of the other popular VK flavours, including VK Watermelon and VK Orange & Passion Fruit. Extra special festive treats in the form of golden tickets have also been added to selected packs to win the official 2019 VK Christmas jumper.
£8 tesco.com
Zing 72 Gin
A hand-crafted premium gin made in France using herbs and botanicals from Provence, including chamomile, lavender and thyme. The gin is distilled in traditional copper alembics (stills) in small batches. The striking bottle design takes its inspiration from the copper still and the name reflects the maceration of the botanicals, which last 72 hours.
£29.95 amazon.co.uk
Zymurgorium Electric Blue Raspberry Gin Liqueur
This colour-changing Zymurgorium Flamingo Electric Blue is a gin-based liqueur, made with Scottish raspberries. If that's not a show-stopping drink we don't know what is!1
£19 zymurgorium.com