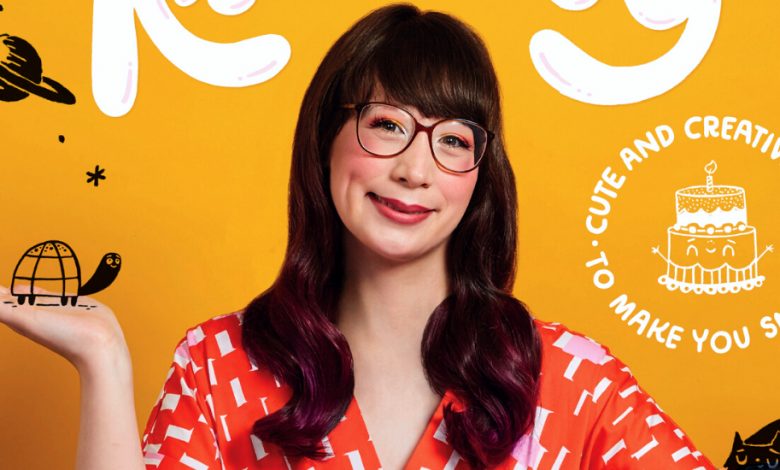 The Great British Bake Off's Kim-Joy
It's The Great British Bake Off final tonight, so we caught up with one of last year's stars, Kim-Joy, to find out what life's like once the cameras stop rolling
Interview by Claire Muffett-Reece
Kim-Joy, did you or your partner Nabil put weight on while you were filming The Great British Bake Off?
'I probably started putting on weight as soon as I heard I was going to be on the show! It just gradually went up, right up until the final. I don't weigh myself but could tell from how my clothes fit. It's because I wanted to prioritise baking and doing as well as I possibly could. My eating routine was totally out of sync because I'd be at home baking and practicing, so I'd snack instead – and stress eat! In the evenings the kitchen was a mess, so we'd just order takeaway, which we never do now. Plus on filming days I'd eat in the morning and eat way more than usual, because I didn't want to get hungry in between filming. It's safe to say I'm definitely a comfort eater! Nabil also gained weight. I've since lost all the extra pounds, but my focus is generally on eating healthily and feeling good.'
Have you experienced negativity on social media since leaving the show?
'We are all given lots of support and are told what to expect before agreeing to go on. But it is hard when reality hits, and there are people being petty online. We all know and understand that the people doing this probably have things not going quite right in their lives, but it still doesn't stop it hurting, however secure in yourself you might be. Because I look and dress differently, I had people commenting about my appearance and ethnicity, and often in a negative way. To me, it felt like these people were being racist and/or ignorant, as they felt they couldn't put me in a comfortable "box". Luckily I have great support from The Great British Bake Off team and my friends, so though I did have moments of feeling very low about some of the comments, I was able to come out of that cloud. Overall the vast majority of comments were super-positive, so I was lucky in that regard. And some people get it much worse than others. I do feel that overall, Bake Off contestants get much less negativity on social media compared to contestants on shows like Love Island. I really feel for people coming off that show – and I hope they get more support. There definitely needs to be changes there!'
What word would you use to describe each of the Bake Off hosts?
'Paul Hollywood has to be "traditionalist", because he seems to quite like traditional bakes and flavours. Prue Leith is "warm", because she's so colourful and seemed to really feel for us when we had a hard time. Noel Fielding's got to be "cool", because of his clothes and creativity; and Sandi Toksvig is "funny", as she's so warm and funny, all at the same time.'
What's your diet like at home? Is it all cakes and biscuits?
'Since I've got back into going to the gym, I try to mostly eat things that have actual nutrients in it, and then occasionally I'll have a treat. I don't count calories and have stopped believing in dieting. I don't have a totally regular day for meals as I change it up a bit. Generally I never have breakfast as I don't tend to feel hungry until lunch, and then I'll have a reasonably good sized meal instead. I'll also have a snack like a protein bar mid-afternoon – or other times it might be a piece of cake!'
Are there any health foods you're in to eating right now?
'I make sure to take vitamins every day – cod liver oil, omega 3, plus a good multivitamin. I'm not into any particular health foods per se – I'm just trying to get a good variety of veg in! Lately I've been addicted to caramelised vegan white chocolate – and a lot of cheese – so I have to control myself with both of those. I've also started using xylitol instead of sugar in my tea. I've always been pretty anti towards artificial sweeteners until I tried this one. You use it exactly the same as sugar and it doesn't have a bitter aftertaste. I even prefer it – and I never thought I would say that. It's quite pricey but it is proven to prevent teeth cavities, and it doesn't spike your blood sugar. It's great for me because I love a sweet cup of tea!'
Do you ever buy convenience or ready meals?
'I'm more into baking than cooking, and so my partner Nabil does a lot of the cooking at home. We love home-cooked meals, but if we're tired or don't have time then ready meals are totally fine. I like making a big batch of something and then freezing it into portions. We do that with things like Quorn Bolognese, tarka dhal and soup.'
What's your favourite dish if you're having a cheat meal?
'Me and Nabil love food and going out to eat! Indian, Thai and Chinese tend to be our favourites. It's nice to get a couple of dishes and we always share, so that way you get a bit of everything. There's a lot of good places for curries in Leeds and I love to order things like dhal, saag paneer, naan bread and rice. I don't eat meat as I don't like the taste of it, but I do very occasionally eat fish. Indian curries are great for vegetarians, as you get a lot of flavour and spice.'
You mentioned earlier you've returned to the gym. Why did you stop in the first place?
'I took a break from when I found out I was going to be on Bake Off, and started going back in April this year. I enjoy feeling fitter and healthier, so I try to go three to five times a week. I just go to classes because I get bored on my own and find it hard to motivate myself to do high intensity exercises. I like spin classes, Pilates, boxing, circuits and pump. I want to work on my cardio fitness and also my upper body strength and core.'
Baking with Kim-Joy is out now and you can buy it HERE