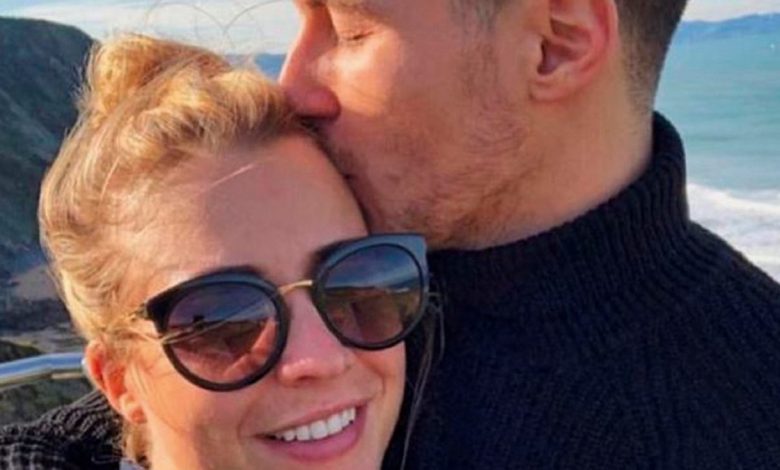 Five minutes with… Gemma Atkinson
The former Emmerdale actress and Strictly Come Dancing finalist on 4am starts – and why no one can make a toasty like Gorks
By Lynn Carratt
Is Gorka the main cook in your house?
'I do cook a lot and I love it, but I can never impress Gorks with food because he's a much better chef than me! It's the Spanish in him. He makes the nicest Spanish omelettes and my family always want him to cook a paella when they come over.'
Being pregnant must mean Gorka's loving looking after you. You've said on Instagram he makes the best cheese toasties with egg. Why are they so good?
'He fries the bread in butter first as opposed to just spreading butter on it. Again, it's that Spanish flair. He has loads of little food hacks to make simple meals like toasties taste really good.'
You seem very busy. What's a typical day like?
'I get up at 4.30am for my show on Hits Radio. I make myself an omelette with avocado and a slice of toast to have at 5am, then leave the house at 5.30am. When I leave work at 11.30am I go to the gym and train from 12pm for an hour. I'll then catch up on emails and sometimes have to travel to London for meetings. In the early evening I take our dogs Norman and Ollie for a long walk, then I'm in bed for 10pm most nights because of my early starts.'
How do you spend your downtime?
'My downtime is always spent at home. I have to travel a lot for work, so I love nothing more than having family around for some food, sitting in the garden with the dogs running around, and just chatting and catching up. My sister has three children who are all over 15 now, so they have some funny stories and are experiencing new things, which I love talking to them about.'
You reached the Strictly Come Dancing final in 2017, plus Gorka's a professional dancer. Do you still dance?
'I haven't danced since I was in that final! I loved the whole experience of Strictly and training with Aljaz (Škorjanec) was a joy, but I didn't really take to the dancing side of it. I realised early on that ballroom and Latin isn't for me. I'm more of a Spice Girls, megamix, out-with-the-girls kind of dancer.'
Get unlimited access to Gemma Atkinson's Stronger programme and other exclusive workouts for just £4.99 a month at www.TV.FIT