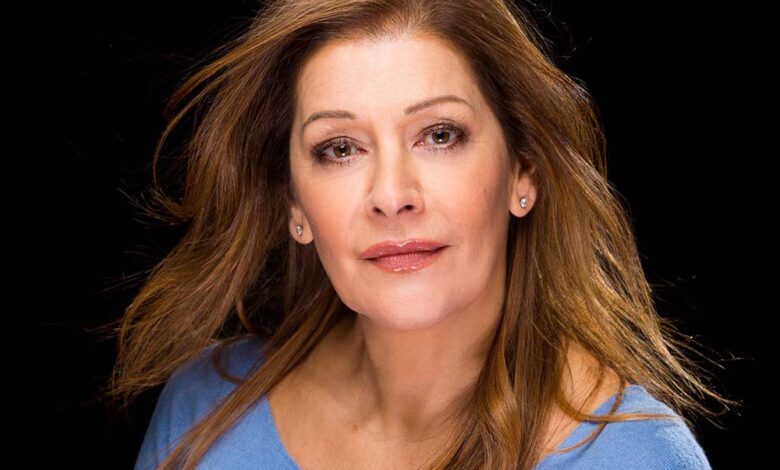 The Star Trek actress talks to Celebrity Secrets about loving, laughing and swapping LA for London.
Marina, you lived in LA for 35 years before coming back to Blighty. Why now?
"Before my husband Michael passed away, we'd discussed returning to the UK – although he hated London so we couldn't have lived in the capital. However, after he'd gone, it was too painful to stay in Los Angeles, so I came back to my hometown."
You've been back on UK soil for seven months. What are you loving most about being back?
"I love everything about being home – even though it rained every day in May! All of my best girlfriends live in the UK, and they've kept me very busy since I've been back. To be perfectly honest I haven't missed Los Angeles at all."
Having said that, what did you enjoy most about your lifestyle in LA?
"You can actually schedule stuff to do outside with confidence, without ever having to worry about the weather. Also, parking is never an issue."
What acting work would you love to land now you're back in the UK? You were in the West End in 2019, so is it the theatre for you – or will we see you in EastEnders as the Queen Vic landlady one day?
"I would love to do more theatre now I'm back in London. I hadn't stepped on a stage to do a play for over 20 years, and I really got the bug performing in Dark Sublime at Trafalgar Studios. However, if a slot opened up on EastEnders I'd be there in a shot."
Is there any other UK actor you'd love to work with?
"There are so many that I admire. Olivia Colman, Sarah Lancashire, Nicole Walker… I could go on and on. The pressure to be skinny and gorgeous is really hard to deal with in America. I love the fact that British writers write for real women of every age and background."
You celebrated your 66th birthday in March. How do you feel about being in your 70s in four years' time?
"I think I'm one of the few actresses who actually tell people their real age. I've found that the positive feedback I get is much better than lying about one's age and then having people say, 'yeah, right!'."
Actors don't tend to retire at the typical age society deems 'appropriate'. Do you have any plans of retiring yourself?
"I will never retire. Like Tommy Cooper, I want to die on stage."
What do you fill your time with when you're not working?
"I love to cook and bake, plus I'm pretty nifty with a pair of knitting needles!"
How did Covid affect you?
"I lost Michael three months before the pandemic took hold, so it was really hard to deal with my grief and Covd at the same time. I was more or less alone for a year before I came to London."
Do you think you will ever date again?
"I haven't thought about dating. I was with the same man for over 33 years, so the thought of anybody seeing me naked fills me with terror!"
What did you love about Michael so much?
"Where do I start? One of the reasons my marriage was so successful was that Michael made me laugh every single day."
Where would you like to be five years from now?
"I live in the moment. I know a lot of people say that, but I really don't dwell on the past. There's also no point in projecting into the future as it's hypothetical. Just enjoy the time that you're in."
Finally, please tell us one strange fact that you've never revealed to your fans until now?
"I can do the splits!"
Star Trek: Picard is available to stream on Amazon Prime Video