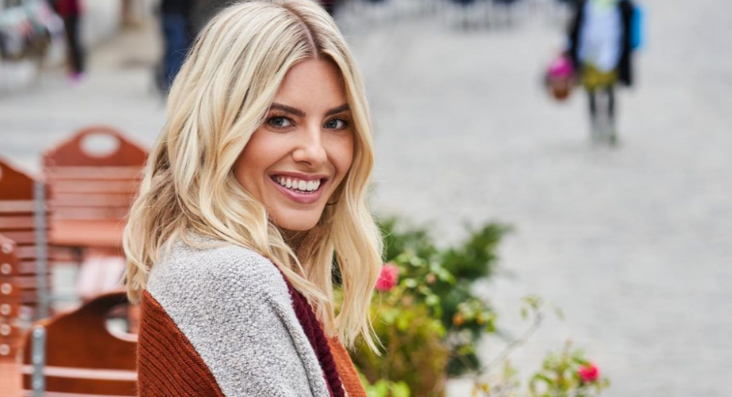 Singer-songwriter Mollie, 32, is best known for being in chart-topping girl group The Saturdays. Now spending her weekends co-hosting a BBC Radio 1 show with Matt Edmondson, Mollie's also currently fronting a 'Boost Your Glow' campaign for Foreo, discussing the effects of social media and the negative impact on self-esteem. She chats with Celebrity Secrets about goals, beauty, confidence and how to combat negativity…
By Lauren Naylor
Can you tell us about the campaign with Foreo you're a part of?
'I've always been a massive fan of Foreo, which is a high-tech facial cleansing device. I've been using their Luna product in particular for a number of years. It's great for exfoliating and cleansing and makes such a difference. When I heard about their campaign, which shows how critical we are of what we read and post online, I knew I wanted to get involved.'
Do you find yourself comparing your life to others on social media?
'I learnt very early on not to compare myself to others, which stemmed from when I was in The Saturdays. The girls in the band were so individual and had completely different body shapes and personalities, as well as strengths and weaknesses. We wanted to support and encourage each other rather than compare ourselves, and I want this to happen online.'
What do you think of altering pictures online to show yourself in a 'better' light?
'Filters are an amazing tool to bring out colours and different shades in photographs, so yes, in that sense I have altered an image. However, it's so important to me to keep filters as natural as possible – I just want to make the images look timeless. In the past, I've sent photos back from retouching when they have been too airbrushed. It goes against everything I believe in.'
Your skin looks flawless. What do you do if you feel you're having a bad skin day? 
'I've always had combination skin, and in my teenage years I really struggled with acne. I feel really lucky that I managed to grow out of it in my early twenties. I now take skincare really seriously and look after myself the best I can. It's all about using the right products for you and keeping hydrated.'
Can you talk us through your typical skincare routine?
'I make sure I remove my make-up every night, as I could never go to bed with it on! I use a good cleanser and my Foreo Luna Mini 3. I also always apply a moisturiser and an eye cream morning and night. Once a week, I try to put an oil on my skin before bedtime, just to help brighten my skin.'
What products would you take to a desert island?
'Obviously the Foreo Luna Mini 3, as I've found that my skin really has changed for the better since using it. It looks much brighter and it's helped clear any clogged pores, too. I'd also take Charlotte Tilbury's Magic Cream, as it's a good moisturiser, and my Estée Lauder highlighter. It's so helpful for my under-eye area and is a lifesaver!'
What projects have you got coming up?
'I'm continuing my Radio 1 show with Matt Edmondson every Friday, Saturday and Sunday morning. I've also recently taken on the role as Best New Pop host, so I'm excited to discover more new music. I also have some exciting TV projects in the pipeline and working with the Born Free charity on their latest campaign, which is incredible. I'm also busy renovating my flat!'
Finally, what do you do to relax?
'I love taking my dog, Alfie, for a long walk, as I find that getting out in the countryside helps clear my head. When I have a bit of spare time I also love reformer Pilates, and boxing to help let off some steam.'
Buy the Foreo Luna Mini 3 here.
Read Mollie's full interview in the New Year's Resolutions issue of Celebrity Secrets, out in OK! mag bumper packs from 7th January 2020.