University can get stressful at times. With coursework, assignments, and exams, you can feel overwhelmed. One element of student life that becomes particularly stressful is moving. The experience of finding your own place can be stressful, let alone moving your belongings on your own.
In fact, Save The Student's National Student Accommodation Survey for 2022 found that students are looking earlier and earlier at houses and flats for the next academic year. Up to 24% of the respondents said they began looking for places before and during November, with the number of people looking getting lower the closer it gets to spring/summer. This will be to save themselves the stress of looking during exam season and to make the transition between accommodations easier.
It doesn't have to be an anxiety-inducing experience though. There are plenty of things you can do to make the move a relatively stress-free experience. This article will look at some of the best things you can do.
Before moving out
When leaving your current property, it's important to make sure you're doing all you can to get your deposit back. One of the best ways to make sure of this is by cleaning the property. It doesn't have to be a fresh coat of paint – just leaving it tidy for the landlord and the next tenants can be enough.
This might feel daunting but splitting the responsibilities between you and your housemates means you can tackle sections of the property individually and clean with more efficiency. The places that tend to need the most TLC are the bathroom and kitchen as they're the most communally used.
Your landlord is more likely to charge you for cleaning of these which would come straight out of your deposit. A quick sweep for litter around the outside of the property could also be the difference maker.
Once you've secured your new location, your utilities and delivery addresses will need to change as well. Depending on if your old or new place has bills included in the price of your rent, you'll need to either schedule for your utilities to shift to the new address or cancel them. You don't want to be moving into new digs without hot water or electricity. Or worse, no internet!
Moving day
It's moving day. Your stuff is in boxes and bags of varying sizes, and it's time to shift it all to the new place. There are plenty of ways to get there, and some of you may be lucky enough to own a car. If not, and you have a licence, hourly car rental is an option too. Plus, there are always buses, taxis, and whatever other public transport is available in your city.
Another great option is the classic 'man with a van'. Across the UK there are tonnes of freelance men with vans that act as ad-hoc removal services. When you arrive, be extra careful when moving your things in. Leaving any bags or boxes
unattended could inspire opportunistic individuals in the area to take anything that isn't glued down.
Once you're settled in

After you've chosen your rooms and put everything where it needs to be, now is the time to give the
property a quick glance over. Making sure you have a checklist of everything in the property you
may not have spotted when you first looked around is important, as you don't want the estate
agents or landlord to think you caused them.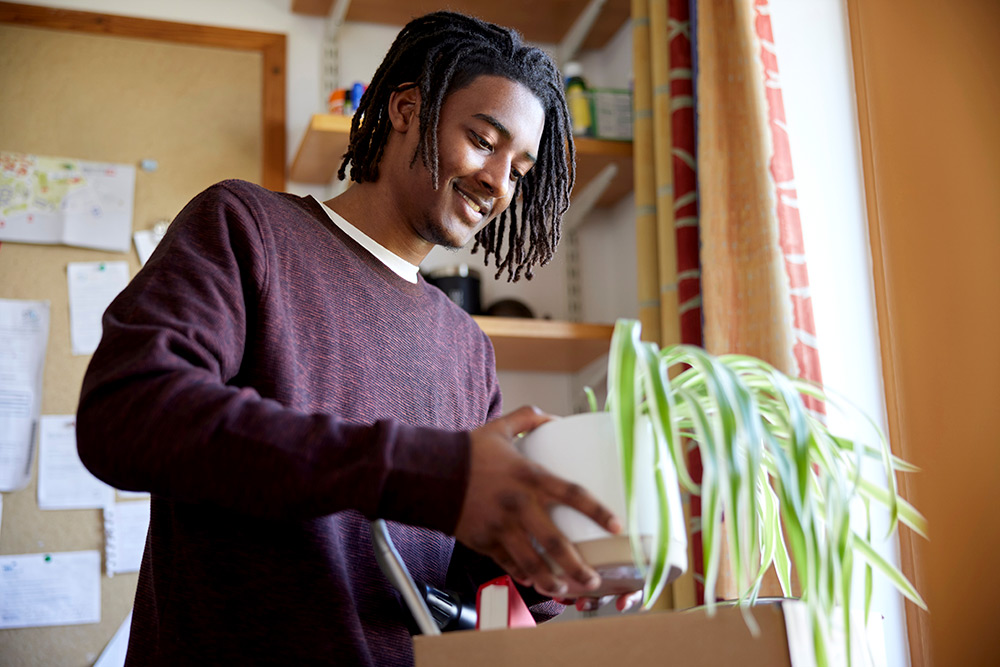 If you move into a property and it's unclean or there are a lot of damages that need repairs, take pictures on your phone to send to the landlord or your estate agents. Having the photographic proof that those issues were there on moving day they can get sorted as quickly as possible.
A lot of properties will also have an inventory of what comes with it. Once you've run through that list and made a note of anything you can't find or isn't there, you can inform the owner and they can replace it if needs be. In this time, making a note of the fire escapes would also be useful, and you could introduce yourself and your housemates to the neighbours if you aren't too tired.
When it comes to moving to a new house or flat, preparation is the key to a less stressful process. Moving while at university gives you the opportunity to experience what it's like and feel that independence for yourself. There's plenty to do, but breaking it down into steps will help the process. Once you've got yourself settled, do a thorough check of the property and make a note of any damages or anything missing from the inventory. Letting the owner know as soon as possible can prevent any confusion and get a replacement to you quickly.

To see your company in any upcoming features we are arranging please email editorial@hurstmediacompany.co.uk