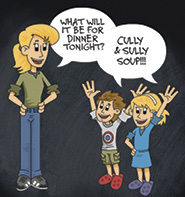 Cully & Sully soups are bursting with fresh vegetables and are an easy win for adding lots of goodness to mealtimes.
They have flavours to suit everyone's taste buds from a Creamy Tomato and Basil to a Hearty Chicken and Vegetable soup. All soups are naturally gluten free as they don't use thickeners. As Sully says: "We only use ingredients your granny would have in her kitchen".
Cully & Sully soup tubs are microwavable so you can enjoy them from the tub for no washing up. Ideal for lunch on the go – handy for the times we live in as all you need is a spoon. The tubs are 100% recyclable and Cully & Sully love knowing they are being reused.
As the team love using fresh vegetables and herbs, they are giving away packets of seeds so you can reuse the tubs to grow your own. If you'd like some free seeds, just get in touch with Cully & Sully on their social media pages or email the team at thehenhouse@cullyandsully.com.