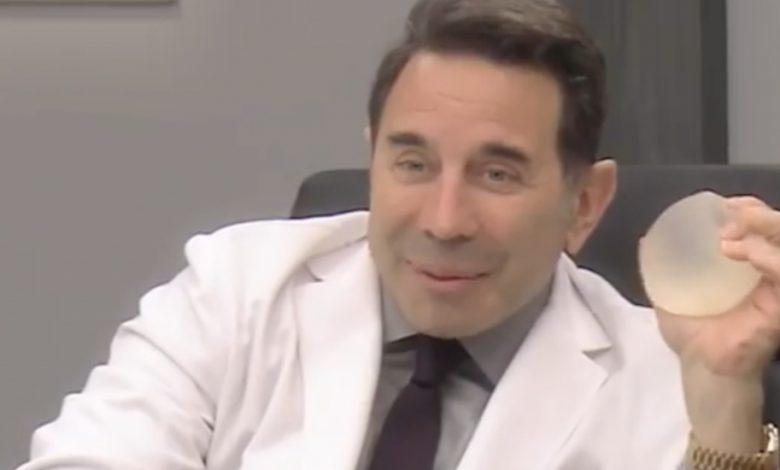 Dr Paul Nassif is a well-respected American plastic surgeon specialising in rhinoplasty. Best known for co-hosting Botched on E! with Dr Terry Dubrow, he recently married cool-sculpting specialist, Brittany Pattakos, and then whizzed straight from the blessing to the UK to open Nassif Medspa in Manchester.
We caught up with Dr Nassif at the event to talk cosmetic surgery and non-invasive treatments…
Congratulations on your wedding! Why did you choose to get married in Santorini?
'Brittany, my wife, found Santorini on social media and fell in love with how beautiful and picturesque it is. We married in Los Angeles so all our friends and family could attend, and then had a blessing in Santorini with close friends and family.'
Your wife is Greek, so what are you favourite things about Greece (aside from her!)
'We love the islands and visited a few of them while on our honeymoon. They are so beautiful, and each have something different to offer. The people are very nice, as is their hospitality and of course the delicious food.'
How did you meet?
'We met at a medical event three years ago. After our first date I knew she would be my girlfriend – and my wife!'
Why do you think we are seeing a rise in surgery and aesthetics in the UK?
'I think social media is a huge factor, and also the normalisation of aesthetics over the last few years. I believe we need to discuss it more openly though, especially in the media. There is a huge curiosity for this in the UK and if we do not speak about it then we cannot educate people. It is so important patients are able to make informed, safe decisions.'
You've recently brought Nassif Medspa to the UK. Can you tell us more about this?
'My TV show Botched is aired in 155 counties all over the world, and the UK is the second-largest viewing audience outside of the USA. We realised that the UK has normalised non-surgical aesthetic and surgical procedures, but it is still yet to fully catch up with the USA on regulations and safety. As I am a trusted household name, we saw a gap in the market to bring my brand over to the UK, to offer a name associated with safety and recognised standard of work.
'Our goal is to offer safe, doctor-only procedures to the highest standard, so that anyone who is wishing to embark on any treatment knows that they are in a trusted and safe environment with doctors vetted by myself.'
You are offering only non-invasive treatments; can you give a run-down of what you will be concentrating on and why?
'We offer treatments such as anti-wrinkle injections, dermal fillers, Profhilo, laser hair removal, laser skin rejuvenation and body contouring. We are also bringing over the same technology and machines we have in our Beverly Hills office. Watch this space!'
Why did you choose Manchester?
'It is centrally located and accessible to all of the country. A recent Allergan survey showed the demand for non-surgical procedures such as antiwrinkle injections and dermal fillers to be higher in the North West (Manchester and Liverpool) than in London. We will be rolling out Nassif Medspa across the UK, and London will be our second location.'
Currently anyone can legally inject anyone else with no training in the UK. How does the lack of regulations for UK aesthetics pose a problem to patients?
'Occasional complications can arise with even the best injectors, however only an experienced medical professional is able to recognise immediately, before treating and managing safely. Non-medics are not able to treat or administer prescription medication in emergency situations such as vascular occlusion. It is so important for anyone considering non-surgical aesthetics to carefully consider who they are treated by. Ask lots of questions and only go to an experienced medical injector!'
Are there any non-invasive or surgical procedures you're seeing a rise on that you are not a fan of?
'Brazilian Butt Lifts. We are seeing a rise in the demand for these procedures, but they are dangerous and risky surgeries that can result in death. This is due to the fat cells entering deep veins and then travelling to the lungs, obstructing breathing.
'In the non-surgical field, the use of permanent and non-dissolvable fillers is also a concern. Hyaluronic fillers should always be used, as if there is complication or you simply change your mind then they can be dissolved.'
Your Nassif MD Dermaceuticals skincare line is well-established in the US – and it's now available in the UK! Which are your favourite stand-out items and why?
'I love them all, but I use my Detox Pads day and night, as well as my Pure Hydration Gentle Cleanser. I apply my Deco-Lift Neck Firming Complex Serum, as well as my Dermaflect SmartCream, followed by my Hydro-Screen Super-Hydrating Serum on top.'
What would you recommend to someone who wants to take more care of their skin?
'I believe it is important to have a good skincare routine. Vitamin C, Hyaluronic Acid and Retinol are great staples for most skin types.'
What do you find you are mostly correcting in terms of your career?
'The number one thing I correct is noses. I am known for being the surgeon patients go to when they need help with revision surgeries. I see a lot of noses that have been aggressively overdone, and that have had too much cartilage removed. I also reconstruct a lot of collapsed noses.'
So why is rhinoplasty of particular interest to you?
'In plastic surgery rhinoplasty is the most difficult procedure, as small things that you cut away or remove can cause devastating affects later on. It takes someone with a great eye and experience to make a nose look good. In this field you're constantly learning, and I am always humbled by rhinoplasty.'
Are there any plastic surgery cases from Botched that always stay in your mind?
'One of my patients, Luci Diprima. She'd been in a road traffic accident 15 years previously and had been suffering with the effects of her facial injuries. She came in to ask us to fix her nose. However, during the consultation some of her symptoms concerned me. My instinct was to organise a CT scan, and the results revealed she had brain aneurisms. Had anyone operated on her she could have very easily died during surgery. We arranged for Luci to have brain surgery and then, with time she came back, and I fixed her nose. It was a very emotional case, and I was so glad I could help Luci and her family.'
What do you do to keep fit?
'I fast for 16 hours a day. I try to cut down on carbohydrates and eat a light lunch and dinner. I go to the gym four to five days a week, usually before I begin my day in surgery. I like to lift weights to build more muscle which will also burn more calories, and I also do cardio.'
What are your top tips for a healthy, happy life?
'Well, you've got to exercise, and you've got to eat well most of the time. If you can decrease stress, have people you love in your life and be happy, then that will keep you living longer.'
What exciting projects are in the pipeline for you in the future?
'We will be rolling out more Nassif Medspas across the UK and then the rest of the world, and I'll be bringing my skincare to the rest of the world, too!'
Catch up with Botched on E! and find out more about Nassif Medspa by visiting nassifmedspa.co.uk