Famed for his exceptional treatments and cutting-edge clinics, expert facialist Pietro Simone is on a mission to support skin problems in all forms, such as peri-menopausal and menopausal issues.
With a host of famous clients, including ITV presenter Lorraine Kelly, he offers Celebrity Secrets readers advice to help regain balance, through his 'clean' beauty skincare line, FIERCE.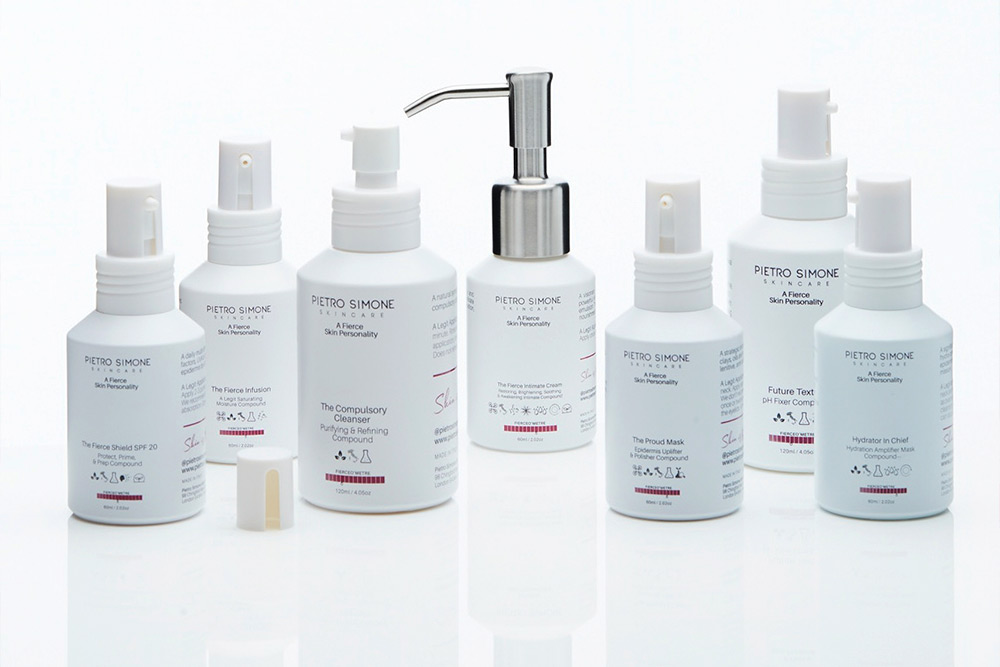 What happens to women's skin during menopause?
Menopausal skin is often associated with reduced collagen, fat, and elasticity. Increased dryness, age spots, and pigmentation are also factors that can contribute to mature skin. Studies show that a woman's skin loses approximately 30% of its collagen during the first five years of menopause. As levels of hormones drop before and during menopause, some women develop teenage-like acne.
Approximately at the age of 50, the pH level of our skin changes with this change, skin becomes more sensitive and is likely to develop rashes and irritations. Hormones play an important role in healing skin. When hormone levels fall, the skin takes longer to heal. As estrogen levels decrease, skin becomes thinner and therefore is prone to increased bruising.
How does our skincare need to reflect this change?
It is important to first understand what peri-menopausal or menopausal skin is, from what causes it to what can make it worse, and how to break these cycles to stop having this skin condition.
First, seek advice from your doctor on hormonal treatments as they could have a more advanced solution. Remember: menopause is not taboo; own it and find your own balance.
However, saying that there are many natural treatments that you can explore. Pietro suggests using a facial gua sha, which is a massage technique designed to relieve tension and help encourage lymphatic drainage to banish bloat.
Even better, try The FIERCE Skin Stimulator home treatment; a professional approach to intensively target the different levels of the skin.
FIERCE has been designed to target both face and body, to support the symptoms associated with hormonal imbalances, and conditions such as menopausal skin, acne, and rosacea. This extraordinary collection is not just another pot of 'it' cream, but an answer for each individual to achieve inclusivity and address their individuality.
Recommended routine
Use a calming cleanser that regulates sebum and fortifies the skin, while preserving its moisture barrier. The FIERCE range is perfect to strengthen the skin's natural ability to neutralise harmful environmental factors.
Choose a toner that restores skin's microbiome and stimulates skin renewal to sustain skin metabolism. FIERCE Oil, Infusion and Shield SPF 20 are also must-haves for your morning routine.
In the evening, it is best to pick a calming cleanser that regulates sebum and fortifies the skin, while preserving its moisture barrier. This helps to strengthen skin's natural ability to neutralise harmful environmental factors.
A toner can also help restore the skin's microbiome and stimulates renewal to sustain skin metabolism.
From Pietro's FIERCE range, the Skin-Alert Unguent is an ultra-nourishing balm rich in natural oils with advanced healing bio-fermented active ingredients designed for anti-inflammation.
While there are specific products in the FIERCE range, targeted for the individual skin types, long-term Pietro recommends the Hydrator In Chief twice a week, which is an extensive hydrator.
Then there's Prestige Bio-Ageless Ampoules, which contains the highest possible concentrations of antioxidants and clever trio peptides designed to aid the appearance of longer-term skin regeneration. This works on superficial fine lines, wrinkles and helps to balance skin tone and texture.
You can find Pietro Simone's entire FIERCE range at pietrosimone.com
To see your company in any upcoming features we are arranging please email editorial@hurstmediacompany.co.uk