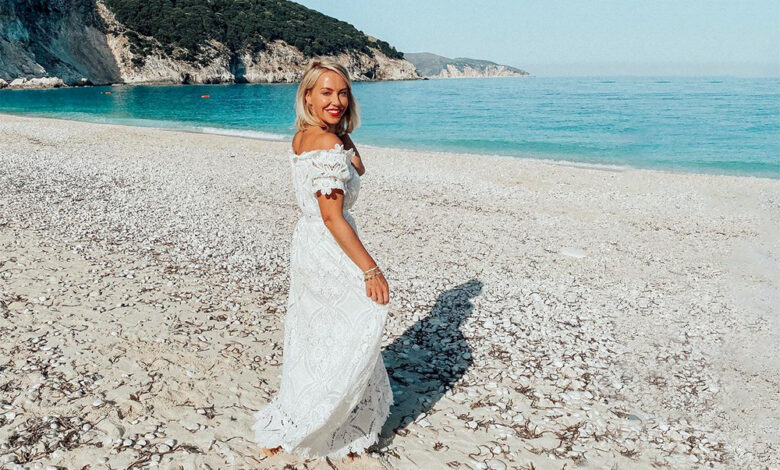 The A Place in the Sun presenter, 39, on the impact Covid-19 has had on the travel industry – and why she is happy to see the world (almost) up and running again.
How are you feeling after ending up in A&E after a reaction to your second Covid jab?
"I have Idiopathic Chronic Purpura, which is an autoimmune disease that means I have a low platelet count and bruise very easily. I'd had my second Covid jab and woke up with all these red spots on my stomach. I sent the image to my doctor and because of my history he said I needed to go to hospital. I had blood tests and a thorough examination and it revealed my platelets had dropped, but I'm fine now."
Were you relieved or upset when A Place in the Sun halted filming?
"It was such a strange feeling because I was actually abroad when we got the announcement. I couldn't believe it was happening – it felt like I was in a Will Smith movie! We just packed up and got on with the lockdown like everyone else."
The pandemic also had a huge impact on your coffee shop, Lord Roberts on the Green. What was it like transforming it into a village shop and stocking supplies?
"I literally stopped working as a travel presenter and threw myself into our coffee shop business, trying to positively help the community in whatever way we could. It was a real help to people in the area, especially when no one could get an online food shop and people were worried about going out to get their essential supplies. I also enjoyed being at home, as it's a place I don't normally spend a lot of time in!"
Then there was the challenge of homeschooling – by the looks of it you didn't find teaching your two kids a breeze…
"There were parts I enjoyed, and parts I definitely didn't! I love teaching my kids to ride a bike, swim or play tennis, but when it comes to sitting down and trying to get them to read and write it was hard. I think the structure in a classroom is far easier than trying to do it at home."
Do you agree kids need extra lessons from all the school they've missed?
"Kids learn very quickly – they're sponges that absorb information super-fast. Yes, they've missed several months of the year, but learning doesn't have to be purely classroom-based. We'd make cakes one day and that would involve lots of maths in terms of measuring, plus they've learned a lot through my experience in travel, such as different languages, foods and cultures. I feel where my children really missed out is that social interaction they got from being at school."
Have you got your head around the new way of living?
"I think so, but was strange not knowing how to greet someone – we've all become quite socially awkward. For me it's more about seeing our children return back to normality – one minute you can see your friends and enjoy your after-school clubs, then the next everything was shut. It's been so hard on their mental health."
Let's go back to what you know best – travelling overseas. What's it like travelling with all the restrictions in place?
"There's a lot of paperwork, but it can be done if you need or are allowed to travel. I actually feel fairly comfortable flying – for one, I've been fully vaccinated, but I'm also getting on a plane where everyone has also been PCR tested in order to board. It puts me at ease in a way."
What are your plans for your own summer holiday?
"I'm the same as everyone else – I'm not really making plans too far in advance. If it's at all possible I'd love to get abroad, but for now I'm just going to wait and see."
When this is all over where can't you wait to visit?
"The Maldives – I'm lucky enough to have been five times! It's the most perfect place to properly switch off. We once went to the Maldives and then on to Sri Lanka, which mixed relaxation with adventure. I'd also love to visit Bali one day."
Have you always wanted to be a travel presenter?
"When I was young, I had a huge gap between my two front teeth and my Nan used to say it meant I was destined for travel! My little boy, Rocco has the same gap as I did – and I now tell him he's destined for the same! He actually wants to be a vet and work in Africa caring for animals when he's older, and I always tell him to go for it."
What are the good and bad sides to travel presenting?
"There aren't any bad sides! It's educational and inspirational discovering new places and meeting new people. I'm lucky that the kids get to come with me when they can, and I've even got used to living out of a suitcase."
Back in March 2020 you announced on Instagram you wanted to get your pilot's license. How's that been going?
"I need to get back up there – I've only managed 16 hours because of all the restrictions. I love it so much though. Watch this space, as I will definitely get there in the end."
You're the big 4-0 next April. In an ideal world, what are your plans?
"I'd like to be abroad if we're allowed! To be perfectly honest turning 40 really doesn't faze me – it's literally just a number. I have this reputation of living my life a million miles an hour. I've been listening to Laura Whitmore's audiobook No One Can Change Your Life Except For You, which really resonates with me. She loves to keep busy and is always juggling various projects, and I'm the same. I feel like I constantly want to learn more, to explore more, and to enjoy an adventure."
Pop along for a drink and some food at Laura's coffee shop, Lord Roberts on the Green, then catch A Place in the Sun, Channel 4, weekdays at 3pm or 4pm.
To see your company in any upcoming features we are arranging please email editorial@hurstmediacompany.co.uk