Checklist has another healthy, tasty autumn recipe for you using in-season and easy-to-find ingredients that's super simple and quick to prepare.
The great thing about our recipe hacks is that if you don't have quite the right ingredients, you can substitute others for a lovely twist that'll still taste delicious and look great on the plate.
This one's vegetarian and if you leave out the cheese – or use vegan cheese, then it's vegan too. Roast the vegetables a few hours or even a couple of days ahead, then throw them into the pastry and cook the tart when you're ready to go. Easy!
Quick autumn vegetable tart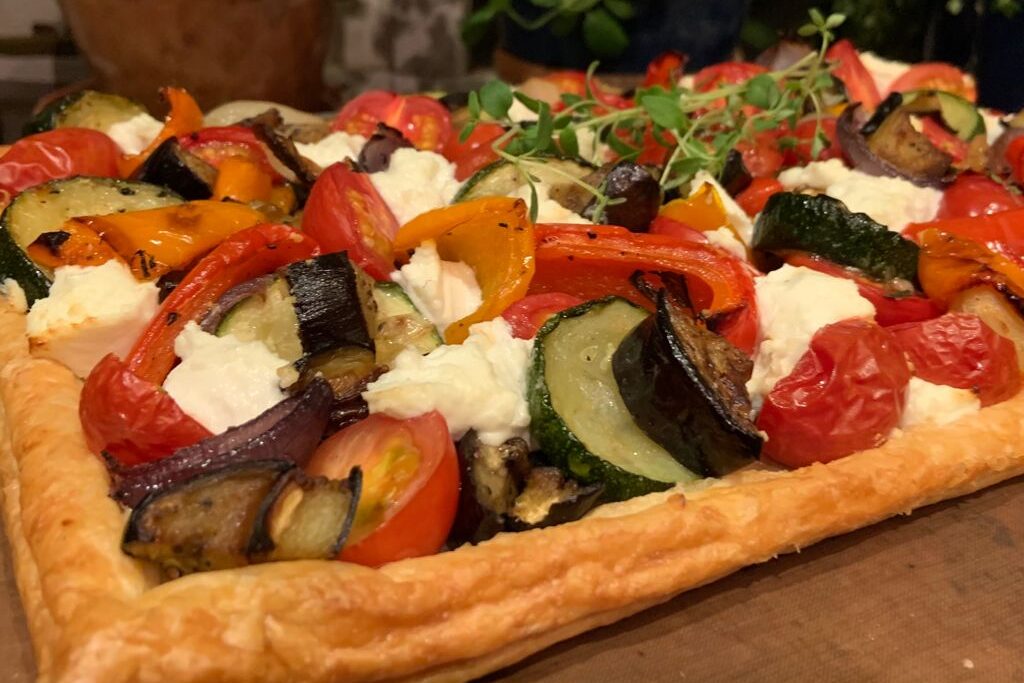 Cooking time: 30 minutes, plus another 20 minutes when you're ready to cook the tart.
Substitution notes:
We used courgettes, aubergines, tomatoes and peppers, because that's what was in the greenhouse, but you can use any vegetables you fancy and leave out whatever you don't. Onions, whole garlic cloves, sweet potato or squash and pumpkin work well, as do artichokes and ready roasted antipasti – which saves you the roasting step if you're really pushed for time.
We used goat's cheese in our tart, but you can use whatever you have in the fridge. Chunks of Feta, Mozzarella, Brie, Camembert, Taleggio or any blue cheese work equally well. If using a blue cheese, the addition of sun dried or sun blush tomatoes to your tart lends a delicious sweetness to balance the cheesy tang.
For a vegan option, simply substitute with a vegan cheese, or forego the cheese altogether.
If you don't have puff pastry or prefer something lighter, you can use short crust, or even filo. If using filo, a nice alternative is to pile up small handfuls of your vegetable mix in the centre of a two-sheet-thick layer filo and bag it up into individual parcels, scrunching the top like a money pouch. Just brush melted butter anywhere you need to make it stick to itself.
We used thyme to flavour the roast vegetables, but you can use any woody herbs – oregano or marjoram will add delicious fresh flavour and if using squash or pumpkin, sage complements these well. Once cooked, any soft herb – parsley, chives, basil, cress or coriander for a light, Asian accent, will be delicious.
Ingredients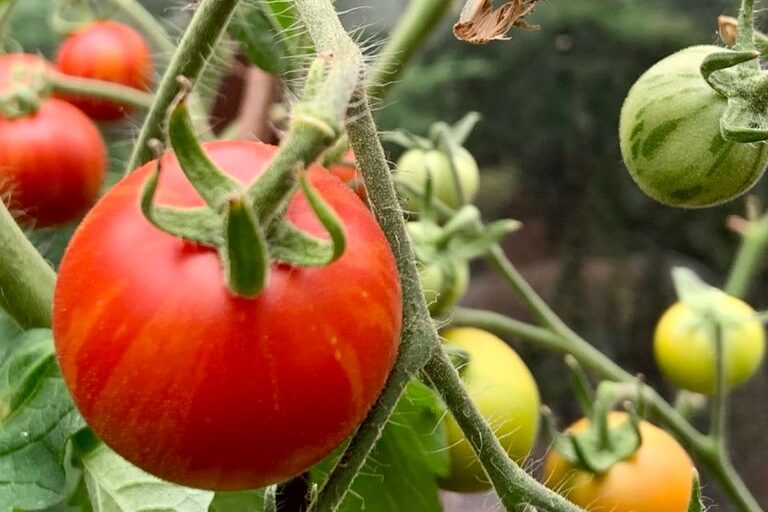 (These quantities are just suggestions – play around with proportions to suit whatever you have in the fridge or the garden)
1 shop-bought ready-rolled puff pastry (or short crust pastry. Or filo pastry)
1 large aubergine
2 medium courgettes
2 medium onions
2 peppers – any colour
A handful or two of tomatoes
6 to 12 cloves of garlic (optional)
A few sprigs of thyme
125g (or thereabouts) of goat's cheese
Method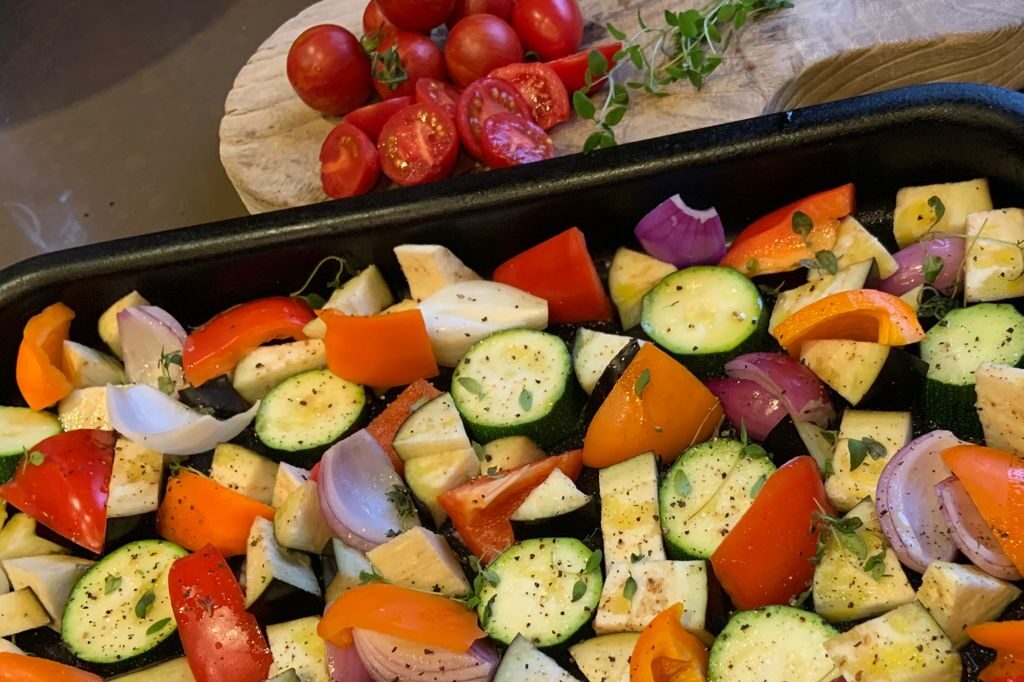 Preheat oven to 220° C (200° fan assisted) or 425° F
Cover baking tray big enough to take your sheet of pastry with baking parchment, then lay pastry on top. Using a knife, score a margin about ½ to 1 inch around the edge of the pastry and prick the inside with a fork. Brush with a little egg or milk.
Chop all your vegetables into small equal bit-sized chunks . Halve the tomatoes. Put all your chopped vegetable EXCEPT the tomatoes in a lightly oiled roasting dish, drizzle with olive oil, season with salt and pepper and scatter with thyme (and whole cloves of garlic if using).
Put your pastry case and vegetable tray in the oven and cook for 20 minutes. At this point, your kitchen will smell amazing! Remove pastry case, then press centre down to crisp it and sprinkle with a little salt. Stir the vegetables and put them back in the oven to cook for a further 5 to 10 minutes as necessary.
Remove vegetables from oven. If you're preparing the tart ahead, put pastry case and vegetables aside for a few hours or in the fridge for up to 2 days until ready to assemble and eat.
Assemble the tart: If you want a stronger flavour, thinly spread the inside of the pastry base with any of: pesto; French mustard; sundried tomato paste; salsa verde or your choice of another base, but this extra step is down to individual taste.
After letting the vegetables cool for at least 10 minutes, pile them, with the halved raw tomatoes, onto the centre of the base, leaving the edge free. Dot the cheese across the tart and at this point you could also add olives, capers, pine nuts or cashews nuts, if you like.
Bake at 200° (180° fan assisted) or 390°F for 15 minutes. Serve hot or cold (it makes a great addition to any picnic) with a salad of your choice or as an accompaniment to a picnic.
To see your company in any upcoming features we are arranging please email editorial@hurstmediacompany.co.uk