Since the early 20th century, the best way to get in the festive spirit is to count down the days until Christmas with an advent calendar. However, this tradition has since evolved from daily reveals of pictures to much more luxurious offerings.
Now, no matter your age or interests, there's an advent calendar for everyone in your family from kids, teenagers, adults and even beloved pets. Find a cheery countdown for everyone and enjoy Checklist's collection of advent calendars for the entire family.
1. Games by toucanBox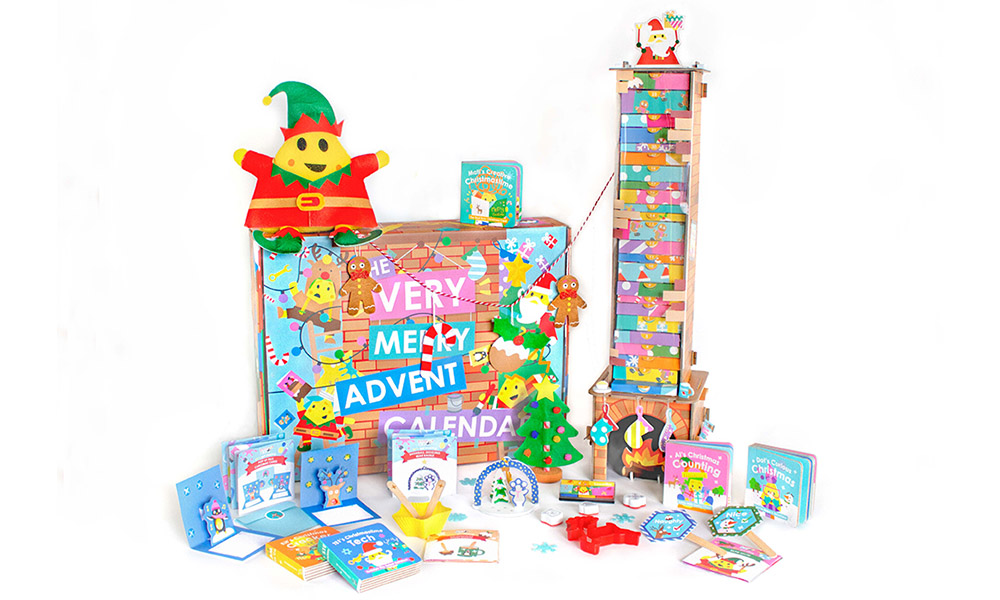 For a festive treat that appeals to the young and young at heart, The Very Merry Advent Calendar from toucanBox can provide something that keeps the entire family amused. From multi-award-winning children's craft company toucanBox, The Very Merry Advent Calendar is stashed with 24 boxes of festive fun.
Featuring exciting Christmas crafts such as a snowball juggling bear bauble and snowman puppets, scrummy recipes for gingerbread reindeer, hot chocolate spoons, and more, plus five enchanting STEAM-inspired storybooks, the first-ever brand new, and first time to market, advent calendar is designed for children aged two to eight. However, it is the perfect gift for all the family too, with stimulating educational treats for little ones and grown-ups. This is one not to miss for the children this year.
Find out more at toucanbox.com
2. Photo Calendar by Cewe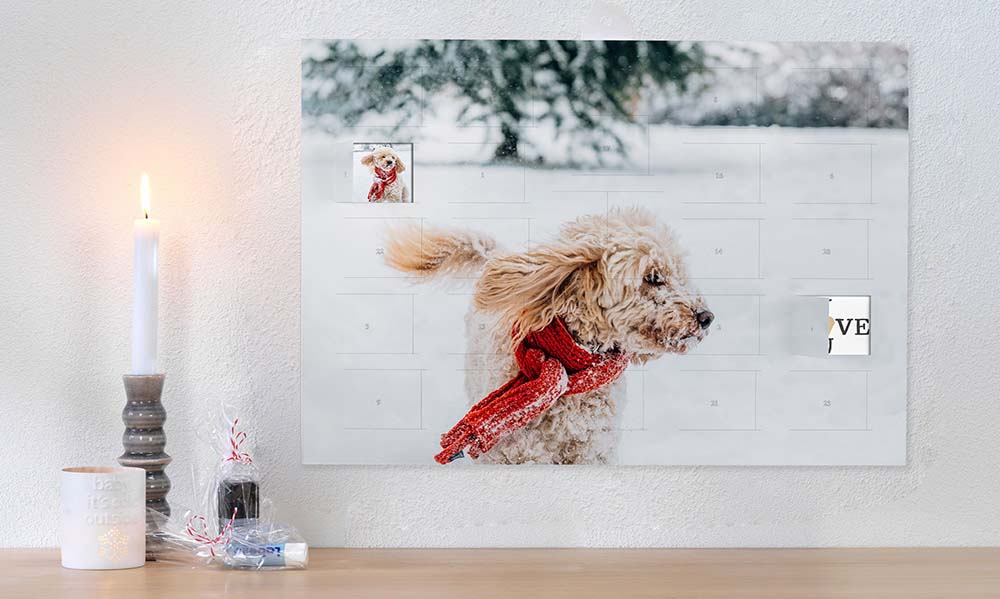 What better gift for grandparents, aunties and uncles or other loved ones this Christmas than a personalised photo advent calendar?
When opened, each window will unveil one of your photos. From your summer holiday to a special birthday, these calendars are ideal if you want to look back over your best moments as the year comes to an end. The perfect way to countdown to Christmas whilst remembering some of your favourite occasions from the past year, and an ideal gift for someone special.
Find out more at cewe.co.uk
3. Gruffalo's Child Musical Advent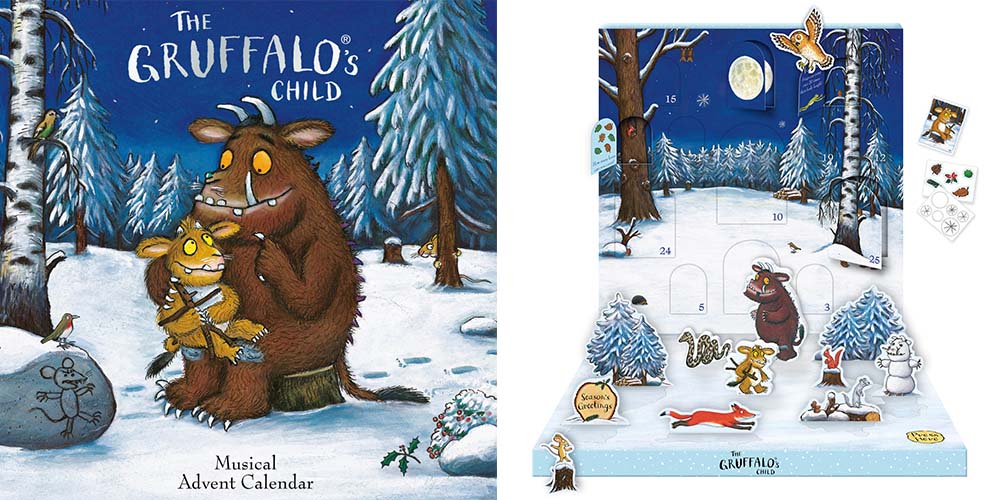 Watch out The Gruffalo is about this Christmas with this musical, interactive advent calendar. This uniquely designed folding advent calendar has a different Gruffalo gift behind each door which helps you build the scene over December.
If you land on a day where you receive a magnetic-based character of The Gruffalo. With Snake or The Gruffalo's Child behind the door, you can watch them glide and interact with one another on the magnetic, moving base, to the official soundtrack composed by Rene Aubry.
Batteries are supplied with the calendar which are needed to power the magnetic movement and music. They are replaceable at the back of the calendar; ensuring that this calendar is built to last.
Find out more at danilo.com
4. Pets by Lily's Kitchen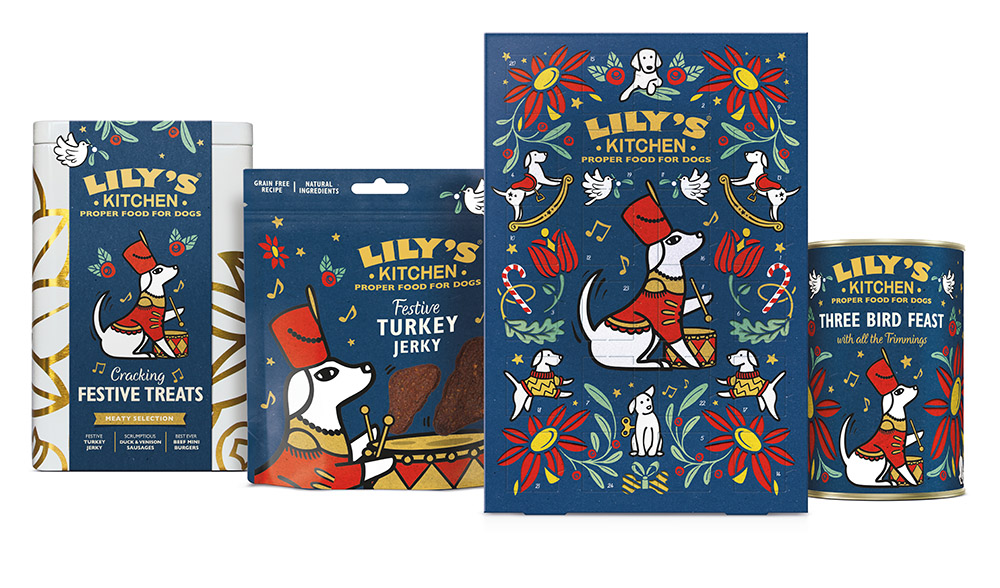 It wouldn't be right to celebrate the most magical time of the year without getting our beloved pets involved, would it? Luckily Lily's Kitchen will ensure that your furry friends are involved in all the festivities going on this year. They have advent calendars made especially for either your cat or dog which contains a special treat just for them to enjoy every day.
As with all Lily's Kitchen food, the treats are made with natural ingredients and without any nasties, so that pet parents know that their furry friends are getting the best treats on Christmas Day, and all year round.
Find out more at lilyskitchen.co.uk
5. Advent of Change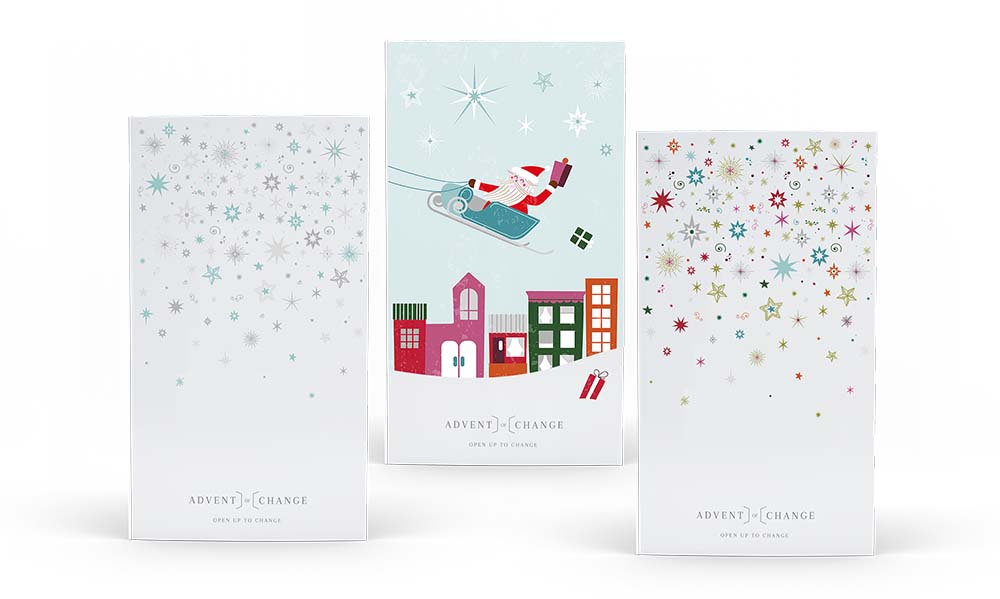 For the person that has it all, it can sometimes be a challenge finding them a meaningful gift. So why not give back with a charity advent calendar?
Advent of Change and John Lewis' calendar is back with a brand-new design for Christmas 2021. This edition of the calendar donates £1 to 24 amazing charities; local, national and international.
With a luxury aesthetic and muted colour palette, the beautiful design tops off this amazing product, perfect for those wanting to donate a higher amount each day. Gift for a caring friend, or to bring the family together by giving back, and your purchase will support charities such as 52 Lives, the Cavell Nurses' Trust, PDSA, Willow and the National Autistic Society.
Find out more at adventofchange.com
6. Seven Days of Christmas Treats by SevenYays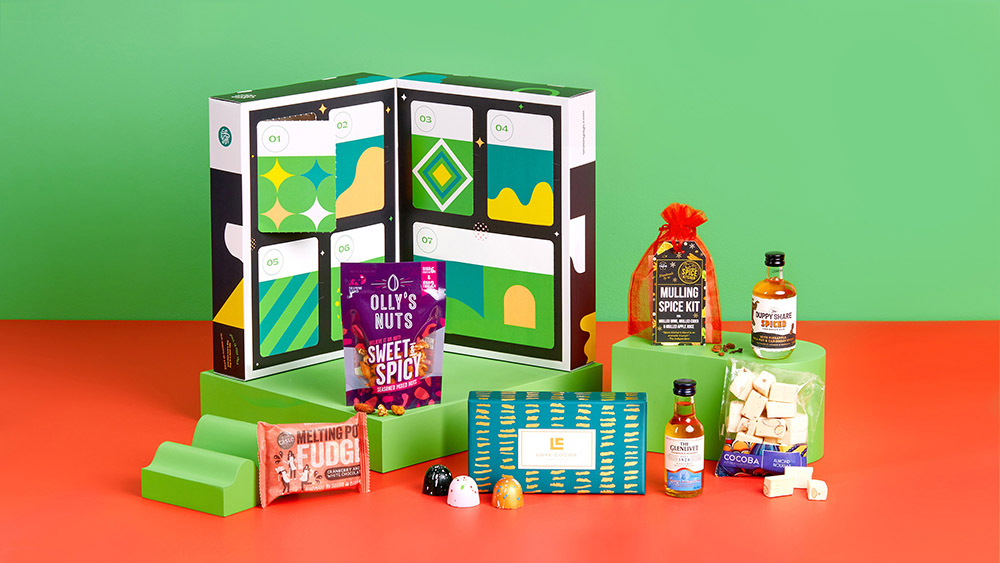 Show dad how much you care with SevenYays. They have high-quality seven-day calendars and boxes to suit everyone including an adorable unicorn kit for kids.
The kit calendar for dad has a single malt whisky, a mulling spice kit and a very sassy Caribbean Rum to keep the drinks flowing, and nuts, nougat, and fudge to nibble during those festive films. Then to make sure your loved one has a truly special Christmas, SevenYays has popped in its favourite luxury truffles for a very merry treat.
SevenYays work hard to find the very best gifts to add to your box. The ones that really make you smile. Really make you think 'wow' and make you go 'yay!'
Find out more at sevenyays.com
7. Men's Grooming Advent Calendar by Baylis & Harding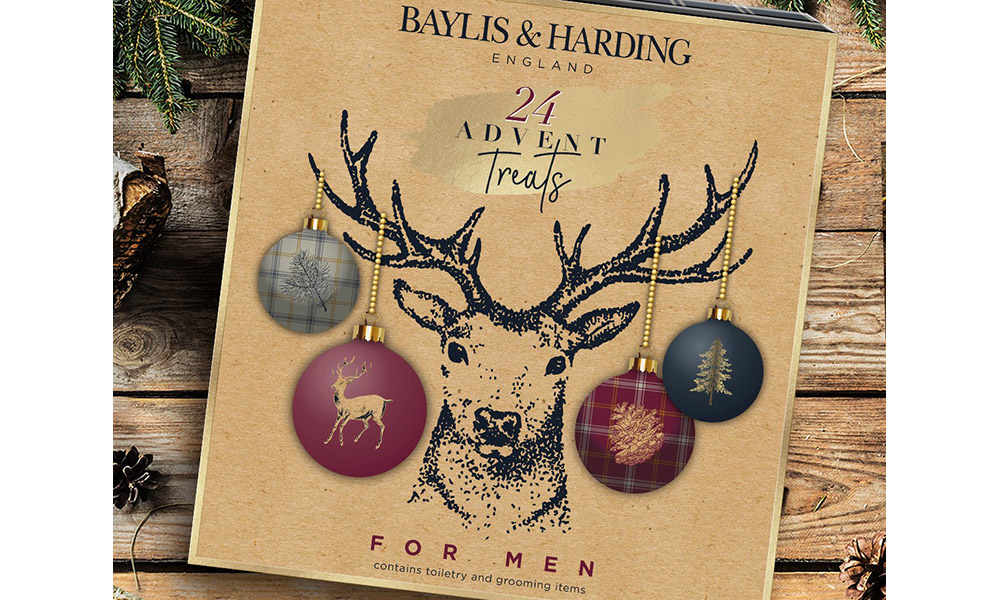 It's almost December, and last year's supply of shower gel and aftershave is running perilously low. You could go out and get some more, but you suspect that an abundance of grooming products and deodorants will be heaped at you by the end of the year. What do you do?
Never fear, Baylis & Harding's advent calendar is designed to keep men cleanly and smelling fresh in the run-up to Christmas Day, where hopefully they'll be showered with enough shampoos and aftershaves to keep them hygienic for the rest of the year.
The Signature for Him Grooming Advent Calendar contains a selection of Baylis & Harding's premium grooming products. The calendar includes aftershave balm, shower gel, hair and body wash, face wash, foot lotion and muscle soak in Citrus, Lime & Mint and Black Pepper & Ginseng fragrances.
Find out more at boots.com
8. Harry Potter Advent by Lost Universe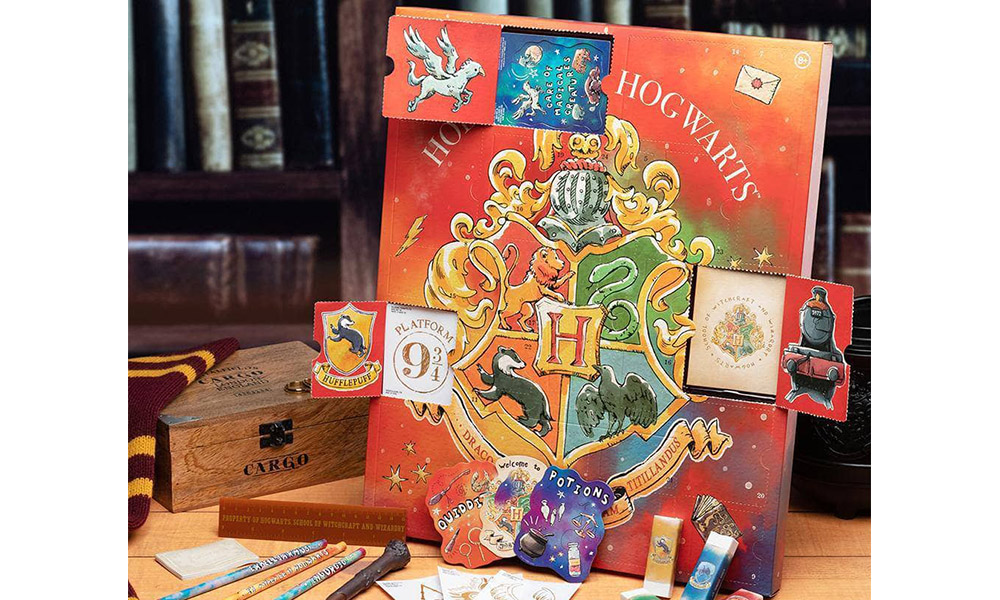 This calendar is perfect for that Potter-head in your life, whether they're one of your kids or a just a big kid. Experience a dose of magic every morning in the run-up to Christmas, sure to excite newly-initiated wizards or die-hard Hogwarts alumni.
This calendar has 24 days of unique gifts and is filled with fantastic stationery, including a colour-changing coaster, pencils and a magic wand pen.
Lost Universe are the go-to for anyone looking to geek out on their favourite shows and movies, and have a variety of different pop-culture advent calendars on offer this year. If Harry Potter isn't quite your thing, be sure to check out their other calendars for your favourite franchise.
Find out more at lostuniverse.com
9. Musical Calendar by Danilo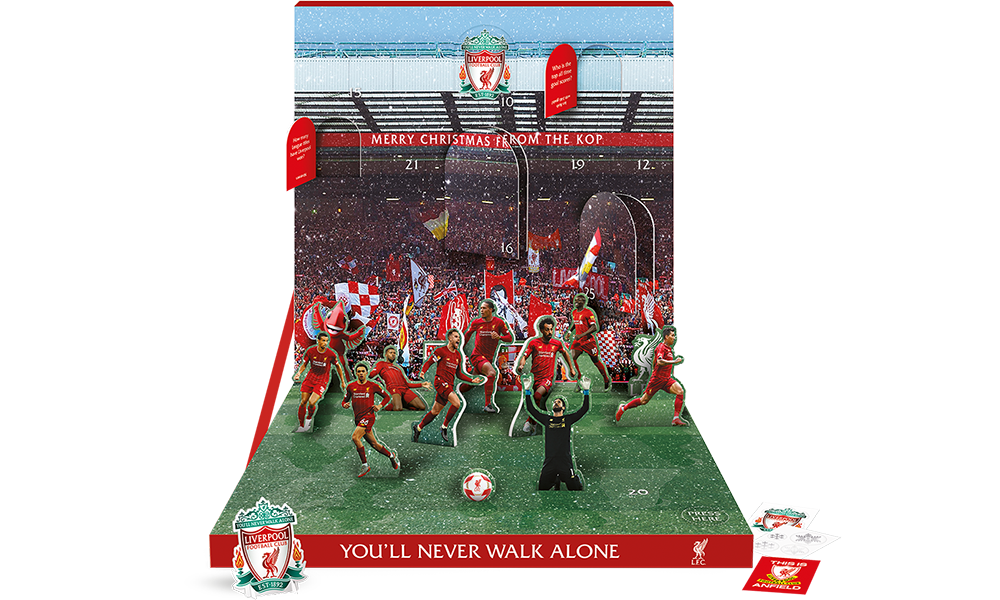 We all know a football fanatic in our family, whether it is dad who can't get his eyes off the TV screen when a game is on, or your little girl who loves getting stuck into the game on the pitch. It truly is a sport enjoyed by all, which is why a footy-themed advent calendar could be the perfect gift for your family member in the run-up to Christmas.
Danilo make a variety of different advent calendars in which you create a scene that develops over the month as each day you add another character. Playing over it all is a song, or in the Liverpool calendar's case, a football chant.
Find out more at danilo.com
10. invisibobble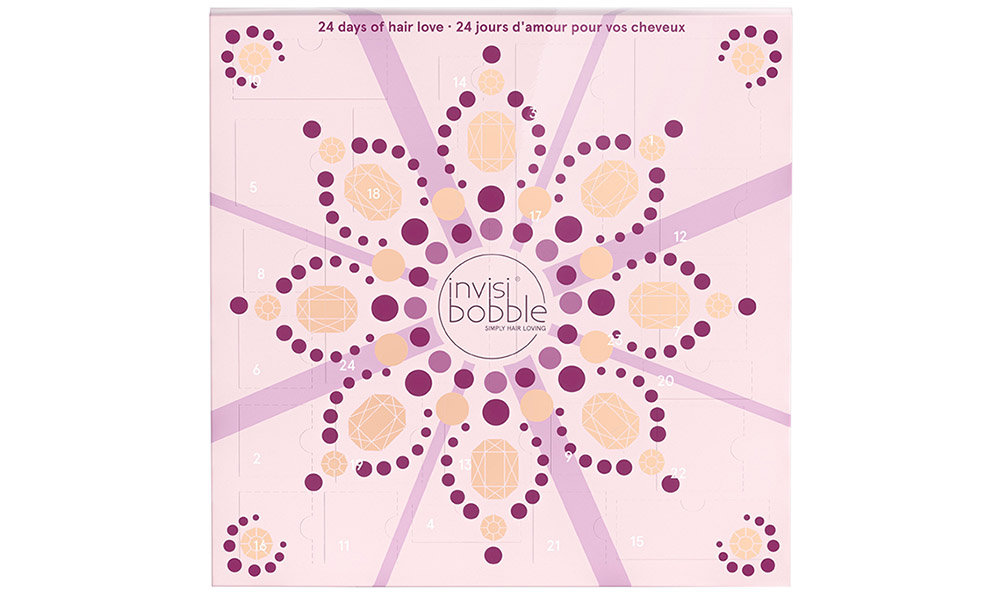 Whether you are a busy mum on the move looking to stop your little one grabbing at your hair or your little one is always losing their bobbles in the playground; we gals, or long-haired lads, can never have too many hairbands. Perfect whatever your age, invisibobble have come to the rescue.
Bursting with luscious treats, the calendar includes 24 individual hair accessories from the hair-friendly brand; one for each day of the festive season.
This calendar has everything aspiring fashionistas need to style their hair and the rest of their outfit. Instead of temporary sweet treats, you'll have 24 accessories that are reusable any time of the year.
Find out more at feelunique.com
To see your company in any upcoming features we are arranging please email laura@hurstmediacompany.co.uk or editorial@hurstmediacompany.co.uk