We all love a gathering. Whether it's a rager with old mates or a classier dinner party with colleagues, nothing beats spending time with friends and family. And what event is complete without some snacks and beverages? Alternatively, give a loved one a luxurious and tasty selection of treats to show them how much you appreciate them.
If you're looking for a hamper for your event or a delicious delivery to a close friend, Checklist have got you covered with this list of the best hampers and gift sets for all your gifting and partying needs.
1. Classic Deli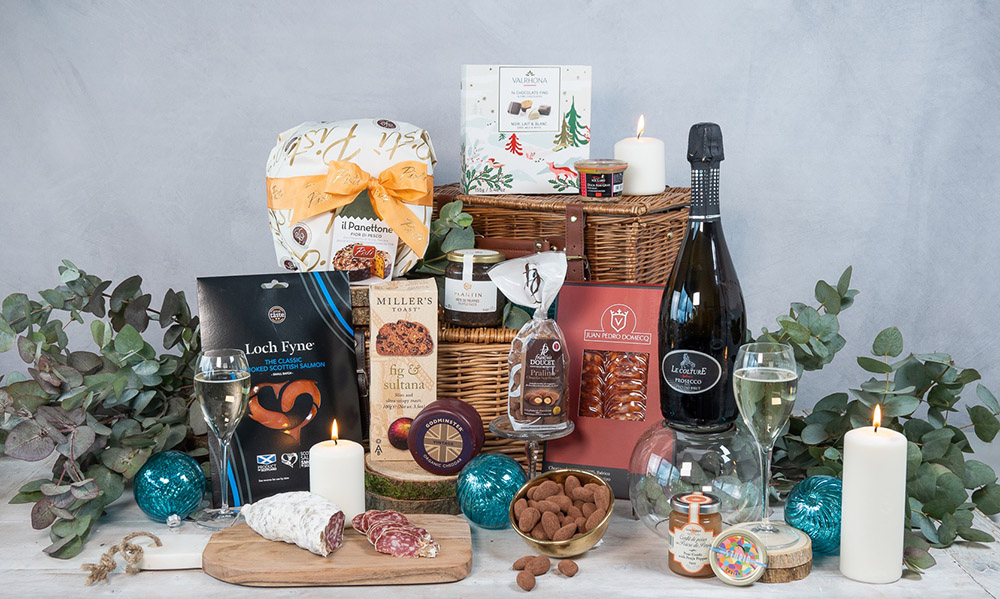 Classic Deli has thought of everything with its Christmas Hampers and Christmas Delights ranges. These include Michelin-quality products, such as Oscietra Prestige Caviar, Spanish charcuterie from Seville, Côte Blanche Champagne, and much more.
Each hamper showcases an expertly curated range of some of the most luxurious goods from around the world for a food lovers' favourite season, including a variety of wines, cheeses, cured meats, tinned treats, whiskeys and cakes.
Find out more at classicdeli.co.uk
2. Festive Fizz Hamper by Virgin Wines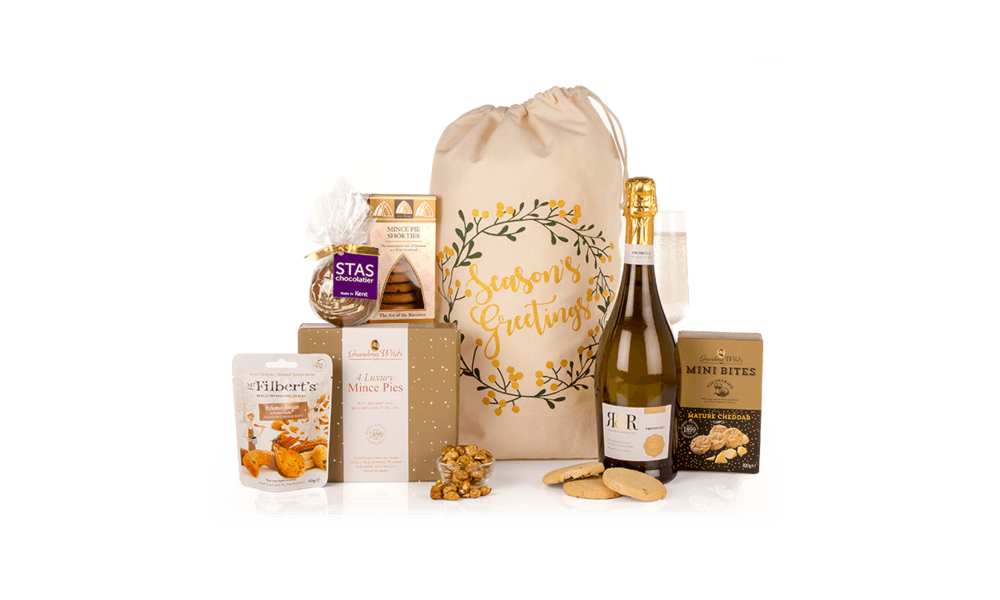 Featuring a variety of sweet and savoury gourmet nibbles and a bottle of celebratory bubbles, the Festive Fizz Hamper has all you need to get the party started from morning to midnight.
With a chocolate bauble and salted caramel decorations, this hamper will satisfy any sweet-tooth with ease. Balancing out this sugar rush is a pack of balsamic vinegar and roasted shallot mixed nuts, and much more. This is truly the ultimate party-in-a-pack, all wrapped up in a decorative and durable sack that can be reused for gifts next year.
Find out more at virginwines.co.uk
3. Paddy & Scott's Tea and Coffee Hamper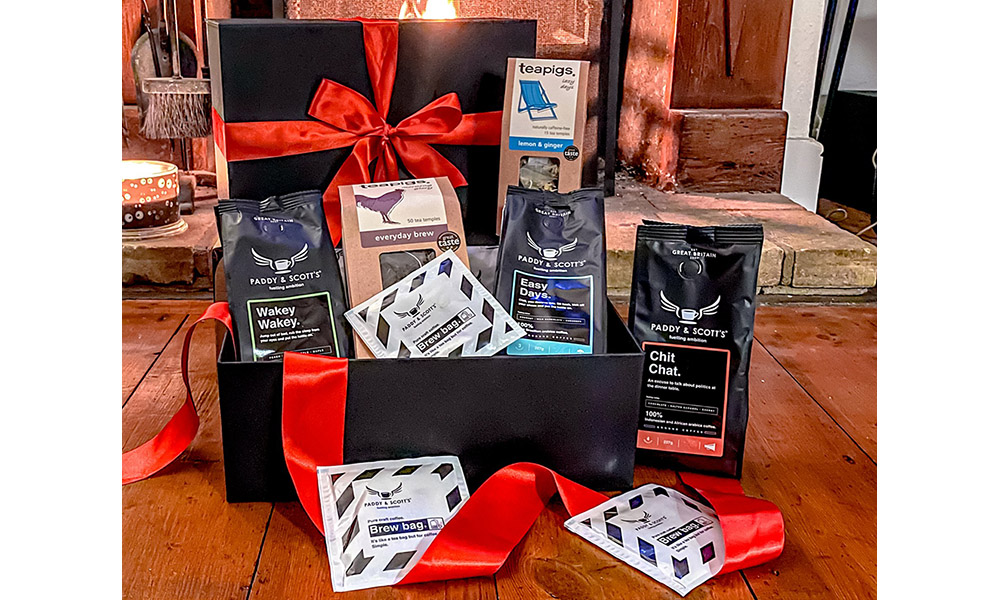 For hot drinks lovers, Paddy & Scott's new tea and coffee gift hamper is a perfect choice.
The combination of teas and coffees will have something for the whole family, from varieties to kick start the day to soothing offerings to sip in the evening.
The hamper contains the eco-conscious duos best-selling coffee blends, such as Wakey Wakey, Easy Days and Chit Chat, along with a variety of teabags from acclaimed brew-masters Teapigs.
Find out more at paddyandscotts.shop
4. Slate Cheese's Hampers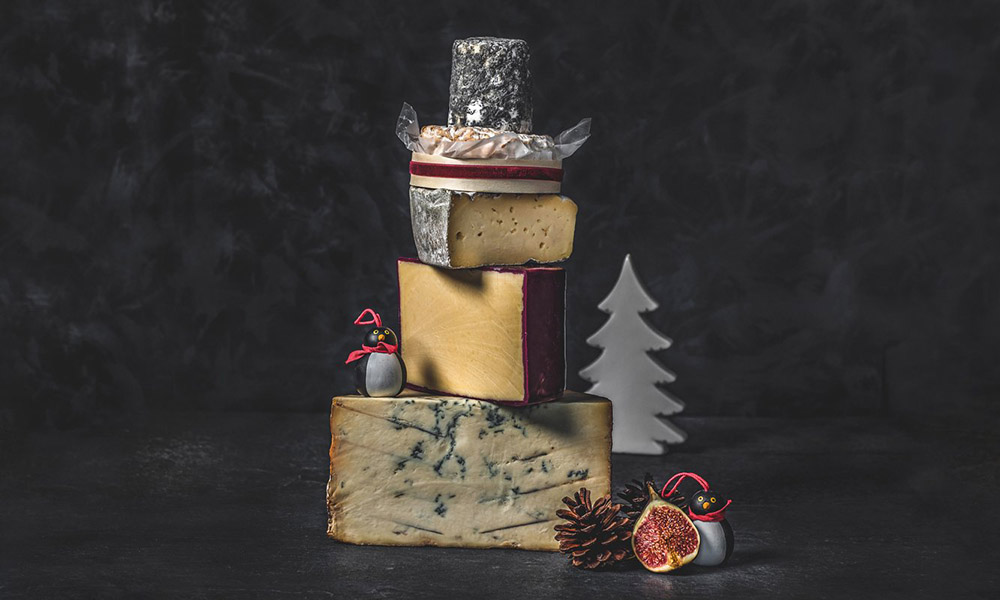 Hampers range from £25 upwards and there's everything from the Support British Selection, to the Men's Gift Set or the Cheesemongers Special Selection.
Slate Cheese offer gourmet cheeses from across Britain, and offer serving suggestions and accompaniment ideas. If you want to have an entire evening's activities delivered straight to your door, check out their Cheese and Beer Hamper.
Slate prides itself on sourcing the very best cheese from the UK and abroad and its hampers make the perfect gift for cheese lovers and those hard-to-buy-for relatives.
Find out more at slatecheese.co.uk
5. Two Magpies Bakery Hampers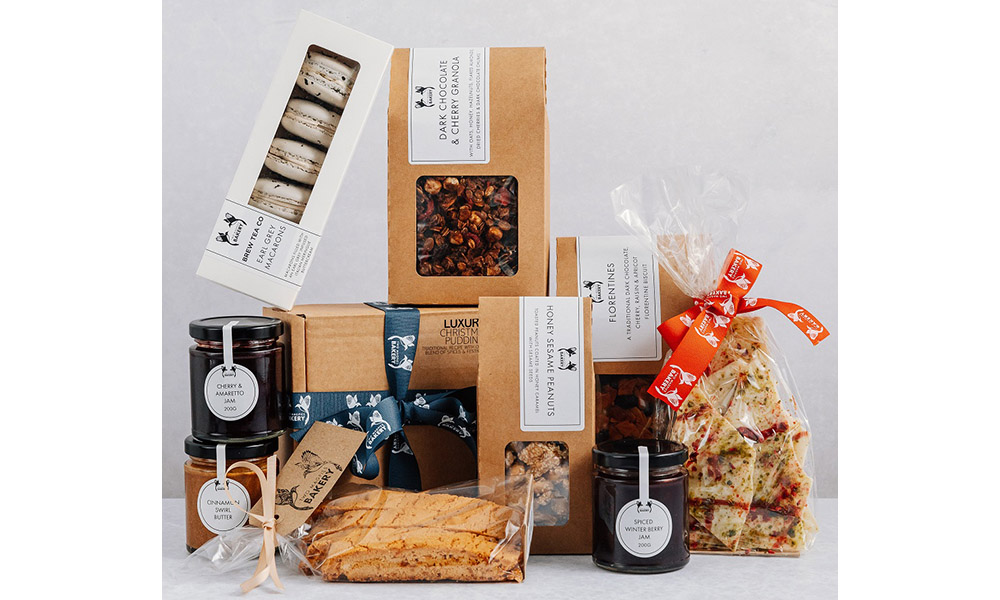 Boasting the best baked items and carefully-sourced regional ingredients, Two Magpies is offering two beautiful hampers for Christmas 2021.
Their East Coast Hamper provides all you need for a luxurious evenings grazing, with artisanal sourdough breads, creamy cheeses and tangy chutney. You can create your own charcuterie board or nibble away at it over the festive season.
Two Magpies Festive Hamper offers something for those with more of a sweet tooth. Experience the flavours of Christmas with their traditional pudding, granola and enough jam to make grandma blush.
Find out more at twomagpiesbakery.co.uk
6. Ritter Sport Ultimate Hamper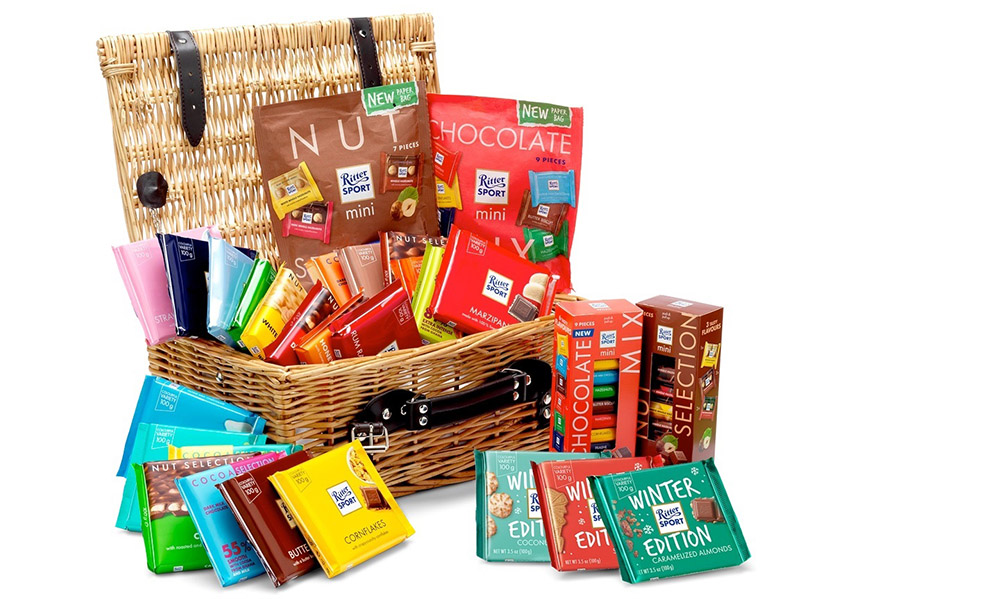 If you know someone that loves their chocolate and nuts in equal measure, look no further than this hamper.
Ritter Sport are offering all 23 varieties of their amazing chocolate bar, including three limited edition Winter varieties. These varieties include Marzipan, Honey Salted Almonds, Strawberry Yogurt and Butter Biscuit.
It's the best value pack possible with Ritter Sports and their extensive range of chocolates, there's sure to be something for everyone.
Find out more at ritter-sport.co.uk
7. Walkers Shortbread Personalised Hamper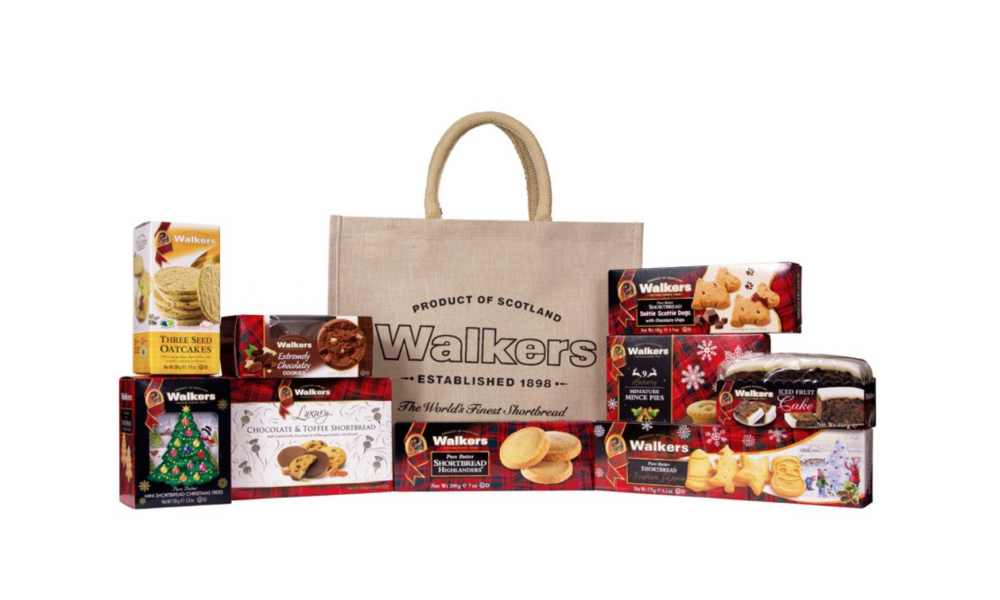 For those that like their sweet treats in shortbread form, famous bakers Walkers have created the ultimate hamper. Design-your-own gift hamper, personalising the contents to suit your tastes or a loved one's preferences.
Select up to 10 different products from the Walkers range, including their classic Shortbread Fingers, Stem Ginger Shortbread and the quintessentially Scottish Thistle Shortbread Rounds.
Find out more at walkersshortbread.com
8. The Taste of Fortnum's Hamper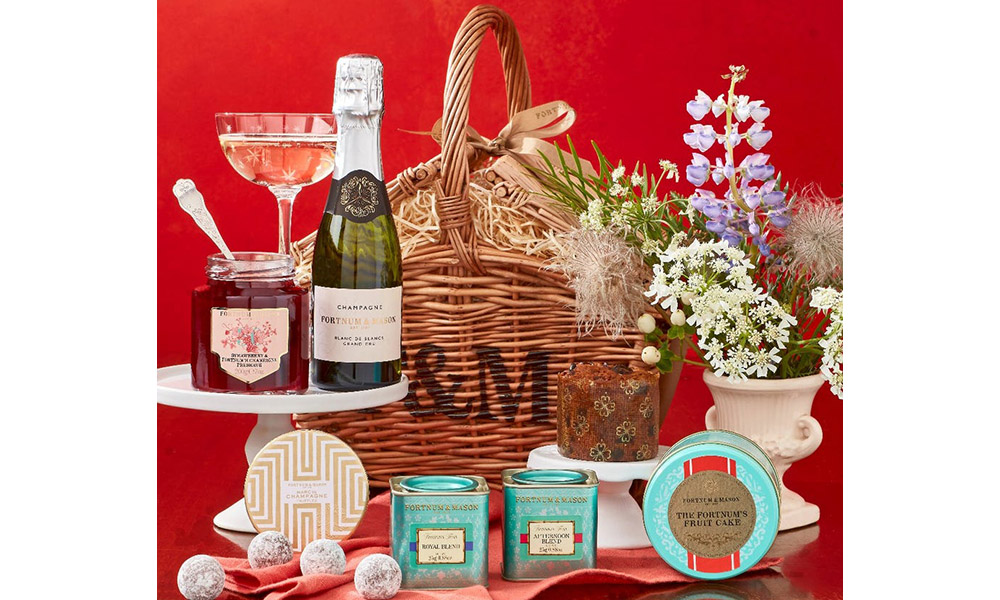 Fortnum and Mason set themselves the task to create some of the world's most irresistible gourmet pleasures and sippable delights – by both the cup and the glass. To showcase their efforts, this hamper brings together their favourite tea, champagne, chocolate and expertly baked creations.
Featuring the centuries old company forte, their Royal Blend and Afternoon Blend teas, as well as a champagne chaser for later in the evening, this gift set has a complete Fortnum and Mason experience in one convenient package. There truly is no better way to experience a taste of Fortnum's this Christmas.
Find out more at fortnumandmason.com
9. Pure Heavenly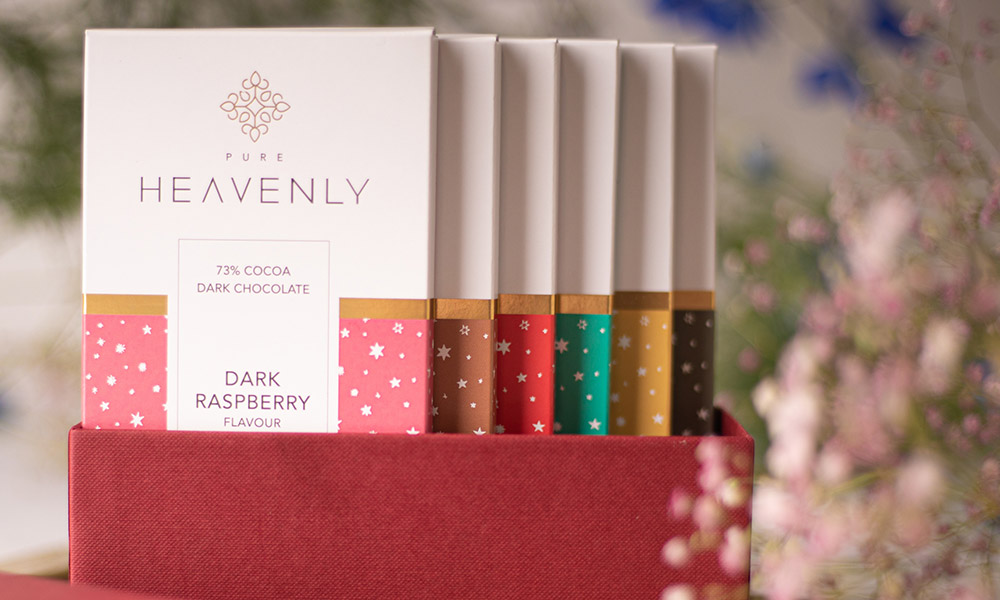 We all have a right to enjoying some chocolate during the holidays, no matter our dietary restrictions. Pure Heavenly have the answer for vegan or dairy-intolerant friends, with their luxury range of their low-sugar 'white', 'milk' and 'dark' chocolate gift boxes.
These choccies are free from dairy, soy, gluten, and palm oil, so there's no reason not to indulge this festive season. This package includes Pure Heavenly's 'Milk', Salted Caramel, Raspberry, and Mint chocolates.
Find out more at pureheavenly.com
10. The Luxury Gin Hamper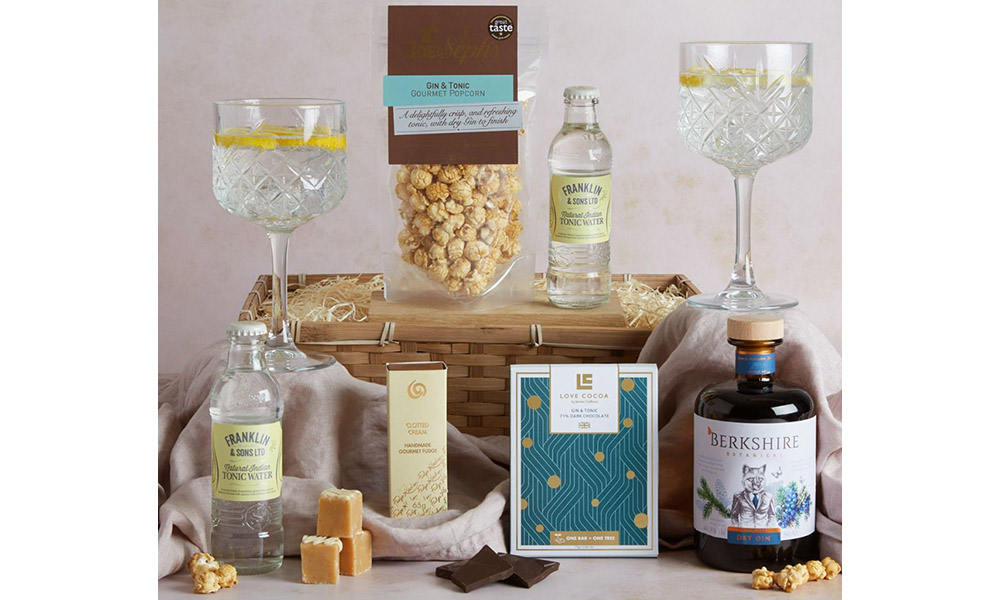 This is one for when the kids have trotted off to bed. Featuring Berkshire Botanical Dry Gin and a variety of tonics and gin-flavoured chocolates and even popcorn.
Perfect for a comprehensive festive gin-drinking and snacking experience, with sweet treats galore. Serious gin afficionados will be suitably sated with the fragrant and citrusy Berkshire Botanical Dry Gin.
Find out more at hampers.com

To see your company in any upcoming features we are arranging please email laura@hurstmediacompany.co.uk or editorial@hurstmediacompany.co.uk