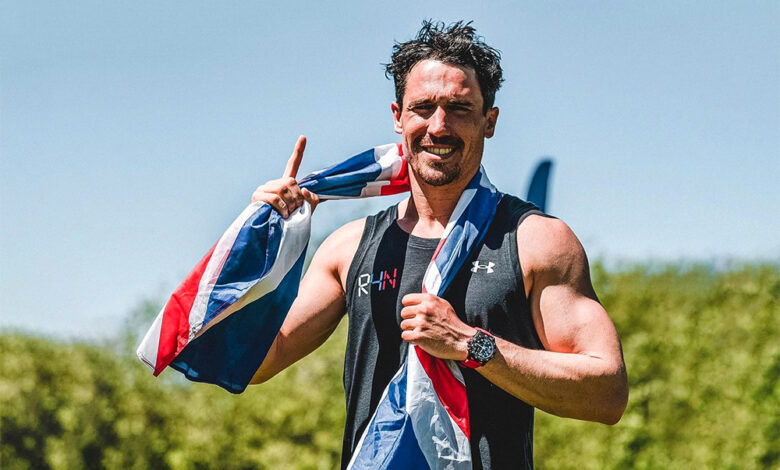 The charity campaigner, activist, property developer and television personality on becoming the first person to run a marathon in all four countries of the UK in under 24 hours.
You must be in bits after your Run 4 Nations race! How's your body feeling a week after four marathons in under 24 hours?
"The recovery process is probably going to take up to two months. My body's really out of whack, plus my immunity's shot to pieces. Ideally, I'd have rested for a full week to recover, but being a Daddy – along with everything else going on – means it's just not possible. It's a challenge, especially as I'm still on crutches while my torn ligaments heal."
Was there ever a part when you thought you might not make it?
"I'm one of those people that no matter how much I'm broken, I know I'm not going to fail, especially with the message behind the challenge and the time put into it. Having said that there were times when my team were concerned. I went from running 35 minutes ahead of schedule to tearing my ligaments during the third marathon, which meant I was running so slowly I wouldn't have made the 24-hour mark. The transition from the third to fourth marathon was a blur – I was spaced out and vomiting in the helicopter to the final race location. It was a case of topping up the painkillers and taping up my leg, then they gave me a proverbial kick up the backside to crack on."
Tell us all about Run 4 Nations and why you wanted to take part…
"I really want to change the narrative behind mental illness and how we perceive it. I also want to change people's perceptions of what they think is possible. I hated running a year and a half ago, and now here we are having just completed a world record first. I hope people can see what's possible when you struggle mentally, like I do. It's time to start showcasing that any form of negative energy can be channeled into something positive. Use it as your ammunition ­– your motivation to go and do things – because that's the moment when you succeed. If you can accomplish that when you're at your lowest imagine what you can do when you're at your best."
You've always been open with your own battles with mental health and suicidal thoughts. How are you now?
"I struggle with anxiety every single day. It can be anything that triggers it, but it doesn't define me. It's just a part of my process, meaning each day I engage and figure out how to work with it. Lockdown and having to stay away from friends and family didn't help, especially when you aspire to film and achieve certain things – or even just to travel to certain places – but you can't allow it to take control."
Your social media is full of images of you running. Do you believe exercise contributes to better mental health?
"I don't know anyone that has exercised and said it's not been good for them. What we have to try and do is tailor it to that specific person, because what's the point in exercising if you don't enjoy it? Don't get into something solely to try and achieve the standard of someone. Instead, figure out what exercise you actually enjoy and just take your time with it."
You've a daughter, India, four. How are you going to guide her on the importance of looking after her own mental health as she grows?
"India's going to make her own mind up – she's an independent and strong little woman! One of the most valuable videos I have on my phone is when I was doing the wheelchair challenge [in 2019 Josh completed 34 challenges in 19 days in a wheelchair]. I've got her on film desperate to push me in the chair, which shows her emotions. She's such a beautiful lady and I hope that over time all of my ambitions and accomplishments have a positive effect on her. I hope she'll be open to talking about any of her own hurdles she'll naturally be faced with as she grows."
India's just turned four and starts school this September! How does that make you feel?
"I'm excited for her, as she loves being around other children. I can't believe how quickly the time has gone! She's going to a great local primary, and we love how passionate the school is surrounding education and how they look after the children. I'm just looking forward to the annual sports day, where I can whip every other dad's butt in the fathers' race!"
Finally, what's the one piece of advice you can offer to anyone who's feeling anxious or depressed?
"Reach out. You don't even have to go into depth about what it is that you're feeling – just text someone you feel comfortable with and say you're feeling off. You have to start that conversation and then the rest will work itself out. Don't struggle alone. It's simply not worth it."
Please donate here for Josh's Runs 4 Nations challenge
If you've been affected by this story, call the Samaritans on 116 123, email jo@samaritans.org or visit samaritans.org