Mobility challenges can be a thing of the past, with a little help and support from some innovative products and services. There are ways, means and aids aplenty that mean you can enjoy life without compromising on comfort, safety or accessibility. Wherever you are and whatever you want to do, from enjoying your home and garden to getting out and about shopping or visiting family and friends, there are ways to ease everyday mobility battles that can hinder you – and they could be life-enhancing or even life-changing.
Here are some ideas to get you not only sitting comfortably but walking, driving or however else you want to get around.
1. TriLift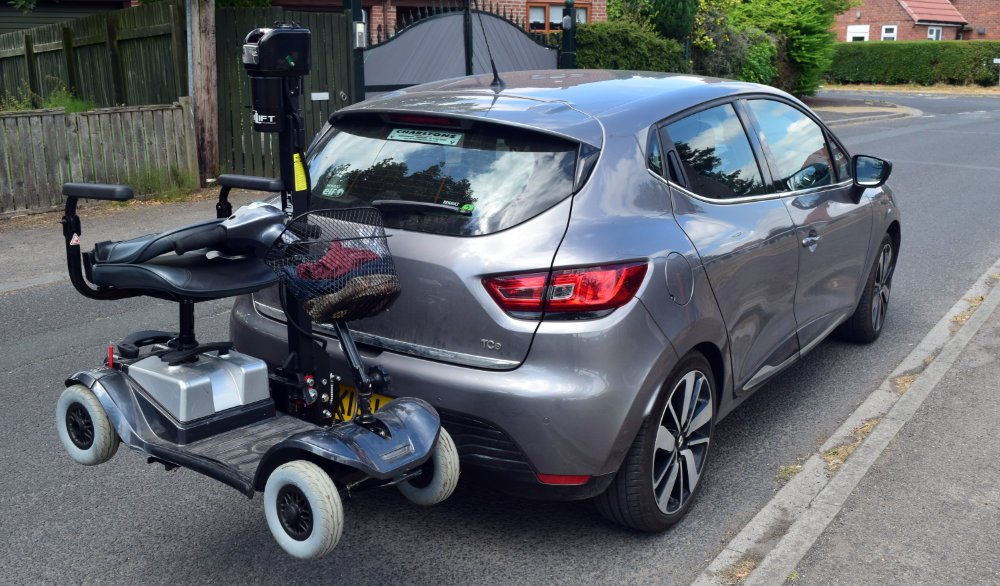 The UK has over 350,000 mobility scooter users who rely on their mobility device as part of their everyday life – and though their units are great for zipping round shopping malls and town centres, getting them there in the first place can be challenging and demand a degree of physical might and ability. Scooter and power chair transportation must be simple, affordable and easy to operate by one person – and TriLift UK has a remarkable and innovative product that neatly ticks all three boxes.
Fitted onto the back of a vehicle, the TriLift engages with a coupling bracket that is permanently fixed to the mobility scooter or power chair. By the flick of a switch, the mobility device is raised off the road and locked in place on the vehicle's rear.
Launched in the UK early in 2018, the TriLift has proved extremely popular and the company now has consultants covering the whole UK.
Find out more at trilift.co.uk
2. Acorn Stairlifts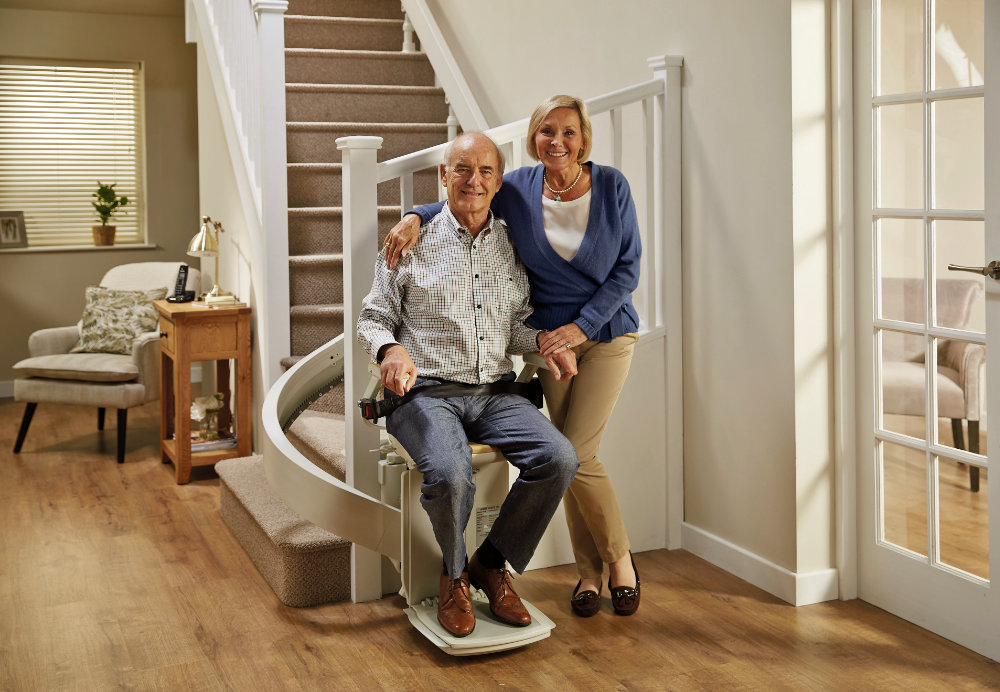 Feel safe on your stairs with an Acorn Stairlift and enjoy the full use of your home once again.
An Acorn Stairlift gives you a safe, comfortable and simple way to get up and down your stairs. Tailor-made to suit your individual home and lifestyle, an Acorn Stairlift can be fitted to all types of staircase, and what's more, it can be done within a matter of days rather than weeks.
Acorn Stairlifts will help you master 'the three Rs': Regain your independence; Retain full use of your home and Remain in the home you love. Installing an Acorn Stairlift turns your home into a bungalow by removing the obstacle of stairs if they become too challenging.
Whatever type of staircase you have in your home, straight or curved, Acorn can provide the perfect solution for your needs.
Find out more at acornstairlifts.co.uk
3. New Life Mobility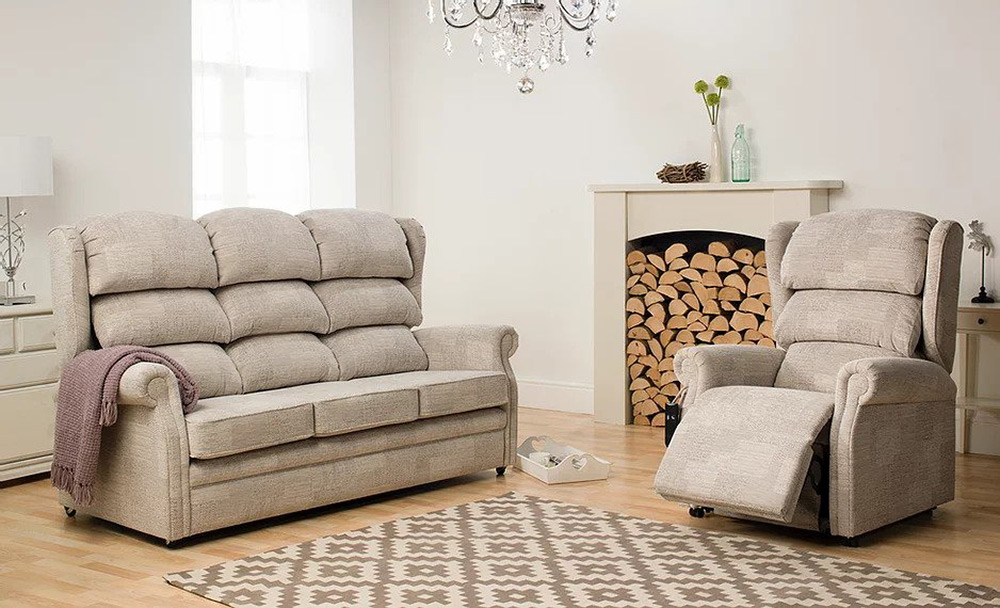 New Life Mobility specialises in the supply of top quality rise-and-recline chairs and profiling beds, all designed and manufactured in the UK. Every item of furniture is specifically designed to suit individual needs, complementing the body's natural position and providing support and comfort.
All chairs are made to measure, specially designed to give extra support and relief and there are lateral support and heat and massage options. There are hundreds of fabrics to choose from and the company has thousands of satisfied customers, including Mrs Walker, of Edinburgh, who says: "I am delighted with my purchase. The chair is so comfortable and I am glad I chose to have the massager as this has really helped to ease my arthritis. I can now look forward to a better standard of life."
If you suffer from a condition such as osteoporosis, arthritis or diabetes may be eligible for zero-rated VAT on any purchase.
Find out more at newlifemobility.co.uk
4. Brotherwood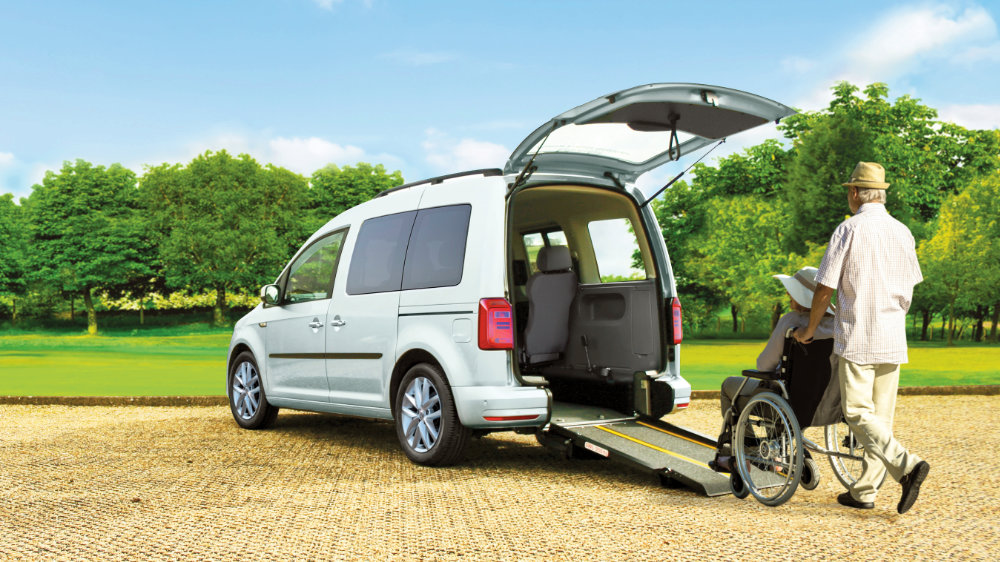 Brotherwood are the UK's expert supplier of special purpose vehicles – discretely converting passenger cars to enable wheelchair users to travel without needing to transfer into a standard car seat.
By installing a low, level floor, and robust anchoring systems, wheelchair users are able to travel inclusively and safely alongside their friends and family. With exceptional headroom and visibility out of the vehicles' windows, every journey is made comfortable and enjoyable.
Access is via a shallow-angle, non-slip ramp which can be raised and lowered by remote control on selected models such as the flagship Mercedes-Benz V-Class 'Klastar'. Simple-to-use winch and restraint systems make loading and securing the wheelchair effortless.
A range of vehicles are available to suit a variety of budgets.
Brotherwood supply vehicles for private purchase, for lease via the Motability Contact Hire scheme for five years or hired long- or short-term hire.
Find out more at brotherwood.com
5. TGA Mobility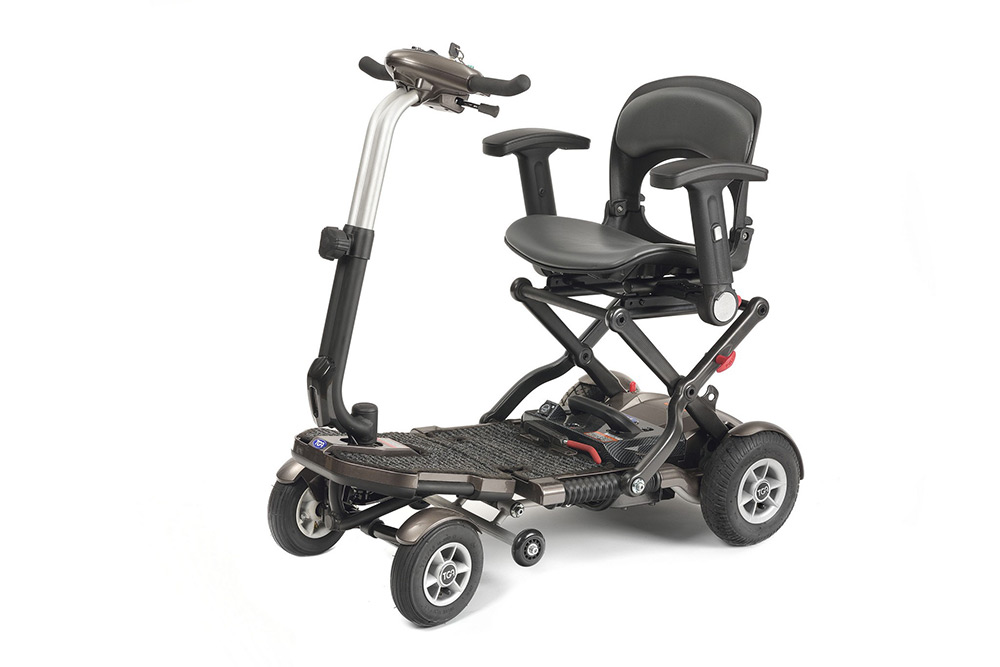 The Minimo Plus 4 mobility scooter from TGA Mobility is the ideal companion for trips to the shops, thanks to its supportive, stable ride and impressive range. But with its easy-to-fold lightweight frame, journeys further afield are also possible. The Minimo folds in seconds with one simple movement into a compact unit, so it can easily be transported via car boot, boat or even by plane, making those family holidays away possible again.
TGA Mobility offer a range of scooters for every need and every budget. Their background is engineering and a key focus is the introduction of innovative, quality products and enhancing existing models.
Every model, every option and every accessory has a clear and simple price with nothing hidden. TGA Mobilility are fully committed to providing the very best in customer care. If you can't visit their showroom, they offer a free, no obligation home demonstration.
Find out more at tgamobility.co.uk
6. Trinity Homecare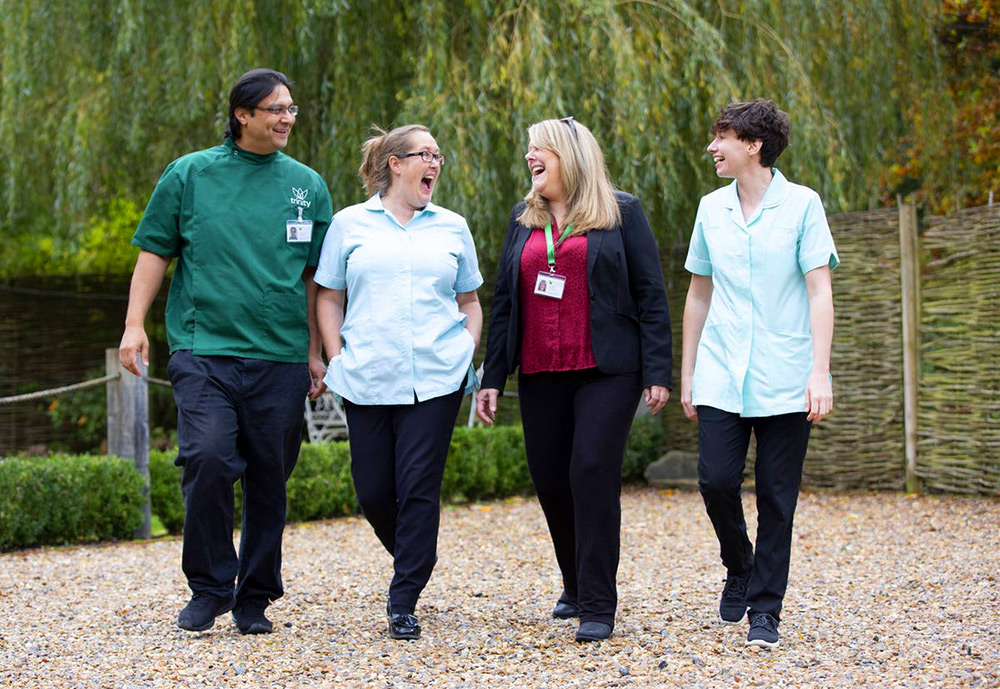 Rated 'outstanding' by the Care Quality Commission and with over 20 years' experience, Trinity Homecare provides peace of mind to you and your loved ones with a live-in care service that is tailored to you.
Dennis and Pat, aged 91 and 89, continue to enjoy life in their own home with full-time live-in care, after Dennis was diagnosed with cancer and Pat was suffering from impaired speech and mobility due to a second stroke. Pat couldn't manage on her own while her husband was in hospital and a care home would have been too disruptive for her. Inside their home are many warm memories and familiarities. Staying home meant the couple were even able to celebrate their 70th wedding anniversary.
Their story is a heart-warming reminder of how vulnerable adults can happily continue to live in their own homes, remaining independent with the right care and support.
Find out more at trinityhomecare.co.uk
7. SECOM CareTech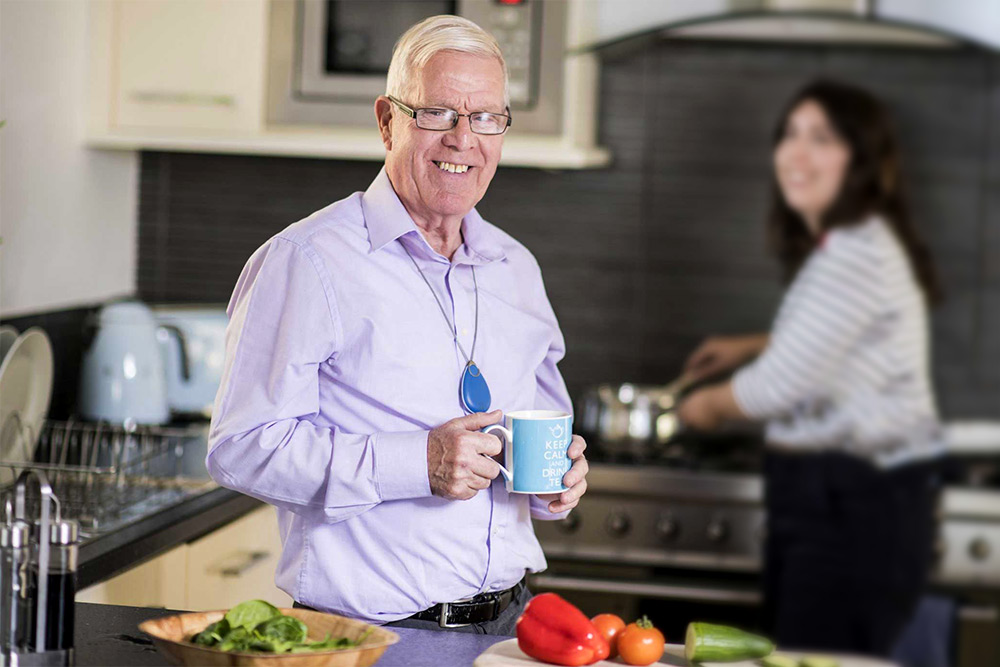 Personal alarms are designed for those who live alone or are at risk of a fall or medical emergency. They allow the user to raise an alarm at the press of button, letting friends and family or a monitoring centre know they need support.
SECOM CareTech's personal alarms are discreet, reliable and easy to use. Their Care Go package offers GPS and fall detection functionality so no matter where you are – whether at home or walking to the shops – you're covered every step of the way. If you are in distress, feel unwell or suffer a fall, you can use the alarm to speak to a member of the SECOM 24-hour monitoring team who assess the situation and call your contacts or the emergency services if you require further assistance.
SECOM CareTech are committed to empowering elderly and disabled people to live more independently.
Find out more at secom-caretech.co.uk
8. Special Footwear and Orthotics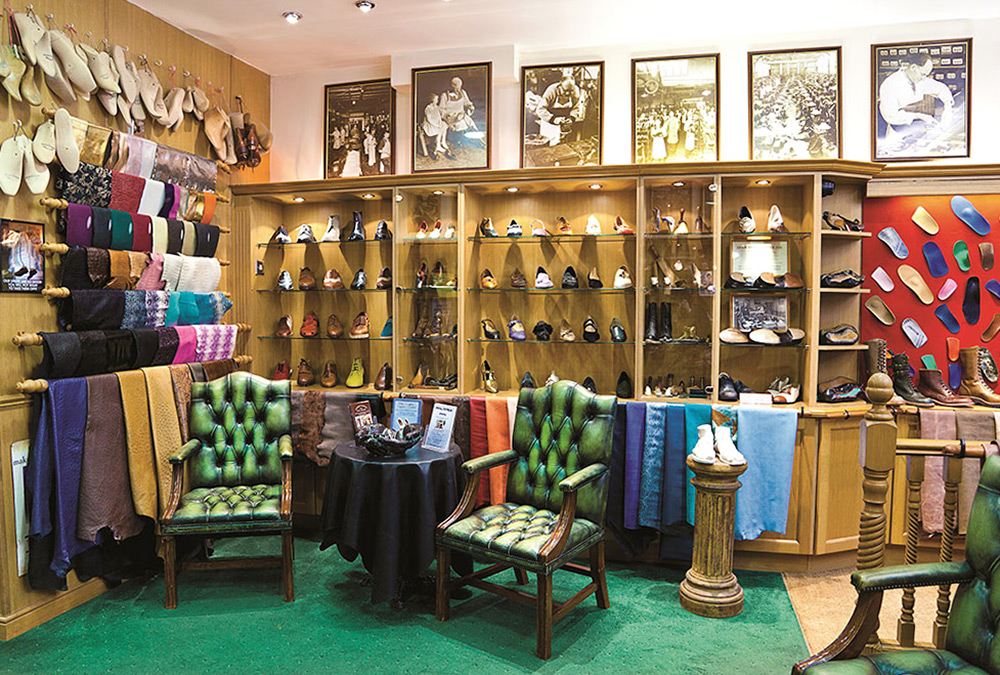 As you walk through Special Footwear and Orthotics, a quaint yet atmospheric shop nestled in the bustling London city centre, you are instantly met by the smell of rich expensive leather. While your curious eyes are immediately drawn to the fine luxury shoes, designed to be admired on the front shelves, you are soon welcomed by warm staff brimming with many years of knowledge and expertise.
The walls in the specialist fitting and consultation room are adorned with photos of celebrity and even royal clientele, from legendary crooner Rod Stewart, iconic actor Michael Caine and Hollywood star Kathleen Turner. But more heart-warming is the many, many, cards and letters from customers thanking master shoemaker Anthony Andrews for changing their lives for the better.
Shoes are designed for: diabetic and comfort; orthotics, foot supports; adaptions; alterations; quality repairs, home or office visits; computerised gait analysts and orthopaedic.
Find out more at specialfootwear.co.uk
9. Fenetic Wellbeing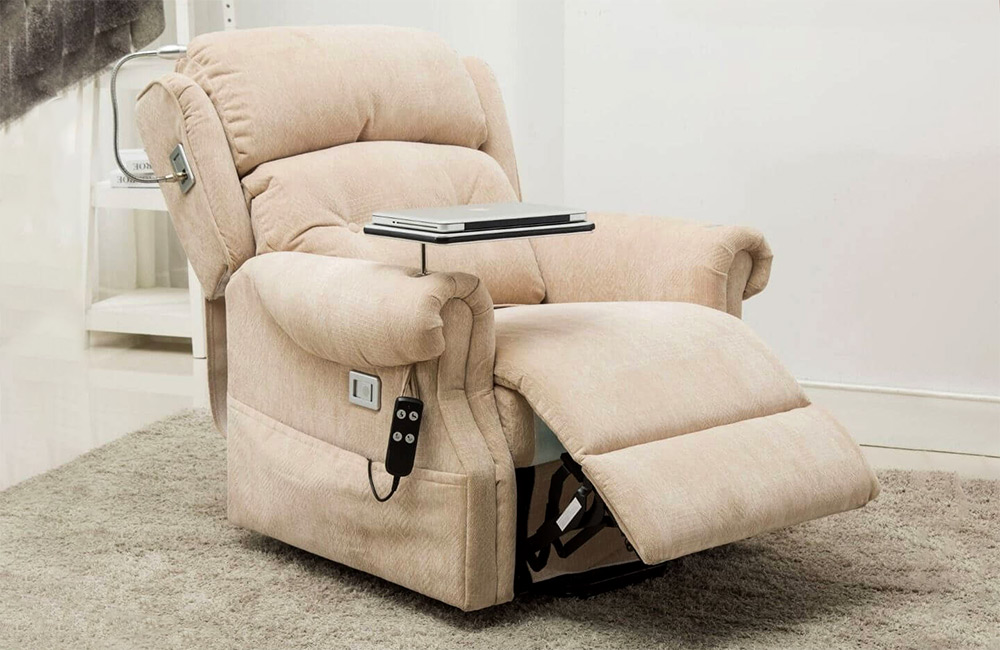 Are you sitting comfortably? If you suffer from achy joints and poor posture, the answer is probably no. You might think it's an inevitable part of growing older, but it's often your chair that's to blame.
The way you sit has a profound effect on your mobility and wellbeing. That's why for millions of people, a riser recliner chair can be a life-changing investment.
The Heritage Cullingworth is one such chair that's currently stealing the limelight. According to independent experts Which?: "Simply put, this is the best riser recliner we've ever seen."
Handmade in the UK, the Cullingworth gives you the freedom to sit back and relax or rise to your feet effortlessly. There's even a handy USB charging port built in.
This is the first British-made riser recliner chair with a powered headrest and lumbar to support your lower back.
Find out more at feneticwellbeing.com
10. Accessibility Bathrooms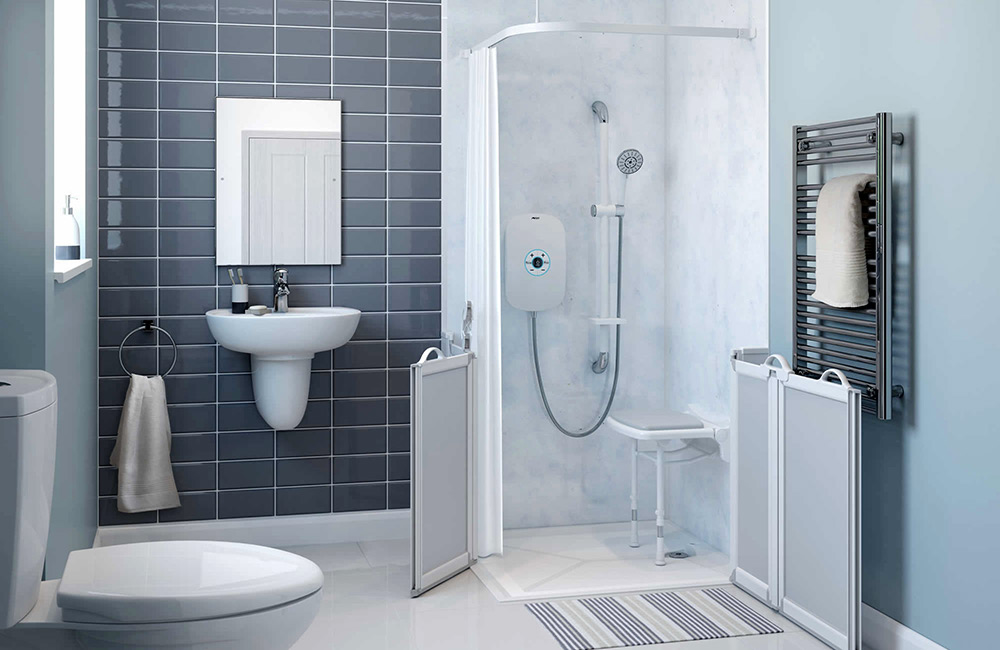 Accessibility Bathrooms offer the best products at affordable prices, designed around your needs and requirements to give you the best option.
They are a totally independent company with over ten years' experience designing and fitting mobility bathrooms. They have their own installation teams and through honesty and quality of service strive to deliver the bathroom you need and deserve. They keep it simple and honest and would love to discuss your requirements and show you what they have to offer.
Accessibility Bathrooms can help you regain your independence by allowing you to bathe in comfort and safety again. They offer a range of modern bathrooms, showers and wet-rooms, free, no-obligation design quote, 24-hour customer service, a 15-year warranty, a dedicated project manager from start to finish and a free luxury towel set with every installation.
Find out more at accessibilitybathrooms.co.uk
To see your company in any upcoming features we are arranging please email laura@hurstmediacompany.co.uk or editorial@hurstmediacompany.co.uk