Maintaining an active lifestyle and a sense of independence is incredibly important and a motivating factor for individuals with mobility issues. It can help lessen their dependence on others where they have the capacity to undertake daily activities more easily and safely and continue to live as independently as possible.
Those with mobility issues often need and look for assistance to enjoy an active and independent life. Walking aids, such as a rollator, can help to increase one's freedom and range of movement. Walking frames have long been the traditional go-to walking aid, but individuals often exert a great deal of time and energy in moving the frame. A rollator is a mobility aid possessing several features to help support a mobility-assisted lifestyle and is recommended for users requiring minimal support.
Typically modern, innovative, and easy to use, a rollator has numerous unique selling points. Tailored to the user a rollator is available in several sizes, and comes with wheels, instead of legs, allowing them to move along in front of a person with minimal fuss. Additionally, they are height adjustable, function very well outdoors, and are easily transportable.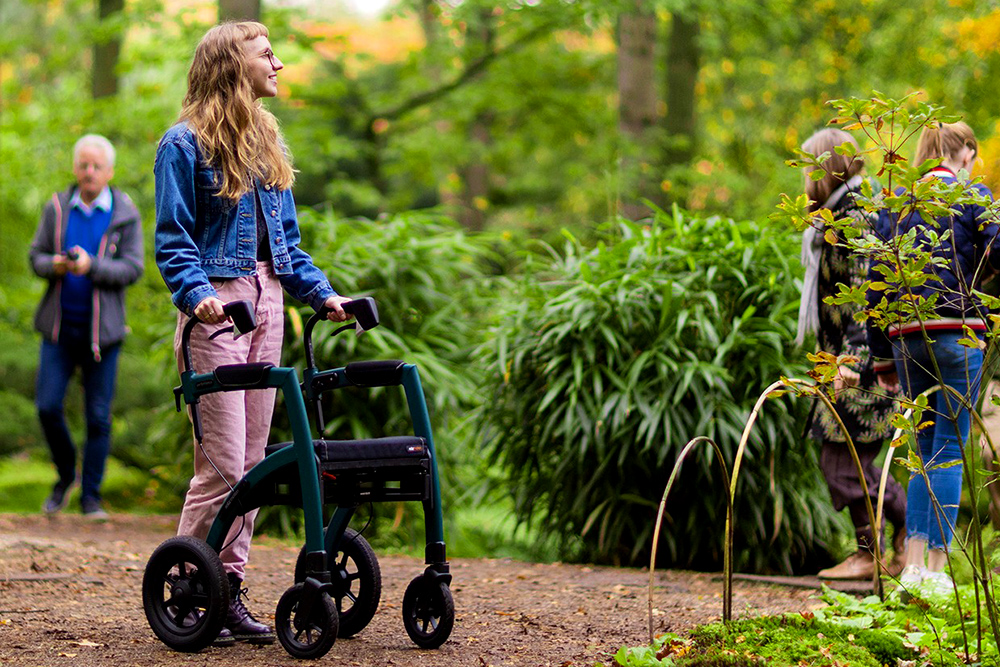 A Rollz rollator is designed to help you to enjoy an active and independent life, and step out in confidence, comfort, and style. Designed by Dutch kinetics engineers, their modern rollators are built from the highest-quality materials, to last for as long as one needs to use them.
Rollz engineers are dedicated to crafting innovative, modern rollators to create the ultimate walking experience. Designed with the user in mind, the walking aids are geared towards making everyday tasks as straightforward as possible. Easy to push and manoeuvre, their rollators help users to enjoy their walk, holiday, or shopping trip.
Their rollators are a reliable shopping partner thanks to their large capacity bag. Even with a bag full of shopping, the modern rollator is easy to steer thanks to its smart gravity point. With the wheels set close to each other, it enables a tight turning circle which comes in handy in narrow spaces. Rollz have also placed an emphasis on stability, with their rollators designed to make walking feel safer by reducing the fear of falling. In doing so, it can provide physical stability and a boost of confidence you need to go out and move more.
To see your company in any upcoming features we are arranging please email editorial@hurstmediacompany.co.uk