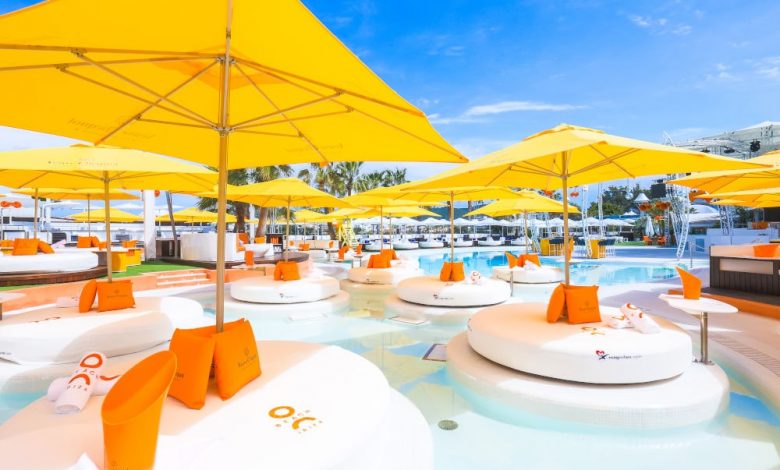 Editorial by Laura Forsyth
With news that a vaccine passport for Spain could be ready for June, many are excited at the prospect of a long-awaited holiday in the sun.
A recent survey by ticketsibiza.co.uk has shown that 92% of participants planned to go to Ibiza this year, and we are not surprised. For those looking for the ultimate island getaway, there is surely no better option than escaping to the Balearic island of Ibiza! A place to truly let your hair down – something we all deserve after this past year.
To celebrate the collaboration between O'Beach Ibiza and The Bottle Club, and the launch of the new Ibiza bundles, The Bottle Club team has created a summer guide on how you can prepare for a 2021 trip to Ibiza…

Outfit preparation
As comfy as they may be, we think it's safe to say we've all been in joggers and sweats far too long. Get ready to dig out those swimsuits, flip flops and jars of glitter because an Ibiza summer is back on the cards – and after last year's hiatus, you want to be confident with all your outfit choices and ready to go when packing that 20 kg luggage allowance.
Remember, every kg counts!
Bag yourself a bundle
Forgotten what it feels like to actually celebrate and let your hair down? We know the feeling.
That's why The Bottle Club has joined up with O Beach Ibiza to create three bundles that include your choice or Ciroc Vodka, Veuve Clicquot or both if you're feeling boujee.
They also contain an exclusive Spotify O Beach playlist and tickets for O Beach Ibiza (yes, you've read that right, we've all had a rough year; treat yourself!)
Buy your sought-after DJ and event tickets
So you've got your O Beach ticket, but what about the rest? There has been a huge spike in Google search volume for 'Ibiza Holiday' with an increase of 68% since the UK roadmap announcement.
To make sure you don't get left at the hotel buffet, book your tickets for the DJ's you want to see, and the events you want to attend, well in advance. Write a list of who you want to see and keep an eye out in the coming weeks for announcements of tickets.
Holiday booking
Whilst we all want to forget about the past year and move on to beachier things, it is best to be as prepared as possible. When booking a holiday this year, make sure you are fully covered for any cancellations or changes.
Travel insurance is a must-have to ensure the safety of your holiday. Find ATOL insurance that provides financial protection and has a Covid-19 policy in place. We also recommend using a credit card to purchase your holiday, as extra travel insurance is usually provided.
When possible, try to book a package holiday. If flights and accommodation are booked separately, you may find yourself covered for only parts of your holiday.
Make your own at-home cocktails to get into the Ibiza spirit
Get excited – summer 2021 is back on! The Bottle Club has put together a couple of holiday-inspired cocktails you can make at home to get into the Ibiza spirit early.
Be inspired with your The Bottle Club bundle here.