It's the most wonderful time of year for home decor fanatics – time to deck the halls with boughs of holly, put up a Christmas tree and festoon your house and outdoor areas with twinkling lights.
There are so many ways to transform your home into a winter wonderland this Christmas, so we look at some of the loveliest decorations to light up your rooms.
1. Pom Pom Christmas Lights by Oliver Bonas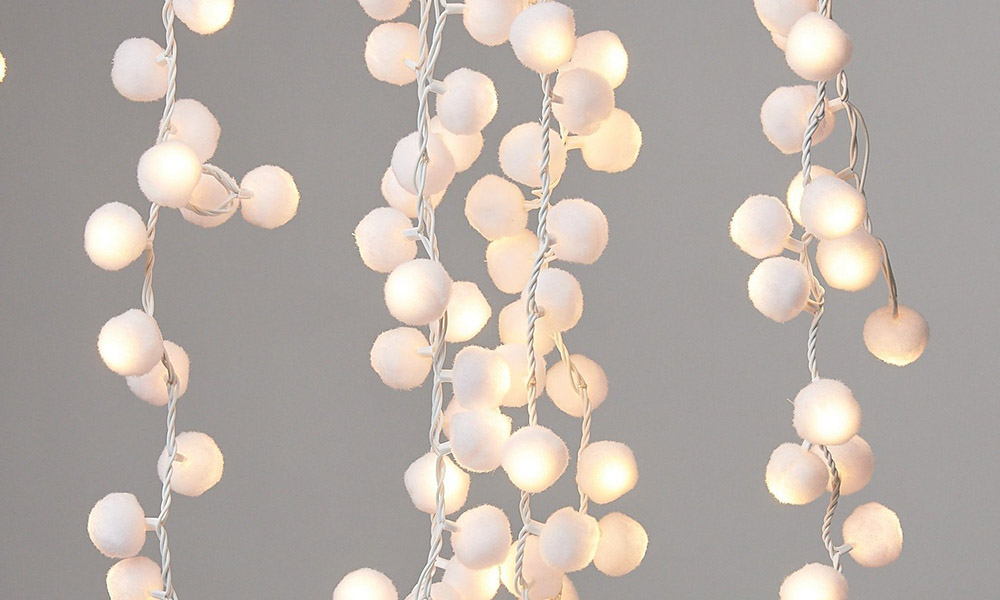 These unusual Pom Pom lights are great for Christmas, but don't look out of place all year round. Drape them around a chair or wind them up the stairs. They could bring a sense of wonder to any part of the home.
The warm white LED lights give your rooms a gorgeous glow, and their unique pom pom shape sets them apart from regular Christmas tree decorations. There are 200 lights per box and they're mains powered so you don't have to worry about batteries.
Find out more at oliverbonas.com
2. Knitted Stegosaurus by Ian Snow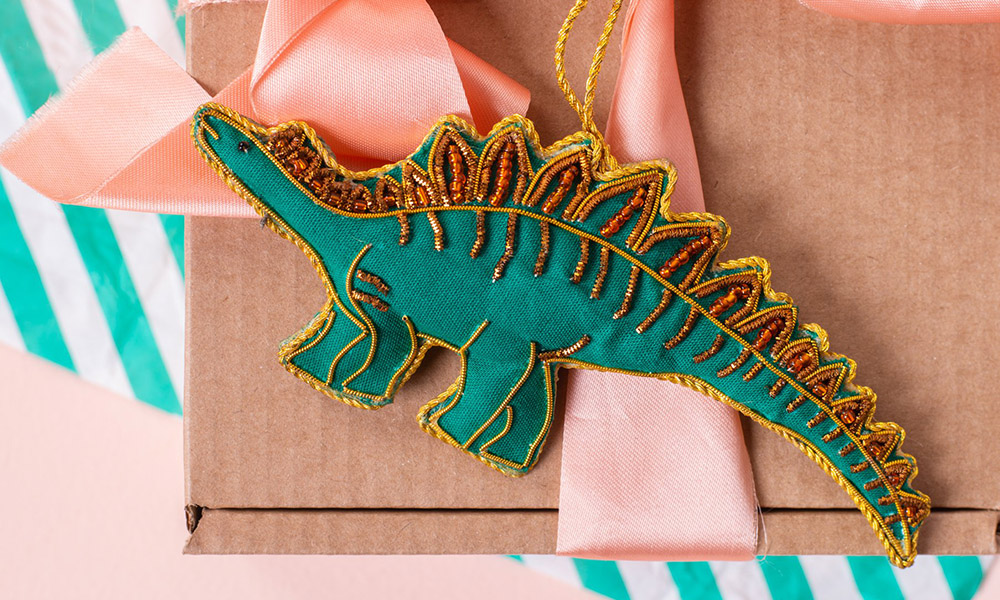 While practicing Christians may argue that the existence of the stegosaurus is in direct contradiction to religious history, families with dinosaur-mad kiddies will love the inclusion of this bright green, plastic-free decoration to hang on their tree.
This sustainable stegosaurus will last for many Christmas', perfect for waste-conscious families, and looks adorable on the tree or to take your present wrapping to the next level.
Find out more at iansnow.com
3. Dew Drop Baubles by Nkuku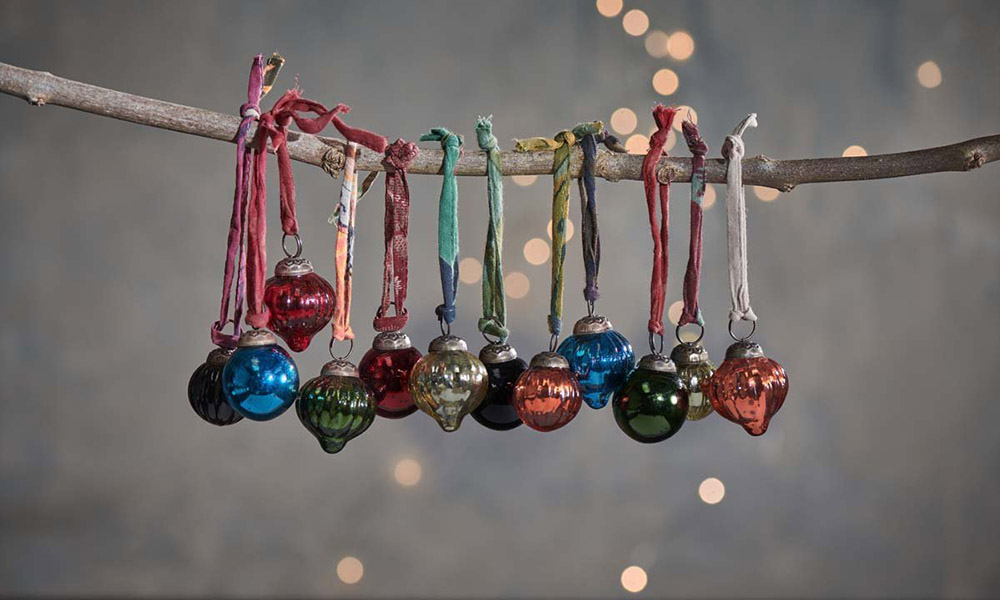 These unique, stunning baubles are in beautiful jewel tones to set your Christmas decor off.
Made from recycled glass, they are made by washing and crushing waste glass and then are hand blown or set in moulds to create brand new decorations. This means they are not just beautiful, but better for the environment.
Find out more at nkuku.com
4. Deer ornaments by The Range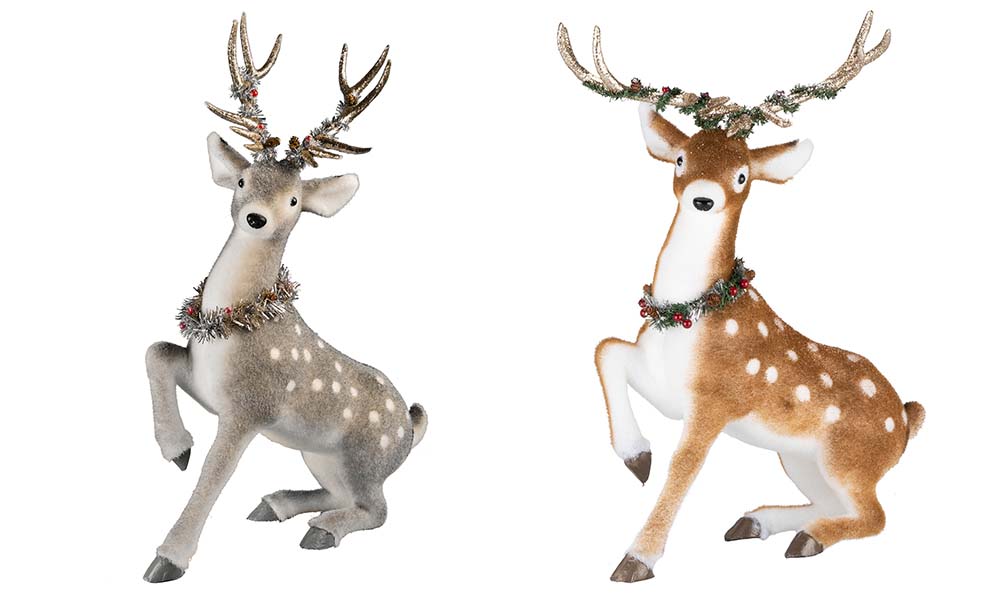 Christmas trees are all very well and good, but what about a festive statue? This sitting deer with a cute wreath from The Range would make a great addition to your home, and will make the kids' eyes light up with joy whenever they see it.
The deer has a dusting of glitter and wears a wreath of berries and pinecones, allowing her to blend in with the rest of the Christmas decor.
Find out more at therange.co.uk
5. Copper River Sequin Bauble by John Lewis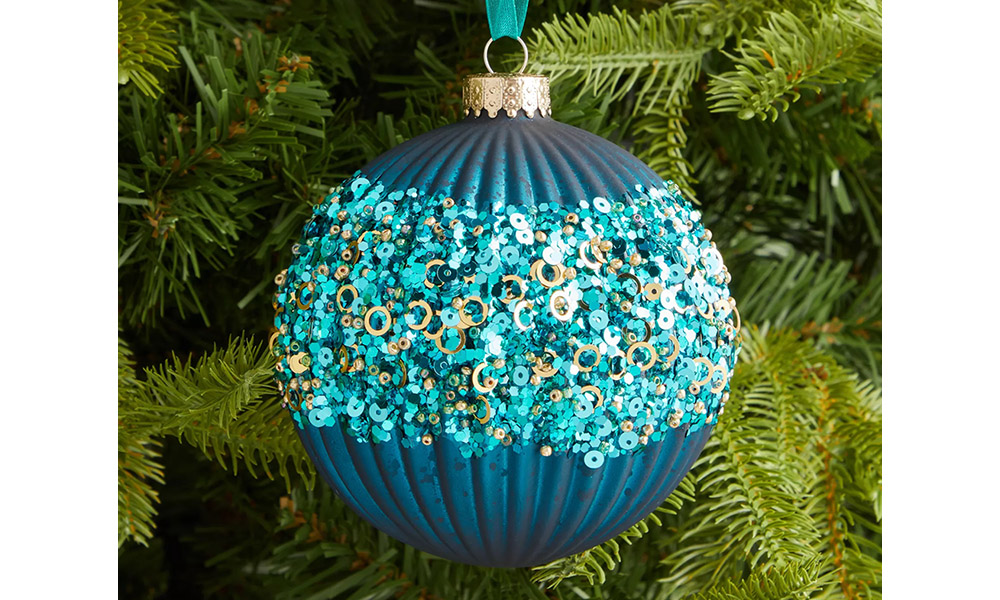 John Lewis & Partners really know how to do Christmas, beginning with their tear-jerking telly adverts and ending in their astonishingly beautiful home decorations.
Check out this copper river sequin band bauble – the captivating sequins, the mermaid style shimmer and the beautiful aquatic theme are the perfect complement to a colourful tree that breaks the usual tradition of reds and greens.
Find out more at johnlewis.com
6. White Felt Bear Lights By Paperchase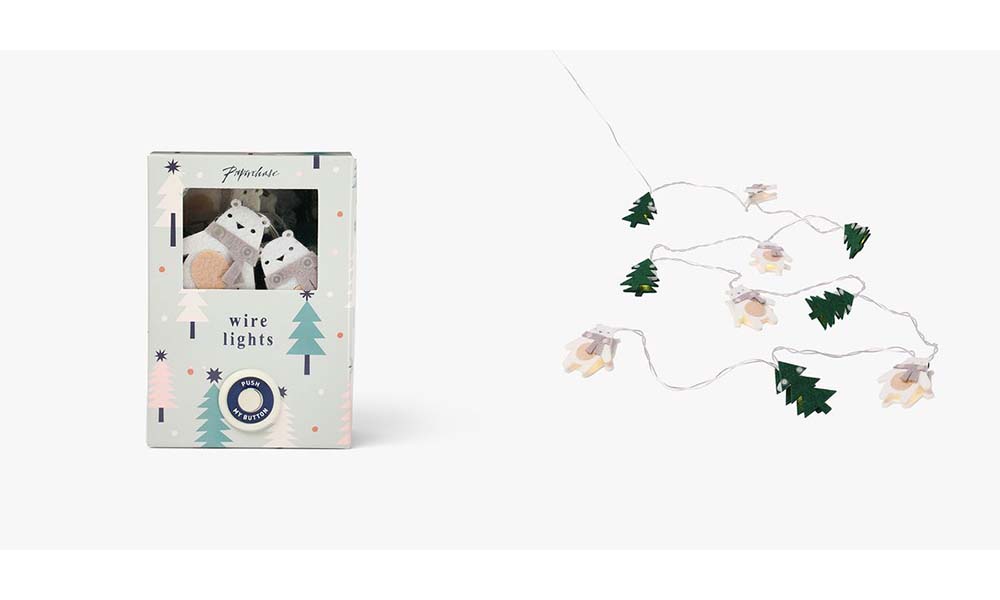 Another, extra-cute take on Christmas tree lighting is the white felt bear and tree lights from Paperchase . They emit a warm light to add a gorgeous glow to your tree, as well as looking absolutely adorable.
There's two metres of cuteness to unravel in this Christmas set, and your little ones will have a great time helping you put polar bears on the tree.
Find out more at paperchase.com
7. Adorable Penguin by Arighi Bianchi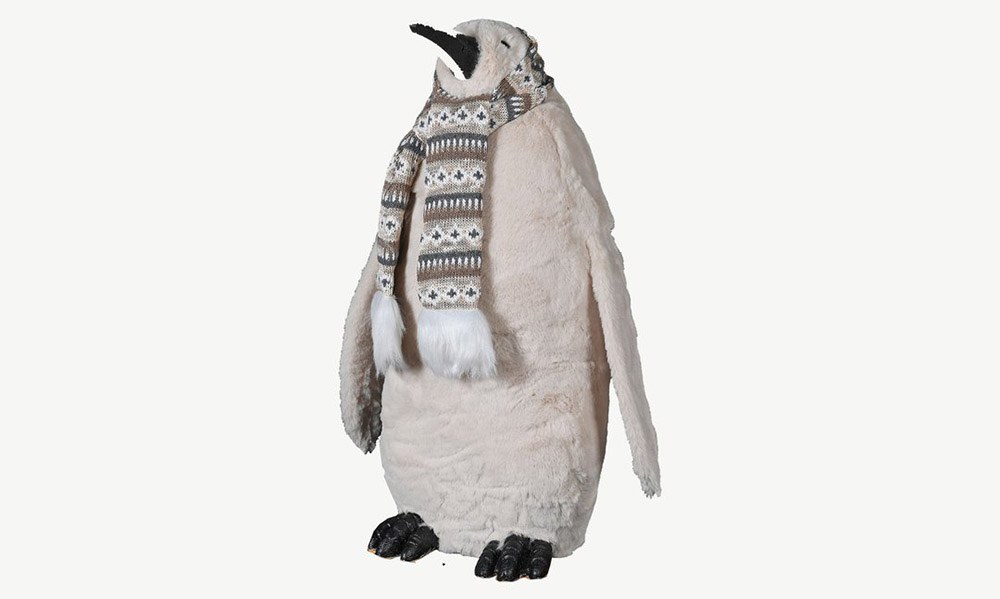 This cheeky chap is larger than you think, and sporting his little Nordic style scarf, makes a lovely Christmas decoration for any home. Made of the softest faux fur, he brightens up any space and brings with him a festive and frosty feel.
Place him at a door, in a hallway or on a fireplace hearth (away from the heat of course) to fully appreciate his adorable appearance throughout the 12 Days of Christmas.
Find out more at anthropologie.com
8. Festive Wreaths by Bloom & Wild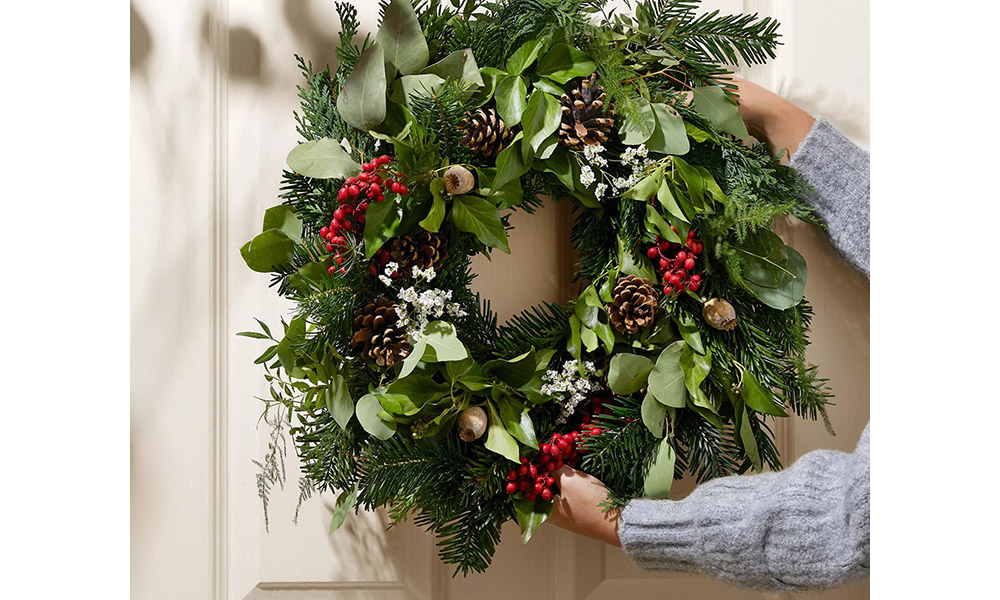 They're famed for their fabulous bouquets, but Bloom & Wild are also experts when it comes to stunning festive wreaths.
Red Canella berries, ivy and poppy heads make up this gorgeous, fresh-foliage door decoration which will make you the envy of all your neighbours. Make sure to check out the rest of their festive range to make your house the envy of the neighbourhood.
Find out more at bloomandwild.com
9. Dried Orange And Cinnamon Garland, Chickidee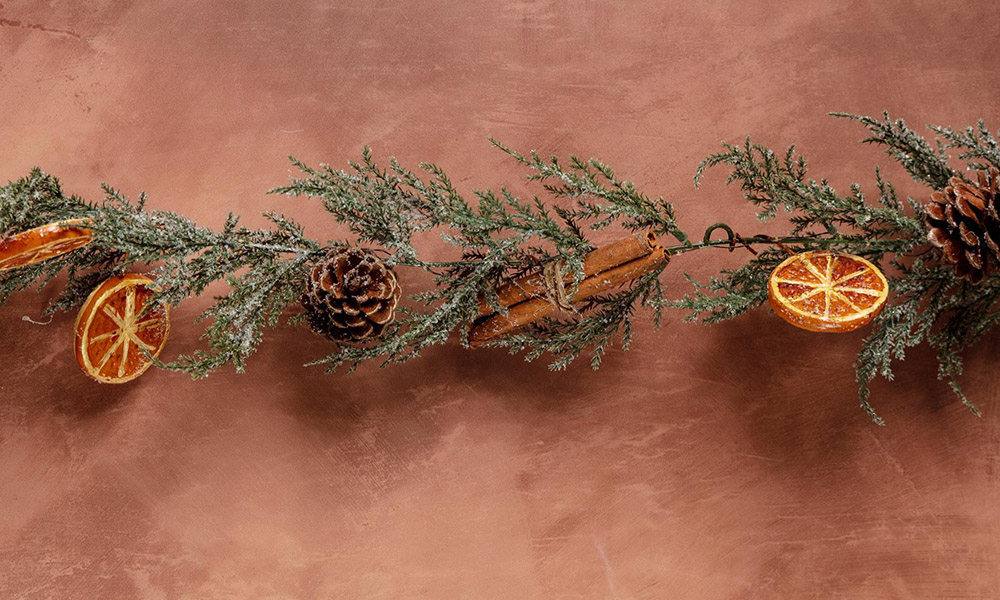 Chickidee have just the decoration to fragrance and decorate your home with this season.
This gorgeous garland has interwoven lights, pinecones, orange slices and green foliage to make your mantlepiece stand out over the festive season. Drape this beautiful decoration over door frames, or arrange on coffee tables to give your rooms a lovely festive touch.
Find out more at chickidee.co.uk
10. Lemax Tannenbaum Christmas Shoppe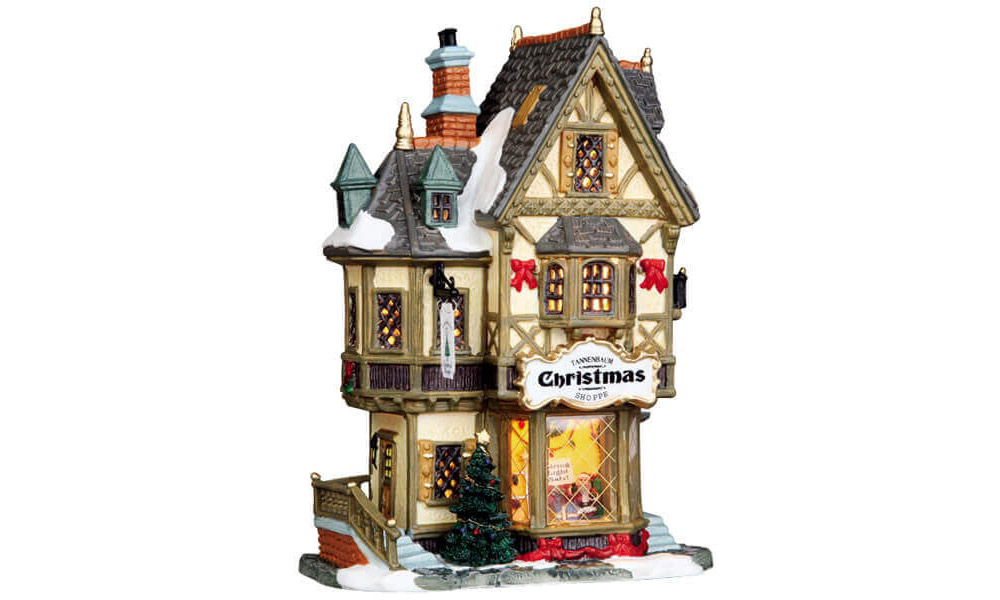 This gorgeous model Christmas shop is a fantastic porcelain collectable to brighten up any home. Whether you're a model collector or just like the look of these cosy ornament buildings, the Lemax collection have quaint, unusual items that will make a beautiful addition to your festive display.
Why not explore the rest of their wonderful range for all your Christmas decorative needs? They're great to slowly build up your collection and diorama over the years.
Find out more at lemaxcollection.co.uk
To see your company in any upcoming features we are arranging please email laura@hurstmediacompany.co.uk or editorial@hurstmediacompany.co.uk