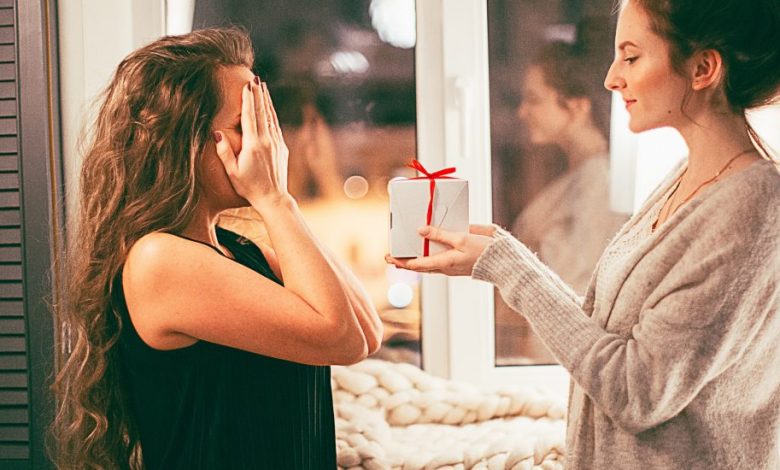 Stuck for ideas for what to buy the ladies in your life this Christmas? Here's some inspiration for all your friends and family
Aromatherapy Associates Ultimate Wellbeing Bath & Shower Oil Collection
Perfect to experiment with your moods and needs, each of the 10 bath and shower oils brims with warming aromatherapy solutions to ease everyday troubles.
Get yours for £65 here.
BareMinerals Horizon Holiday Edition Bounce & Blur Eyeshadow Palette
The sky's the limit with this versatile palette featuring soft metallics, sparking jewel tones and a deep twilight to line and define!
Get yours for £29 here.
Baylis & Harding Sweet Mandarin & Grapefruit Ultimate Luxury Pamper Gift Set
This contains all you need for a 'spa at home' bathing experience. Enjoy the luxurious 300ml body wash, 300ml bath milk, 150g soap, 130ml shower creme, 130ml body lotion and 100g bath salts.
Get yours for £16.75 here.
B Busy Large Family Calendar
Running a busy family? You either need amazing logistical skills or… one of these. Every month there's room for five people's activities and a birthday reminders column, but the real genius is a clever monthly pocket for invites, appointment cards, tickets and whatnot. Now everything is stored together in one place making dates, times and the relevant paperwork easy to access for all the family.
Get yours for £9.99 here.
Burt's Bees Naturally Beautiful Gift Set
Pamper someone you love with this gift set of four natural products that come in a reusable cosmetics bag. Everything you need for naturally beautiful hands and lips: Lip Balm to moisturise dry lips, Lip colours to give a natural look and a skin smoothing Lavender & Honey Hand Cream with a rich, buttery texture that melts into skin.
Get yours for £14.70 here.
Confidence: The Journal by Katie Piper
Don't look to other people for confidence, find it in yourself. Confidence: The Journal will guide you through daily affirmations and creative prompts to help you live the life you want, whenever you want. Katie Piper's warm and honest voice will inspire you to achieve goals and happiness you only ever dreamed of and will allow you to be the star of your own life. With true confidence, anything and everything is possible.
Get yours for £9.99 here.
D'Alchemy Age-Cancellation Booster Travel-Pack
The perfect travel kit, this includes travel-size versions of D'Alchemy's Age-Cancellation Booster, Intense Skin Repair Oil and Micellar Cleansing Water. Recommended for mature, oily and combination skin.
Get yours for £48 here.
Dermalogica The Ultimate Cleanse and Glow Trio
This trio of Dermalogica top sellers cleanses, exfoliates and brightens for healthy, glowing skin. This limited-edition set contains Precleanse, Special Cleansing Gel and Daily Microfoliant. The packaging is designed by Kelsey Montague and features unique artwork derived from her murals, bringing to life the fact that Christmas is about creating joyful, uplifting moments.
Get yours for £81 here.
Doll Beauty Peaches & Poptarts Palettes
Featuring 17 super pigmented shades, this palette contains a range of peaches, pinks and reds for you to create all your eye make-up goals. Also included are two of Doll Beauty's best-selling pigments in the shades Floss and Sherbert. Why not check out the Mudpie and Mochachinos palette to complete your collection?
Get yours for £40 here.
Dr Paw Paw Christmas Tree Gift Set
The ultimate stocking filler, this can be hung from the Christmas tree or mantlepiece. The multi-purpose wonder balms have a multitude of uses from a moisturiser or lip and cheek tint to a hair tamer. The three balms also all use the same award-winning formula found in Dr Paw Paw's original balm.
Get yours for £9.99 here.
Flamingo Christmas Jumper
This funny Christmas jumper, from Of Life and Lemons, is sure to raise a smile whenever it is worn. Making the flamingo trend seasonal, you won't want to be seen without it!
Get yours for £28.99 here.
Galaxy Truffles
Cult favourite Galaxy Truffles are back in time for Christmas after an undeniable demand for their return, and they're the ultimate festive treat! This time, they're going solo – Galaxy are urging the next generation to 'give the gift of pleasure' with Galaxy Truffles.
Get yours for £5 here.
Gin Make-Up Bag
This cheeky make-up bag makes an ideal gift for a friend. These pouches are a great size for keeping your belongings together in your bag, making them easy to find when you need them.
Get yours for £12.50 here.
Hari and the Gang HELLO Hoodie
Mixing the utmost comfort with effortless fashion, Hari and the Gang doesn't compromise on style just because life can be a bit hectic. Designed with mums in mind, the HELLO Cowl Neck Hoodie is luxurious and lasting, but also bright, bold and oh-so-covetable.
Get yours for £49 here.
Heston Blumenthal Precision 5-in-1 Digital Cooking Thermometer by Salter
The ultimate in precision, the 5-in-1 Digital Cooking Thermometer is great for both home and professional chefs. Working with a temperature range of -45ºC to 200ºC, it has a long 14.5 cm probe for easy cleaning and versatility, as well as a silicon grip for easy holding.
Get yours for £59.99 here.
Hexbug RC Mouse Cat Toy
Don't forget about your pet this Christmas! This toy is fun for felines and their owners as they control the mouse and watch their cat have hours of fun chasing it around. It also boasts an auto stop feature when caught.
Get yours for £14.99 here.
Huda Beauty Mercury Retrograde Palette
This 18-shade palette is packed full of cosmic pinks, galactic blues and tantalizing teals that create endless colour combinations. With a combination of Huda's beloved buttery mattes, high-shine creamy metallics, glittery powders and our one-of a kind, multi-reflective shades, no eye look will be unachievable.
Get yours for £58 here.
Kalm Pilates Core Strength Online Programme
Give the gift of Pilates with the cute gift cards from Kalm Pilates. Featuring a unique code, the recipient can access the 12-week online Pilates course to become a pro in no time. It's also the perfect way to start 2020 on a healthy note!
Get lifetime access for £99 here.
Love Island The Game
Based on ITV's hit reality show, Love Island The Game allows you to experience a taste of Islander life with a selection of flirty, fun challenges. Battle it out over hot challenges including Sexy Charades, Sexiest Pub Quiz Ever! and Let's Get Physical to be crowned the winning couple. Have you and your partner got what it takes? Spin the spinner, select your challenge and release your inner Islander! It's sure to be 100% your type on paper!
Get yours for £5.99 here.
Lucy Locket Loves Sugar Loving Leggings
Lucy Locket Loves specialises in fun activewear and loungewear with vibrant prints and catchy slogans. These Sugar Loving activewear leggings have a super-elastic high waist, which means that they are guaranteed to stay in place. The zip pocket on the rear is also great for keys or smartphones when you're on the move.
Get yours for £32 here.
Magnitone Natural Cleansing Ultimate Giftset
The ideal gift for skin, make-up removal and blemish control, Magnitone WipeOut Cloths remove make-up with just water while Magnitone First Step empties pores of impurities and balances skin to help reduce breakouts. Then there's First Step, a compact, travel-friendly, daily cleansing brush that deep-cleanses and removes impurities.
Get yours for £60 here.
Mavala A Selection of Festive Trios
This selection of seasonal trios of Mavala's award-winning 5ml mini colours are the perfect stocking fillers. From French Cancan and Party Time to Magic Snow and Night Club, the shades create a party ready look in seconds. The polish is long-lasting and provides a professional finish that's even, smooth and glossy.
Get yours for £13.50 here.
My Expert Midwife Trio of Pregnancy Sprays
Fight nausea, sleeplessness and replenish energy during pregnancy with these amazing sprays. Featuring nausea busting 'Relieve the Heave', energy boosting 'Feel the Zing 'and sleep enhancing 'Press for Zzzs', they've been created by experts using premium ingredients safe to use in pregnancy.
Get yours for £39 here.
Nescafé Dolce Gusto Infinissima
Inspired by the infinity shape, the NESCAFÉ Dolce Gusto Infinissima pod coffee machine by Krups is slim and uniquely designed, with a 1.2L water tank to create infinite coffee possibilities and 15 bar maximum pump pressure to ensure barista quality coffee.
Get yours for £52 here.
Nivea Girls Night In Gift Set
After a heavy party season, this gift has all you need for those all-important selfcare Sunday sessions come January. Including NIVEA MicellAIR SKIN BREATHE Micellar Water 3-in-1 Make-up Remover, NIVEA Daily Essentials Moisturising Night Cream 24H Moisture Boost + Soothe, NIVEA Pearly Shine Caring Lip Balm, NIVEA Bye Bye Dry Skin Nourishing Mask. Just add fizz and choccies for that touch of indulgence.
Get yours for £15 here.
Onaie Sheepskin Slippers
These slippers are handmade in the Polish Highlands using artisanal techniques passed down through the generations. Featuring stylish contemporary designs and delicate, hand-stitched embroidery, each pair is as unique as its wearer
Get yours for £35 here.
Pandora Disney Moments Shimmering Minnie Bracelet
If your daughter, sister, niece or friend is a Disney fanatic, she's sure to love this bracelet from Gift and Wrap. Featuring a Minnie the Mouse portrait clasp complete with glittering bow, this silver bracelet looks great worn alone, but can be customised with Pandora charms. It comes beautifully gift-wrapped and is available in sizes from 16cm to 21cm.
Get yours for £80 here.
Petits Rituels Minty Bonbon Candle
Petits Rituels aromatherapy spearmint candle will fill your room with the deliciously sweet and fresh scent of organic Spearmint and Lemongrass essential oils. Hand-poured using 100% natural waxes and pure essential oils, this blend will revive a tired mind, uplift the spirit and boost positivity.
Get yours for £36 here.
Poo Pourri Secret Santa
How's this for a fun Secret Santa gift? Poo~Pourri, the original before-you-visit the toilet spray, uses a unique blend of natural essential oils and compounds to absorb any unpleasant bathroom smells below the water's surface! Their Secret Santa holiday edition spray is a pure blend of cinnamon, vanilla and citrus natural oils.
Get yours for £8 here.
Pour Moi Remix Chemise in Black
Add a touch of luxe to anyone's Christmas nightwear wardrobe with the Remix Chemise. This soft and sultry style features geometric floral lace cups and a soft skirt to fit and shape curves to perfection.
Get yours for £34 here.
Queen of the Kitchen Personalised Apron
This personalised apron is sure to be loved by anyone who enjoys spending time in the kitchen, cooking tasty treats and baking sweet snacks. With a pink coloured crown illustration, it also includes a chosen name with the words 'Queen of the Kitchen' written in a swirling pink font.
Get yours for £12.99 here.
Revamp Progloss Perfect Finish Heated Hair Styling Brush
Create gentle curls and waves or dramatic volume with ease. Featuring a retractable bristle brush, effortlessly create a myriad of styles from soft waves through to beautifully defined curls with pro results that hold all day long.
Get yours for £59.99 here.
Runderwear Easy-On Support Runderbra
Runderwear's is a girl's breast friend! From 28D-40H, this bra offers a fully opening back with double adjustable hook-eye closures. Super easy to get on and off; no contortionist skills needed here! Zero bounce guaranteed as the moulded cups encapsulate and compartmentalise each breast. Soft, sweat-wicking fabric, encased underband and padded straps too!
Get yours for £50 here.
Sani Gold Striped Jumper
Hand-painted unisex streetwear collection, Sani, combines art and fashion to create unique, personalised designs perfect for those who love fashion without it costing the earth – literally. Sani's pieces are sustainably made using 100% organic cotton and eco-friendly paint only.
Get yours for £75 here.
Scentered De-Stress Hand Wash and Lotion Gift Set
For mindful bathing, the new Scentered De-Stress duo is a balancing, uplifting blend of chamomile, neroli and mandarin. One hundred per cent naturally derived, its essential oils help promote calm, soothe tension and support feelings of wellbeing.
Get yours for £30 here.
Sea Kelp Hand & Nail Cream
Treat your hands and nails to a little TLC with this Sea Kelp Hand & Nail Cream, available from RNLI Shop. Packaged in a handy handbag-sized tube, this light but nourishing cream has a reviving coastal fragrance which will leave your hands feeling soft and smooth.
Get yours for £9.50 here.
St. Moriz Advanced Pro Formula Weekender Bag
The Weekender contains all you need for tanning on the go! With a travel sized Tan, Primer & Tan remover , the perfect tan can be achieved on weekends away. Prep, tan and maintain your glow using these perfectly sized products.
Get yours for £14.99 here.
Stühmer Christmas Praline Selection
Why not gift a loved one a selection of the finest Christmas pralines in 15 mouth-watering flavours? You can hang them on a Christmas tree, use them as a novelty table decoration – or just sit by the fire and let the indulgent chocolate pralines melt in your mouth!
Get yours for £6.49 here.
The Body Shop Festive Body Butter Trio
Know someone who loves body butter – and Christmas? Stop right there. This delightful trio of Body Butters lets you sample each of The Body Shop's special edition ranges for 2019 – fresh Juicy Pear, creamy Warm Vanilla and fruity-floral Rich Plum. It's a lovely little gift for a stocking filler (or treat for yourself!)
Get yours for £15 here.
Tikiboo Purple Signature Hoodie
The purple hoodie features the Tikiboo signature logo, lined with a warm fleece, front pocket and toggles on the hood. This hoodie has a loose, oversized fit designed with comfort, style and warmth in mind.
Get yours for £29.99 here.
Viners Opulence Rose Gold Knife Block
Tap into the metallic trend with this glamorous Opulence Rose Gold Knife Block. Offering five high performance knives, it features a distinct cylindrical shape, with built in fibre rods to ensure the knives remain safely in an upright position, wherever you place them.
Get yours for £45 here.
Vistaprint Wall Calendar
Celebrate the year's best moments and everyone's highlights with Vistaprint's custom wall calendars, available in three sizes. First, choose from our on-trend calendar designs. Next, gather at least 12 photos and drag and drop them wherever you want. Finally, personalise special events and milestones with fun, colourful icons.
Get yours for £14.99 here.
Yogaline Mat
Transform your yoga practise with Yogaline's revolutionary, bespoke yoga mat. The world's only yoga mat with tailor-made alignment guides, based on each individual's measurements and designed to optimise your practise and empower your journey.
Get yours for £109 here.
Your Dogsy Sweat & Jogger Set
You'll be in for a round of 'ap-paws' from your canine companion every time you wear this super comfy sweat and jogger set. Ladies will never again have to be too far from their dog, even when it comes to relaxing. Available in a number of sizes, this set is sure to be a dog lovers' dream this Christmas.
Get yours for £49.99 here.