For creatives that make the decision to go after their dreams of being an artist, it can often be confusing knowing where to begin. Or even those who know their trade may be looking for new ways to progress. Either way, it is always worth learning how to grow your presence in this everchanging industry.
Checklist spoke to Yorkshire-based artist Lucy Pittaway, who has been awarded the UK's Most Popular Published Artist for the third time at the Fine Art Trade Guild (FATG) Awards. Here she speaks about her own journey, and shares tips for fellow artists.
What were your motivations for becoming an artist and when did you realise that this was a career you wanted to pursue?
There's always been something in my nature that has lent me towards art, I just think it's in my genes. My mum was a creative person, and from a young age, I spent a lot of time painting, drawing, and creating crafts.
Your works are of course largely inspired by the Yorkshire Dales; do you have any other landscape influences or specific areas you would like to focus on in your work?
My work has always focused on the outdoors as it's these environments where I feel most inspired. My travels around the world feature in my 'Horizons' collection but it's the Yorkshire Dales and Cumbria that inspire me the most. That and their woolly inhabitants! That said, I do have plans to diversify and try new subjects in my work.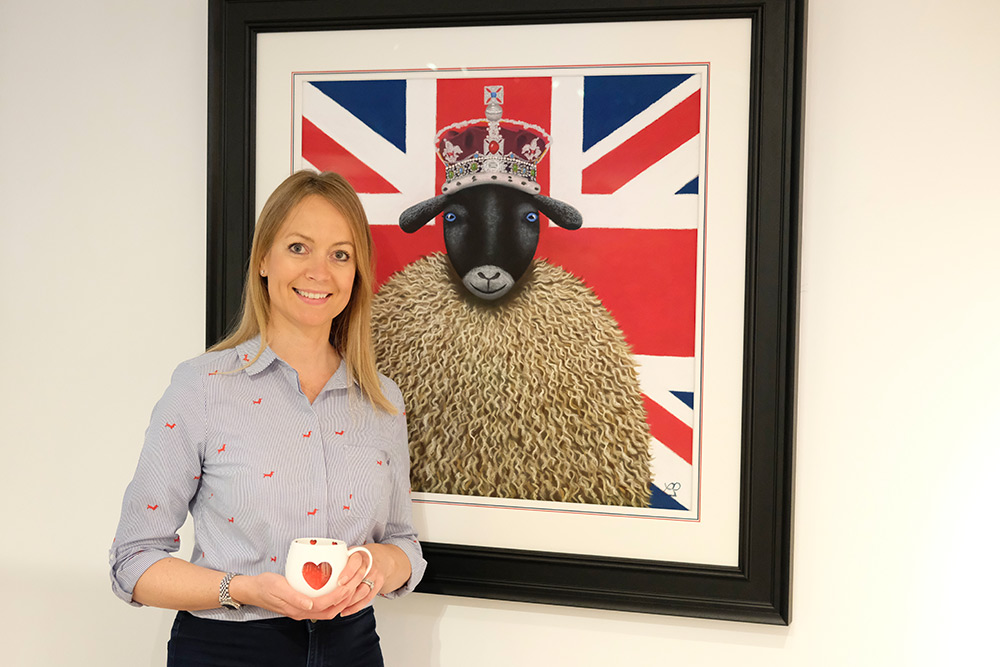 You've said your style changed once you had your children and began to see the world through their eyes. Do you think this might happen again as they grow, or as you yourself grow?
Absolutely. My artistic style has changed a lot over the years, and it would be reasonable to expect that it will change again in the future as I continue to experience life. There are also other parts of my life that I would like to express through my pieces and whilst the style may feel familiar, there will be obvious changes to the subjects and narrative of the pieces.
You have even commissioned a gift for HRH Princess Anne. What did that mean for you as an artist, and what were your inspirations for It's a Wonderful Life?
I was honoured to be invited to create a commissioned piece for HRH Princess Anne and it was wonderful to meet her. The brief was to create something that would remind her of her visit to the Yorkshire Dales, in particular, Wensleydale. I chose a soft palette of colours and placed four sheep in the painting to represent her immediate family, and the butterflies represented her grandchildren.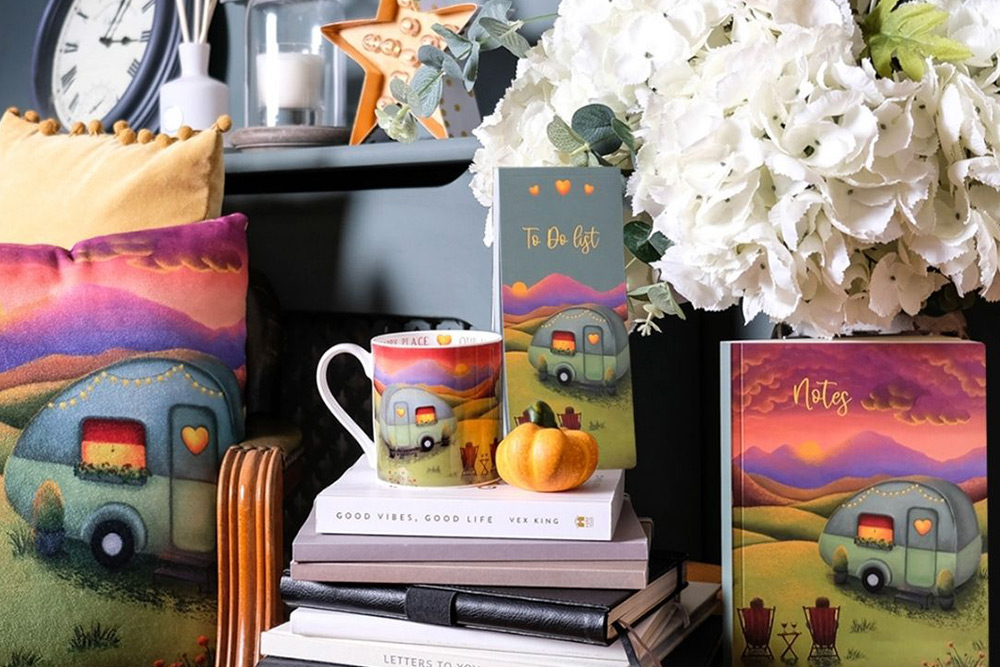 How do you think online markets, or social media in particular, have changed how artists sell their work as opposed to the gallery format? And what has this new market meant for you?
Currently, we sell directly through our flagship galleries and online store, plus several select retailers, however as time goes on and the online space continues to develop, new marketplaces are becoming difficult to ignore. People consume information, make decisions, and take action on so many different platforms now that a broader approach to retailing is vital for survival. As a business we've been able to pivot ourselves into the e-commerce space and fully understand the potential for online retailing, but there's something about seeing a piece of art in person, framed and on a wall that engages the senses and ignites your emotions.
Do you have any tips for those who may struggle with discipline or finding a balance between painting and business?
The work-life balance is a challenge that affects everyone, but when you add in other factors such as being a business owner and a parent, this is when it gets tough. I practice mindfulness including meditations, journaling, and yoga. These really help me reflect on myself and feel grateful and well-balanced at times when things are tough. I also love being outdoors, nature not only inspires me as an artist but invigorates my soul, so when we spend time as a family in the Lake District, I'm very happy.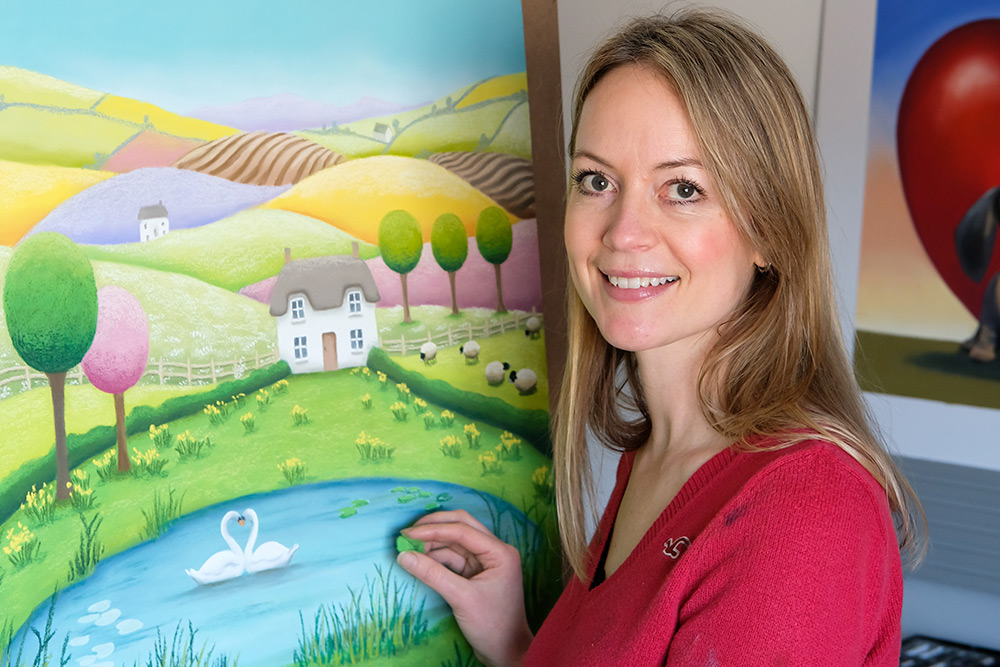 What advice would you give to fellow aspiring artists looking to follow their dreams as you did?
Don't expect the journey to be easy! Being in business is challenging and you need to be extremely adaptable. But it's important that you go for it nonetheless because it can be incredibly rewarding and turn out better than your expectations. Believe in yourself and who knows where it will take you.
How does it feel to be the UK's Most Popular Published Artist? That's quite an achievement.
It's an incredible honour to receive this accolade for the third time and isn't something I take for granted. It makes all the hard work worthwhile and knowing that people are still enjoying my art is very humbling.
Finally, what are you working on next? Do you have any particularly exciting projects or partnerships in the pipeline?
From a creative perspective, I will be taking my artwork in a new direction very soon and exploring some new themes, subjects, and topics that I hope people will enjoy. Watch this space!
To see your company in any upcoming features we are arranging please email editorial@hurstmediacompany.co.uk