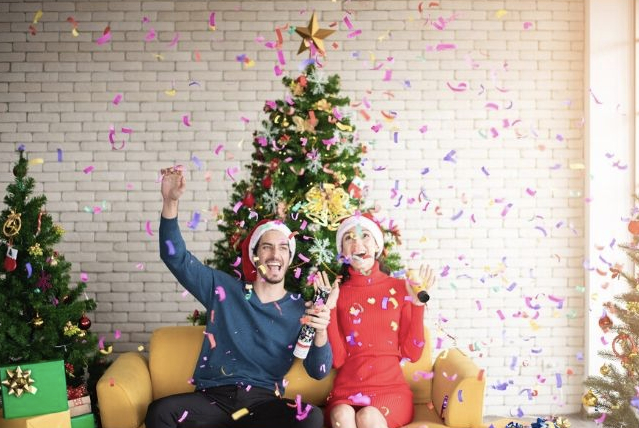 Stuck for ideas for what to buy the men in your life this Christmas? Here's some inspiration for all your friends and family
Abakus Foods The Christmas Stocking
Guy in your life on a health kick? This contains a mixed bundle of vegan and gluten-free snacks including seaweed crisps, as well as red dates in three varieties. These delicious snacks come with great health benefits. Seaweed crisps are a source of iodine which helps support cognitive function and functioning of the nervous system, while red dates are known for their apoptogenic properties, which can help the body adapt to stress, both mentally and physically.
Get yours for £15.99 here.
Booja-Booja Award-Winning Selection
Who wouldn't want to receive 16 delicious, handmade chocolate truffles this Christmas? From silky-smooth Around Midnight Espresso to chewy, gooey Almond Salted Caramel, there's something for everyone. These scrumptious treats are not only dairy- and gluten-free but 100% vegan, too.
Get yours for £9.99 here.
Catch-22 
Joseph Heller's masterpiece of anti-war satire has been given a fittingly glorious home in The Folio Society edition, illustrated by Neil Packer. Made into a film and a recent TV series by George Clooney, this is the definitive edition.
Get yours for £42.95 here.
Charlie & Ivy's Luxury Gift Box
A beautifully packaged selection of tastiness, containing five miniatures from across the Charlie & Ivy's range. Packed full of flavour and all produced using the finest ingredients, made with tender loving care from their farm in Yorkshire.
Get yours for £20 here.
Colgate Connect E1 Smart Electronic Toothbrush
This is an app-enabled toothbrush with artificial intelligence! The brush has been designed with the help of dentists and provides real-time feedback on your brushing habits in 16 zones of the mouth.
Get yours for £89.95 here.
Critically Endangered Borneo Orangutan Socks
This eco-friendly sock company helps protect some of the world's most critically endangered animals. For every pair that's bought, the company works with the Friends of the National Parks Foundation to protect 80 square metres of Borneo rainforest habitat.
Get yours for £12 here.
Engraved Measures Whisky Tumbler
The perfect Christmas present for the Scotch lover in your life! The expertly engraved glass is divided into four equal sections, with personalisation available alongside each line. It's a gift any whisky fan is sure to love and treasure.
Get yours for £4.99 here.
Fresh 'n Rebel Headphones CLAM ANC On-Ear Bluetooth Headphones
The CLAM ANC are over-ear headphones that have active noise cancelling, which blocks out any distractions at the push of a button. Listeners can enjoy up to 35 hours of music wirelessly and the headphones are foldable so they are easy to carry with you on journeys.
Get yours for £129.99 here.
Gear4 Crystal Palace Phone Case
This iridescent iPhone 11 case can be almost any colour depending on the light, but its capacity for strength and protection never changes. The integrated D3O technology makes this stylish case drop resistant up to an impressive 13 feet!
Get yours for £29.99 here.
Jockey Re-Defined Short Trunk 3Pack
The Jockey Re-Defined Short Trunk delivers long-lasting comfort that starts from the moment you put it on. The lightweight and silky, ultra soft feel help take the edge off a hard workout, or make the most of your downtime. The simple no-fly design adds comfort-enhancing structure, while the short trunk cut strikes the right balance of coverage and free movement.
Get yours for £30 here.
Joseph Turner Woven Belt
Handmade in England, the Joseph Turner men's navy and brown Aztec woven design belt is available in three colours and features a unique weave design. The accessory is crafted from full grain Italian leather and is finished with an antique nickel covered buckle. An original essential, that is the perfect Christmas gift for him.
Get yours for £70 here.
Joules Brigham Wallet Gift Set from Houghton Country
The Joules Brigham Wallet Gift Set from Houghton Country is a perfect present for any difficult dad, unruly uncle or bothersome brother. The gift set includes a card holder, key ring and wallet. All three are crafted from high quality leather that will age nicely.  Packaged in a gift box.
Get yours for £42.46 here.
Kierin NYC Santal Sky
Santal Sky is an amazing, thoughtful scent with a touch of irreverence. Woody, intimate and serene, it's packed with cardamom, saffron, sandalwood and vetiver for a delicious fragrance you'll want to wear again and again.
Get yours for £65 here.
Lynx Ice Chill Anthony Joshua Duo Gift Set
The limited-edition range of Lynx Ice Chill features ambassador and boxing star, Anthony Joshua. Designed to awaken the senses with a fresh and zesty fragrance of frozen mint and lemon, Lynx Ice Chill Duo Gift set contains grooming essentials; Body Wash and Body Spray. With cooling technology, Ice Chill Body Spray lowers the body temperature by 6 degrees so guys can feel fresh and stay chill when it matters the most.
Get yours for £6 here.
Melitta Aromaboy
Small in size but big at preparing coffee for two-cup pleasure, the Melitta Aromaboy champions a classic compact design with its period retro appearance. Ideal for a single person household, it comes complete with a practical and illuminated auto-off function which turns the machine off when not in use. The Aromaboy runs on an energy-saving 500 watts making it economical in electricity consumption.
Get yours for £34.99 here.

Only Fools & Horses Monopoly Board Game
Britain's best-loved sitcom gets a Monopoly twist with this edition of Only Fools and Horses Monopoly.Follow in the footsteps of everyone's favourite wheeling-and-dealing family, the Trotters, as you travel around the board moving from series to series. Relive the moments when Del and Rodney offer their services as chandelier cleaners in 'A Touch of Glass', or where Del famously misjudges the bar in 'Yuppy Love' and when the boys attempt to sell bottled water as Peckham Spring Water in 'Mother Nature's Son'.
Get yours for £29.99 here.
Personalised Beer Glass Tankard
Why not gift someone their very own beer tankard this Christmas? The perfect choice for someone who enjoys a pint, you can personalise the tankard with three lines of up to 20 characters per line.
Get yours for £9.99 here.
Polaroid Pop
The Polaroid Pop is ideal for capturing your precious moments in the Polaroid border format. This instant print camera captures details with 20 megapixels, storage of 128 gigabytes and uses ZINK Zero Ink technology for full colour prints. Keen photographers are able to personalise their prints with a range of filters and stickers.
Get yours for £164 here.
Ralph Lauren Wool Scarf In Navy
Who doesn't need a scarf over the winter months?  With the signature Ralph Lauren Polo Player logo embroidered at one end on each side in red, this one hundred per cent scarf measures approximately 10 inches in width and 64 inches in length.
Get yours for £45 here.
SanDisk iXpand Wireless Charger
More than just a charger, the 10W iXpand™ Wireless Charger supports fast wireless charging for Qi™-compatible iPhones and Samsung™ and other phones while automatically backing up1full resolution photos and videos. It's simple. Wake up every day to a phone fully charged and photos fully backed up. You can also easily free up space on your phone, knowing your photos are backed up. Multiple backup profiles allow you to share the charger with everyone in your family and the included high-efficiency power plug with 6-foot cable gives you fast, convenient charging, right out of the box.
Get yours for £89.99 here.
Snaffling Pig Chilli Lovers Bundle
This set includes Snaffling Pig's infamous Pig of Doom Pork Crackling, made using one of the hottest chillies in the world! It also features the equally fiery Pig of Doom Hot Sauce – as well as beer to wash everything down with!
Get yours for £37.50 here.
Spice Rub Selection Box 
A mouth-watering selection of nine rubs and seasoning which guarantee instant flavour injection!  Add to an existing dish or create something new.  Simply rub, sprinkle, crumb, baste, marinade or glaze and enjoy flavours from around the world. Flavours include Tandoori, Barbeque, Chipotle and Chimichurri.
Get yours for £29.99 here.
Spider-Man: Far From Home
Tom Holland returns as everyone's favourite web-slinger in the next chapter after Spider-Man: Homecoming. Spider-Man joins his best friends on a European vacation. However, Peter's plans to leave super heroics behind for a few weeks are quickly scrapped when he begrudgingly agrees to help Nick Fury uncover the mystery of several elemental creature attacks! Spider-Man and Mysterio (Jake Gyllenhaal) join forces to fight the havoc unleashed across the continent but all is not as it seems.
Get yours for £14.99 here.
The Original Factory Shop itek Jukebox
Bring a hint of retro style to any home with the itek Jukebox. Inspired by the classic look of a 1950s jukebox but compact enough to sit on a table, shelf or bedside cabinet, it wirelessly streams music from a smartphone, tablet or MP3 player. The integrated CD and FM radio functions give buyers an even wider range of listening options, while colour-changing LED lights complement the audio with eye-catching visual effects.
Get yours for £59 here.
Tile Sticker
Tile Sticker is a Bluetooth tracker that helps you find things near or far, perfect for giving you peace of mind over your valuable possessions. It's small and waterproof, with a three-year battery life and an adhesive back meaning you can stick it on pretty much any item you don't want to misplace. Tile locates 6+ million items every day, so don't worry, your device is in safe hands.
Get yours for £34.99 here.
Walkers Shortbread Gingerbread House Tin
Filled to the brim with mini gingerbread men biscuits, this eye-catching festive tin will make a brilliant gift this Christmas. With each biscuit including just the right amount of snap and spice, Walkers' gingerbread men make the perfect Christmas nibble!
Get yours for £9 here.
Whittard Christmas Chocoholics Hamper
Did someone say chocolate? Here's a hamper that's "choc"-a-block… Their three-flavour Hot Chocolate Stacking Tin also comes with a generous helping of Cranberry and White Chocolate Chip biscuits, adding Mini Marshmallows and a pair of chic tall glasses for good measure. Think of it as a chocolate survival kit for the winter months.
Get yours for £58 here.