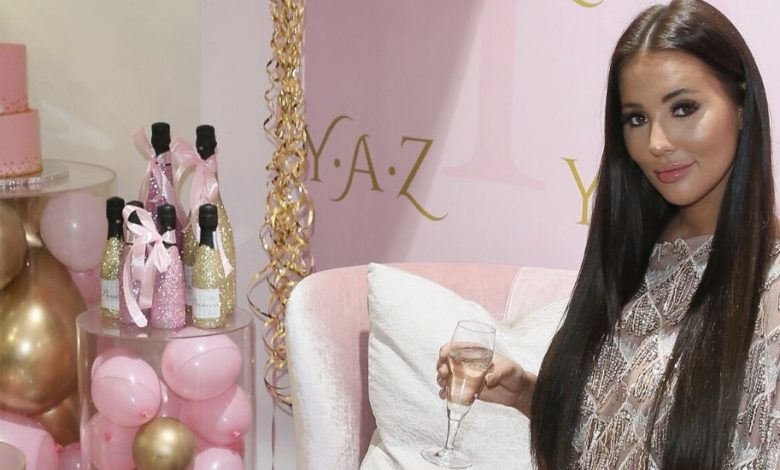 Congratulations on the new store launch – has this always been a dream of yours?
Yes! I actually used to work in Lucy's Boutique which used to be on the show when I was younger, and I used to think one day I'll have my own shop like this.
How hands on will you be in the store?
Very, very, very hands on! I'm here every day.
What are your favourite picks from the collection?
I've got a collection with Rag and Doll who are my designers and they do bespoke made to order clothes. I love those the most, along with my loungewear that I can dress up and dress down.
What is your favourite feature about yourself and how do you showcase it through your style?
I would have to say my bum, the loungewear really extenuates your figure, pulls you in all the right places and makes your bum look unreal.
Any romance at the moment?
Don't believe everything you read; I'm just enjoying single life at the moment. Just because I'm going out for dinners with a male companion it doesn't mean that he's my boyfriend. This day and age people should know you can go out with a male for dinner and it doesn't mean he's my husband or boyfriend.
What advice would you give to girls dealing with a breakup?
I know it's cliché and everyone says time heals everything, but it actually does. You need to believe in yourself and have that time to work on yourself and love yourself. For me, I read self-love books of a night, listen to podcasts, listen to people like Oprah – really strong, powerful women, which has really helped me get over it.
You've just got to believe someone is out there for you and just because your last relationship didn't work out, doesn't mean you won't meet the right person for you – I really believe life is mapped out when it comes to things like this. I'm running several businesses now, like my shop and my wellness retreat.
Would you say that you dress for yourself, friends or men?
100% dress for myself. If I put an outfit on and think I look good, then I'm wearing it – I don't care about what anyone else has to say about it.
Which of the TOWIE cast do you think has the best style? And is there anyone you would like to give a makeover?
Me, ha! Dressed by Y.A.Z. Boutique – cheeky plug. I don't have a favourite either, they're all lovely.