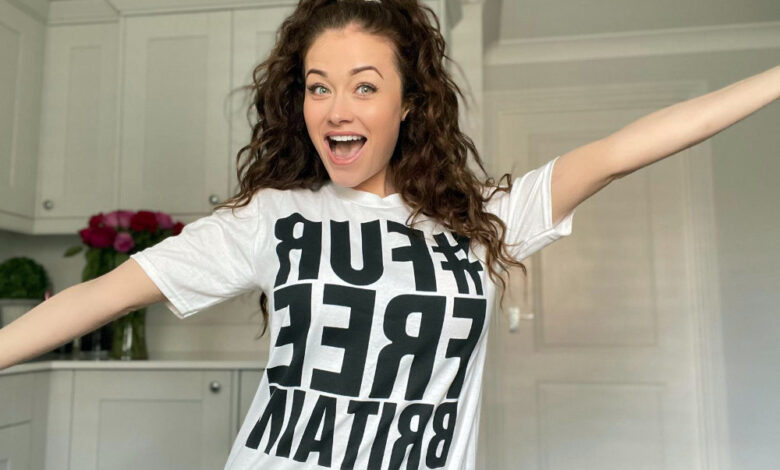 The actress on dropping out of school to support her mum, and why she believes education shouldn't just be about straight-forward lessons.
You studied at the Italia Conti School of Performing Arts but dropped out to care for your mum. Can you talk us through what happened?
"Italia Conti was the most wonderful time of my life – I trained there through my school years, then got a full scholarship for the BA Honours Degree course after my GCSEs. The day I received my scholarship letter was the same day my nephew Charlie passed away in my care, from meningitis and septicaemia. I was 17 and that really affected me mentally. I went back to school but within six months my mum lost her sight from a rare genetic disorder called Uveal Effusion Syndrome. We were both very depressed and struggling to deal with everything, so I decided to come home and help her."
What school qualifications do you have?
"I left school with only GCSEs and various dancing and acting certificates. However, I think the general education system can be quite flawed. It caters to one way of learning when we all have very different abilities. I've learnt more through understanding myself than I ever have in a maths class, because my interests and abilities have always been in the arts. I think a person can do whatever they want in this world if they have the right determination and work ethic. Just look at Richard Branson – he has dyslexia and was a school dropout."
If your mum hadn't gone blind how far do you think you would have gone with your education?
"If circumstances had been different I would have most certainly got my degree in performing arts. Having said that I don't regret anything, because I have learnt so much from all the hard times. It built my character and determination, and for that I am thankful."
What was school life like growing up?
"I was always very small at school and had to take growth hormones because I wasn't growing properly. There was also domestic violence at home, so I had PTSD that I wasn't aware of – which I believe was the cause of my slow growth. Luckily, I didn't experience any bullying because of my size – school life was wonderful and I came in to my own, growing in confidence while I was there."
School bullies are now able to get to their targets at home through social media. As someone who's experienced trolling what would you say to anyone being picked on right now?
"I detest bullying and will do my best to support anyone who's struggling. I'm currently working with anti-bullying platform Compete, am involved with a campaign for the Humane Society International, and also do a lot of work on the topic with House of Influence's Good Influence Project. With that in mind, I'd remind anyone to make very good use of the block button!"
Why do you think people troll?
"If someone wants to troll there is something seriously wrong with them, and that usually stems from their insecurities. I don't have anyone in my life that would go out of their way to hurt others. Be a kind person and quite simply kindness finds you back. It's important to remember the people who write these things are doing it because they are unhappy with themselves – they just want to project it on you."
What's the worst trolling you've ever experienced?
"When I was in Celebrity Big Brother my mum went on Big Brother's Bit on the Side and said: "In my eyes, Jess is the winner," and a troll said something like; "She's blind, her eyes don't work," and tried to make fun of her disability. To me that's the lowest of the low – trolling about myself I couldn't give two hoots about, but when it's directed at anyone with a disability, let alone my own mother, I get upset! Social media platforms need to work harder on taking the power away from these trolls. We need to see more platforms like Compete – who take away the ability to post negative comments – come to the forefront."
You've moved away from the world of reality TV since your earlier career, with appearances in TOWIE, Ex on the Beach, and Celebrity Big Brother. Would you ever return?
"It's not something I want to do. I've done a lot of work on myself and realised that reality TV increased my anxiety – and I had to take myself out of that life. You can end up in a dangerous pattern of trying to live up to something you're not, and for me that was dangerous. A lot of reality shows nowadays are about dating, and I'd also rather keep that part of my life private. I'm quite an open person when asked, but I don't think I'd like it played out on camera again."
What about if I'm A Celeb… or Strictly came knocking?
"I would love to appear on Strictly Come Dancing or Dancing on Ice, as you learn a skill at the highest level – and you keep that skill for life! I love and really miss dancing – as a child at Italia Conti I found it released any problems I was having at home, meaning I felt free and happy after every class."
Love Island is back on our screens and you've already warned the new Islanders to stay true to themselves. Why is that?
"I've seen it happen to so many others – it's easy to lose yourself and it's hard to come back to who you are once it's gone too far. I've seen too many people come out of shows with regrets and it's something that's around forever. With the internet it's no longer in the paper one day and gone the next. It's there forever. You need to be happy with who you are and comfortable with that."
Is it true the producers of Ex on the Beach encouraged you to sleep around?
"They want the best show to get viewers and they know how to get the headlines, so although it certainly wasn't forced it was suggested that we act as crazy as possible. I didn't want to upset the producers, but I also needed to not feel like I had done myself an injustice to please others. It wasn't a nice situation."
Your mental health hit the headlines recently over you attempting suicide following the break-up of your marriage. Can you tell us what happened?
"I think at the end of my marriage I'd just had enough, and I couldn't see a way out. I felt it was always one thing after another, but that was the mindset I had and so only attracted negativity. After the suicide attempt I made a conscious choice that I didn't want to live like that anymore. I became self-disciplined and would act only for my best interest, and slowly my life started to change around."
What do you do if you ever feel down these days?
"I make sure I figure out what it is that's upsetting me, before allowing myself to get that emotion out. It might be through meditating or going for a long walk, or even taking a cold shower. Above all I'm always kind to myself, which has never failed me.
You've been pictured on Instagram taking your mum out for her daily run throughout lockdown. What are you most proud of when thinking of her?
"I'm so proud of mum's resilience – at 47 losing her eyesight was such a huge life change. However, she retrained at the Royal National College for the Blind in massage, and made sure she was living life to the full. I'm so proud of her bravery and determination. She also goes away once or twice a year with a blind skiing charity – and I think that's wonderful!"
You're an ambassador for Guide Dogs UK. What does your role involve?
"I'm there to raise awareness for the charity. I'm involved with a lot of their sponsored events, from half marathons to climbing Mount Kilimanjaro, Mount Kinabalu, the Inca Trail and Ben Nevis. I also tell anyone who'll listen of the many ways they can help the charity – you can become a puppy walker or boarder and even sponsor a puppy."
You've written a book all about your life, Silver Linings. What can readers expect from it?
"The book was very honest and open from an emotional point of view. I think mainly in the papers they like to talk about my relationships, but this was the ins and outs of all the hard times. My family life and the hardships have been touched on in the news, but this was the real in-depth part of my brain that I find easier to write down than speak about. My main goal was to help others find the silver lining in everything, and to learn that what we think may be a bad thing in our lives can often be a redirection to something better – or a lesson to help us grow."
Jess has teamed up with Compete and The Humane Society International for their Fur Free Fashion Challenge. It calls on Compete users to share their Fur Free Fashion videos, raising awareness and funds to prevent animal cruelty in the name of fur.