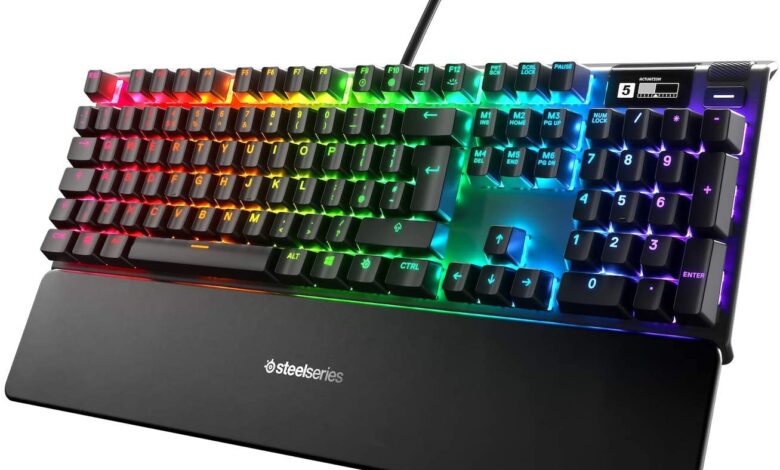 Either you're a Mac person or a PC person, or so the saying goes. Regardless of which, one of the great things about PCs is they can become endlessly customisable from the internal workings, through to the outboard accessories, designed to make your computing experience all the more comfortable and productive.
Here's Checklist's selection of the top 10 best computing accessories.
1. Razer Viper Ultimate Wireless Gaming Mouse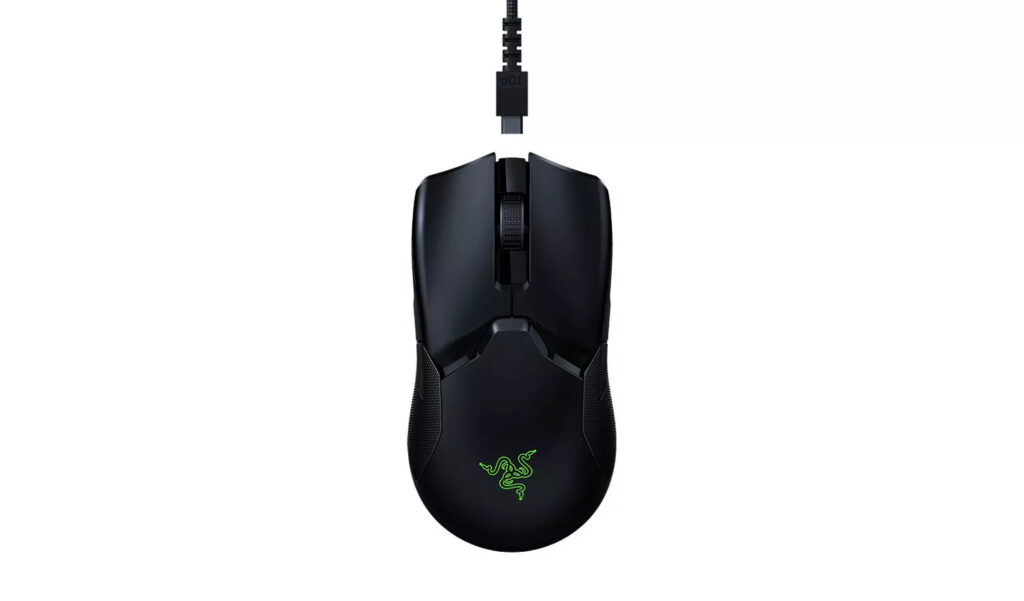 For those who need ultimate responsiveness in their mouse, or for those who just want a 'bulletproof' and high-quality piece of kit for their home office set-up, then this accessory is one of the best.
With a super hi-spec optical sensor with 99.6% resolution accuracy, hyperspeed wireless technology and eight independently programmable buttons, it won't let you down in the heat of the moment. The Razer's switches are even rated for a 'lifetime' of 70 million clicks.
The Viper also has a true ambidextrous shape, so good for both left and right hands, a gaming-grade tactile scroll wheel with sensitivity adjustment, and the ability to store your own user profiles in its onboard memory, so it can adjust itself to your personalised user settings each time you're ready to work.
It also comes with a manufacturer's two-year guarantee, so you know you're in safe hands.
Visit argos.co.uk
2. Sandstrom Cable Management Sleeve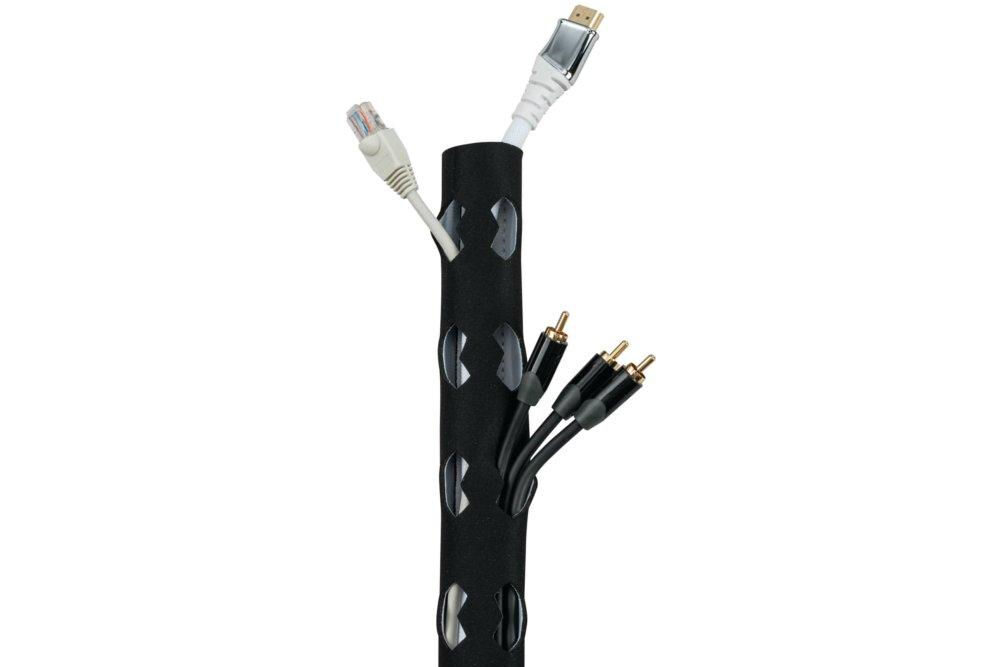 Perhaps not the most exciting bit of kit on this list but certainly one of the most useful, the 183cm Sandstrom SCMS214 Cable Management Sleeve is specially designed to help to keep your cables organised in a neat and tidy fashion; perfect for sorting out those under-desk, foot-tangling environments.
The sleeve is reversible and features velcro fasteners that make it simple to separate and secure your cables in place, whilst the numerous entrance and exit points mean that you can have the cables branching off, right where you need them, and at the right length.
So, whether you're tidying up those home-office wires, or organising round the back of the telly, the Sandstrom cable management sleeve helps you to keep things ship-shape.
Visit currys.co.uk
3. Targus Chill Mat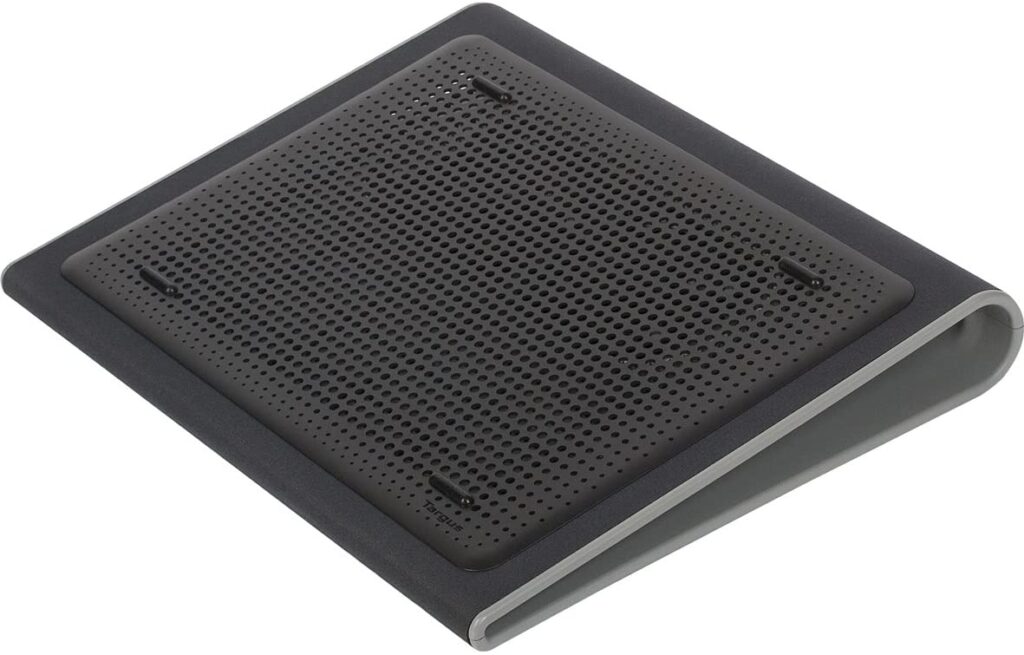 The Targus Chill Mat is a quiet and portable cooling pad for keeping your over-worked laptop at optimum performance, and also for protecting your lap.
It boasts a fan speed of 1900RPM and provides a comfortable and ergonomic work surface for laptops 15 to 17 inches in size.
The mat simply rests on your lap, plugs in via USB and disperses laptop heat via its dual fans.
Its ergonomic tilt makes typing easy while the soft neoprene surround provides cushioned comfort for your lap, as heat is dispersed through its special open-ventilation design.
Visit amazon.co.uk
4. Acer Nitro 49'' Double Full HD Ultra-Wide Curved Gaming Monitor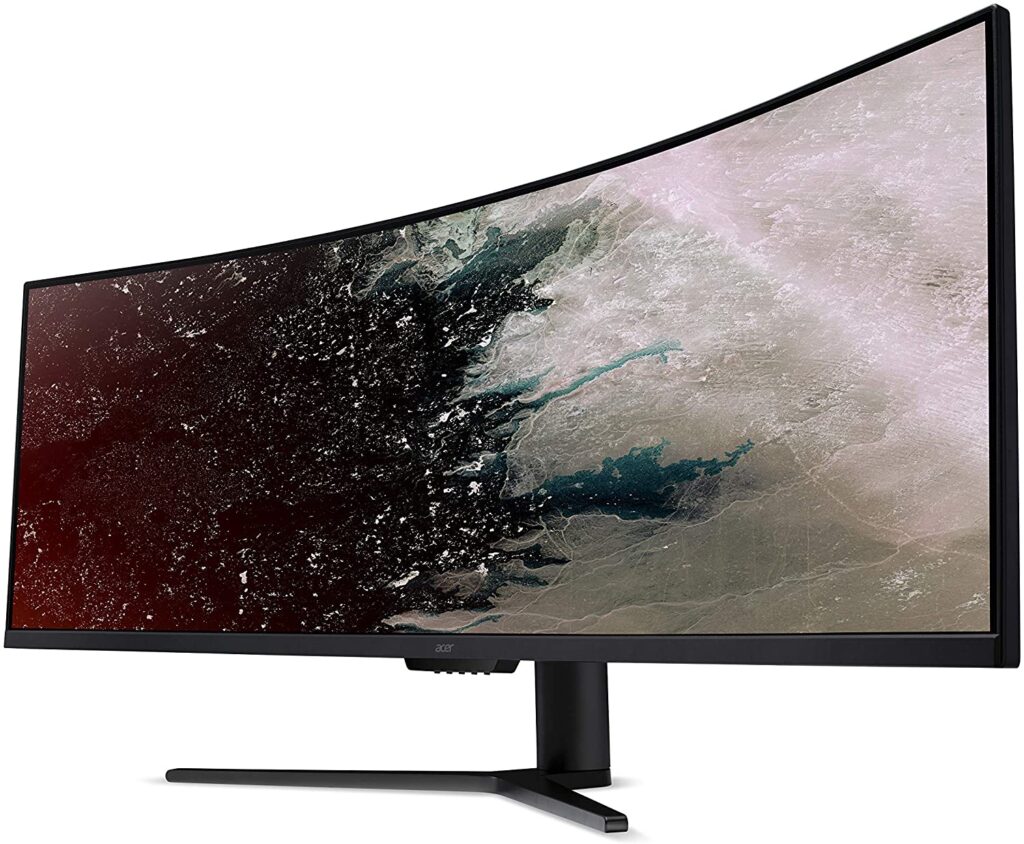 Now that's a mouthful. But just take one look at this beast of a monitor and you'll see why. Get yourself totally immersed in the action with this huge 49 inch DFHD curved monitor from Acer.
Expand your field of view to encompass large action sequences and wide gaming vistas in glorious DFHD. Even with the increased screen size of this hulking monitor, the details stay sharp and colours remain accurate thanks to its 3840 x 1080 resolution, 1800R curved screen and 32:9 aspect ratio.
AMD Radeon FreeSync 2, which supports HDR content and dynamic refresh rates, means that the monitor's refresh rate is synced to your computer's framerate, allowing for the smoothest, most seamless experience possible.
Experience ultra-smooth, lag-free gameplay with faster frame rendering with a rapid refresh rate you can overclock to 144Hz. More frames per second mean better 2D action scenes and outstanding image fluidity.
For those in an office environment, you can multitask with PIP (picture-in-picture) and PBP (picture-by-picture) functions, whereby you can make use of the monitor's massive real estate.
Visit amazon.co.uk
5. G-Technology 4TB External Hard Drive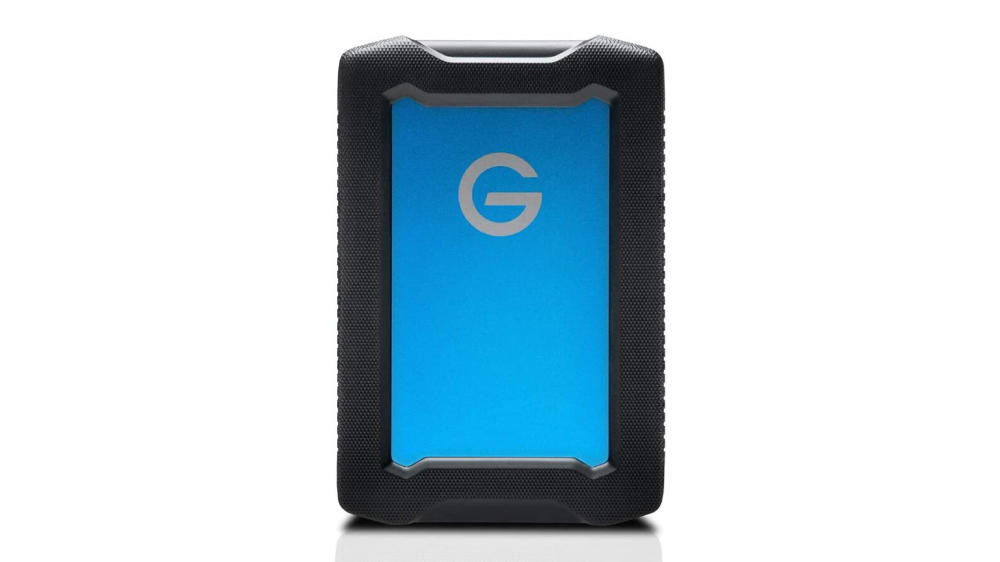 G-Technology's 4TB ArmorATD, a rugged, shock-proof and water-resistant external hard drive allows you to go through the extremes and be safe in the knowledge that anything you have saved on your drive is totally secure.
This drive has triple-layer shock resistance for added durability alongside a rain-and dust-resistant enclosure with a 1000lb 'crush rating'. So you can be sure it'll survive attacks from rogue monster trucks and/or escaped elephants. It's USB-C ready and USB-3.0 and Thunderbolt 3 compatible, with no set-up required for operation with Mac and Windows.
Visit amazon.co.uk
6. Sabrent 16-port USB 3.0 data hub and charger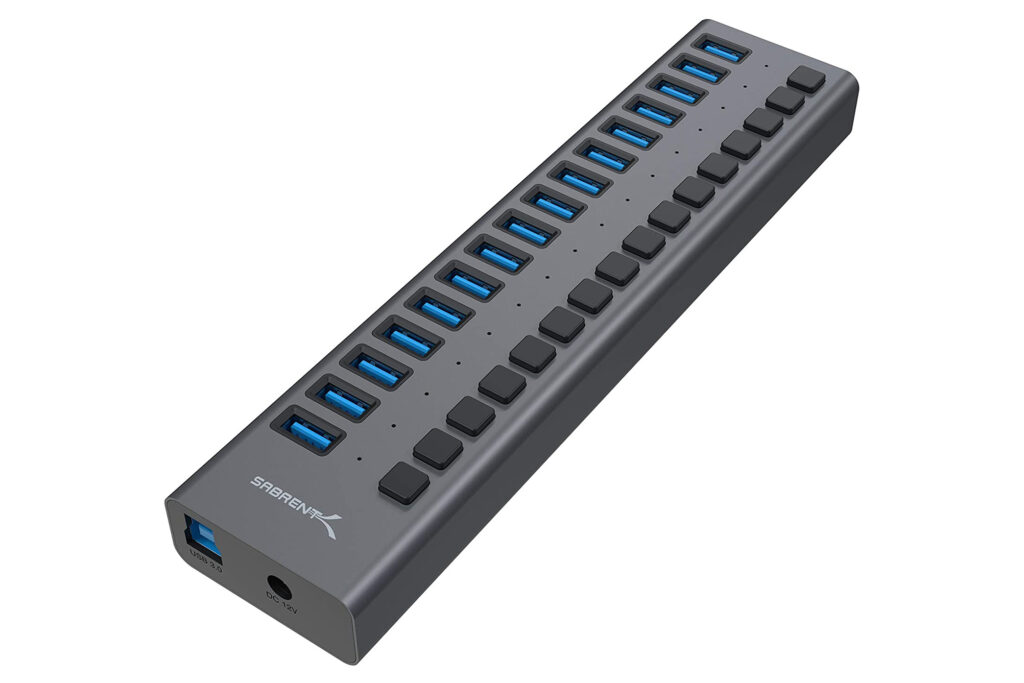 You're busy, you've got more devices than you can carry, and everyone wants to borrow a charger. What do you need? You need the Sabrent 16-port USB 3.0 data hub and charger with individual switches of course.
This super-useful bit of kit allows you to attach your collection of USB devices to one super-speed hub, quickly expanding any available USB 3.0 port into 16 USB 3.0 ports by simply plugging into your computer, with no drivers or software required.
Individual power switches provide device independence and allow you to preserve power and prolong the lifespan of your various devices by not overusing them while they are plugged into the hub.
Each USB 3.0 port is capable of delivering up to 1.1mA of current with transfer speeds of up to 5Gbps and the block itself has short-circuit, over-current, over-voltage, and over-heating protection.
Visit amazon.co.uk
7. Logitech HD Pro Webcam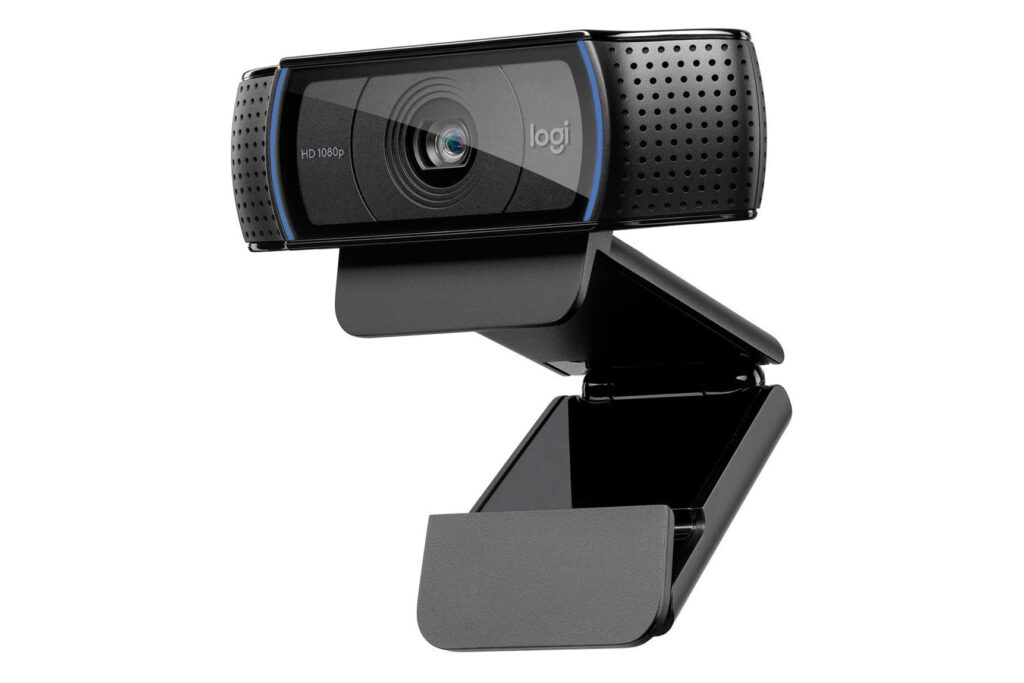 The latest webcam from Logitech is the HD Pro which allows for full-HD video calling, operating in full-HD 1080p video at 30-fps.
Connecting to your computer via USB, this device allows for the crispest video quality, giving you that professional touch to your Zoom calls or other content creation.
The full-HD glass lens captures a wide 78-degree field of view with the five-element glass lens allowing for premium auto-focus capability.
Its automatic HD autofocus and light correction fine-tunes to your lighting conditions to produce bright, well-contrasted images – even if you're in a dim office setting or under strong artificial lights – and the dual microphones capture natural stereo audio while filtering out background noise.
Visit amazon.co.uk
8. Hcman RGB Gaming Mat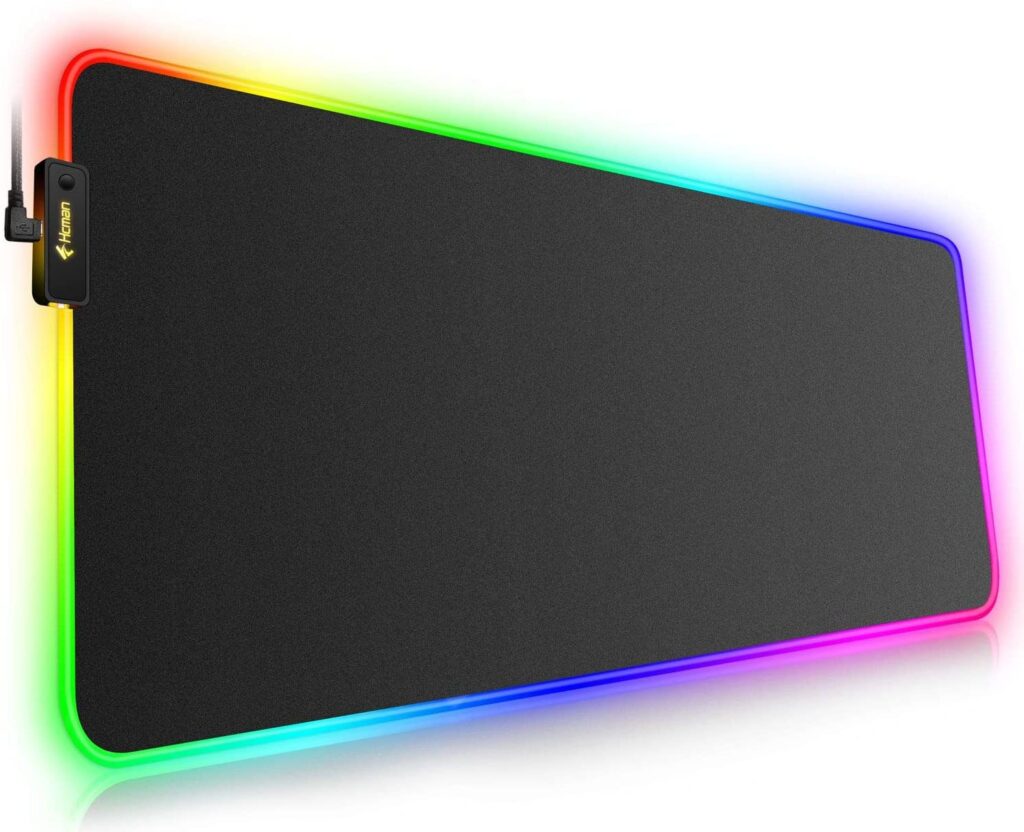 Probably the best computing accessory you didn't realise you needed – this gaming pad from Hcman is designed to deliver high precision, optimal comfort and response when gaming.
Not only does it add an extra element of practical usage to your set-up, but the RGB soft mouse pad has a true RGB backlit effect with 10 lighting modes – lighting up your life like never before.
With a size of 80cm by 30cm it will fit your desktop keyboard and mouse perfectly, provide ample movement space.
The soft, cloth surface and non-slip rubber base ensure precise, accurate mouse control and consistent stability and comfort on your desk. It is powered by plug and play USB, with a one-touch control.
Visit amazon.co.uk
9. SteelSeries Apex Pro – Mechanical Gaming Keyboard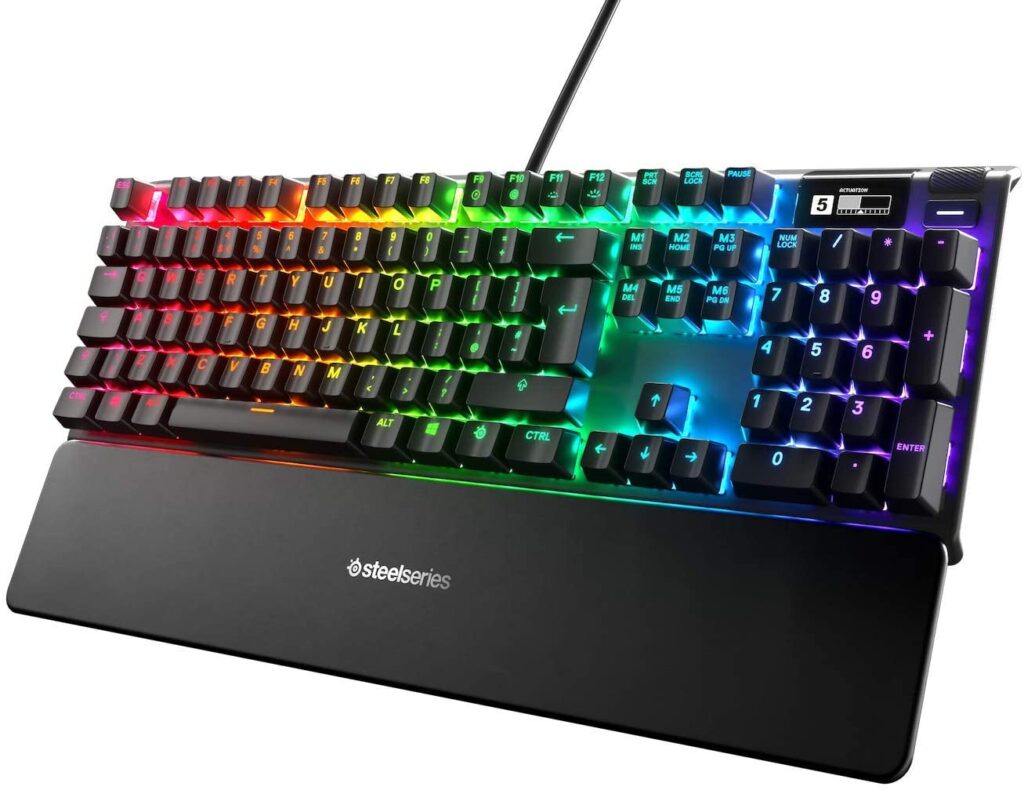 Steelseries say the Apex Pro is 'the biggest leap in mechanical keyboards since the invention of the mechanical Switch over 35 years ago'. And it's easy to see why!
Each key can be adjusted to meet your preferred sensitivity level, whether it's for gaming, work, or anything else you might be doing on your screen. Its integrated OLED smart display, with on-board storage, becomes your command centre for on-the-fly info and settings from the online world.
With a 100 million keypress guarantee and an aircraft-grade aluminum alloy frame, built for a lifetime of durability, means this is one bit of kit that doesn't mind getting bashed about. The Omni point adjustable mechanical switches allow for customisation of 'press' distance from 0.4mm to 3.6mm and the premium magnetic wrist rest provides full palm support and long-term comfort.
Visit amazon.co.uk
10. Elgato Stream Deck XL – Live Content Creation Controller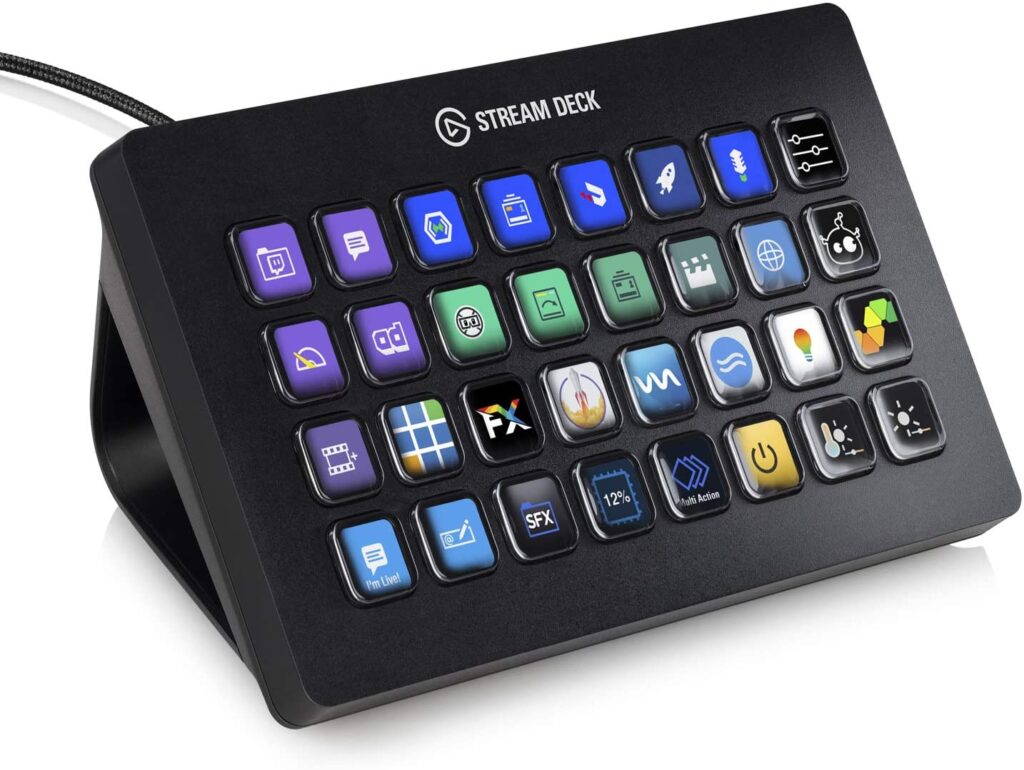 The Elgato Stream Deck XL Live Content Creation Controller is perfect for live streaming, presentations, gaming or almost anything else you can think of. It allows for enhanced 'live' production and experiences, whereby you can easily control your favourite tools and platforms from the 32 customisable keys – instantly triggering unlimited actions with a tap.
Once set up you can use its one-touch operations to change scenes, launch media, switch cameras, tweak lighting, adjust audio, post tweets, or anything else you can think to assign to the keypad, on-the-fly.
It features powerful platform integrations: Elgato Game Capture, OBS, Streamlabs, Twitch, YouTube, Twitter, Mixer, Spotify, Philips Hue, Vmix, VoiceMod and more, and interfaces via USB 3.0 directly into your computer.
Visit amazon.co.uk
To see your company in any upcoming features we are arranging please email editorial@hurstmediacompany.co.uk