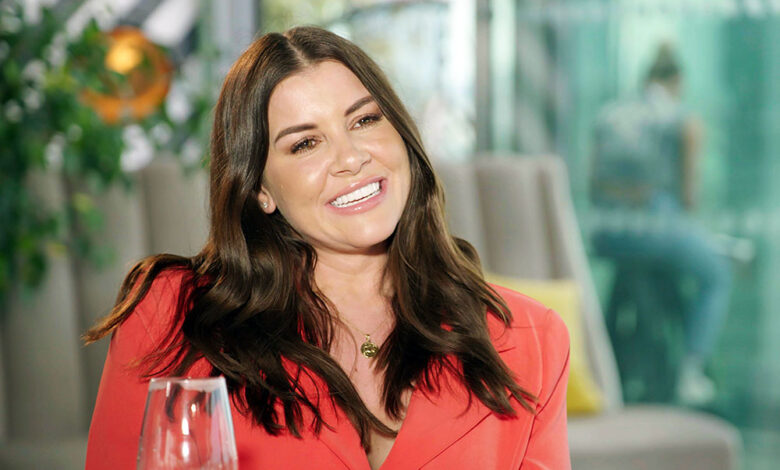 We caught up with Welsh Beauty and Big Brother star Imogen Thomas to talk dating disasters and her dreams for the future.
Imogen, you're about to grace our screens on the second series of Celeb Ex in the City. Without giving the game away, what can you reveal about your experience on the show?
"I loved taking part in the latest series. I was so nervous to see who was going to turn up and gate-crash my dinner! It was the hottest day of the year, and I was roasting! Let alone not knowing who was about to turn up.…"
Let's talk about previous men in your life. What's the most disastrous date you've ever been on?
"I had a date once who was literally more interested in watching the boxing than being with me. We went to a really beautiful restaurant in London's Park Lane, and he didn't order any food – instead he just watched me eat and asked me to hurry up, so we could catch the fight on a screen on the next street. I ate my steak then told him my babysitter had called and said my daughter was crying for me and that I needed to leave – that was my quick escape. It's safe to say I never saw or spoke to him again."
What's the most romantic gesture a man has ever done for you?
"When I first started dating my ex – the father of my girls – he used to spoil me so much, hand-delivering flowers every week. When I used to get home from work I'd often come home to rose petals on the stairs, with designer shoes at the top. Another time he ran me a bath and scattered rose petals on the top of the water. I was spoilt a lot."
What do you look for in a man?
"I love a confident man – a man who can make a plan. I hate any guy asking me what I want to do. I like tall, dark and handsome, but someone who can make me laugh. He has to be kind and caring and want to be in mine and my girls' lives. A definite turn off is someone who doesn't know who they are and doesn't hold a job. I need a man who can enjoy life with me but protect me, too."
What's the perfect way for a guy to really woo you? Imagine your perfect first date…
"Take me to Paris for the day, then hire out a romantic restaurant and spoil me like crazy! To be honest I've had a lot of good dates, but I still want to visit Paris with a guy. I'd also love to horse ride under the stars with a man, too."
Having dated people in the spotlight, would you ever do it again?
"I'd date someone in the public eye if I liked them. To be honest, my life is pretty normal, and I like it that way. I have my own set of friends away from the limelight who are real and genuinely fun people to be around. That's why I've been dating normal guys, because this is what I'm attracted to now. Things have changed since I've got older. If I'm dating someone in the public eye, then I feel pressure for it to work. Everyone is watching, and it's just not real."
Being a single mum to two young girls must be tough. How do you cope with school runs, work and housework?
"It's hard, I'm not going to lie, but I love every minute of it. I simply don't stop. I drop the girls off then juggle work until it's time to pick them up again. I have a time frame I work with and literally will do it all in that period. I have a cleaner who comes for five hours once a week, as I have a big house so I need the help! I just can't fit everything in. I've been working a lot lately and I love it. It's exhausting at times, though."
Will you ever move back to Wales?
"I would love to move back to Wales. I love the fresh air, everything is cheaper – and it's also home. It will always be home to me, and I miss my family. I particularly love Cardiff at the moment. I was filming there recently for the BBC and got to go shopping one day. It's changed massively, and there are so many opportunities there now."
You're fluent in Welsh, as we learned from you speaking to fellow Big Brother contestant Glyn Wise on the show. What do you say to comments like one made by sociologist Dr James Dingley, who suggested that Welsh is a language "no one else really needs or wants"?
"It's a real shame he said that. Only 29.2% of the population of Wales speak Welsh, and I once got myself in trouble because I said that my girls won't be learning it. I simply meant that we live in London, so they won't be needing it here. It's a hard language, but I'm pleased to say I took all of my school exams in Welsh. I'm proud of that – and I'm proud we have our own language, too."
Speaking of Big Brother, what did you love about your time on the show?
"I loved the fact that it was real, and that none of us knew what we were getting out of it. There was no social media, so instead we just enjoyed the experience. I think it was the best TV back then. Now people go on reality shows for fame. It's all a bit naff now."
You were 23 when you entered the Big Brother house – and next year you turn 40. Have you thought about any future goals?
"I can't believe you've just reminded me that I'm 40 next year! I actually can't believe it myself. I've achieved so much since doing the show. As far as career goals I'm now a property investor, with five 'Buy to Lets' in and around London. These properties are my other 'babies' ­– and my main source of income – so I feel like I've achieved my goals. However, if I got asked to be on a big show I'd be very happy. I would love to appear on I'm A Celebrity Get Me Out Of Here! So, let's see…"
Finally, as we ask each and every celebrity, please tell us one strange fact or party trick that you've never revealed to your fans… until now…
"I'm double-jointed and can click my shoulders out of their sockets. Yes, I'm aware it's really gross!"
Watch Imogen in the new series of Celeb Ex in the City which continues every Wednesday at 9pm on MTV.
To see your company in any upcoming features we are arranging please email editorial@hurstmediacompany.co.uk