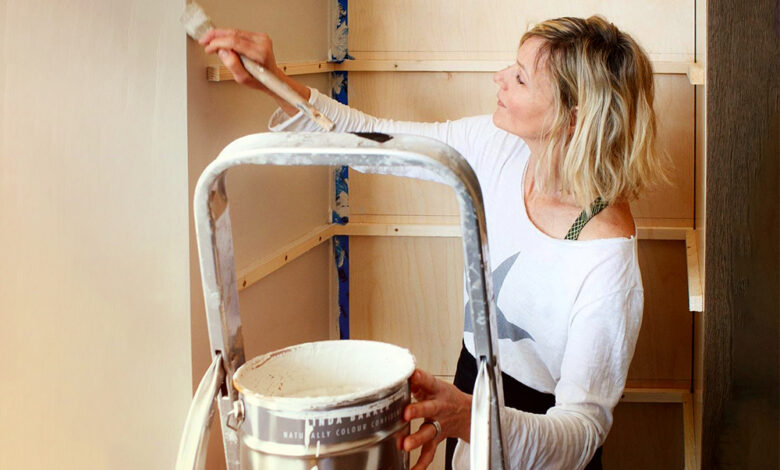 The interior designer on home trends, keeping fit, and why she's planning on climbing a mountain for her 60th birthday.
Linda, you burst on to our screens on Changing Rooms back in the Nineties. What are your fondest memories from the time on the show?
"I loved the energy of the show, particularly its fast pace and the opportunity to get huge transformations done so quickly. It was very exciting!"
Do you still see or catch up with any of the other presenters and designers?
"From time to time we see each other at industry events, catch up on the phone or via social media – it's lovely to see how much we've all moved on over the years."
What's the most memorable room you made over?
"I remember vividly my very first show – how could I not? The adrenaline was high and everything was so new. I worked with an overhead projector casting a huge artwork onto the walls of a living room which I then painted. It was such a thrill to finally get to work on the programme after so much planning."
Let's talk 2021 home trends. What should we be doing in terms of themes and colour scheme?
"Anything goes these days, and it's entirely down to personal choice. Dark moody walls or pale Scandi style are both in right now, but no one is going to tell you that you're wrong in your own personal choice! I am personally using a lot of floral patterns in my room designs, both on fabrics and hand painted designs over entire walls."
If you had the cash to splash on just one room, what should you do and why?
"The kitchen is the obvious room of choice, as this can often be the most expensive room in the house, but at the moment my attention is on garden rooms. Blurring the outside to the inside with luscious greenery is something I'm very passionate about. I adore seeing lots of house plants and tall, vertically planted walls, both inside and outside the house. You don't need acres of space, either – your kitchen, living room or bathroom can be transformed with lots of plants and flowers, both real and fake."
Are there any budget-friendly ways you can transform a room without eating into your overdraft?
"Paint is the clear winner for its quick and transformative powers. You can change the vibe of a space entirely in just an afternoon."
Tell us all about the Linda Barker Home range… why did you choose to bring it out and what was your inspiration?
"My floral patterns are inspired by nature and in particular the hedgerows in the fields around my home, which is why I named it the Field and Flower collection. I adore the tangle of wildflowers and I'm inspired even by those plants we often pull out of our garden, from the twisted bindweed and dandelion to the shepherds' purse seed heads. Everything gets close attention – even the weeds!"
You lived in London for years before relocating back up to Yorkshire. What's your home like and what made you fall in love with it in the first place?
"It's a glorious and elegant Georgian house in the middle of the countryside with a lovely big wraparound garden. It's a massive restoration project for us, both on the house itself and in the gardens. We are loving the hard work that goes into a project like this."
Are you forever redecorating?
"I am – I'm fortunate to have always had a job that I love and I'm always thinking about my next decorating project. Thankfully clients that I work with allow me to explore often weird and wonderful design ideas and I'll always put these ideas into practice in my own home too."
What's the favourite space in your home and why?
"My kitchen. I have designed each and every detail and because of that the space is completely bespoke to how we live. I have used my own paint colours alongside reclaimed timber and gorgeous worktops. It works so well without being at-all precious or delicate. It's full of plants, colour and light and is a great space to cook and party in."
When you want to switch off what is it you love to do best?
"Wild swimming is a passion and I'm in the water all year round, even when there's ice at the edges! It's easy now that water temperatures are above 12 degrees but it's such a thrill when you can get your body into freezing water – it reminds you how amazing your body really is, simply to be able to survive! I am a yoga lover and I love long distance walking, as well, with the Yorkshire Three Peaks a firm favourite. I keep fit with a personal trainer too, so I love to be active and strong. Gardening is a complete joy, and as you might imagine I love any aspect of arts and crafts including sewing, baking and painting. There's always a project on the go!"
What about cooking? Are you the chef of the house – or is your husband a whizz in the kitchen?
"It's me in the kitchen – although Chris seems to take control of the outdoor cooking. I've just invested in a lovely outdoor charcoal oven so I'm hoping there are more meals to be cooked outside. A perfect night in for me would involve dinner outside, always with friends if possible, while a night out would be a theatre visit or a show, again with friends and lovely food."
You're turning 60 later on this year! How will you be celebrating?
"I'm hoping to climb up a great big mountain, but let's see if I can get a flight out first though. I've always said life is for living – and I'm lucky to be celebrating mine in good health."
Linda's brand new Field and Flower homeware collection is available now online, exclusively at home furnishings retailer Terrys.
To see your company in any upcoming features we are arranging please email editorial@hurstmediacompany.co.uk