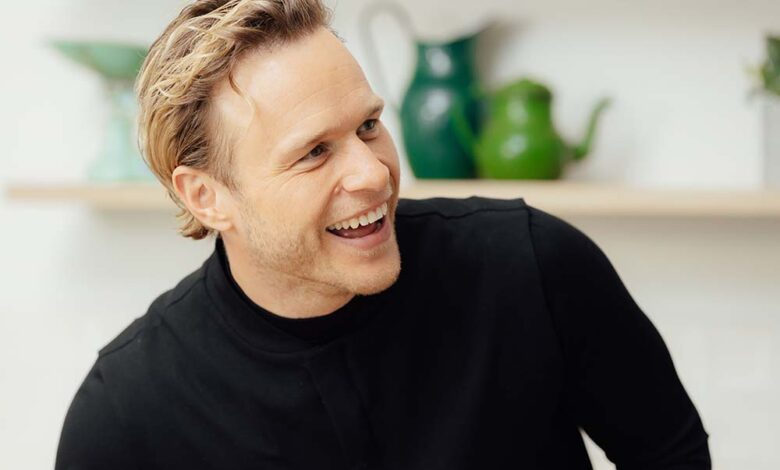 The singer and TV presenter on food, fitness – and fans seeing more of him than they bargained for when he was up on stage…
Olly, tell us about the Peperami 'Ban the Bland' campaign – what made you get involved?
'I've always loved Peperami and it was a real treat to spot them in the fridge growing up. Since then they've come out with so many different delicious snacks, so I jumped at the chance to be involved. I'll generally try most things, so I wasn't too worried about the tasting part – I was looking forward to eating a lot of Peperami snacks, though…"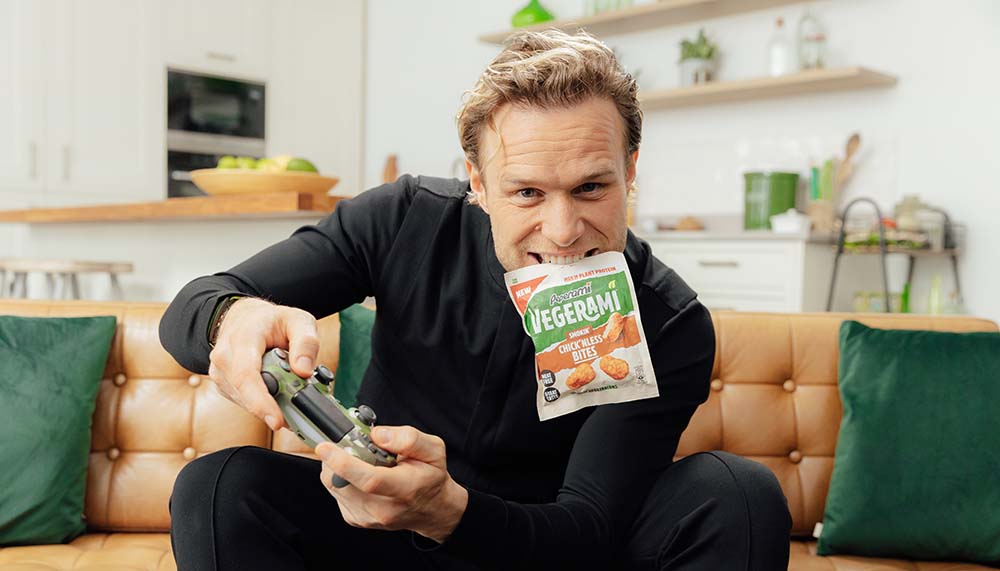 Do you have any food or snack no-nos?
"I like snacks with flavour, so anything that's under-seasoned or bland is boring . A snack no-no was something I was once made to try – dry wheat biscuits with baked beans! The one food I absolutely detest are raw tomatoes, so having a load of cherry tomatoes as a snack would be my nightmare. My partner, Amelia and I don't have any quirky food aversions – but I like sweet chilli sauce on everything."
You mentioned some of your idols in the Peperami Ban The Bland video, so do you have any funny stories to share?
"I'm very lucky to have met, worked and become friends with some of my icons – Robbie Williams, Michael Buble and Sir Tom Jones. Robbie asked me to support him on his European Stadium Tour in 2013 which was a lot of fun, and being a practical joker I decided to dress up like Kylie Minogue in gold hotpants, as well as full make-up and a wig, surprising him in his dressing room. I was close to doing it on stage, but I wasn't quite sure how he'd react! Luckily he found it hilarious."
Olly kept the fact he fancied David Beckham's wife, Victoria, quiet during Soccer Aid!
What about celebrity crushes?
"I don't have any current celebrity crushes, but I've said it before – I was a huge Posh Spice fan growing up, and even had a photo of Victoria in my wallet. I didn't reveal that to David Beckham when I saw him at Soccer Aid though!"
You've been known as a ladies' man in the past, so what did it take for you to settle down?
"I'm very fortunate to have met Amelia at the time in my life that I did. I was ready to settle down, and just going into lockdown meant my work was put on hold and I was able to spend quality time with her, building the foundations of our relationship. She's brilliant and I'd love to have a future with her."
Do you and Amelia have any plans to get married?
"Marriage and kids – well, you'll have to wait and see, as we're in no rush and are very happy as we are right now. Being a pet parent has definitely been a good next step! We wouldn't change our dog Missy for the world – she's the best!"
Tell us about your first date with Amelia – how did it go?
"Our first date was actually in a gym – sad I know, but that's genuinely where we met. I got chatting to her in the middle of a group workout session and offered to drive her home – smooth I know!"
Where do you like to go when you fancy a night out?
"There's a restaurant in Essex called Sheesh that does amazing barbecue food – we'll get dressed up and have dinner there with friends, eating while listening to their live music. Having said that, Amelia is a good cook, so she makes lots of great food at home. I'm not so good, but I'm getting better! Definitely being at home during lockdown has made me appreciate home-cooked food, as I've been non-stop for 10 years and often don't get to appreciate that."
What food can you never resist?
"If you made me a banging roast dinner I'd be happy– that's definitely up there as a favourite meal. However, you'd have to try and beat my mum's! My other vice would probably be chocolate-coated peanuts. They're hard to resist!"
What would be your perfect night in?
"Staying in has become a lot more normal over the last few years with Covid, but we genuinely enjoy entertaining at home. Amelia and I will invite our closest mates over for drinks and food, with maybe some games or a TV night. We both love movies and box sets – and there's an endless choice now on all the streaming sites. For Christmas we got a Best 100 Films poster to scratch off, so we're trying to work our way through that. One of the best ones on there that I hadn't seen was Little Miss Sunshine – it's such a great film."
<
Olly and bodybuilder girlfriend Amelia's first date was in the gym!
Amelia is a body builder, so do you keep in shape together?
"Amelia is a bikini model and has won numerous competitions, so she really understands the dedication and commitment of fitness around competing. She's taught me a lot, and it's become part of our lives to train well. It's no longer a chore – we both train because we feel the benefits both mentally and physically. It's great that we are both on the same page and can encourage each other."
So does training mean you can eat what you want?
"Amelia trains most days, so she can afford to snack on whatever she wants – but I can't get away with it as much! Now I'm 37 I have to work hard to keep in shape. Food is definitely something we enjoy as a couple though, and we still love takeaways and going out for nice dinners."
Speaking of nice dinners makes us think of Christmas, which will soon be here. Do you have any plans yet?
"Christmas is pretty traditional in our house, with all the family around, so I'm looking forward to that. It usually comprises of eating way too much and falling asleep on the sofa in front of a Christmas film, as I'm sure many people can relate to! I'll also be working on some TV projects over the festive period, as I have a new show coming out next year called Starstruck that I recorded earlier this year. I can't wait for everyone to watch it."
You're an advocate for mental health and have spoken about it a lot in the media. Do you have any tips for those who might be struggling?
"I'd definitely encourage talking to someone. You'd be surprised how many people will empathise ­– and probably open up themselves. I think it's becoming more acceptable for men in particular to talk openly about their mental health. I'd also advise anyone to go and speak to an impartial counsellor. It definitely did me the world of good having a stranger give me their impartial views and advice. Finding a hobby, or something that makes you feel good is always a positive, too. It's an outlet for any stress or anxiety, even if it's as simple as going for a walk."
Olly loves touring, considering it "the best part of my job"
We know you're going on tour next summer – why do you love it so much?
"I'm excited to get back on the road again. It's genuinely the best part of my job, being able to perform in front of fans up and down the country. Touring this year has obviously been very different, with a lot of Covid measures in place, but usually we'd have a few hours before a show to hang out backstage, seeing friends, family and guests of the show, as well as having a bit of food. When we're all dressed and ready to go, the band and I do a ritual huddle behind the stage. My brass section plays a tune we've been doing for years, and we all have a sing and dance before we walk on stage. It's a special moment, and we've done it for nearly a decade now!"
What's been your most embarrassing moment on tour?
"Definitely ripping my trousers on stage! I dropped to my knees at the end of a song, with the spotlight on me before it went to black at the end, and I heard a massive rip at my crotch. Luckily I was wearing pants! I had to have a crew member throw me a towel on stage and sheepishly exit to change my trousers!"
What else is on the horizon for you?
"I'm definitely keen to release more music next year, as it's been a while – I'm very excited about that. I'll also be focusing a lot on TV work, so keep your eyes and ears peeled for more of me in 2022!"
Olly has been challenged by Peperami to take on the nation's food fails and trial Britain's saddest snacks. Calling for Brits to #BanTheBland, Olly offers a solution with his very own Peperami chicken bucket to be used when chilling and watching TV on the sofa. To watch the full episode, visit @PeperamiTV on Instagram.
To see your company in any upcoming features we are arranging please email laura@hurstmediacompany.co.uk or editorial@hurstmediacompany.co.uk