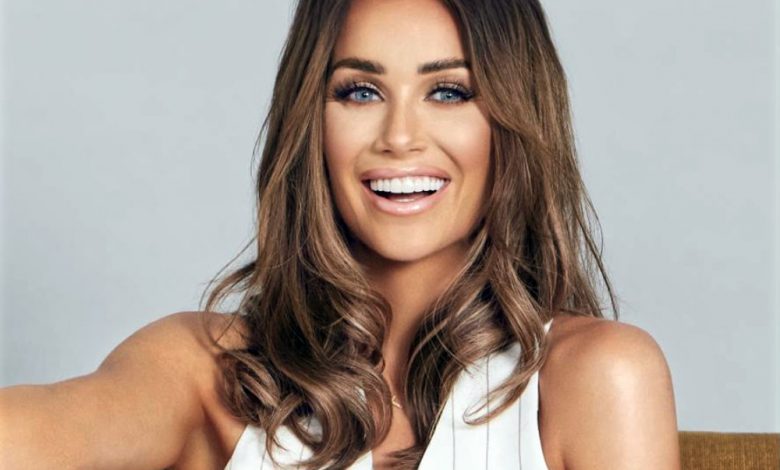 You relocated to Dubai back in April. Why is Dubai life the right life for you?
"Dubai is where I spent most of my influential 20s. I got used to the sunshine, their work hard/play hard mentality and the endless activities and events. It's an amazing feeling to live somewhere that never bores you. Plus us ladies do enjoy a lot of free cocktails, which always brings a smile to my face after a long week! In all seriousness, Dubai is such a cosmopolitan and innovative city, so returning here makes me feel like anything I want to achieve is possible. Most expats are here to build their careers, and I personally enjoy being surrounded by ambitious and competitive individuals from so many different walks of life."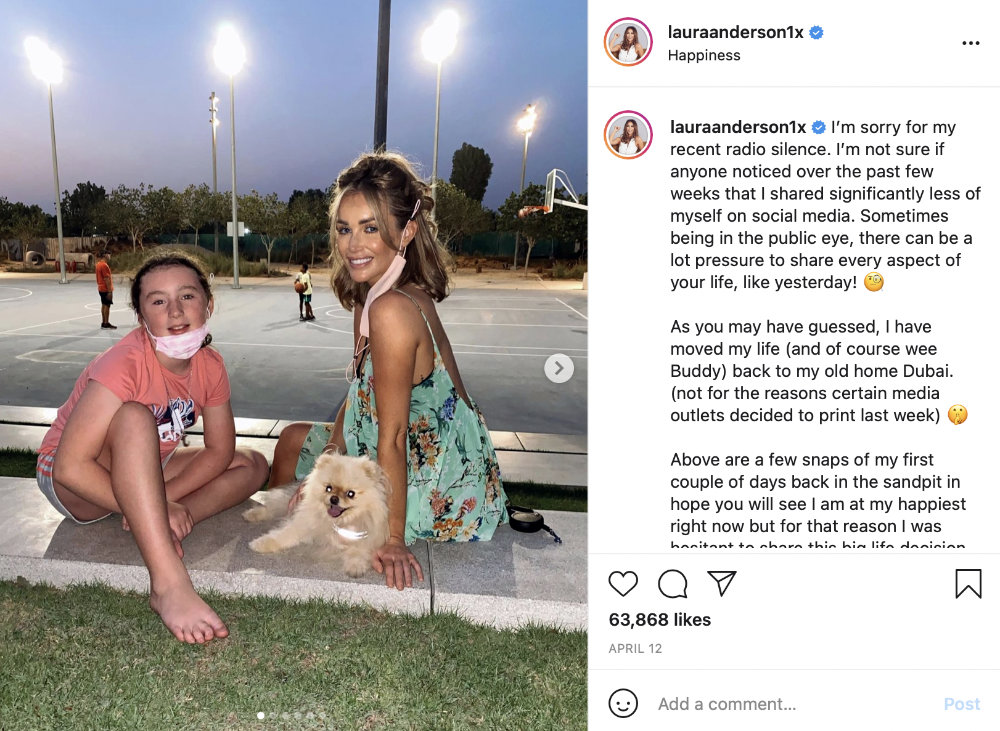 Explain Dubai in one sentence to someone who's never been…
"Dubai is a lot wilder yet deeper than you think."
Don't you miss drinking in a good old British boozer, tottering out in your heels and hitting the local kebab shop?
"Who said I can't do that here? I spend most of my time in British bars, perhaps more Irish actually as they have the best live entertainment (eye candy) and know how to get the crowd going. Most of my friends would agree there's a time and a place for snazzy rooftop bars but a good old dingey pub that's cheap as chips is the way to my heart. We just don't stagger into kebab shops after dark – Bob's Fish & Chips or everyone's best mate, Maccy Ds, does it for me!"
And what about the fact you can't pop down to your local supermarket and pick up a bottle of wine?
"OK you got me; this can become a little tedious, but the law has recently changed and you no longer need a license to purchase alcohol. However, there's not many MMI shops (alcohol shops) around, especially not selling wine for under £20. All this means is you buy in bulk at the 'secret' alcohol outlets in other emirates like Sharjah and Abu Dhabi, or force your guests to top up your collection at Duty Free. Oh, how I miss my cabin crew days…"
What else are you missing about the UK?
"I just found somewhere next to where I live that sells Greggs sausage rolls, so basically my life is complete. Of course I miss the UK'S fresh air, especially as during the summer months Dubai can hit 50°C, with 70% humidity. Also, to be honest, the ease of speaking and being easily understood can sometimes be a chore. The language barrier takes a lot of patience from both parties, and I can definitely think of a few funny miscommunication stories over the years."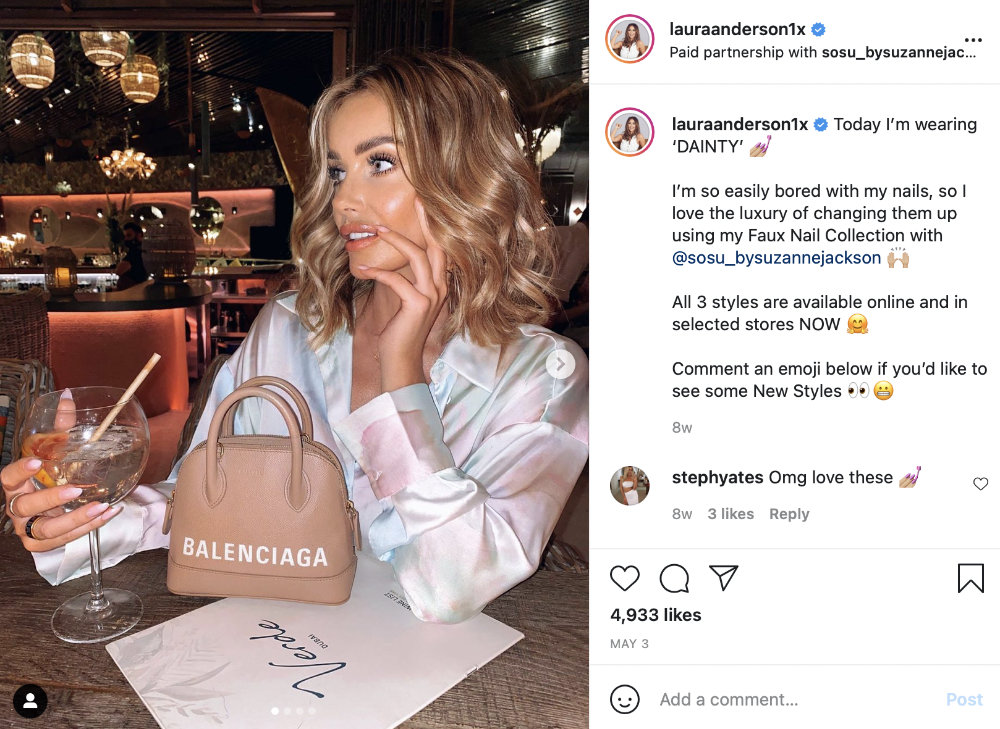 You recently announced you're back together with the lovely Dane. What's your favourite place in Dubai to go out for dinner and drinks?
"This question is impossible, as we've been trying so many new places recently. We'd definitely go back to The Orangery at Phileas Fogg – it's got stunning décor and an extensive menu that does a unique twist on global cuisine. What impresses me the most when dining out is Dubai's impeccable service standards. We experienced this to the highest level at The Orangery and recently at Atlantis Seafire restaurant. The chef at the steakhouse, Raymond Wong, is half Chinese, half Celt, and he was such a delight, serving us at our table and throwing in so many intricate surprises making our experience nothing short of five stars."
Your Instagram is filled with you wearing incredible dresses and going out to amazing restaurants and hotels. Do you prefer going out or staying in?
"I 100% prefer staying in – especially now being in a relationship and living with Dane. We've put a lot of money and heart into our new home, and I want us to enjoy it. The good thing about Dubai's weather and both of us working for ourselves is that we can venture out during the day. Day drinking really is my favourite thing to do, especially in the sun. Being tipsy and getting home after a good brunch at 4/5pm – resulting in a full night's kip and a fresh morning head – really is the dream. If only it always went to plan…"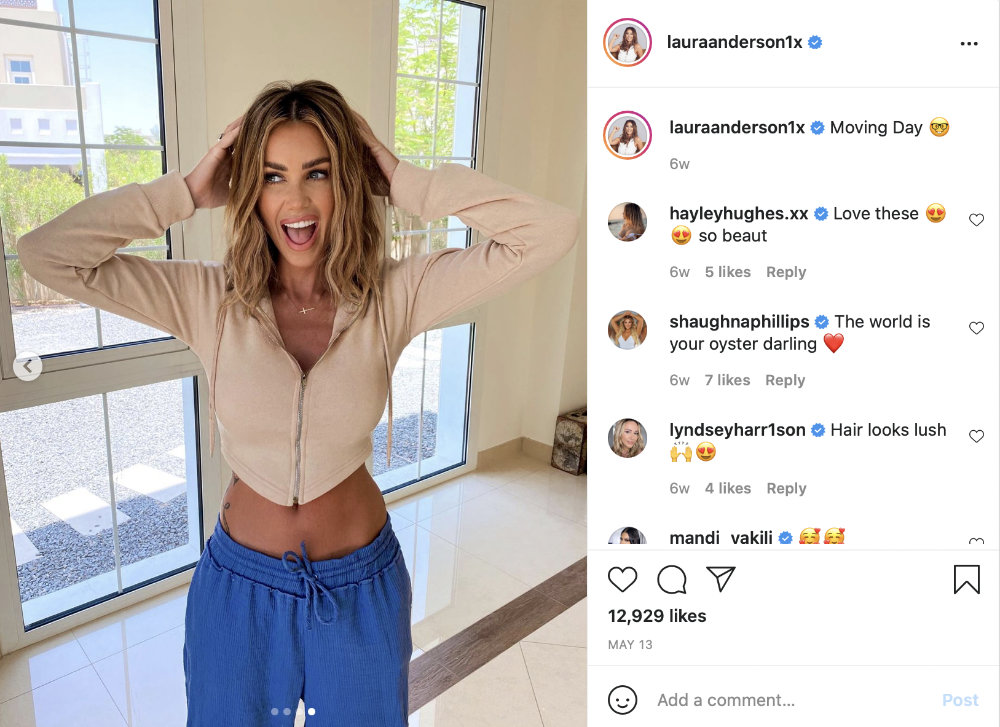 What does your dream night in with Dane involve?
"Dane is 100% the bartender and the cook. He usually asks me what I fancy and conjures up a masterpiece from there. The perfect night in would literally be on the sofa, AC blasting, watching our favourite show at the moment, Nashville. We also love a good horror movie after a few of Dane's 'espressotoffinis' – if I'm feeling brave."
Let's talk Dubai during Covid. From the UK media reports it's as if Dubai opened its doors and let everyone in to have a massive party. What's the real truth from someone living there?
"That is 100% not the case. Dubai, like in many other circumstances has extremely strict rules when it comes to health and people's safety within the Emirates. To put things into perspective; last year when Covid hit the UAE made it a legal requirement to wear masks in and outdoors straight away – there was no messing about. The lockdown here permitted no outdoor exercise during the three-week lockdown, and permits were obtained to go to supermarkets. Drones were even policing the streets while also spraying the roads with disinfectant. It is only now that hotels and restaurants have returned to full capacity. Social distancing is still permitted, so there's no standing at bars or dancing. Dane hasn't worked consistently in well over a year as entertainment was banned. I think things seemed to look back to normal here because a lot of places are outside, however there are social distancing monitors in pools, and CID checking regulations at venues each night. If procedures weren't being adhered to they would simply be shut down with immediate effect."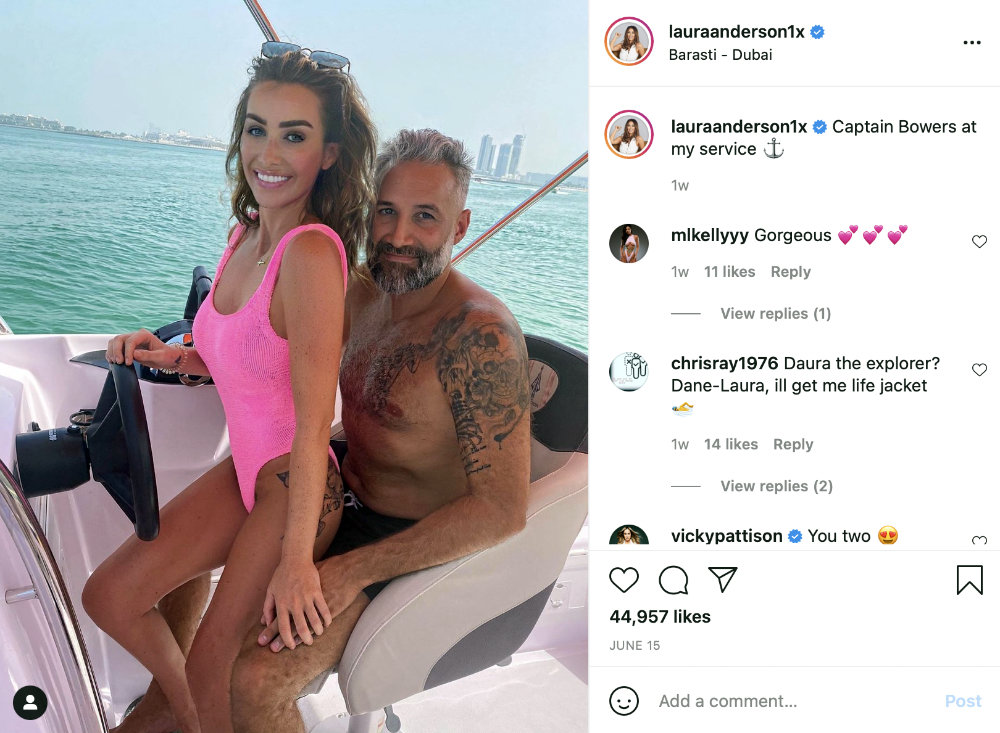 We've been reading about Dane embarking on an intensive 12-week fitness boost as he feels uncomfortable with how he looks. Do you think living in Dubai piles on the pressure?
"Living in Dubai piles on the pounds! We have a saying that when you move over you can suffer from 'The Dubai Stone' – because Dubai is a huge city of socialising, with that comes a lot of fun; in other words, calories. Perhaps there's a taste of reality more than pressure, as in warmer weather we naturally wear less clothing and have to face our bodies head on, but I believe we all have choices. I was unaware Dane was unhappy with his body to that extent. I fully support and I'm of course very proud of his decision to make healthy changes in his routine. I think exercise is good for the mind as well as the body."
Your own figure is incredible – what's your daily fitness routine?
"I wouldn't say that – I've learned my better angles. I've danced and pretty much walked anywhere since I was young, and I carry that on now. I love walking my dog and going for runs to get my daily steps up. I eventually succumbed to an Apple Watch and now really notice a difference in my motivation now I can track my steps. I try to book fitness classes with friends, too, as I enjoy working out more if I've someone to moan with."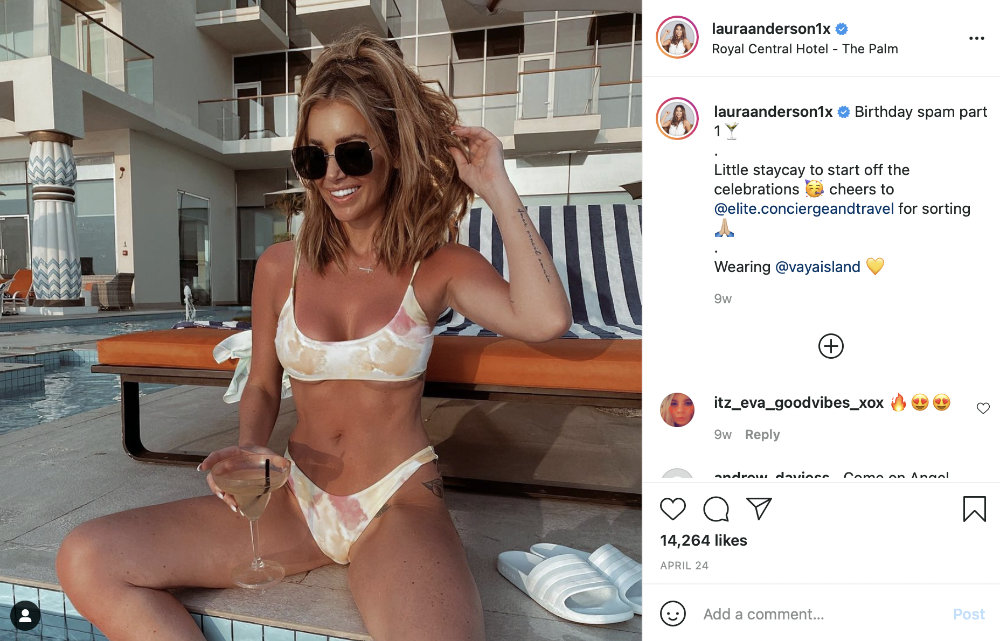 You say you're a massive foodie – what do you eat on a typical day?
"I'm obsessed with cereal and pasta! Obviously, I can't eat those every day because I don't currently reside in heaven. Luckily there's fewer naughty temptations living in the heat, so I'm more inclined to choose a salad over pie and chips. I never eat the same thing, but today Dane made us poached eggs on toast about 11am (I always have a cup of tea about 7am when we wake up), then lunch was Chicken Shawarma, which is a wrap with spiced chicken and chips in it. I picked at some chocolate, then Dane made us prawn and chorizo tagliatelle. I may have also slipped in two glasses of red just to end a beautiful day."
You've both been open in the fact you want babies together. Will you stay in Dubai when you eventually fall pregnant? Just imagine the heat and those swollen ankles…
"I get swollen ankles at the best of times so I'm definitely not looking forward to that part. Yes, we will be having our family here as this is where we live now. My sister had a great experience giving birth in a local hospital (all are private) and my niece has a great life. It's a tad pricey but we'll make sure we work hard to provide our future family with everything they need."
Let's talk business. How's your new company, Not Another Dress, going?
"I'm excited and a little nervous. I'm learning on the job just like everything I've accomplished since Love Island. I was searching for an opportunity – and I thought why not create one? I'm obsessed with fashion and shopping, so I've merged the two together, and am currently creating my own brand called Not Another Dress. It's amazing to be able to work with clothing brands through Instagram, but I'd love to wear and promote my own now. I wanted to create something for a slightly older demographic. I value quality fabrics over fast fashion, and need my outfits to hang in all the right places and hide the less forgiving. I want to make luxury fashion more accessible for those that deserve and appreciate it most, and want to help translate a woman's sass through their wardrobe and present a brand that can cater to every occasion."
What about your hair extensions company, LA Lox. Why should readers use your extensions over any other brand?
"I'm a hair extension fanatic and created my own brand because I'm a trained hairdresser and extension specialist myself. It made sense to put my name to something I know a lot about, plus have true passion for. I've a great team that run LA Lox in Ireland, and I'm currently bringing the brand to UAE. The difference with LA Lox is single weft packaging, which makes mixing colours so much more cost effective. Our invisible clip ins are a firm favourite, and the extensions offer a perfect root blend so that no one ever knows it's not your natural hair. Celebrities like Olivia Bowen, Kate Lawler, Joanne Clifton and Montana Brown all swear by the quality and price tag, so I'm a happy CEO."
Listen to Laura's podcast First. You can find her nail range Sosu by Susanna Jackson and hair extensions, LA Lox by clicking the links.