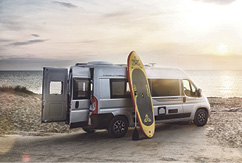 Are you eagerly planning to reconnect with the beaches of Devon or the pristine waterfalls of the Peak District? If yes, then an Auto-Trail motorhome should be your first point of call.
Touring the UK in the comfort and safety of your own Auto-Trail motorhome is not only a controlled environment for your family, but also grants you with the sense of freedom you have been yearning for in recent times.
British built and with 38 years' experience, Auto-Trail manufactures over 40 diverse models, ranging from a nimble 5.41m compact leisure vehicle, to a grand 8.79m coachbuilt motorhome. Starting from £42,115, Auto-Trail motorhomes offer a full range of luxurious bed styles, modern kitchens, spacious bathrooms and a variation of specification and enhancement packs.
For your peace of mind, all 2020 motorhomes come with a comprehensive five-year Habitation Warranty and five-year Body Construction Integrity Warranty as standard (Body Construction Integrity Warranty can be extended to 10 years).
So, what are you waiting for?
Auto-Trail motorhomes are designed to provide you with the essential home comforts while you experience the UK's most breath-taking scenery. There will be no need to countdown the days to your next holiday, with an Auto-Trail motorhome you can get up and go for any spontaneous trip away.