What is the best way to get cosy on a winter's day? With a cup of your favourite hot drink accompanied by a mouthwatering sweet treat of course.
So for the days that it is too cold to venture outside to your favourite cafe, upgrade your morning cuppa during the countdown to the big day with our handpicked selection of advent calendars.
These wonderful calendars are worth a look for anyone partial to some afternoon tea or biscuits with friends.
1. Whittard's Coffee Advent Calendar for Two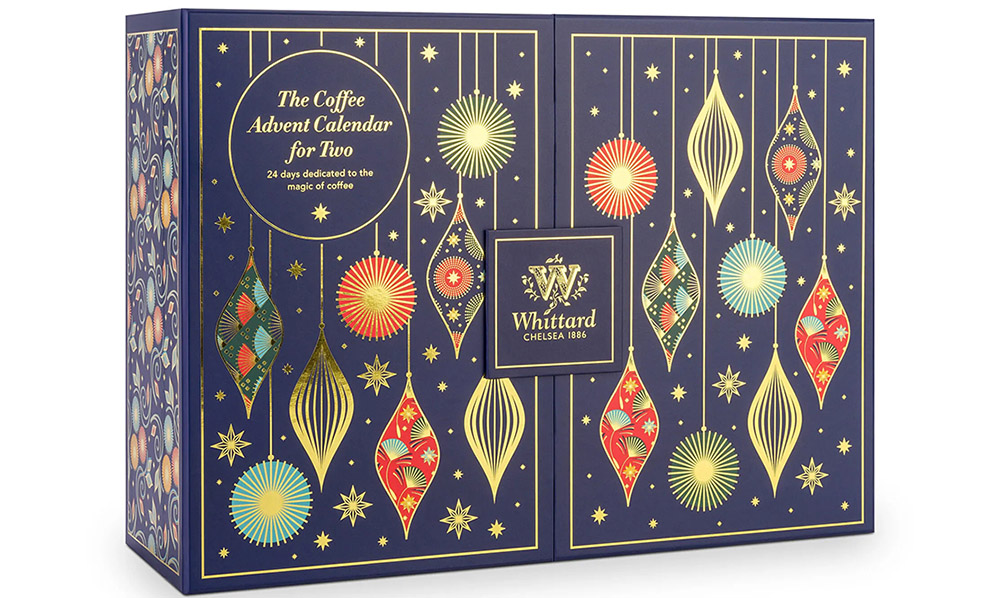 Delve into an advent calendar like no other; because the little ones shouldn't get to have all the fun. And all you need once opening a door is your favourite mug, a kettle, a loved one and dash of Christmas cheer.
A truly special gift for the coffee lovers in your life, take them on a journey of discovery from 1 December through to Christmas Eve, with two easy-to-use coffee bags to uncover every day.
This calendar contains 48 coffee bags for 24 days of December and features some of their signature blends such as Whittard House Blend, Guatemala Elephant and Festive Coffee.
Enjoy hot or iced. Make your coffee your favourite way as an Americano, latte, mocha, cappuccino or any style you prefer.
Find out more at whittard.co.uk
2. Tiptree's Jam Advent Calendar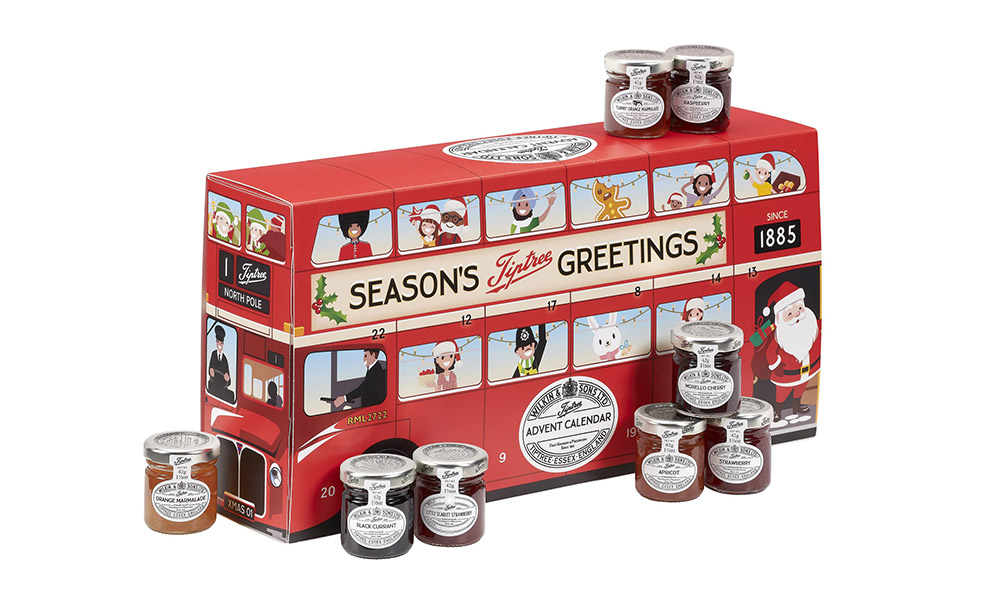 If you can't go without your early morning toast, or love a cream tea, we have the perfect advent calendar for you.
The Tiptree Jam Advent Calendar is modelled on Tiptrees's original 1967 Routemaster Double Decker Bus which they operate as a mobile Tiptree Tea Room and Cocktail Bar. The calendar contains 24 mini jars, one for each December day in the lead up to Christmas.
There are three miniature 42g jars of each of eight varieties of their most popular conserves and marmalades; Apricot, Little Scarlet Strawberry, Raspberry, Black Currant, Strawberry, Morello Cherry, Orange Marmalade Fine Cut Peel and 'Tawny' Orange Marmalade Thick Cut Peel.
Enjoy on toast, with a pastry, in porridge, or for a festive cream tea, Tiptree recommends spreading their conserves onto a freshly baked spiced cranberry scone with a generous helping of clotted cream.
Find out more at tiptree.com
3. Teapigs Tea Advent Calendar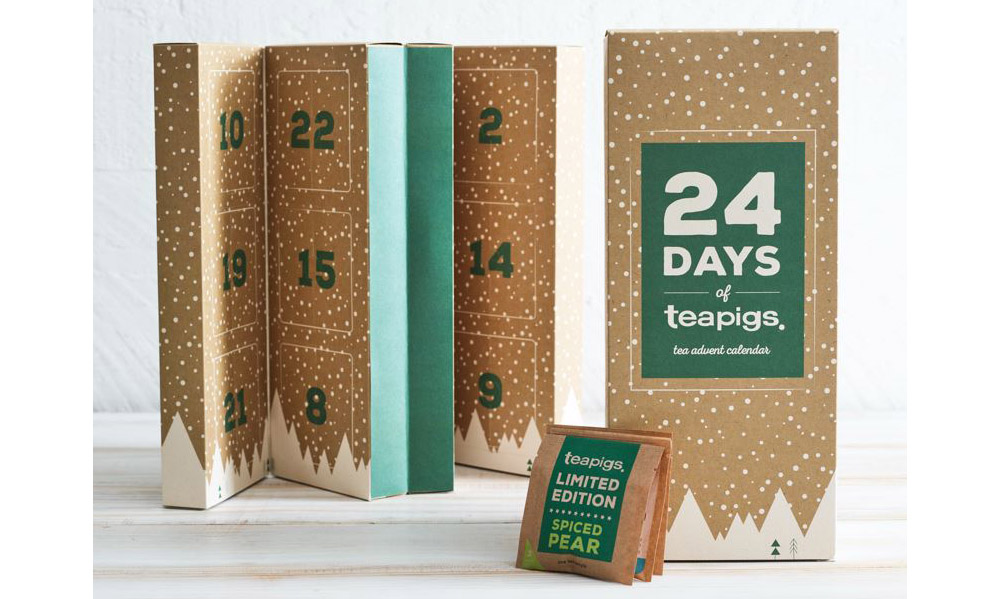 The temperature is dropping which means tea, tea and…yup, you guessed it, more tea! And it also means something else; Christmas will be here before we know it.
teapigs is bringing back some much-loved winter favourites, as well as some very exciting new products which are perfect for everyone – from brew connoisseurs to those who simply like to catch up over a cuppa.
The 24 days of teapigs Christmas Tea Advent Calendar allows tea lovers to don their tea tasting hat and slurp their way through a new blend every morning in the run-up to the big day. This year the calendar includes some limited edition wintry blends and cold brew teas, too.
If previous years are anything to go by, these won't hang around for long!
Find out more at teapigs.com
4. Lola's Cupcakes Brownie Calendar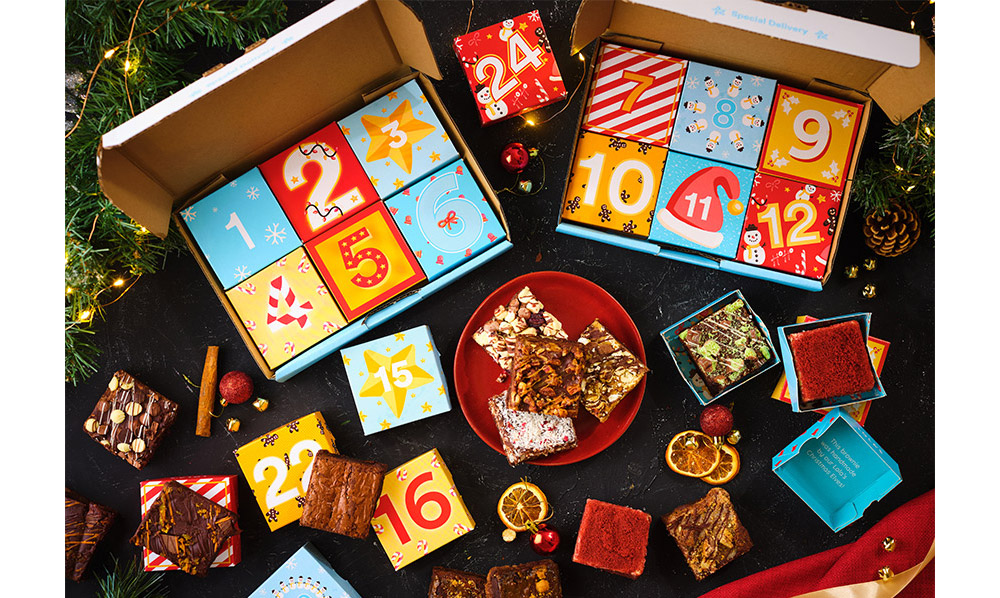 Perfect for those with a sweet tooth or someone who doesn't mind sharing, Lola's Cupcakes have made their 2021 Brownie Advent Calendar again.
Lola's chocolate brownie advent calendar is the perfect way to get into the Christmas spirit. Enjoy 24 delicious full-size brownies, with a six box delivered every six days to ensure you can enjoy your brownies at their best.
Each Belgian chocolate brownie is individually boxed and beautifully numbered with the day to be eaten. The perfect treat in the run-up to Christmas or to be given as a gift.
The deliveries include brownie flavours such as Original, Pecan, Caramel Popcorn, Rocky Road, Mint Chocolate, Chocolate Orange, Red Velvet, Cookies & Cream, Chocolate Heaven, Millionaire Shortbread, Coconut & Raspberry.
Find out more at lolascupcakes.co.uk
5. T2 Tea Calendar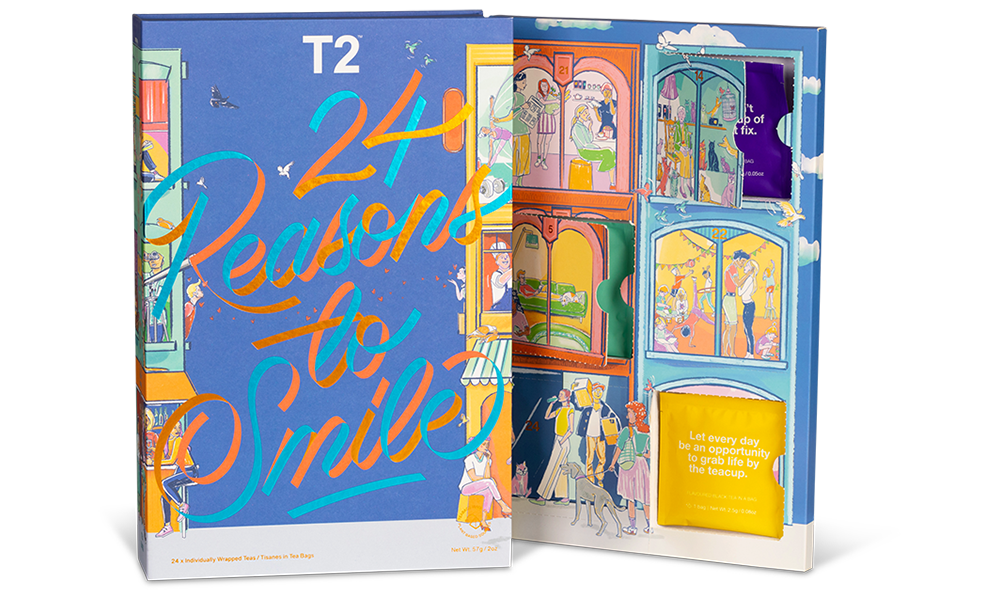 Cups at the ready, tea lovers! The countdown is on and each of these teas is here to help you sip all the way to Christmas Day. This set contains 24 teas and tisanes in teabags await your discovery – ready to dance on your palate, sing to your senses and leave you with a little wisdom to contemplate.
So, teas the season to be jolly and start each day the T2 way, discovering delicious tea done differently, with a cuppa guaranteed to raise a smile.
Find out more at t2tea.com


6. Walker's Shortbread Calendar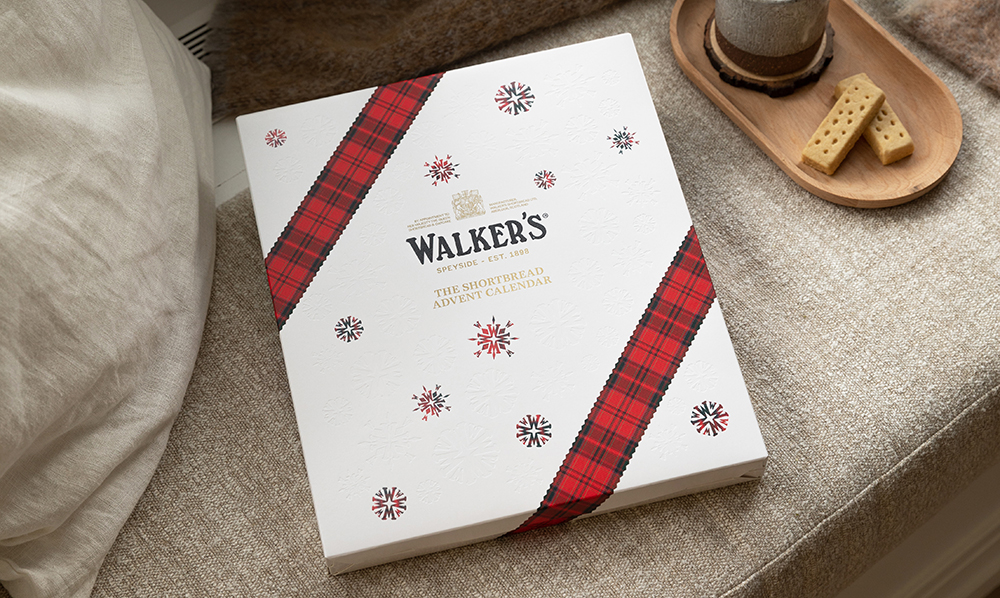 The classic Walker's Shortbread Advent Calendar is back by popular demand. With delicious Walker's Shortbread products behind every window, from Pure Butter Shortbread Fingers, to Rounds and Mini Chocolate Chip Shortbread, the limited-edition calendar is the perfect indulgent treat throughout the festive period.
With its seasonally sleek new design, in line with the recent Walker's Shortbread rebrand, the calendar features a clean white background, embossed with an eye-catching snowflake design. The new Walker's Shortbread logo and prestigious Royal Warrant also take a prominent place on the calendar's cover, with the brand's trademark tartan featuring within an elegant ribbon wrap and contemporary snowflake embellishment.
The perfect way to wake up each crisp winter morning, each of the 24 advent windows features an individually wrapped, bite-size Walker's Shortbread treat, with each door adorned with beautiful gold foil digits.
Find out more walkersshortbread.com
7. Bird & Blend Tea Co. Christmas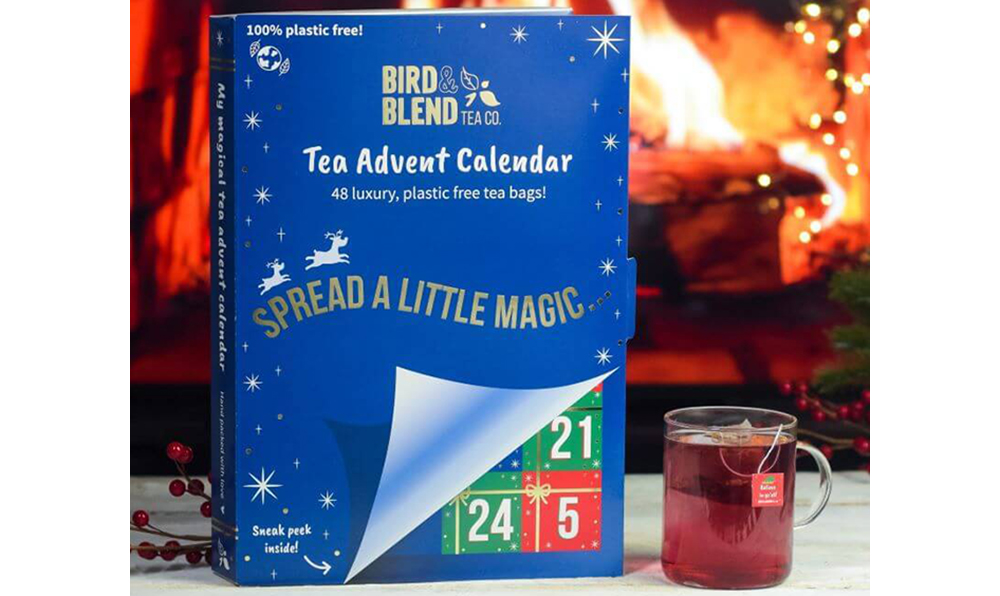 Every year Bird & Blend bring out a brand new, limited edition Tea Advent Calendar. This year they want to spread kindness and happiness which is why they have an extra special treat with not one but two tea bags in each box. You can share your advent experience with a special someone, gift it or you can experiment with it. Try it hot, cold or as a latte.
You'll have much more tea with two bags per day. Perfect for sharing or experimenting with new ways of enjoying these Christmas blends. Treat yourself and sip on brand new blends and special edition Christmas flavours like Snowball & Hazelnut Rocher. Magical experiences are included in your daily brew with a daily kindness calendar interactive digital tasting notes diary.
You can also choose between a regular or a caffeine-free version.
Find out more at birdandblendtea.com
8. Bonne Maman Jam Calendar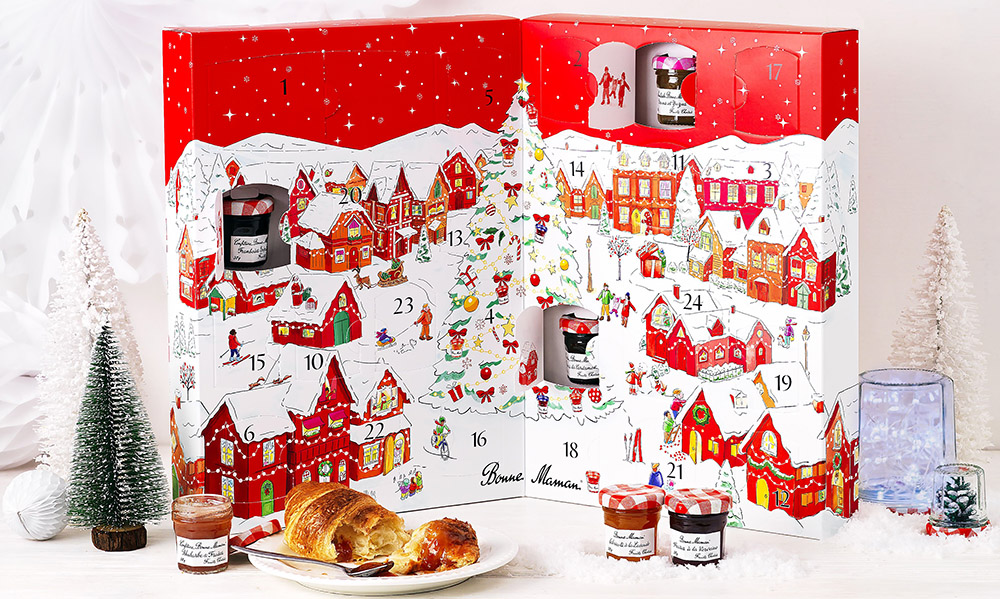 Start the lovely build-up to Christmas with an exceptional advent calendar filled with 23 different mini jars of delicious jam and two special surprise gifts from French conserve specialist, Bonne Maman.
The perfect way to say Joyeux Noel to loved ones during the holiday season, the calendar contains 23 adorable mini jars of jams and marmalades – each one offering an exclusive fruit variety or unique flavour combination – concealed behind every door. This year the advent calendar also offers two special surprise gifts; the first to start the advent adventure on day one and the other on Christmas Eve.
Providing a delightful surprise fruit conserve to add taste and colour to every breakfast or tea through December, the 30g mini jars include a range of exciting flavours not usually available in the UK, such as Cherry with Spices, Strawberry with Linden Blossom and Mango Peach and Lime plus many more.
Find out more at bonnemaman.co.uk
9. Nespresso's Calendar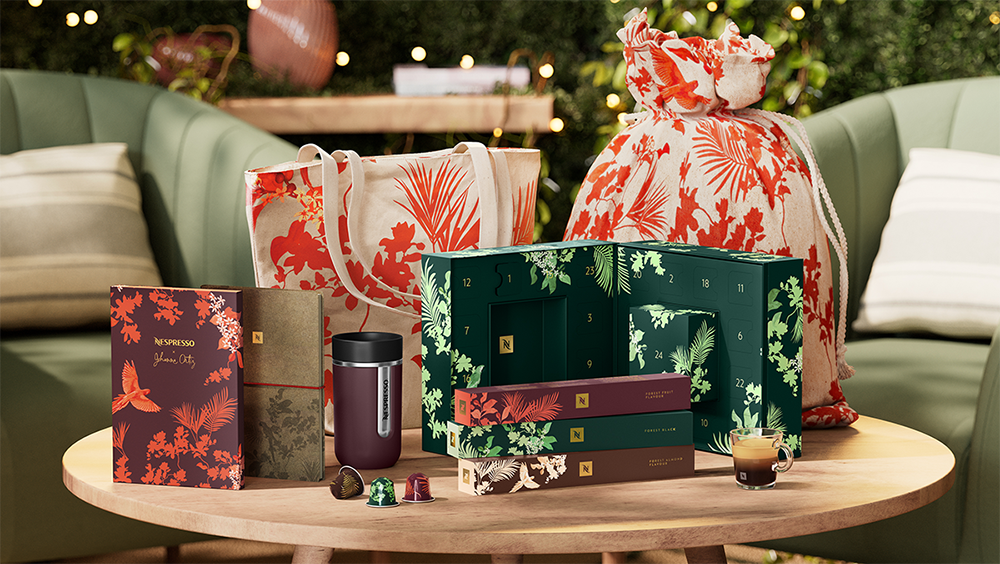 To kick off and add excitement to this year's festivities, get your Nespresso Advent Calendar. For this edition, its stunning packaging has been designed by Johanna Ortiz.
Available in both Original capsules and Vertuo capsules, this advent calendar is the perfect way to start your morning every day this December. A great early gift for the coffee-lover in your life, or an indulgent present for yourself to get your Christmas off to an early start.
With the Nespresso Advent Calendar, enjoy a surprise a day with Original capsules from 1 to 23 December and a gift on Christmas Eve.
Find out more at nespresso.com
10. YawnBrew's Hot Chocolate Calendar
Open a window every day to silky smooth cocoa made with real Belgian chocolate. The 2021 YawnBrew calendar contains brand new blends of cocoa including Sticky Toffee, Choc Biscuit, Choc Roses, Banana Lama, Santas Cocoa, and Christmas Carrot to kick off the season's shenanigans. All blends have been tweaked to get the perfect intensity of chocolate and flavour.
Blends include Salted Caramel, Pumpkin Spice, Cocoa Biscuit and many more.
YawnBrew's chocolate is Made from a 65% dark chocolate base and does not contain dairy or milk powder.
Find out more at yawnbrew.com
To see your company in any upcoming features we are arranging please email laura@hurstmediacompany.co.uk or editorial@hurstmediacompany.co.uk