With HBO's House of the Dragon gripping TV viewers globally, Game of Thrones mania is well and truly back. Fans who, to say the least, were left a little disappointed by the how Game of Thrones concluded back in 2019, have well and truly been sucked back into the GRRM's expansive A Song of Ice and Fire universe.
Truly one of the biggest franchises of all time, it has undeniably changed pop culture. Becoming such a behemoth, it has unsurprisingly spawned a range of merchandise, be it collectibles, jewellery, games, and much more. If you're shopping for a Game of Thrones fanatic, look no further. Checklist has compiled a list of exciting and unique Game of Thrones themed gifts for Westeros fans.
Game of Thrones filming locations tour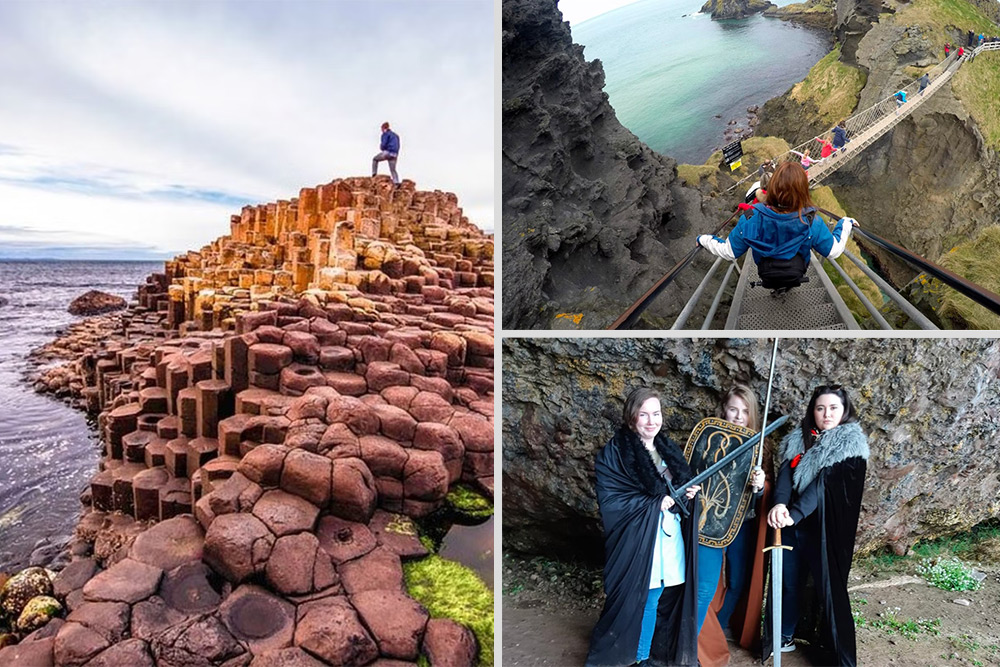 The HBO series used incredible filming locations that made the backdrop for so many iconic backdrops. For any fan of the series, this full-day Game of Thrones Filming Locations Tour is truly a must. You and a fellow fan will embark on a coastal adventure from Belfast, exploring many of the show's most iconic locations. Follow in the footsteps of the Starks, Baratheons, Lannisters and the other great Westerosi families when you visit the Dark Hedges, the ruins of Dunluce Castle, and the UNESCO World Heritage Site Giant's Causeway.
A day that will live long in the memory, the tour features nine stops in total, aboard the official Game of Thrones transport, with a break for lunch mid-way through your adventure. An experienced guide will break down titbits on each location. This incredible full-day tour will immerse you in the world of Game of Thrones like nothing else.
Find out more at Virgin Experience Days
Engraved kitchen utensils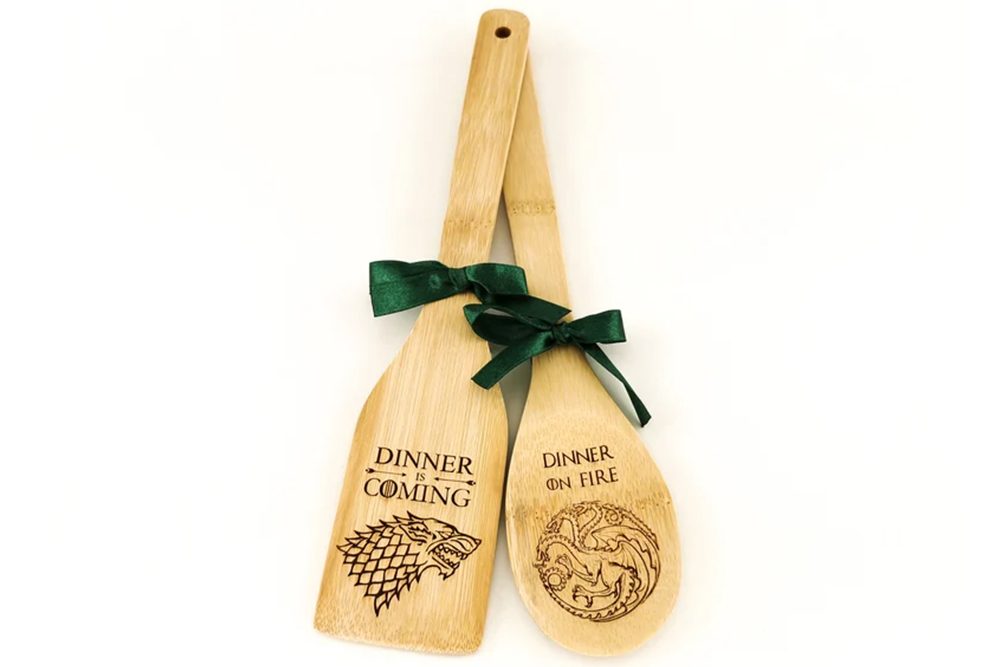 Dinner is coming. Not much else emphasises the magnitude and the pop culture influence of a series than the merchandise it creates. For the Game of Thrones fan who fancies themselves a dab hand in the kitchen, gift them these gorgeous engraved kitchen utensils.
The engraved spatula and spoon are made from natural wood bamboo, making these kitchen utensils more sturdy than plastic, and they won't hurt your non-stick cookware. The spatula is engraved with the fearsome Stark wolf, and spoon with Targaryen family logo are truly memorable gifts that can become mainstays in anyone's kitchen.
Find out more at Etsy
Large handmade wine glass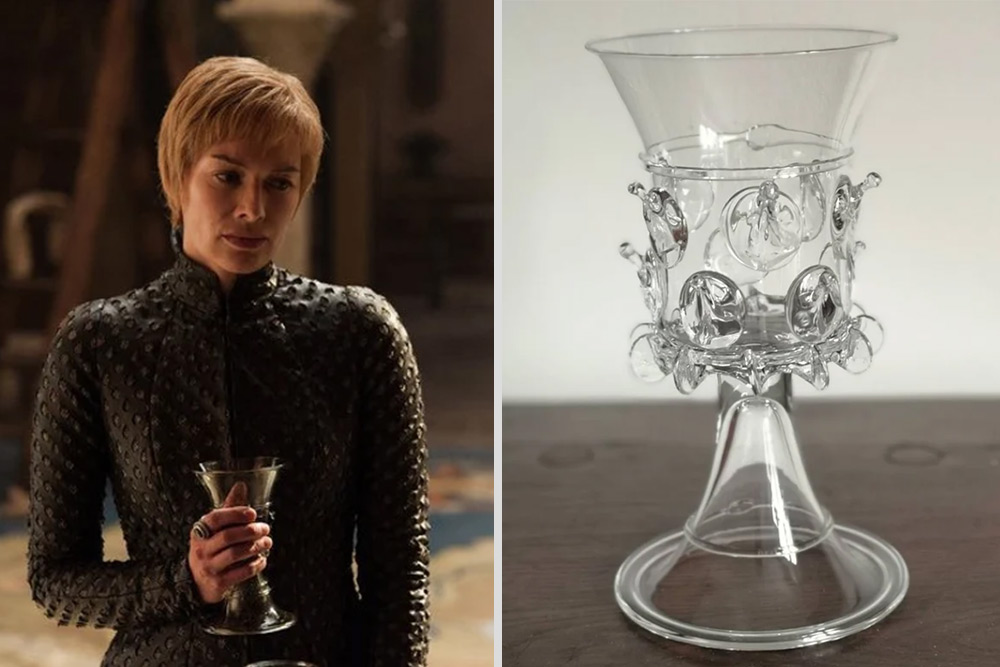 Fans of the show could talk your ear off explaining just how iconic Cersei Lannister is. No more so than when the character many love to hate is sipping wine from her glass, whilst meticulously plotting her next cunning scheme in the Red Keep or at Small Council Meetings. Showrunners at HBO got in touch with Etsy to supply them with a replica of that very glass. Now fans can also own a large glass used by Lena Headey, and plot to their heart's content.
Handmade, the glass displays incredible craftmanship, with the design and feel truly an exquisite work of art. This green, handmade wine glass possesses a plain body decorated with several prunts and a high hollow foot. The presence of tiny bubbles in this glass, as well as its green coloration make it unique and characteristic.
Find out more at Etsy
Game of Thrones sculpted candles eggs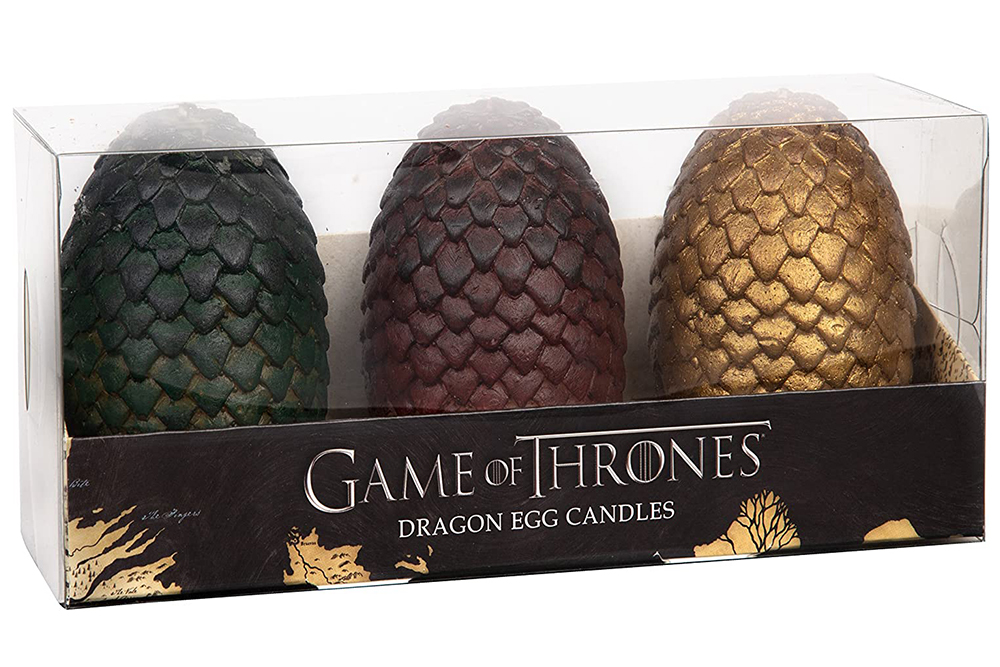 Few characters can match Daenerys Targaryen when it comes to iconic moments in Game of Thrones. Rising from a life of squalor to eventually sit on the Iron Throne, she was the one many fans truly called 'my queen' (sorry Jon).
Watching her dragons hatch and grow into loveable, fearsome beasts was one of the series' highlights. Now fans can own three hand-painted, unscented Candle Eggs, from which Drogon, Rhaegal and Viserion hatched. Very much a conversation starter, these gorgeous candles in green, red and gold can illuminate any room, although the incredible scaled design means you may never want to light them!
Find out more at very.co.uk
Kings Landing 3D jigsaw puzzle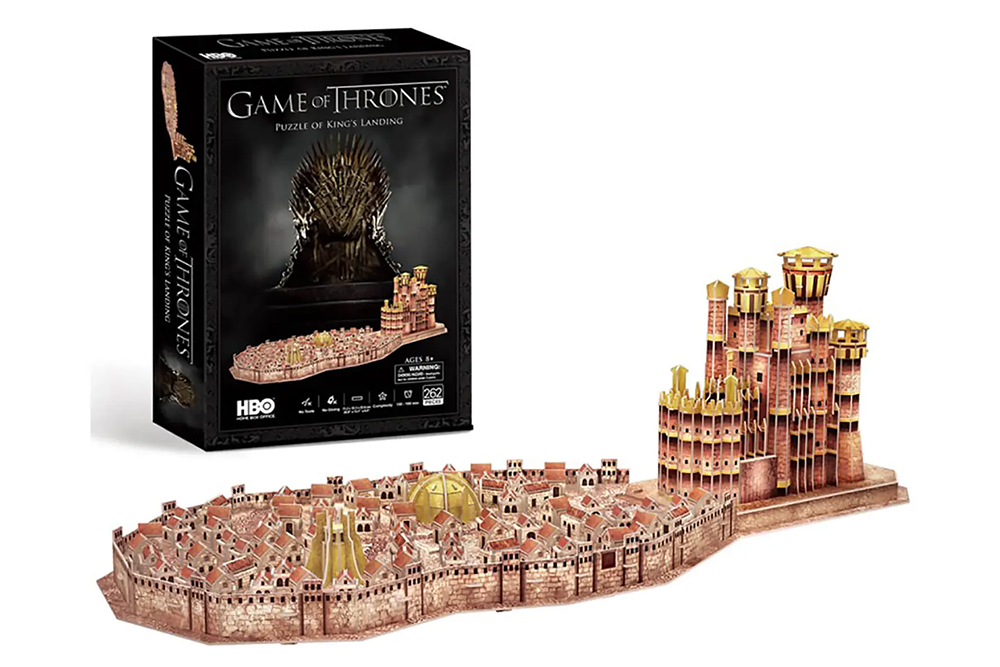 The capital and the largest city of Game of Throne's Seven Kingdoms, Kings Landing is located on the east coast of the continent, on the northern banks of the Blackwater Rush, home to the Iron Throne and Red Keep.
This 262 piece high-quality, 3D jigsaw is an enthralling, challenging puzzle for fans of the show, or general puzzle enthusiasts. The highly detailed puzzle showcases the iconic locations in all their glory, and with each piece you place, you can watch the magical city take place right before your eyes.
The box includes easy-to-use, detailed instructions to build and create this magical 3D puzzle from unique puzzle sheets, with no need for glue or scissors.
Find out more at IWOOT
Stark shield costume pendant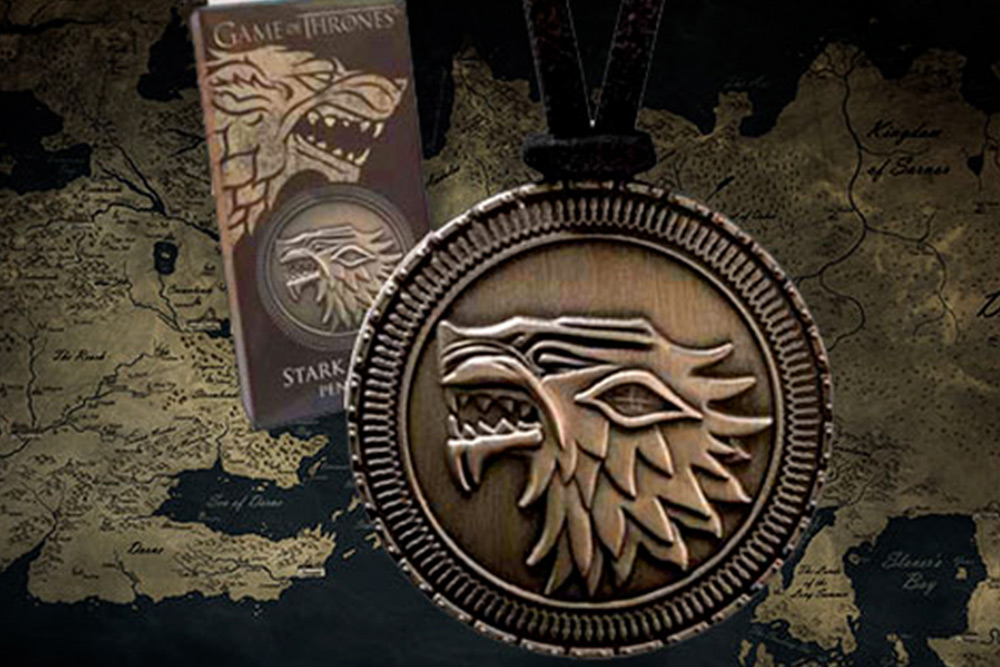 Few houses are as iconic and beloved as the Starks of Winterfell. Their sigil, a fearsome Direwolf, strikes fear into the hearts of their foes. You too can wear the direwolf around your neck.
The iconic Stark House direwolf sigil sits proudly on this shield-style pendant, die cast in metal with a dark, weathered finish. 12.5 centre meters in length, the pendant sits on a leather thong and comes in a Game of Thrones-branded card and window box.
Find out more at The Noble Collection
Monopoly Game of Thrones board game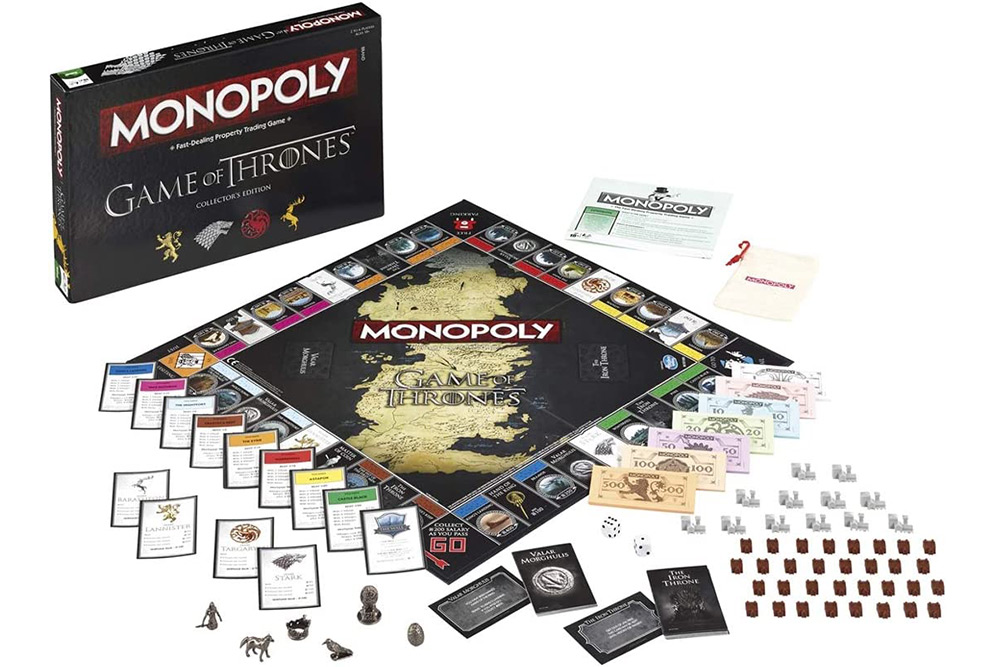 Game of Thrones meets the wheeling and dealing property trading game in this special Monopoly game for Game of Thrones fans. The gameboard, packaging, tokens, money, chance cards, and game pieces are all inspired by the popular TV series. Move around the board buying as many Game of Thrones properties as you can.
The classic Monopoly layout is transformed into the Seven Kingdoms, with characters from the show for game pieces. Hotels and houses are replaced with keeps and villages, with the gameplay familiar, albeit with a Game of Thrones twist. The more you own, the more rent you can collect from opponents. The last one with money when all other players have gone bankrupt, wins. Who amongst you is truly worthy to sit upon the iron throne?
Find out more at Waterstones
Game of Thrones book set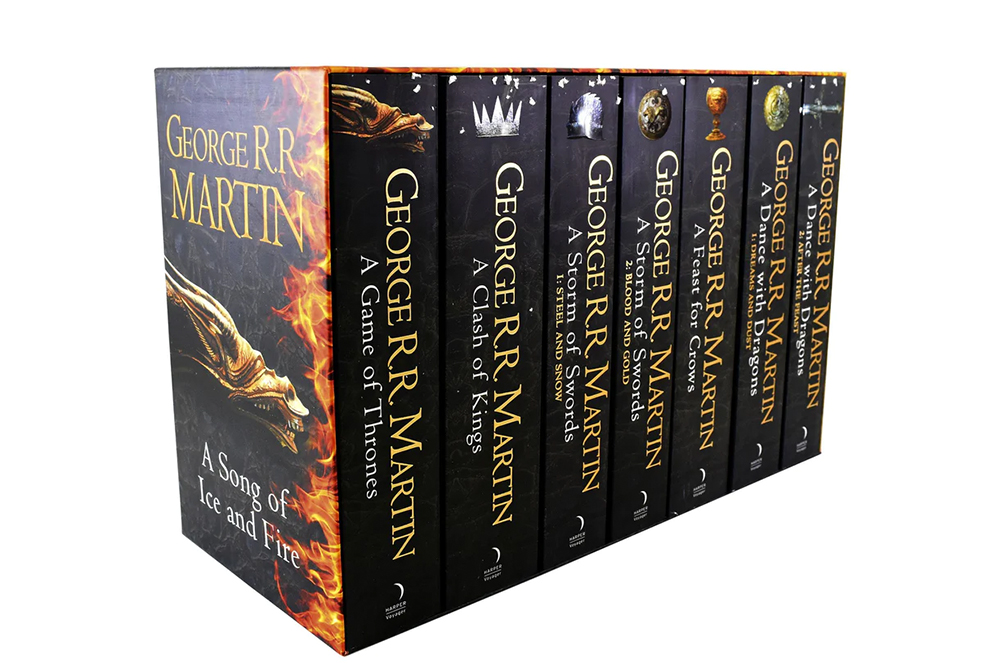 Talk to any fan of who has read the novels that inspired the blockbuster HBO series and they will wax lyrical about the sheer brilliance, grandeur, complexity, and gripping plot lines of author GRRM's A Song of Ice and Fire book series. But whilst fans wait patiently for the upcoming book in the series The Winds of Winter, why not gift the box set to a loved one this winter?
Whether for fans who want to reread the novels, or for fans whose love of the show has inspired them to dive into one of the greatest fantasy epics of the modern age for the first time, this set would make an incredible gift. Follow Jon Snow's journey to become Lord Commander of the Night's Watch and beyond, Tyrion's ascent to Hand of the Queen, and so many more intriguing plot lines. The set features paperback editions of the first five novels: A Game of Thrones, A Clash of Kings, A Storm of Swords, A Feast for Crows, and A Dance with Dragons.
Find out more at Books2Door
To see your company in any upcoming features we are arranging please email editorial@hurstmediacompany.co.uk