Many festive traditions have stood the test of time; Christmas trees, carol singing and gift-giving to name a few. But to really get the evening off to a bang you've got to dust off the box of party games. Get the family off their WiFi-dependent devices and play together in the living room with a little help from Checklist's 10 top party games for this Christmas.
1. 12 Games of Christmas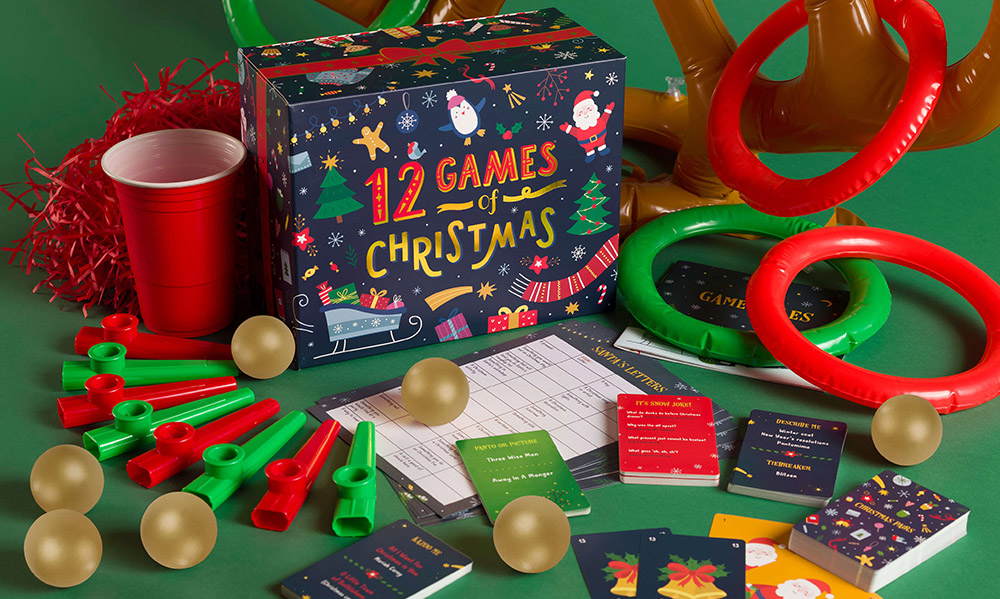 Whether you're tasked with lining up the Christmas entertainment for friends, family or colleagues, or looking for the perfect gift for a board game fan, then 12 Games of Christmas is the one for you.
Suitable for ages six and up, and perfect for two to 16 players, this classy, all-in-one compendium of hilarious and easy to learn games guarantees big belly laughs this Christmas.
Set to be a perennial favourite, games include Reindeer Hoopla, Merry Quizmas and White Lies. With so many great games in one box, you can sit back and relax knowing the entertainment is sorted.
Play it with kids, teens or adults; 12 Games of Christmas promises oodles of festive fun for all your friends and family
Find out more at amazon.co.uk
2. Beat That!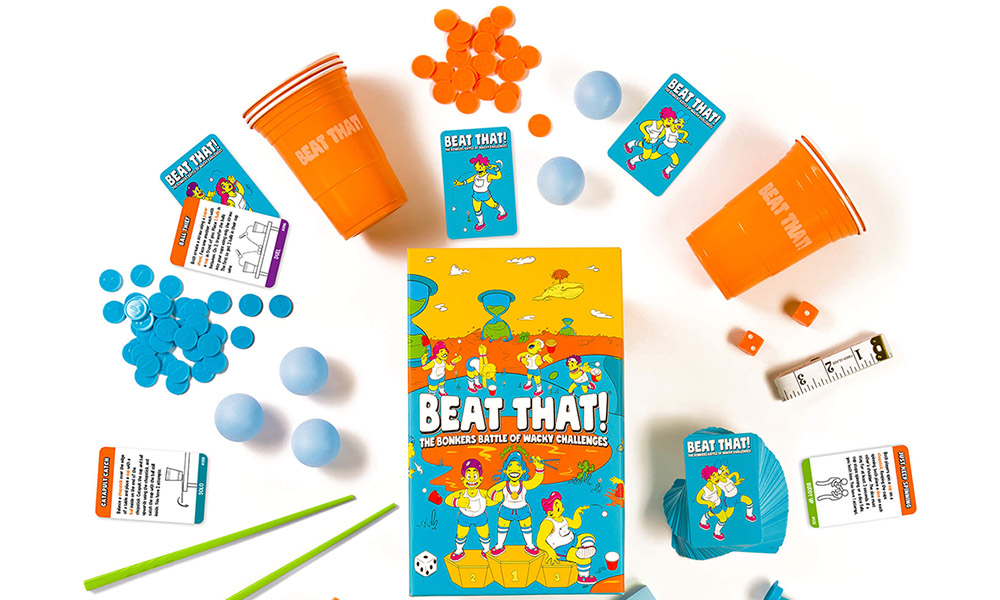 Challenge your family and friends to an epic showdown this Christmas with Beat That!
Beat That! is the international best-selling hilarious trick-shot challenge game which is quick to learn and will have players hooked in seconds, no matter their age.
Players win points by betting on their ability to complete a series of ridiculous dexterity-based tasks. Beat That! contains 160 funny, tricky and outrageous challenges which have been designed to level the playing field between the young, old, fit and frail, so it's the perfect game to play with the whole family, or as dinner party entertainment for adults after a few tipples.
This game is suitable for ages nine to 99 and is great for two to eight players.
Find out more at beat-that-game.com
3. Sussed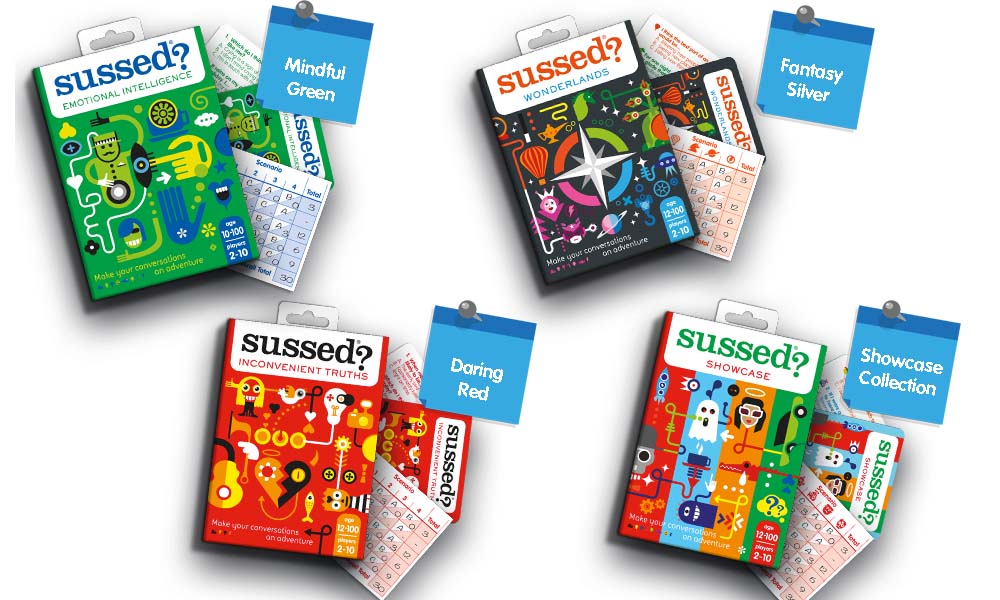 Challenge your family and friends to see who knows who best in the living room.
Become a social detective and discover how wrong you can be with this hilarious card game.
You don't investigate crime. Your speciality is people. And what makes them tick. Through the things they've said, things you've heard, things they've done. It's time for a game of social deduction!
The multi-award-winning, travel-sized, social health-improving card game for two to 10 players aged six and up. Sussed is video-call friendly, with 220 conversation starter questions, 660 answers, 150 scoresheets.
Can you suss out what players will say about flying to the moon, keeping secrets, becoming invisible, being fearless and much more.
Find out more at sussedcardgames.com
4. Randomise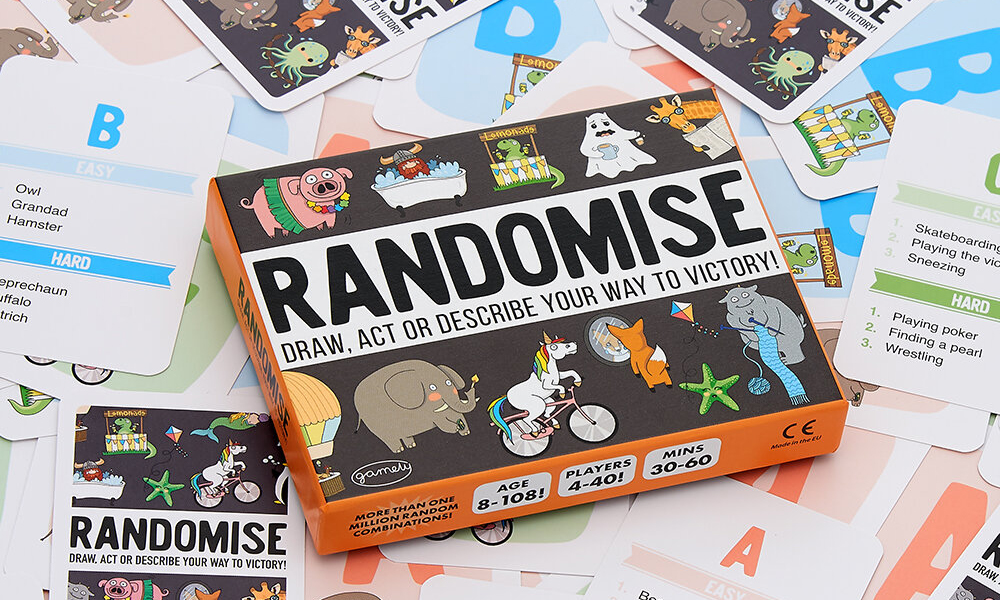 Randomise lets each player choose between acting, drawing or describing to get across the random identity on their cards.
This entertaining party game is designed for people who want to spend more time laughing with their family and friends.
It's easy to setup and quick to learn, but with more than a million possible combinations for endless hours of fun for between four and 40 players aged eight and up.
Find out more at gamelygames.com
5. Wordsmithery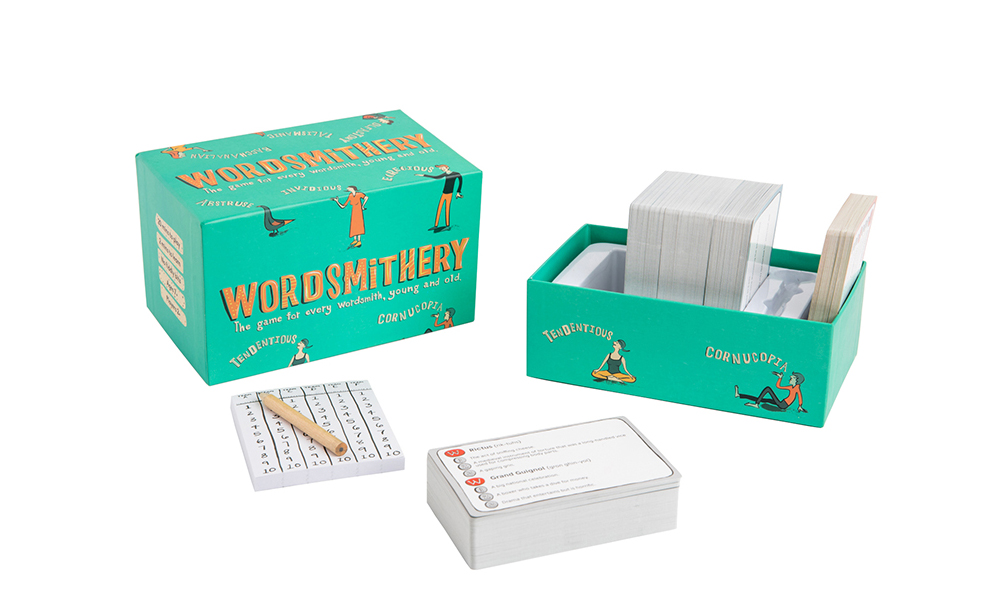 Do you really know the meaning of the words egregious, phalanx, and salubrious? Guess the meanings of words that people pretend to know… but don't.
On you or your team's turn, you will be given a word to define. Gain extra points for defining it correctly before hearing the options presented, or choose one of the three possible meanings given to you.
Prove yourselves the most eloquent amongst your friends and family. Get playing in a few minutes, and keep the fun going for hours if you have the time. Play with a large group or play on your own or with just two people.
Wordsmithery is a family-friendly game for all ages. Included in the box, in addition to the 600 words for adults, are 100 words for younger players aged between seven and 13, meaning that everyone can get involved.
Find out more at clarendongames.com
6. The Sock Game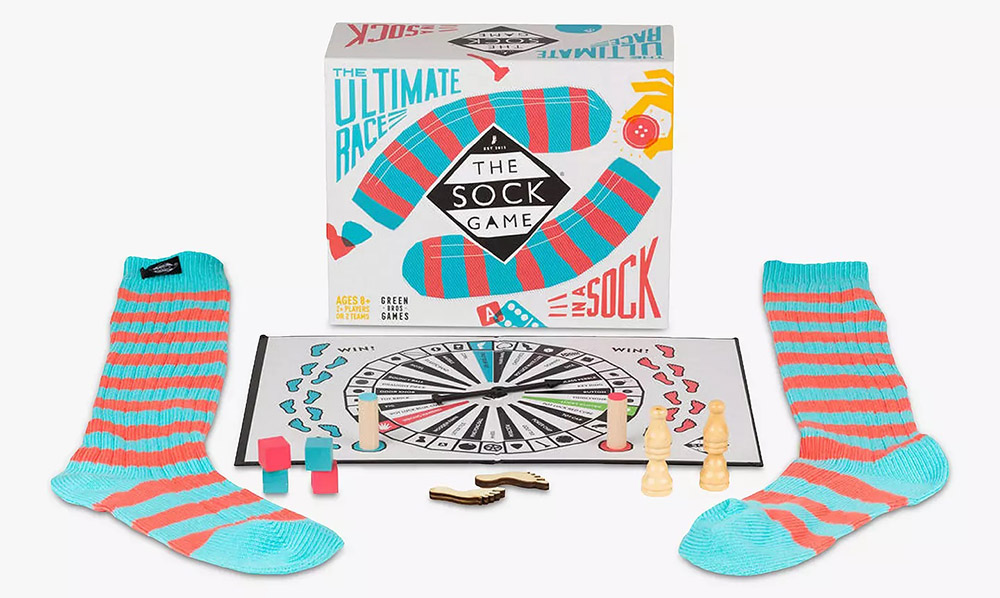 The Sock Game is a fast-paced interactive family game that asks the question: What's inside your sock?
Fun for kids and adults alike, The Sock Game is a perfect addition to game night. Spin, reach and find: The rules are simple. Turn the spinner to find out what item you're looking for. Race to reach into the sock and feel your way to your desired item.
Make your Sock Game unique to your family with the customisable board. With 4 blank spaces available on the board, you can write in the name of objects in your house, then throw them into each sock.
Find out more at johnlewis.com
7. Hedbanz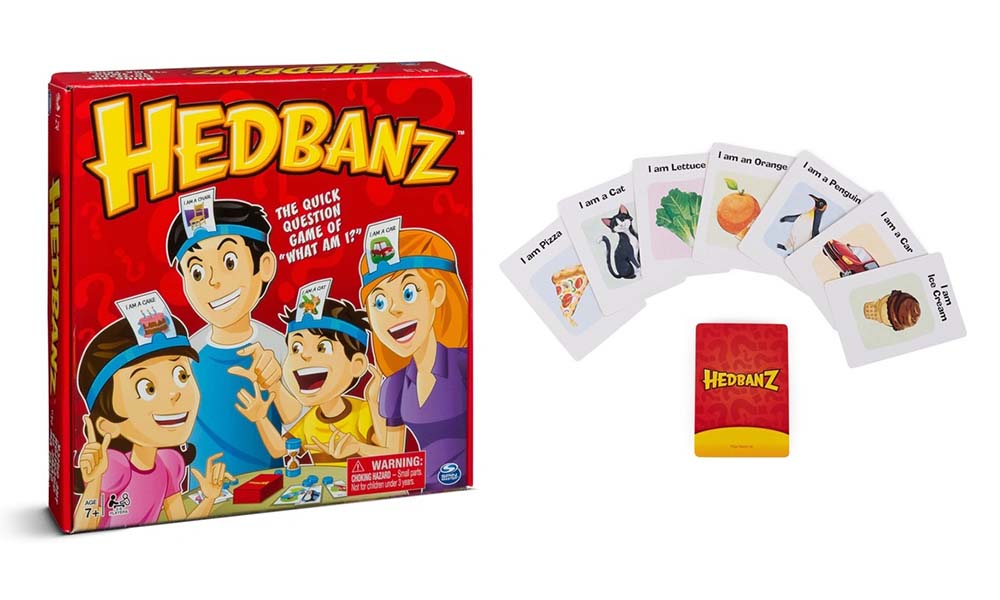 Play Hedbanz, the quick question game of 'what am I?' You never know what you are until you start asking.
Figure out if the cartoon on your head is an animal, food, or object.
Each player wears a card in their specially devised headband and guess what's on it by asking searching questions. Guess what you are to win.
Find out more at smythstoys.com
8. Out Of Order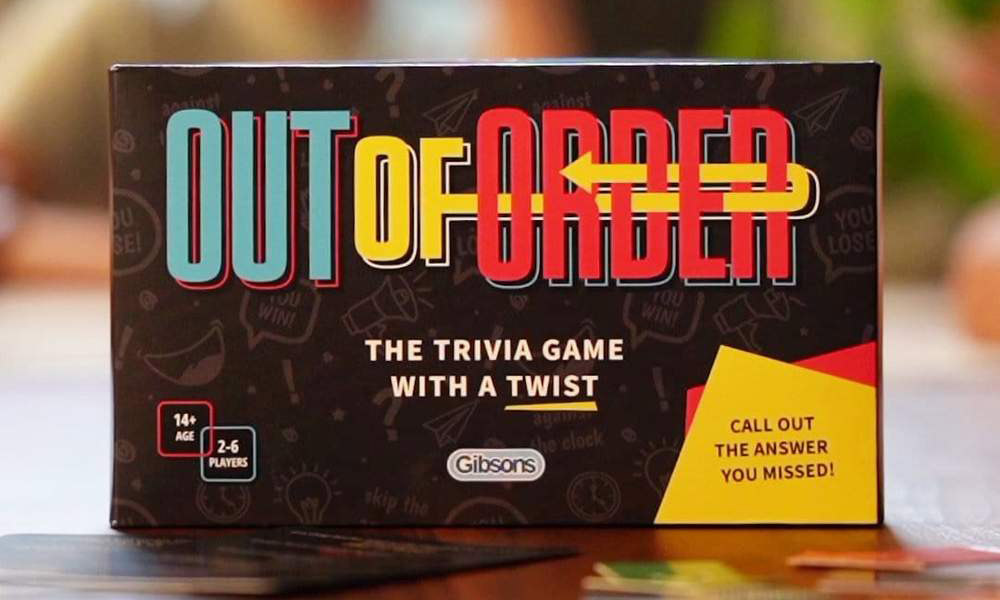 Answer the quirky questions to score points, but here's the catch: you give the answer to the question before.

Perfect for a games night in or after dinner party game, this cheeky quiz makes a terrific birthday or Christmas gift. Designed for three to six people for some cheeky fun for everyone aged 14 and over.

With laugh-out-loud results, Out of Order catches out even the nerdiest quizzers.
Find out more at gibsonsgames.co.uk
9. Five Second Rule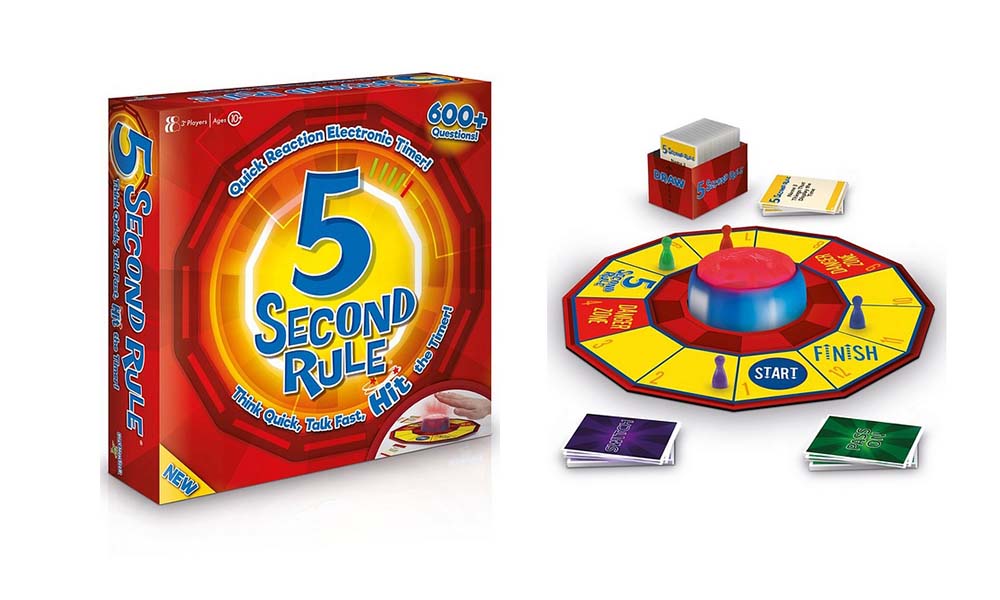 Think quick and talk fast, because time is not on your side in 5 Second Rule.
It's easy to name three things beginning with B, three breeds of dog, or even three things that make you scream. But when you only have five seconds, the pressure is on. Something ridiculous might just slip out.
Shout whatever comes to mind before the marbles twist to the end of the timer. When answers get wild, it's fun for everyone.
This fast-paced board game is perfect for game nights, parties and rainy weekends with the family. With over 500 subjects to choose from, you'll never run out of answers.
Find out more at smythstoys.com
10. Jumanji the Game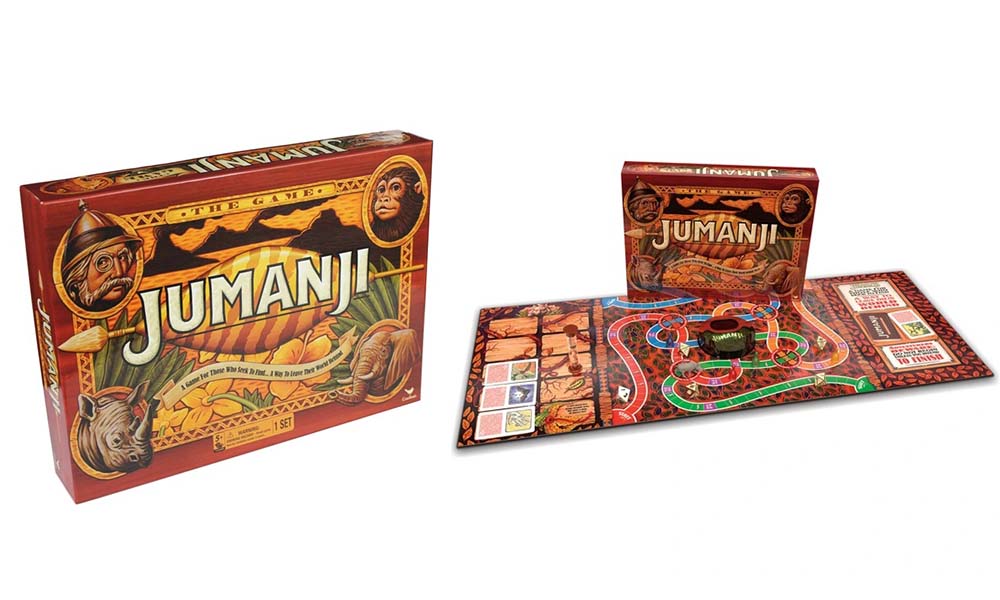 Jumanji the Game brings film's most iconic board game to life.
In the world of the Jumanji board game, a charging rhino is only ever a dice roll away. Move your pawn through a jungle of stalking lions and crocodile attacks. Draw a danger card and use your decoder to crack the secret message. If disaster strikes, your fellow players must rush to your rescue in a race against the clock.
As you play, the Jumanji board game begins to fill with danger. If the Doomsday Grid fills up, the jungle will win, overpowering you and your fellow players.
Be the first to reach the centre before the Doomsday Grid fills up and yell "Jumanji!" to win the game.
Find out more at smythstoys.com
To see your company in any upcoming features we are arranging please email laura@hurstmediacompany.co.uk or editorial@hurstmediacompany.co.uk