The countdown to Christmas is almost upon us. The magical time of the year where we truly embrace the festivities. The house is adorned with decorations, the Christmas tree has found its place, radio starts to play songs of a more cheerful nature, not to mention the endless TV Christmas movies.
No Christmas season is complete however, without the beloved advent calendar. The perfect way to countdown to Christmas Day, there are few activities that excite the little ones more than uncovering new and exciting treats under each calendar window.
With advent calendars becoming more colourful and adventurous each year, Checklist lists 10 advent calendars sure to wow those little ones and make the run-up to Christmas that much more magical.
1. Invisibobble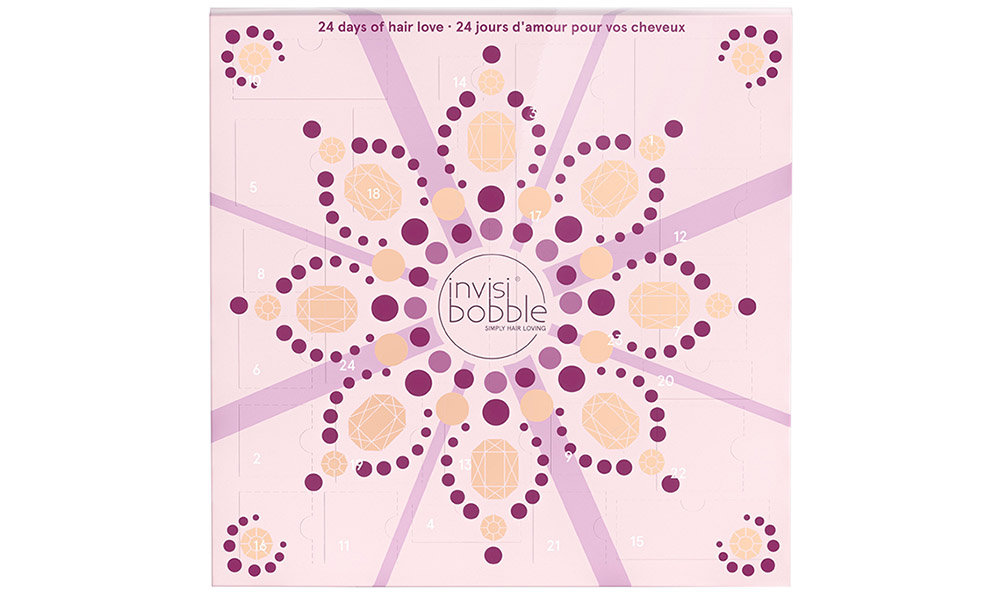 This festive season, Invisibobble is introducing their first-ever advent calendar. Bursting with hair-friendly treats, the calendar includes 24 individual hair accessories from the hair tie brand; one for each day of the festive season.
Included within a wide range of different gifts, designed to give girls hours of hair customising fun. These include six of the Original iconic hair ties, five elegant Slim hair ties, three Power strong grip hair ties, one Nano tie for more elaborate up dos, two Waver hair clips, a Sprunchie, an elegant Bowtique hair tie, a Bunstar easy bun tool, a Wrapstar multi styling tool and one of the Kids range hair ties. With so many days of festive hair fun, their style possibilities are endless.
There is much to discover in the Invisibobble's calendar. As there are 24 days of festive hair fun to uncover, so there is simply no excuse for a bad hair day in December.
Find out more at invisibobble.com
2. Harry Potter Advent 2021 Calendar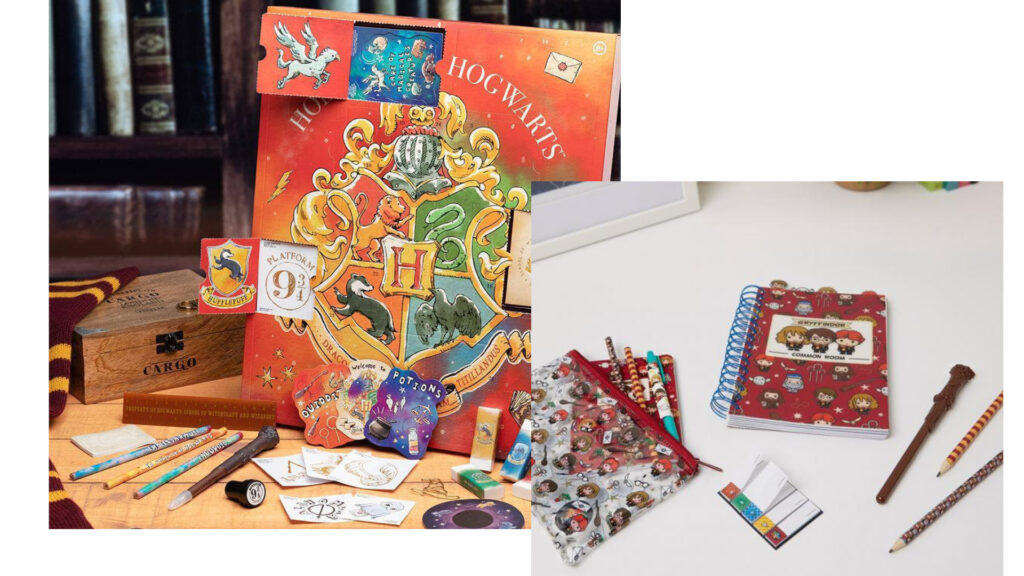 Missing Hogwarts and all that is associated with the magical world of Harry Potter? For all the Potterheads amongst you, and fans of the beloved franchise, the official licensed Harry Potter Advent Calendar is the perfect (and most magical) way to countdown to Christmas day.
The official Harry Potter Merchandise contains a myriad of unique gifts and products; 24 days' worth to be exact. Behind each advent calendar window, you will find fantastic stationery sure to wow and amaze friends and family. Included in the calendar is several small notebooks with a noticeable Harry Potter theme, four erasers that work just like a smudge removing spell, as well as three pencils.
Within the calendar you'll also find six gadget decals, paper tapes, one colour change coaster, playing cards, sticky notes, ruler, shaped paper clips and a magic wand, designed for you to cast spells galore. With so many different gifts to be uncovered, no two days are the same, ensuring a truly magical time for all involved.
Find out more at lostuniverse.com
3. Thomas & Friends Minis Advent Calendar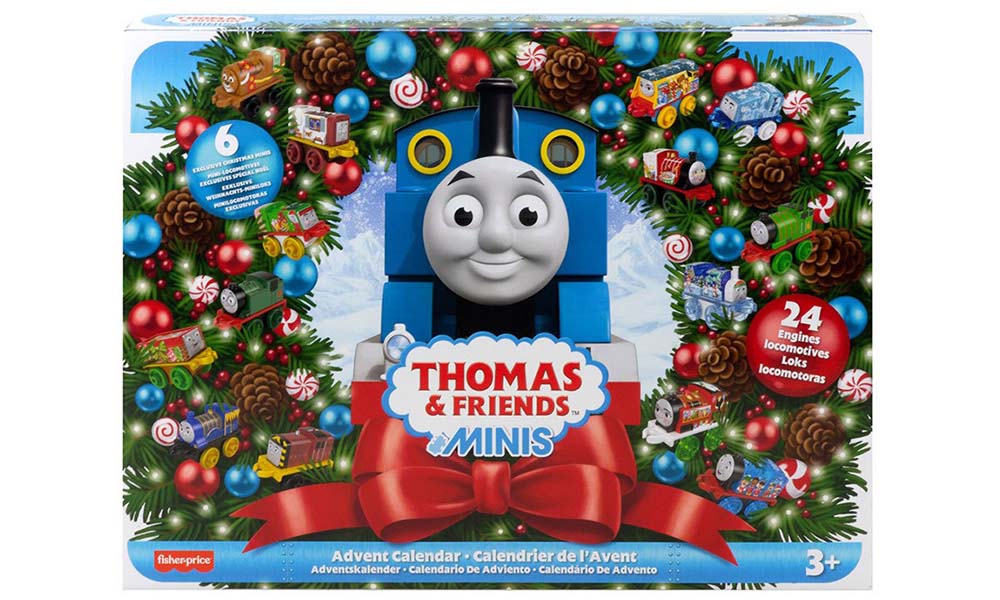 Make the countdown to Christmas that extra special with this Thomas & Friends advent calendar. ​What's that approaching? A super-festive train is pulling into the station under the Christmas tree. Budding young conductors can uncover a mystery surprise every day as they countdown to Christmas with this Thomas & Friends MINIS Advent Calendar from Fisher-Price.
Open each calendar window to discover a wealth of Thomas & Friends characters. Featuring 24 miniature train engines, there is an abundance of Thomas-themed gifts to keep those little ones entertained. Each carefully-crafted, miniature push-along train is styled to look like a Thomas & Friends character, meaning it's a great gift for pre-school conductors.
Whether you're looking for a Steamie, a Diesel, or one of Thomas' construction friends, the Thomas & Friends advent calendar contains 24 days of miniature fun.
Find out more at thetoyshop.com
4. LEGO® Marvel The Avengers Advent Calendar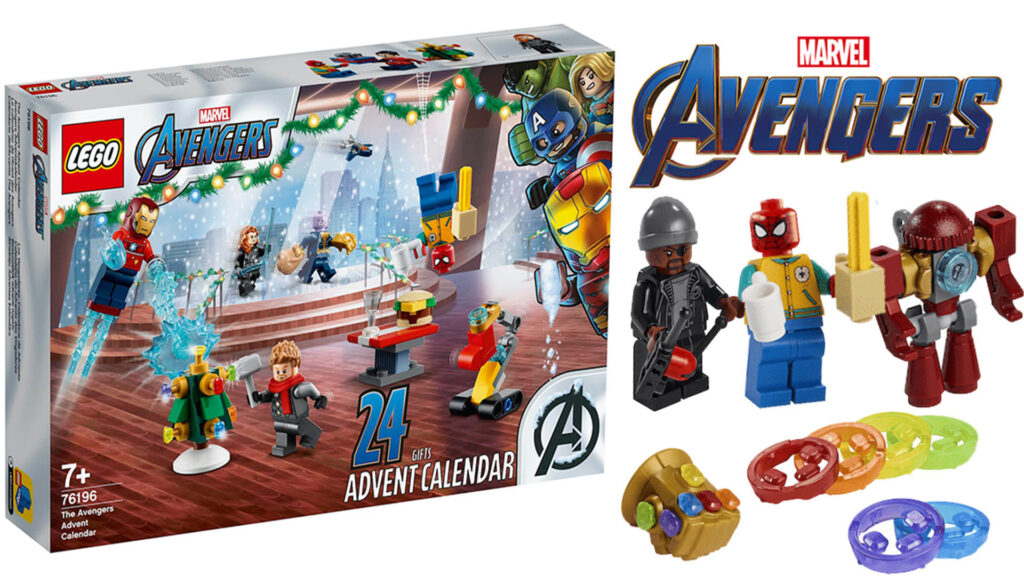 Save the world one day at a time with the LEGO® Marvel The Avengers Advent Calendar. Perfect for any Marvel Avengers fan, each day reveals a new super-hero surprise, featuring a range of iconic scenes and characters from the Marvel Avengers movies that have gone onto become pop culture staples.
Engage in festive fun with and captivate kids with this action-packed calendar. Behind each of the calendar's 24 doors is a magical mix of Marvel Avengers gifts for kids to reveal in the build-up to Christmas day. Discover seven mini-figures, and engage in festive fun with the likes of Iron Man, Spider-Man, Black Widow, Thor, Captain Marvel, Thanos and Nick Fury – plus exciting items and amazing accessories from the Marvel Universe including a Spider-Man drone, Avengers Tower and more – to recreate the most iconic scenes and battles from the movies.
There is no expiration date on the fun to be had with LEGO® Marvel The Avengers Advent Calendar, meaning those little ones will be engaging in superhero activities in the run-up to Christmas and long into the New Year.
Find out more at lego.com
5. Toot-Toot Drivers Advent Calendar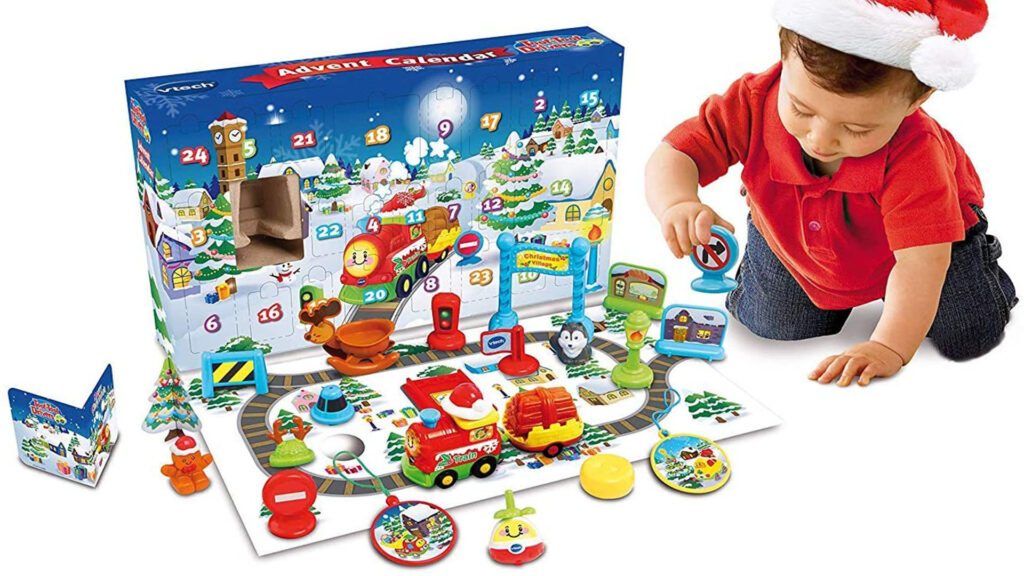 Countdown to Christmas Day with the fabulous Toot-Toot Drivers advent calendar from VTech. Encouraging imaginative play and fostering language development and motor skills, the advent calendar is not only fun but can shape a child's formative years.
The calendar features 24 play pieces including a cute, interactive Toot-Toot Drivers Truck, detachable trailer with SmartPoint location, Christmas decorations, road signs and lots more mini surprises. Box panel folds down to become a Toot-Toot Drivers road so you can create your very own Toot-Toot Christmas town! The calendar also contains a range of musical features, designed to get those little ones singing and dancing. The Toot-Toot Drivers Truck includes three Christmas songs, six fun, festive melodies and lots of fun sound effects.
Foster a child's ability to recognise sounds, noises and speech, as The Truck responds to SmartPoint™ locations with different phrases, sound effects and more on all your favourite Toot-Toot Drivers® play sets.
Find out more at vtech.co.uk
6. Disney Store Mickey and Friends Holiday Cheer Classic Advent Calendar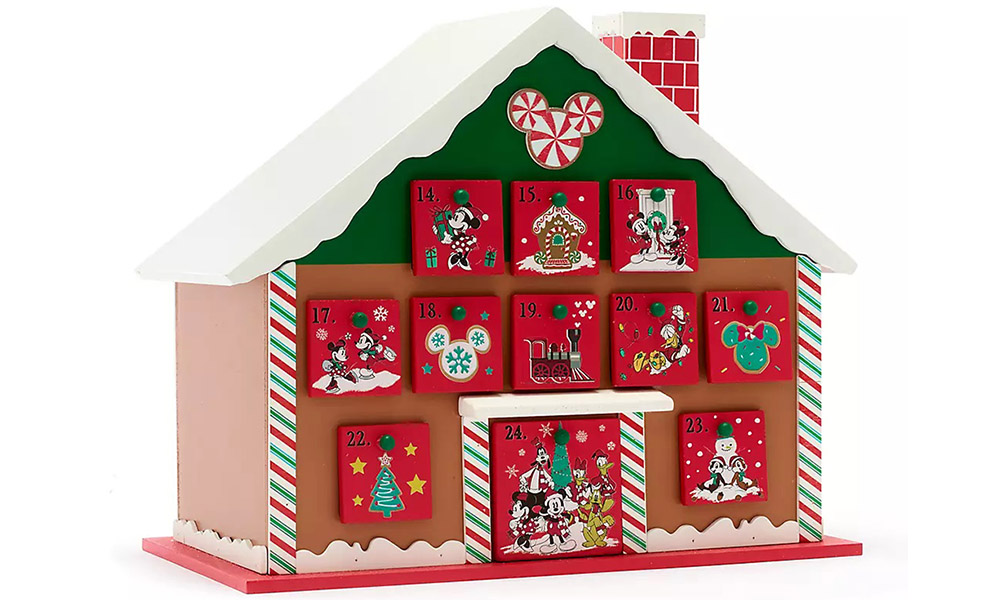 What better way to countdown to Christmas than with Mickey and friends? Join your Disney favourites in a fun-filled Christmas countdown with this characterful advent calendar! The unique design features 25 mini sections.
The Mickey and Friends Holiday Cheer Classic advent calendar features 24 mini drawers, ready to be filled with an abundance of treats of your choosing. Coupled with a unique festive-themed design it is sure to make a great gift for someone special. Made from the finest wood, there is much to admire regarding the calendar's design, so much so, that you might not want to open those advent calendar doors!
As we have come to expect from Disney, the magic is in the details. The calendar's free standing design contains 24 illustrated mini drawers; featuring detailed character artwork with metallic accents; drawers designed to be filled with your choice of treats or toys. The artworks features Disney characters that we have all come to know and love, including the loveable likes of Mickey, Minnie, Chip 'n' Dale, Donald, Goofy, Pluto and more.
Find out more at shopdisney.co.uk
7. Gruffalo's Child Musical Advent Calendar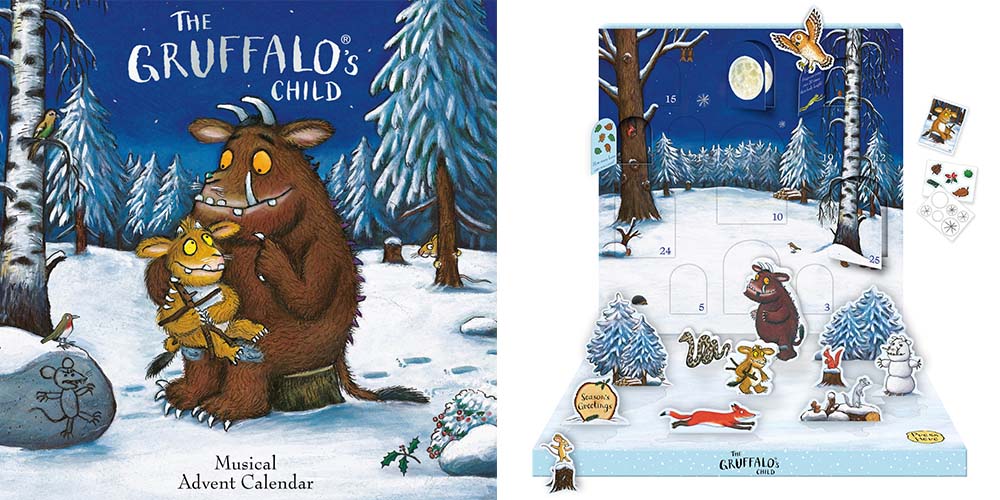 The Gruffalo has grown from a heralded children's book, to a now acclaimed play on West End and Broadway, as well as a variety of merchandise. This exclusive and official interactive advent calendar for this ever-popular story book is sure to be a big hit for any Gruffalo fan.
The Gruffalo Calendar contains a variety of unique features, designed to keep kids entertained long after opening each calendar window. This musical, interactive advent calendar contains the official soundtrack composed by Rene Aubry, to keep kids tapping their toes and dancing to the beat. Not to mention, the uniquely designed bi-fold advent calendar has a different Gruffalo gift behind each door to help you develop the scene as the month unfolds. If you land on a day where you receive a magnetic-based character of The Gruffalo, Snake, or The Gruffalo's Child behind the door, you can watch them glide and interact with one another on the magnetic, moving base.
The uniqueness doesn't end there however. The calendar folds in half for easy storage, placing the magnetic ice rink on the bottom half of the calendar and the opening gift doors on the top, upright half.
Find out more at calendarclub.co.uk
8. Schleich Horse Club Advent Calendar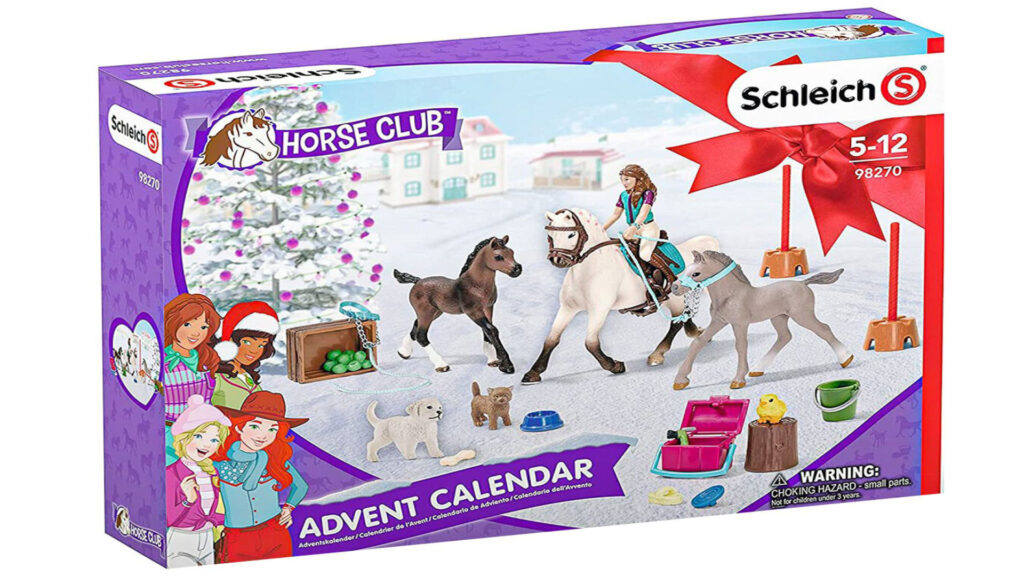 Count down the days to Christmas with the Schleich Horse Club Advent Calendar. Behind each door one will find an array of horse themed gifts and treats.
For those with a special affinity for horses, The Schleich Horse Club Advent Calendar is the perfect gift. The calendar brings you a plethora of horse toys and accessories to play with at your leisure. Also to be unboxed is a girl figure, several horse figures, other animals including a cat, dog and chick. For those eager to customise their horse's stable to their liking, you're in luck. Numerous accessories, including a tree trunk, bone, bowl, bridle, feed box, obstacle bar, apple, grooming box, bucket, brush, comb, hoof pick and saddle, are to be found under each window.
Once the unboxing of all gifts comes to an end, you will have plentiful gifts and accessories to customise your stable as you wish. Schleich figures are all modelled in incredible detail and promote educational and fun play for children above the age of three.
Find out more at smythstoys.com
9. Disney Pixar Cars Advent Calendar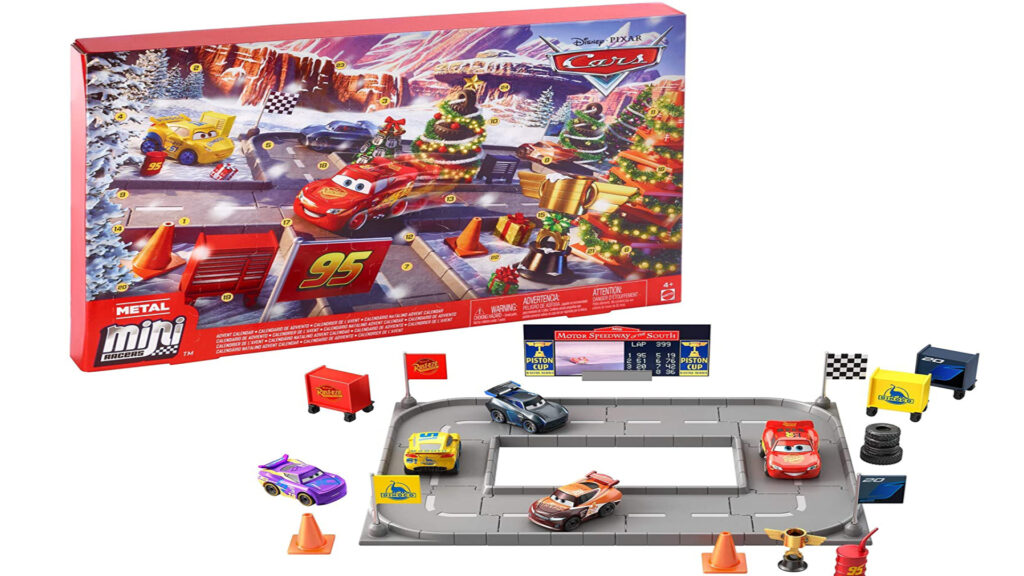 Count down to Christmas and have fun along the way with this Disney Pixar Cars Advent Calendar! Fans of the beloved franchise are in for a treat, with each calendar window revealing a Pixar Cars related gift, that is sure to excite, thrill and get their engines' revving.
Your little racer will begin each day eager to find out what Disney Pixar Cars-themed surprise is up next. Like all things Disney related, the magic in the details. The calendar contains a grand total of 26 play pieces, where little racers will open a door every day to reveal 24 different Disney Pixar Cars themed gifts. The set includes five vehicles based on fan-favourite characters. Be on the lookout for fun storytelling pieces like racing flags, stacks of tyres, a road cone, a racing trophy and more, pieces that add a sense of authenticity and life-likeness to the racing theme.
With new and exciting treats to discover daily, those little racers will be clocking in the miles racing their favourite Cars character, and will e busy enjoying the fun long after the New Year.
Find out more at shopdisney.co.uk
10. The Christmas Advent Collection: 24 Kids Picture Books Bundle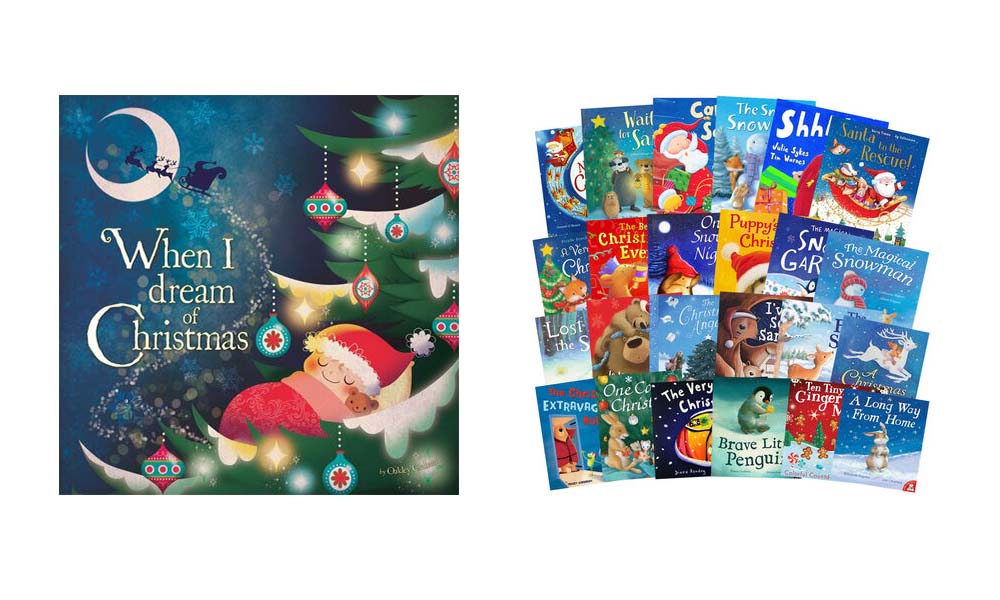 In what is a slight departure from the aforementioned advent calendars, but by no means any less fun, is the The Christmas Advent Collection: 24 Kids Picture Books Bundle. Courtesy of The Works, they have hand-picked a collection of great quality seasonal books, grouped together to give you hours of reading fun.
Featuring 24 of their favourite kids Christmas picture books, the Advent Collection provides readers with a wide range of stories from a collection of authors. Snuggle up warm and enjoy a special Christmas tale on every day in December, Join Santa, the Magical Snowman, the Brave Little Penguin and many more for amazing adventures in this spectacular Christmas bundle of joy that is sure to have your little ones feeling festive during story-time this year.
Feed those little one's appetite for reading and immerse them in exciting stories and lands, with the most memorable of characters.
Find out more at theworks.co.uk
To see your company in any upcoming features we are arranging please email laura@hurstmediacompany.co.uk or editorial@hurstmediacompany.co.uk