It's out with the old and in with the new this Christmas with Checklist. We've assembled our list of 10 great alternative festive decorations from edible arrangements to inflatable Christmas trees that the entire family will love.
1. Canned Wine Crackers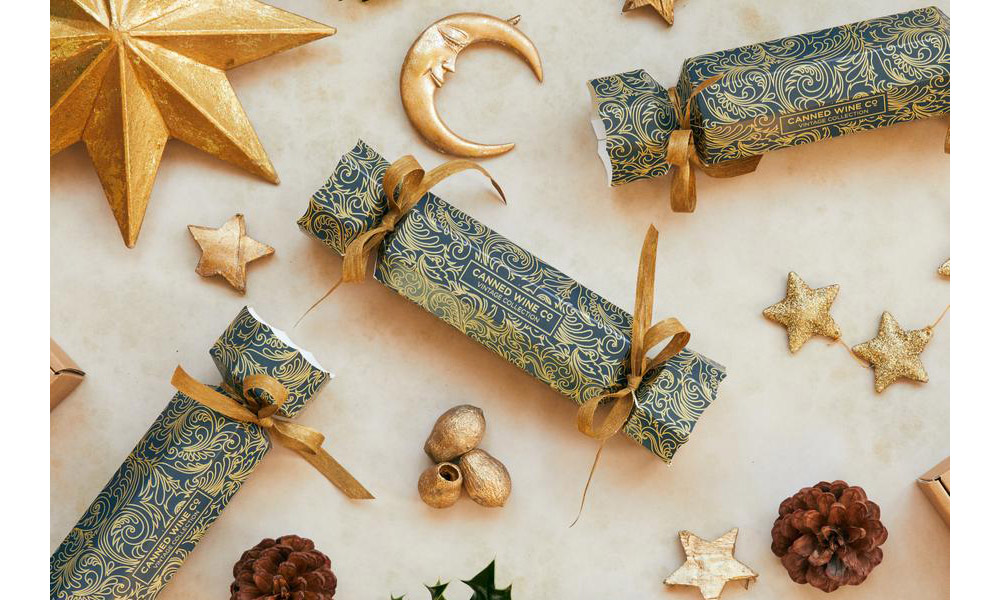 Bored of cringey puns and paper crowns at the dinner table? Novelty pencil sharpeners and corkscrews a bit juvenile? Maybe it's time to try a new kind of Christmas cracker, with Canned Wines Crackers for adults.
They feature six different premium varieties of European wines in a stylish and fully recyclable aluminium Christmas cracker sleeve. Even better, every adult can enjoy these vegan-friendly wines.
Find out more at cannedwine.co
2. Papa John's Dip Baubles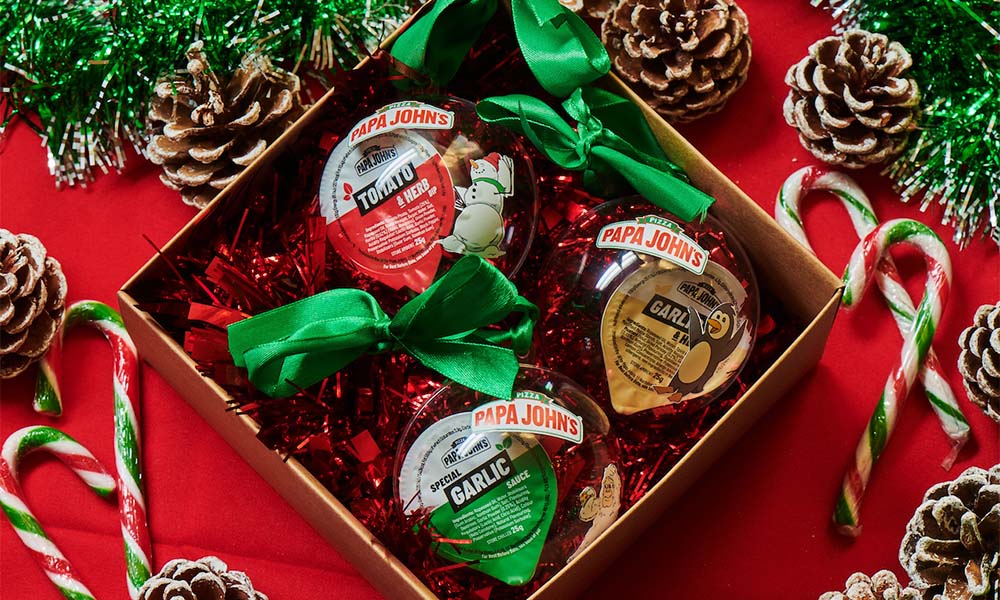 As pizza lovers prepare to deck the halls this festive season, popular pizza delivery chain Papa John's launches its limited-edition Dip Baubles – the seasons 'crust-have' decorations for any dip-loving Brit – to help raise funds for Crisis, a charity that aims to end homelessness across the UK.
Papa John's is answering prayers for those looking to expand their collection of weird and wonderful baubles to hang on the tree this year. The alternative incredible decorations are filled with three of its best-sellers, Special Garlic, Garlic & Herb and Tomato & Herb. The set of three Dip Baubles are ideal for those looking to decorate while they devour their favourite sauces in one jolly sitting.
Find out more at papajohnsdipbaubles.co.uk
3. Sweet Tree by Brown Chocolate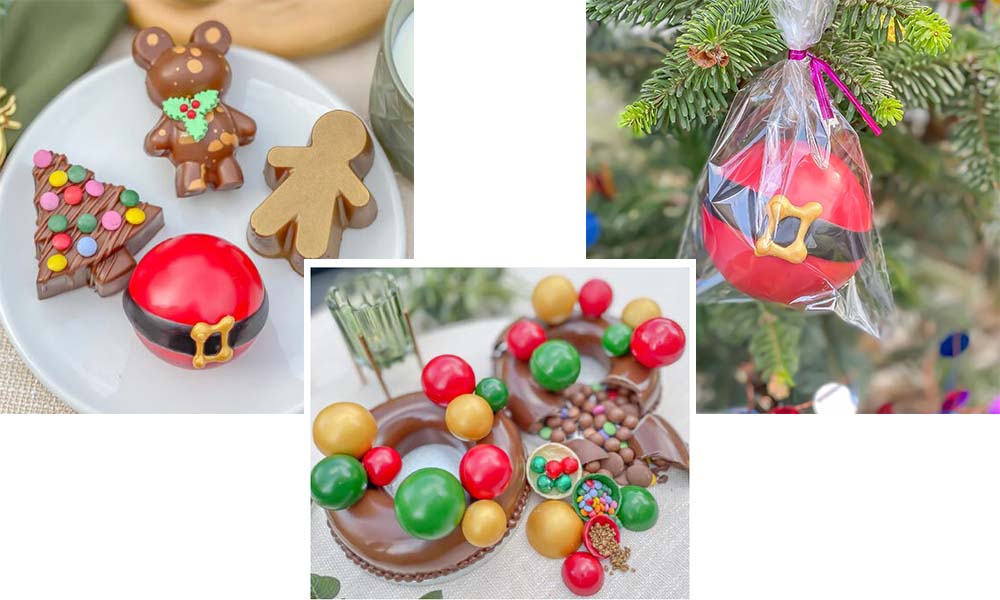 Sweet Tree specialise in customisable chocolate treats for any occasion, and they've gone all out in preparation for Christmas this year.
Their deliciously edible decorations include chocolate snacks, edible arrangements and hot chocolate baubles that are sure to delight the whole family. Their whole range is ready to be personalised, ordered and devoured now.
Find out more at sweettreebybrowns.co.uk
4. Doggy decorations by W'zis? and Sniffe & Likkit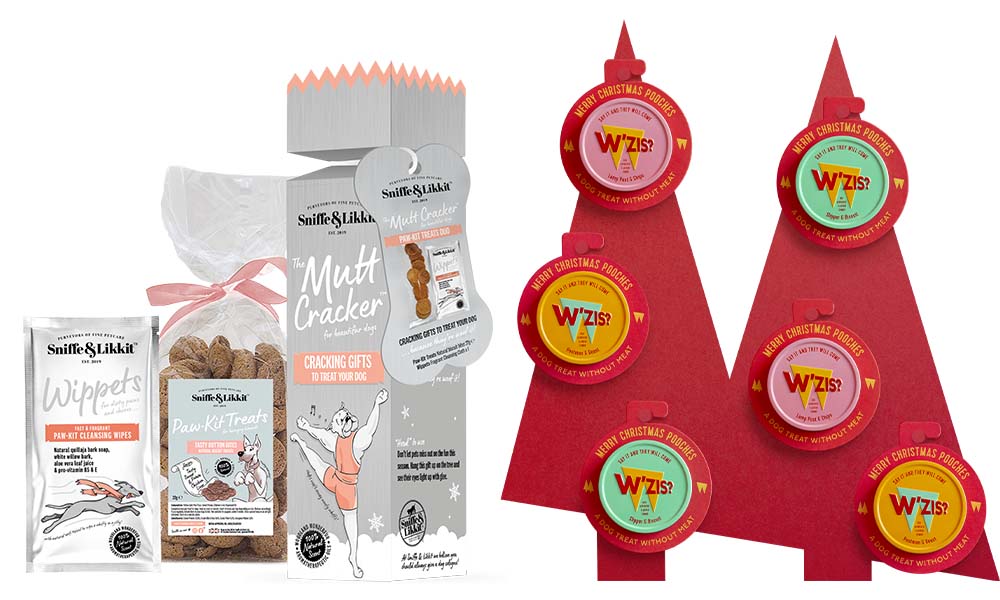 Christmas is for the whole family, including our four-legged friends. The teams at W'zis? And Sniffe & Likkit have worked hard to make inclusive festive decorations and treats for our pets.
W'zis? have created a cute cardboard holder to go on the tree holding one of the firm's tins of plant-based doggie treats. There are three different flavours – 'Postman & Roast', 'Slipper & Biscuit', and 'Lamp Post & Chips'. Packaged in refillable, screw-top tins, these low-calorie snacks are perfect for repetitive training routines where constant rewards are needed.
Sniffe & Likkit have made three unique Christmas cracker-shaped gift boxes perfect for hanging on the tree or as a stocking filler. Each box features a different selection of doggy grooming gifts and treats. There's the Fragrance Grooming Duo', the 'Shampoo Grooming Duo' and 'The Paw Kit Treat Biscuit Duo'.
Find out more at sniffeandlikkit.com and wzis.dog
5. Scribbler's Add A Face Mini-Me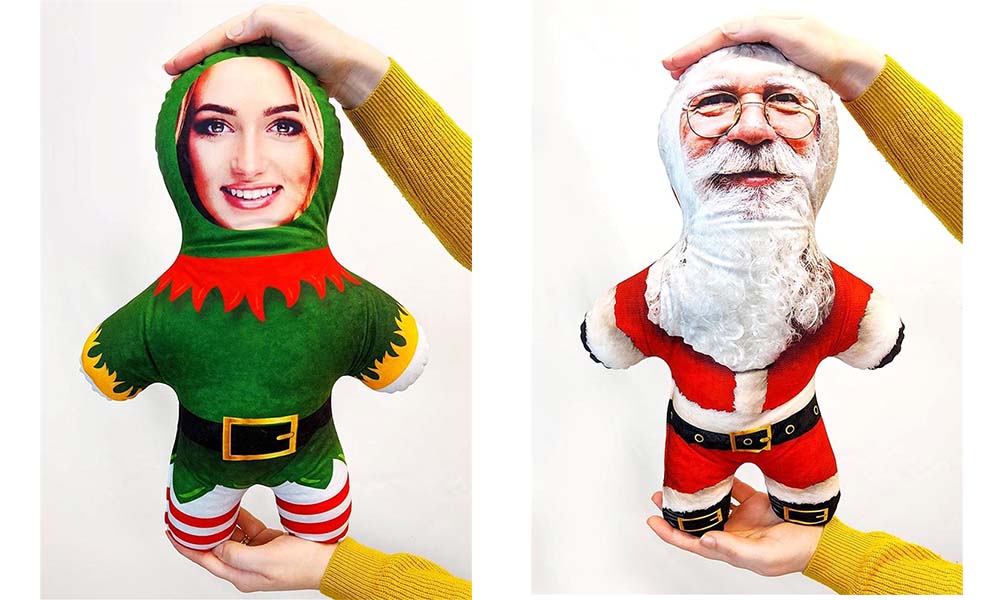 Scribbler's Add a Face Mini Me Elf and Santa stuffed toys are excellent Christmas gifts either for yourself or someone you love. Personalise yours by simply uploading a photo and leave the rest to Scribbler.
What better way to light up your friend, family member, colleague or loved one's face this Christmas than to create a mini version of them to put up in their home during the festive period. Or perhaps you could send a festive Mini-Me featuring your own selfie to a loved one you won't get chance to see this Christmas, who'll appreciate having you by their side?
Whatever you decide you'll be doing it in fashion, letting yourself or the recipient play the part of a mischievous Elf or Santa Claus himself. And you'll certainly spread the cheer this year, with a gift that will be appreciated by all, both big kids and small.
Find out more at scribbler.com
6. Niederegger Marzipan Baubles by John Lewis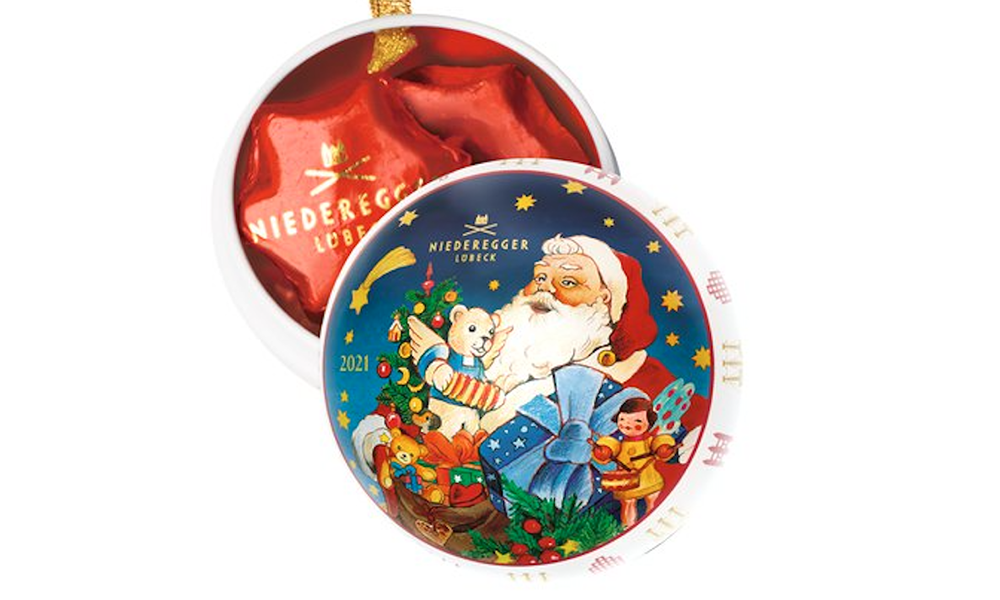 Fancy a naughty snack in the lounge when no one's looking? These baubles are filled with three bittersweet chocolates covered in marzipan stars.
Niederegger marzipan is made from the finest 100% pure marzipan paste, created using traditional roasting cauldrons with production supervised by a master confectioner.
Find out more at johnlewis.com
7. Naughty or Nice Cocktail Baubles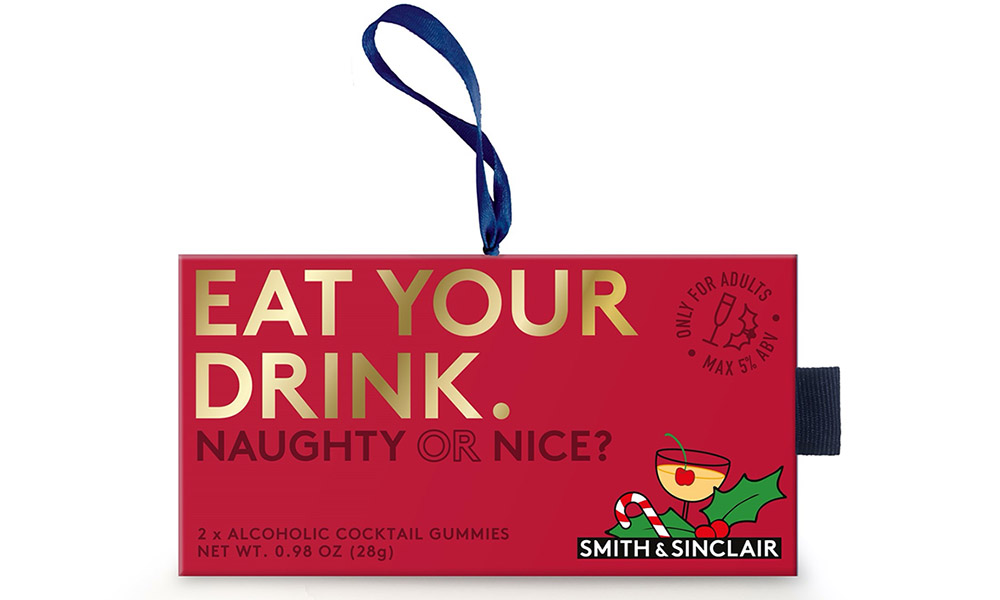 Still fancy some snacks in the living room but you need something a bit stronger? Try these alcoholic sweets for adults from Smith & Sinclair; because Christmas isn't just for the kids.
Add some festive spirits to your tree with these edible cocktail gummies from Smith & Sinclair. Each box has two cocktail flavours mixed at random, but expect the likes of an Old Fashioned and Gin & Tonic.
Find out more at smithandsinclair.com
8. Happy Christmas Bunting Kit by Letterbox Gifts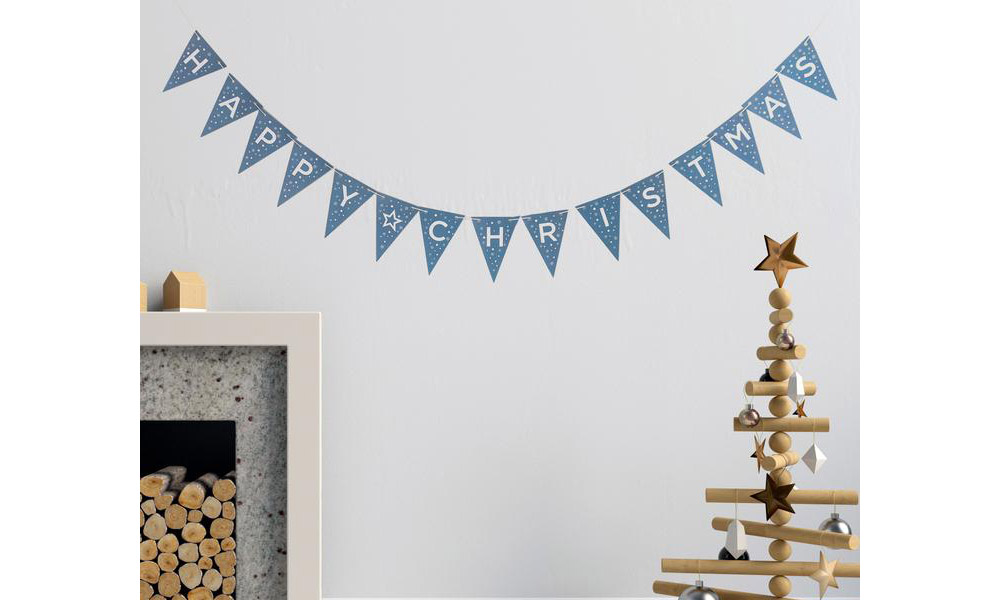 Who says bunting is just for birthdays and baby showers? Why not add a festive bunting garland to your mantelpiece or windows with this cute little kit from Letterbox Gifts.
Plastic-free and fully recyclable, the bunting can be sent to yourself or directed to someone else as a gift with a personalised Christmas card. It makes a great little token and gesture gift for someone you maybe can't see this Christmas, but want to brighten their day with a treat through their letterbox.
Find out more at letterboxgifts.co.uk
9. Pickering's Festively Flavoured Gin Baubles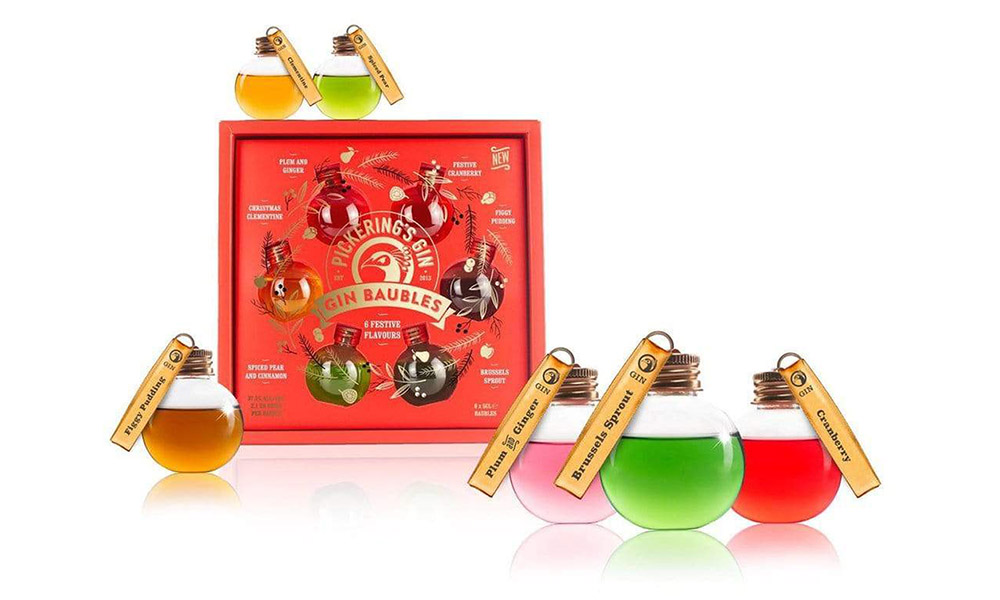 Pickering's gin baubles are one of the standout gin Christmas gift options every year. If the mood hits simply pluck a boozy bauble from the arms of your tree and pour it into a gin bowl for some festive tipple.
This bestselling gift pack features six individual Christmas baubles, with each containing a double measure of a different festive gin flavour, including Christmas Clementine, Festive Cranberry and Figgy Pudding.
They also feature step by step instructions on how to create a perfect serve for each flavour. Brighten up your festivities and get everyone making some great Christmas gin and tonic.
Find out more at thebottleclub.com
10. Letterbox Balloon Christmas Tree by Moonpig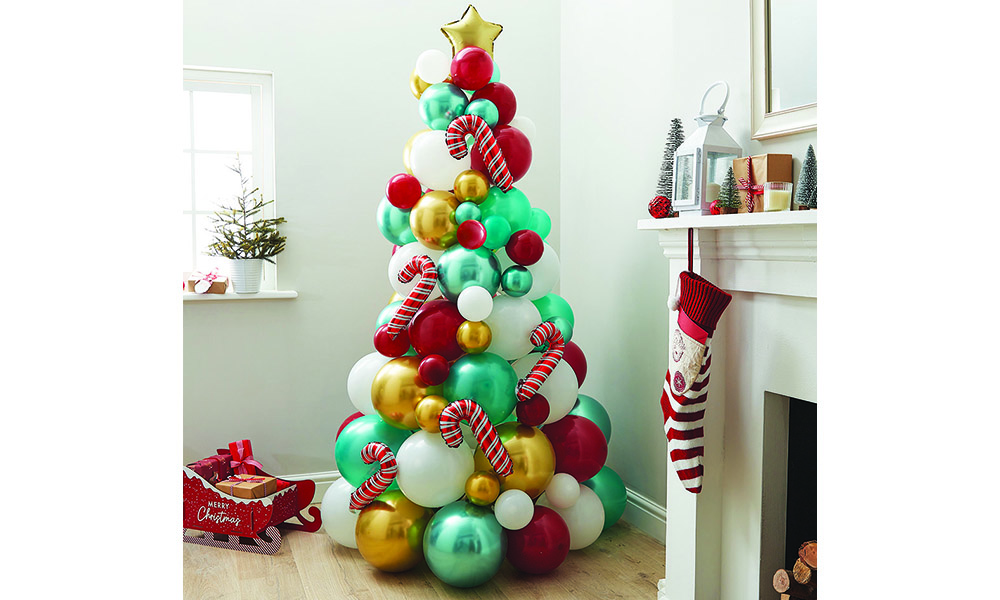 Setting up the tree can be a lot of hassle. Either finding the perfectly-sized natural tree with no bald spots or constructing an itchy artificial one, it can sometimes be more work than it's worth. MoonPig's latest deliverable innovation for the festive season: a balloon-based inflatable Christmas tree. Do away with all the bulky and finnicky baubles and stars, just pump up and assemble this postbox-sized centrepiece.
Say 'Merry Christmas' with this festive balloon tree. Designed to fit through the door, the package will be such a delight for when they get home.
Find out more at moonpig.com
To see your company in any upcoming features we are arranging please email laura@hurstmediacompany.co.uk or editorial@hurstmediacompany.co.uk