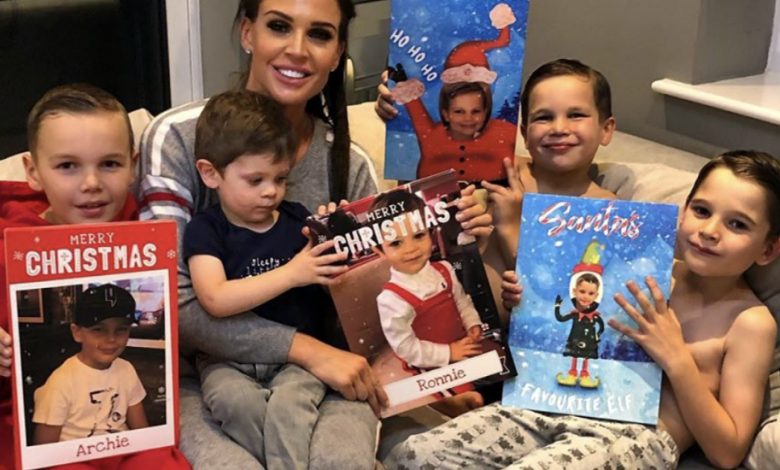 With celebs like Danielle Lloyd already organising her boys' advent calendars it's time you thought about what you're planning on buying for your loved ones (or gifting to yourself). Here's our pick of the best December treats that cater for kids and adults alike
By Claire Muffett-Reece
ALCOHOL
Adnams Beer Advent Calendar
There's 24 beery bundles of joy waiting to be revealed in the run-up to Christmas in this fab calendar! An amazing gift for Adnams beer fans, it offers 17 different varieties to enjoy in both can and bottle. Including Adnams' favourites like Ghost Ship Pale Ale, Southwold Bitter and Ease Up IPA, there's also low alcohol beers for you to enjoy.
£54.99 adnams.co.uk
Chase Distillery Twelve Festive Spirits
Chase Distillery, based in Herefordshire, distil and bottle their own potatoes into their unique gins and vodkas. It is something you can taste for yourself in this multi award-winning line-up of vodkas and gins awaiting you behind 12 doors.
Drinks by the Dram Vodka Explorers Advent Calendar
Discover some of the finest and most exciting vodkas from around the world as you countdown to Christmas one tipple at a time. Behind these doors you'll find a cool Californian vodka, a marmalade expression and even a vodka made from chardonnay grapes. Twenty-four days, 24 drams – and 24 chances to discover incredible vodkas.
£99.95 masterofmalt.com
Tiptree Fine English Spirits Advent Calendar
This amazing gift box contains 24 5cl bottles, each containing either a gin, vodka or rum liqueur. There are 12 varieties across the range, including a limited-edition Christmas Pudding Rum Liqueur, a tasty tipple made by distilling handmade Tiptree Christmas Puddings in rum. Sip over ice, add your favourite mixer, or get creative with cocktails.
£100 tiptree.com
Virgin Wines Advent Calendar
This calendar now features more grape varieties, more wine styles and more independent winemakers than ever before! Including wines such as The Black Pig McLaren Vale Shiraz from Australia, and the impressive Savvie Marlborough Sauvignon Blanc from New Zealand, there's also an award-winning Senti Prosecco and a unique Woolundry Road Sparkling Red.
£69.99 virginwines.co.uk
BEAUTY & GROOMING
Feelunique Contents of 24 Day Advent Calendar
This year, the luxury calendars take inspiration from the aurora borealis, with each calendar presented in a captivating, holographic print. Behind each door is a surprise selection of deluxe and full-sized beauty products which will make you glow from within – or shine this festive season.
£79 feelunique.com
Lookfantastic Advent Calendar 2019
This premium calendar includes a total of 25 products containing a mix of all things beauty; from skincare and haircare treats to cosmetics and beauty tools. Valued at over £420, it is the perfect treat for yourself or to give as a gift. Lookfantastic Beauty Box subscribers will also enjoy a £15 discount on the advent calendar.
Mankind Advent Calendar
This premium male grooming advent calendar retails for £150 and is filled with £640 worth of luxury products, making it the perfect gift this Christmas. It includes 25 premium products across skincare, haircare and bodycare, making it a great way for discovering both new products and cult brands.
£150 mankind.co.uk
Nivea Winter Wonders Calendar
Discover the hidden wonders behind each door to get your face and body prepped for the festive season with these sumptuous indulgences. From refreshing cleansing classics, to pampering must-haves, this advent calendar has all you need for a perfect countdown. This calendar comes with 18 full size or travel-friendly products and six beauty bonuses, including a make-up sponge, eye mask and shower puff.
£40 amazon.co.uk
Sleek MakeUP New Day, New Attitude Advent Calendar
This year Sleek MakeUP has released an advent calendar perfect for make-up and beauty lovers! Featuring a selection of the brand's bestsellers and must-have exclusives, inside this calendar there's everything from eyeshadow palettes to lip glosses
£40 boots.com
The Beauty Expert 12 Days of Christmas Calendar
Premium online beauty retailer Beauty Expert invites you to unwrap the 12 days of Christmas with their luxury 12-day beauty advent collection. This curated edit contains 12 full-size best-selling beauty products that have been handpicked by the experts to add a touch of luxury to your beauty routine this festive season. Worth over an incredible £480, this is the perfect gift for yourself or a loved one this Christmas.
£100 beautyexpert.com
W7 Cosmetics Beauty Blast Cosmetic Advent Calendar
There's a cosmetic treat behind each of the 24 doors – one for each day of December! Expect to find mascara, lipliner, eyeliner, highlighter, bronzer, blusher, glitter pots and much more!
£19.95 w7makeup.co.uk
Wilko Glow Advent Calendar
Countdown to Christmas with this bargain-price treat that reveals a lavish surprise each day. There's 24 beauty treats and accessories included in this calendar, from a body mist and face mask to bath confetti, and nail polishes.
£6 wilko.com
CHOCOLATE & SWEETS
Cadbury Workshop 3D Advent Calendar
New for 2019 is this amazing 3D calendar that's over 40cm in height! Open the doors on each side of the calendar in the countdown to Christmas. Each door may contain a Cadbury mini hollow figure, one Cadbury bag or 22 Cadbury treat-size chocolate bars.
Carluccio's Chocolate Advent Calendar
Countdown to Christmas with a delicious array of mouth-watering chocolate. Unwrap the foil each morning to discover Carluccio's classic festive characters inside. Why not start the day with a milk chocolate filled with gianduja – a tasty sweet chocolate and hazelnut spread?
£9.95 carluccios.com
Haribo Advent Calendar
Themed, fun and perfect for those looking for an alternative to the traditional chocolate calendar, this tasty advent brings together Haribo favourites from around the world with Tropifrutti, Phantasia and MAOAM Pinballs all featured. Look out for sour Winterland which contains Christmas tree, Santa and snowman pieces!
£4.99 bmstores.co.uk
Hotel Chocolat The Grand Advent Calendar
This epic two-sided advent calendar is so full of gifts it's a Christmas present all by itself! Daily surprises include Salted Caramel Vodka Liqueur, crackers filled with pecan praline, a meltingly smooth Hazelnut Bûche and award-winning Cocoa Gin. Make every day merry and brighter.
Lakrids Liquorice Advent Calendar
The luxurious Lakrids liquorice calendar returns with some brand-new flavours – and a sustainable makeover, meaning the whole calendar is recyclable. Behind each window you could find an old favourite, or a surprising new flavour combination – all executed with Lakrids' signature flair. You'll discover chocolate, coffee, raspberry and other ingredients expertly married with the finest Danish liquorice.
£34.95 souschef.co.uk
Lily O'Brien's Advent Calendar House
The perfect gift for any chocolate lover this December, Lily O'Brien's offering ensures a magical and festive countdown to Christmas Day. Each house contains 28 chocolates in total, including Sticky Toffee, Honeycomb Crunch and Zest Chocolate Orange
Livia's Indulgence with Bells On Advent Calendar
Livia's festive countdown calendar is packed full of irresistibly tasty treats. Look out for the brand's heavenly Nugglets, gooey Million Squares and dreamy DUNX. Plus, all the treats are made with simple ingredients, are gluten- and dairy-free, not to mention vegan and completely natural.
£39.99 selfridges.com
Maltesers Truffles Advent Calendar
Introducing the new Maltesers Truffles Advent Calendar. Behind each door is an individually wrapped truffle treat containing that familiar Maltesers crunch and melt combination, with a creamy truffle texture for an indulgent treat experience.
£9.99 tesco.com
So Free White Chocolate Alternative Advent Calendar
This organic, dairy-free white chocolate alternative advent calendar is made in a factory which never uses dairy or gluten. Created from a delicious blend of cocoa butter, sugar and rice, it tastes just like white chocolate made with milk! Vegan, and gluten-free, it's the perfect treat for those that still want to enjoy a chocolate each morning in December.
£4.95 plamilfoods.co.uk
Swizzels Advent Calendar
The Swizzels advent calendar is the ideal alternative to traditional chocolate advent calendars. Behind each door is one of Swizzels' most popular brands including Drumstick Squashies, Refreshers and Love Hearts, so shoppers can countdown to the big day with all of their favourites.
The Royal Opera House Advent Calendar
Make your countdown even sweeter this Christmas, with this fabulous vegan calendar from The Royal Opera House shop. Beautifully designed and filled with 24 deliciously flavoured dark chocolate cubes, including raspberry, cocoa nibs and roasted almond, this advent calendar really is a luxe treat to start the holidays with!
£19.50 roh.org.uk
FOOD & DRINK
Beanies Flavour Coffee Advent Calendar
Behind every window you'll find two Beanies flavour coffee sachets to enjoy. You'll also receive your own mug and a mystery Christmas flavour jar of coffee to see you into Christmas Day! At only two calories per cup and sugar free, it's the perfect sweet treat without the guilt.
Ilchester Limited Edition Cheese Advent Calendar
Chocolate advent calendars are SO last (Christmas) season! Filled with an assortment of delicious cheeses, including Jarlsberg, Applewood, Mexicana, and Wensleydale with Gingerbread, the Cheese Advent Calendar from So Wrong It's Nom is definitely the choice for a festive treat this year.
£10 sainsburys.co.uk
Marvling Bros Ltd Chilli Advent Calendar
Keep warm in the run up to Christmas with this chilli advent calendar from Marvling Bros Ltd. A stunning collection of 24 matchboxes with Christmas jumper designs, each containing a different chilli to be tried every day, all displayed in a freestanding cardboard frame.
£39.99 inamatchbox.com
Popcorn Shed Jingle Bell Pop
Merry Christmas, popcorn lovers! Swap chocolates for popcorn this Christmas with a delicious line-up of six gourmet flavours. Behind each of the 24 windows you'll find a bag of delicious handmade popcorn. Be sure to eat them all before Christmas, otherwise Santa and his hungry reindeers may eat devour them on Christmas Eve!
£17.50 popcornshed.com
Pukka Christmas Calendar
To celebrate the countdown to Christmas, Pukka Herbs – producer of organic herbal teas – are launching a new edition of their Christmas Calendar, containing 24 specially selected Pukka blends. It's a healthy alternative to chocolate calendars and perfect for people looking for a comforting cup of herbal bliss. All together now: 'O' Christmas tea, O' Christmas tea'…
£10 waitrose.com
Snaffling Pig Pig of Doom Pork Crackling Calendar
For the very brave, Snaffling Pig has created an extra-fiery advent calendar. Containing 24 days of its infamous Pig of Doom Pork Crackling, made using one of the hottest chillies in the world: the Bhut Jolokia Chilli. Glass of milk, anyone?
£17.50 snafflingpig.co.uk
The 12 Curries of Christmas Advent Calendar
Enjoy a curry Christmas countdown with 12 curries from around the world. From a mild and creamy korma to an exotic Jamaican variety, simply add a few fresh ingredients to create a delicious curry to feed four people!
£29.95 thespicery.com
The Naked Marshmallow Co. Advent Calendar
The Naked Marshmallow Co. Gourmet Marshmallow Advent Calendar has six new deliciously moreish flavours including Salted Caramel, Butterscotch, Milk & Cookies, Gingerbread, Mint Choc Chip & S'mores! Behind door 25 there's the grand finale – a milk chocolate spoon to make a delicious real hot chocolate drink with accompanying Vanilla Bean marshmallow.
£17.50 nakedmarshmallow.co.uk
The Protein Ball Co Pro Ho Ho Ho Tein Calendar
A must for fitness enthusiasts and clean-eating fans, this calendar is full of 100% natural, vegan, no added sugar, bite-size protein balls, with six tempting flavours to enjoy behind each door. Watch out for the festive-flavoured Christmas ball behind door 24!
£19.99 theproteinballco.com
Walkers Shortbread Advent Calendar
This limited-edition, web exclusive calendar provides shortbread fans with a daily bite-sized treat. Synonymous with the true taste of Christmas, 24 individually wrapped Walkers favourites, including the Pure Butter Shortbread Fingers, can all be found waiting under each numbered window.
£14.99 walkersshortbread.com
KIDS
ELC Happy Land Advent Calendar
Let little ones mark the days easily with help from this ELC Happy Land Advent Calendar. Making the build-up to the big day extra-fun, each morning will be filled with excitement as they peel the door open to reveal a brand-new Christmas figure.
£29.99 elc.co.uk
Lego Harry Potter Advent Calendar
Kids can recreate familiar holiday scenes from the Harry Potter movies with this fab Lego calendar. Each of the 24 doors opens to reveal a surprise toy every day, including a micro Hogwarts Express train, buildable fireplace with Christmas decoration, and Great Hall table with accessories. All that plus seven minifigures from the Harry Potter world!
£24.99 lego.com
Playmobil Jumbo Advent Calendar
Playmobil has taken advent calendars to a new level with this jumbo offering! Available exclusively online, it not only features a surprise behind each of the 24 days but also comes with its very own Playmobil Playhouse. In total, the calendar comes with 261 pieces and can be combined with multiple other Playmobil sets, so children will be entertained leading right up to the big day and beyond.
£44.99 playmobil.co.uk
Schleich Dinosaurs Advent Calendar
This advent calendar hides 24 fabulous surprises behind its little doors, shortening the wait until the big celebration! The advent calendar features cool dinosaurs and plenty of accessories for young dino-experts to enjoy. As with all Schleich products, the figurines are exceptionally detailed, lovingly painted and allow children to play and learn at the same time.
£24.99 schleich-s.com
Super Wings Christmas Advent Calendar
This great advent calendar if filled with Super Wings ever-so-popular transform-a-bot characters! Ideal for pre-schoolers to get excited for Christmas, place your PVC characters in the functional packaging that opens up to show a Christmas-themed world airport.
£19.99 amazon.co.uk
The Elf on the Shelf Orna-POP! Advent Countdown
From the creators of The Elf on the Shelf comes Orna-POP!, an all-new holiday countdown! Each day kids get to bop and pop each mylar pouch and watch it self-inflate. Once inflated, the pouches offer jokes, riddles and games, as well as a decorative ornament to hang.
£14.95 elfontheshelf.co.uk
The Gruffalo's Child Official Musical Advent Calendar by Danilo
This musical calendar features the Gruffalo himself, Snake and The Gruffalo's Child, and plays music from the TV movie by the composer Rene Aubry. The scene builds through December, with stickers and magnetic stand-up characters found behind each door.
£25 danilo.com
VTech Toot-Toot Friends Advent Calendar
A true winter wonderland, the Toot-Toot Friends Advent Calendar features a Father Christmas MagicPoint character, Christmas Sleigh, reindeer, elf and more! The box also folds down to reveal a beautiful Christmas scene.
£24.99 vtech.co.uk
OTHER
Getting Personal Photo Upload Advent Calendar
This Photo Upload Advent Calendar is the perfect way to countdown to the big day. The white and red design features a photo of your choice, alongside the message "Merry Christmas". Choose your favourite festive photo for the perfect way to add a personal touch to a yearly tradition.
£14.99 gettingpersonal.co.uk
Reindeer Balloon Christmas Advent Calendar
These chocolate filled balloons are a cool alternative to countdown to Santa's arrival! The red mini balloons arrive pre-stuffed with a chocolate and simply need inflating with a hand pump. Pop each morning to reveal the surprise!
Vintage Circus Matchbox Advent Calendar
What better way to celebrate the countdown to Christmas than with this stunning vintage style matchbox advent calendar.? Now you can bring the fun of the circus into your home, with this spectacular refillable calendar containing 24 beautifully designed matchboxes. The boxes are displayed in a freestanding cardboard frame, and can be used year after year.
£35 inamatchbox.com
Yankee Candle Advent Wreath
Countdown to Christmas with this classic Wreath Advent Calendar, perfect for candle lovers. It's beautiful alpine-inspired design features 24 individual doors with a tea light candle behind in a selection of our new and best loved festive fragrances.
£24.99 yankeecandle.co.uk
12 Family Movie Nights
Snap up this unique festive box offering 12 magical films on digital download, perfect for the Christmas holidays and beyond. The content can be downloaded on to your favourite device and is the perfect solution to keep the kids busy throughout the manic month that is December.
£25 zoom.co.uk