From strawberries and cream flavoured tipples to corgi-shaped biscuits and artisan cheeses, the UK is home to no shortage of delicious, quintessentially British treats to impress at your next party.
1. Tyrrells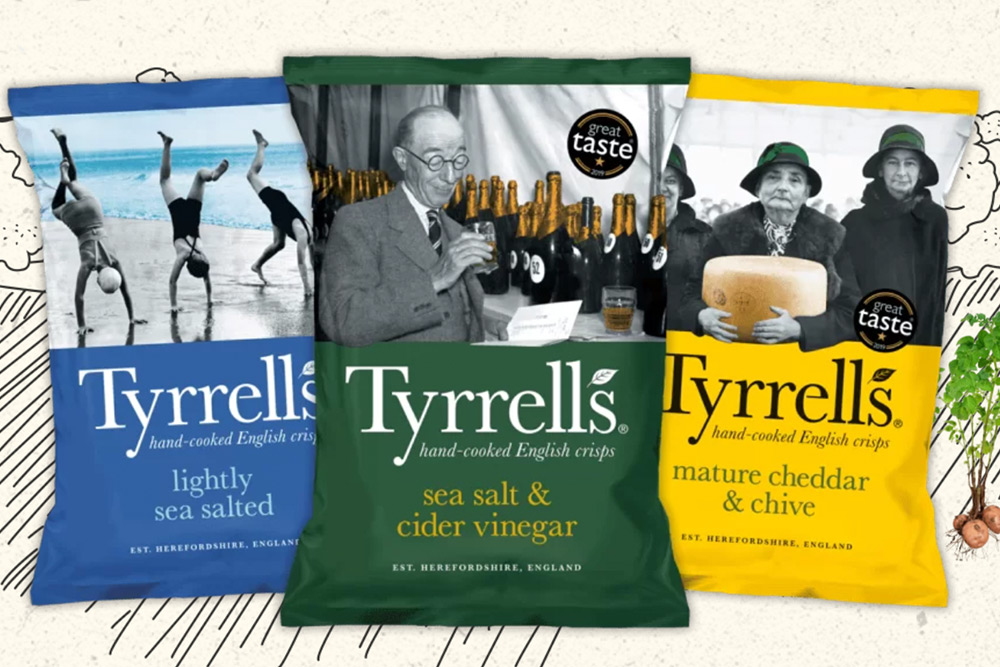 Established in 2002, Tyrrells of Tyrrells Court Farm, Herefordshire have been making delicious hand-cooked crisps for a jolly long time – and they're rather good at it. Their eclectic cast of eccentric characters and sublime flavours convey their proud British roots. They love entertaining, have a taste for the good life, and are a convivial, gastronomic bunch.
Tyrrells believe their crisps are the cream of the crop. Exquisitely dressed (their spuds keep their jackets on), hand-cooked and spun for freshness – you'll find little grease here, not to mention their signature curl and crunch. All topped off with seasoning made with only the very finest ingredients – resulting in crisps that are Tyrrellbly Tyrrellbly Tasty.
Visit tyrrellscrisps.co.uk
2. Popcorn Shed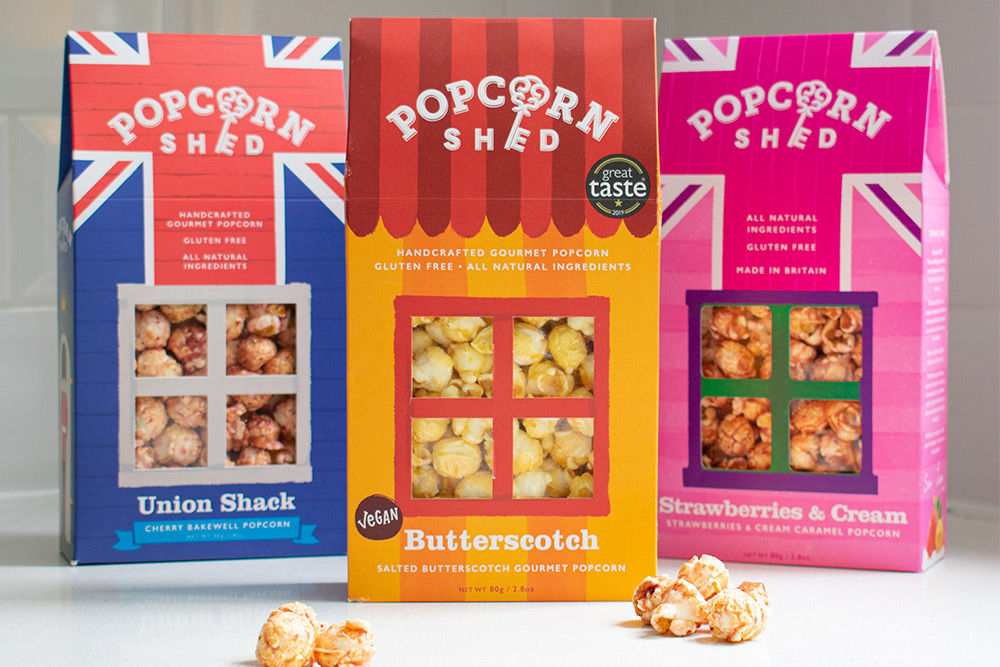 Game, Set, POP! with Popcorn Shed's new and indulgent Strawberries & Cream popcorn. Having just launched on Monday, 16 May, it's set to be the perfect summer treat.
This iconic British duo of smooth creamy caramel infused with sweet, dried strawberries is as luscious and luxurious as it is timeless. They've really knocked this flavour out of the court.
Popcorn Shed are delighted to have launched this flavour in time for the Queen's Jubilee. Nothing says British summer quite like strawberries and cream.
This is the perfect summertime treat for picnics in the park or an afternoon watching the tennis – it's also the perfect treat to serve with a spot of afternoon tea.
What's more, with VE Day approaching along with The Queen's Platinum Jubilee, there couldn't be a better time to stock up on this superb British treat.
Popcorn Shed hope you enjoy this little taste of summer – come rain or shine!
Visit popcornshed.com
3. Blushing Cook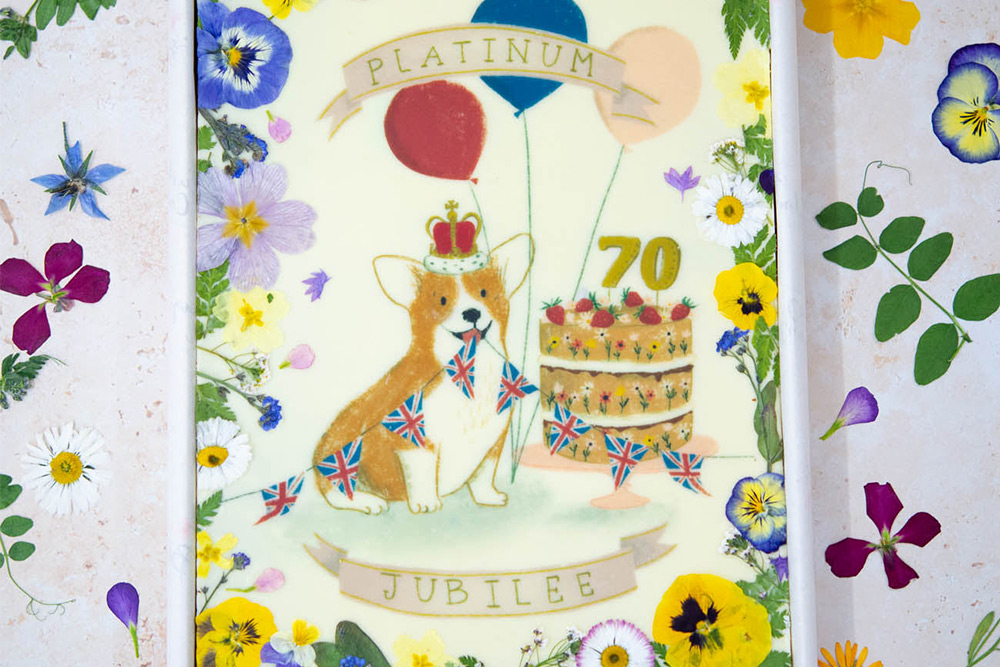 To celebrate the Queen's Platinum Jubilee, Blushing Cook have created these floral brownies, featuring the Queen's ever beloved corgis who have been her loyal companions for her 70 years of reign.
Blushing Cook's classic fudgy and delicious chocolate brownie is topped with white chocolate, signature edible flowers and a beautiful and bespoke design by London-based illustrator Emma Block. Each brownie is hand-decorated – making every one completely unique. The brownies are made with the finest ingredients, including chocolate made from 100% sustainable cocoa, and decorated with organically grown edible flowers grown in Devon.
Blushing Cook provide a serving guide for the brownies which are delivered uncut, to allow for full impact of the design. They are presented in a gorgeous hand-stamped and recyclable gift box, wrapped in twine and available to deliver anywhere in the UK with a hand-written personal note of your choice. Gluten-free and vegan options are also available.
Visit blushingcook.com
4. Royal Pickle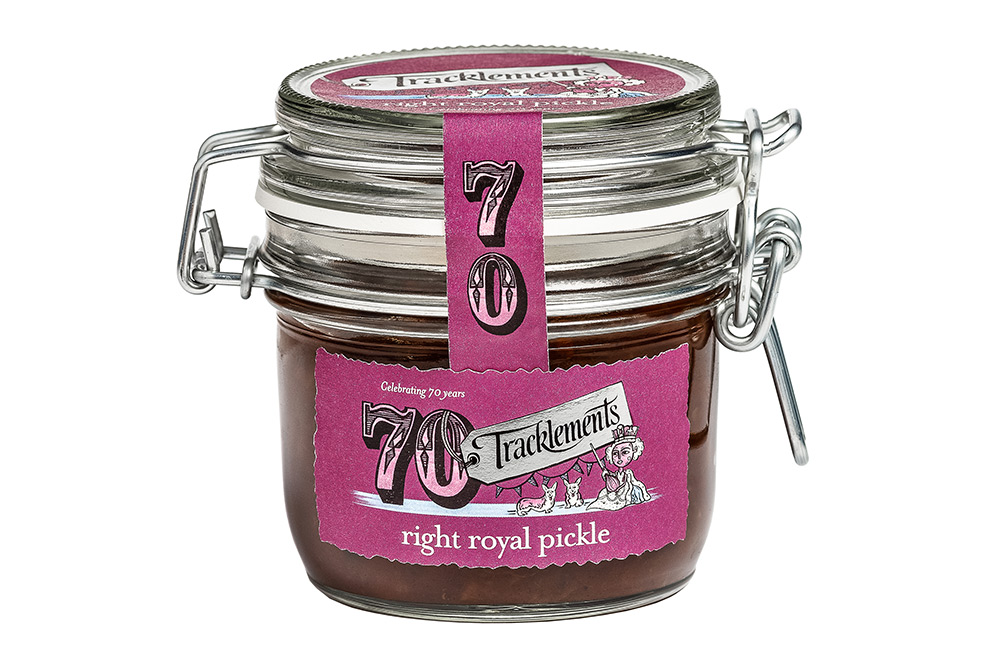 In celebration of Her Majesty's Platinum Jubilee, Tracklements – purveyors of perfect planet-friendly pickles – have created a limited-edition Right Royal Pickle.
Made with a selection of vegetables including tasty Lincolnshire onions and a careful combo of sweet (Muscovado sugar) and sour (malt vinegar) along with tamarind paste, chilli, all spice and lemon juice, this is everything you want in a pickle – a toothsome crunch, a sweet tang and a sharp bite.
Crack open a kilner jar of Tracklements Right Royal Pickle with a traditional British Ploughman's, a bit of flinty cheddar, a few thick slices of Wiltshire ham or, of course, a Scotch egg – a right Royal favourite.
Tracklements Right Royal Pickle, RRP £5.80 for a 200g kilner jar, is available from fine food delis and farm shops nationwide and online.
Visit tracklements.co.uk
5. Beanies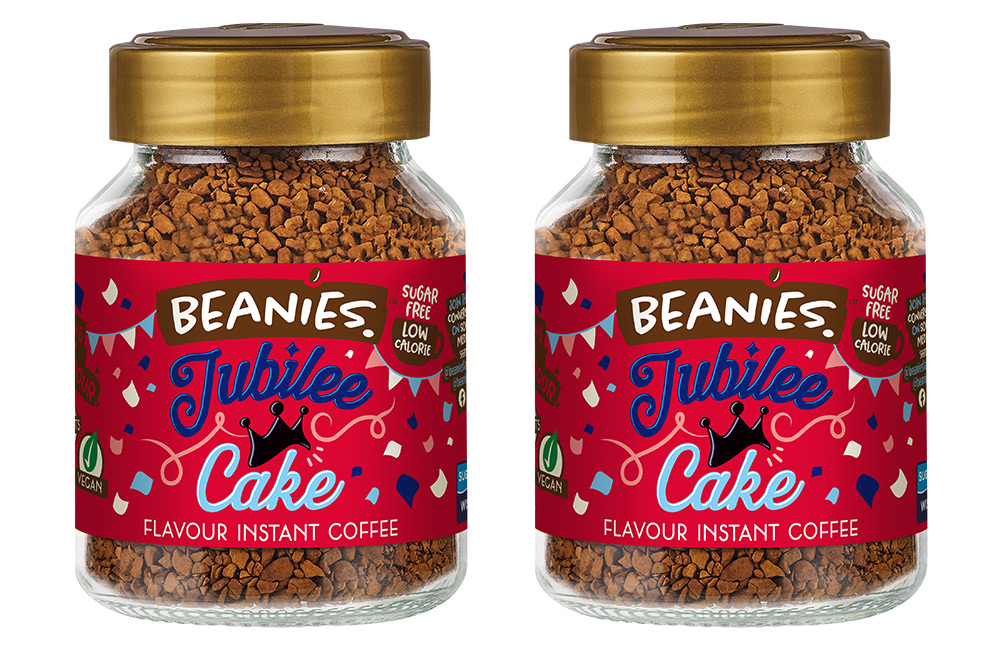 With the Jubilee fast approaching, flavoured coffee specialist Beanies is paying tribute to the Queen with a strictly limited-edition Jubilee Cake flavour coffee. This exclusive edition celebrates the Platinum Jubilee in style.
Based on its popular Birthday Cake flavour coffee, the limited-edition coffee offers a delicious combo of strawberry jam, sweet vanilla sponge and cream filling – but with zero calories and none of the guilt.
Give it your very own royal seal of approval and buy yours now. Stock is limited, so unlike the Monarch, this won't be around for 70 years. Jubilee Cake flavoured coffee is exclusively available on the Beanies website, unlike the Beanies products offered in supermarkets nationwide.
Visit beaniesflavourco.co.uk
6. Trewithen Dairy's Cornish Cream Tea Hampers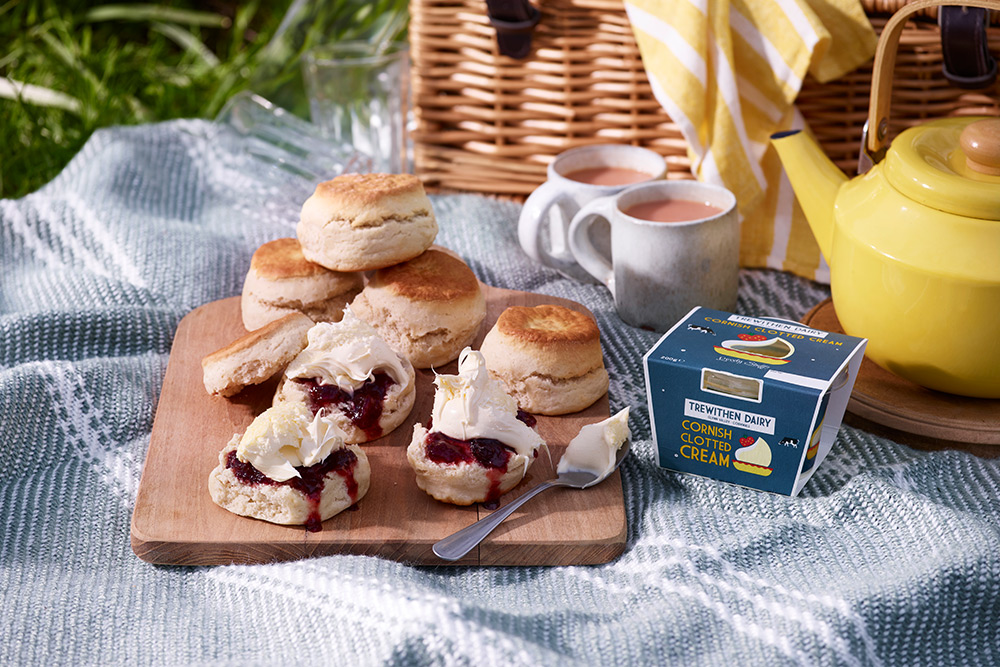 This is the perfect gift for anyone who loves fluffy scones generously smothered in golden crusted clotted cream. With a selection of Cornish produce to complement their award-winning clotted cream, Trewithen Dairy's range of hampers make perfect gifts from the heart of Cornwall.
The hamper contains all the essentials for a perfect cream tea – remember to put the jam on first, the Cornish way. And remember to leave cutting your scones until you're just about to enjoy them – it keeps them much fresher.
Party size clotted creams are also available for those larger celebrations – the perfect quintessentially British treat for the Queen's Platinum Jubilee celebrations.
Visit trewithendairy.co.uk
7. Pique Picnic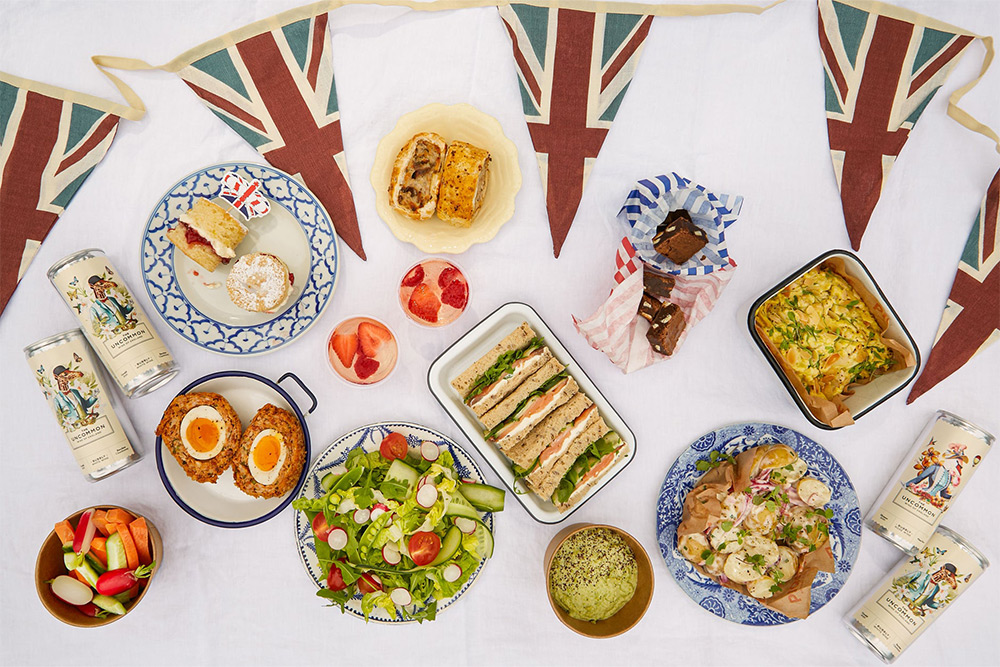 Renowned picnic and hamper specialist PIQUE have teamed up with award-winning sparkling winemaker, THE UNCOMMON to create a beautifully British-inspired picnic by two independent English brands. The Jubilee will be bursting with traditional fare and cool cans of bubbly to toast the longest-reigning monarch and will be available nationwide from Thursday, 2 June and throughout the summer.
Honeywell Biscuit Co. have created two deliciously good collections to celebrate the Jubilee. The first is the cutest Corgis Biscuit Gift Set, these hand-iced vanilla set of four corgis biscuits and a 70 edible badge come carefully wrapped in a recycled box.
For something that bit more regal, the personalised Crown Biscuit (£25) looks almost too good to eat. Hand cut, baked and piped in-house by the Honeywell Biscuit artists, each crown is given a one of a kind royal treatment.
Visit piquefood.co.uk and honeywellbakes.com
8. Bonne Maman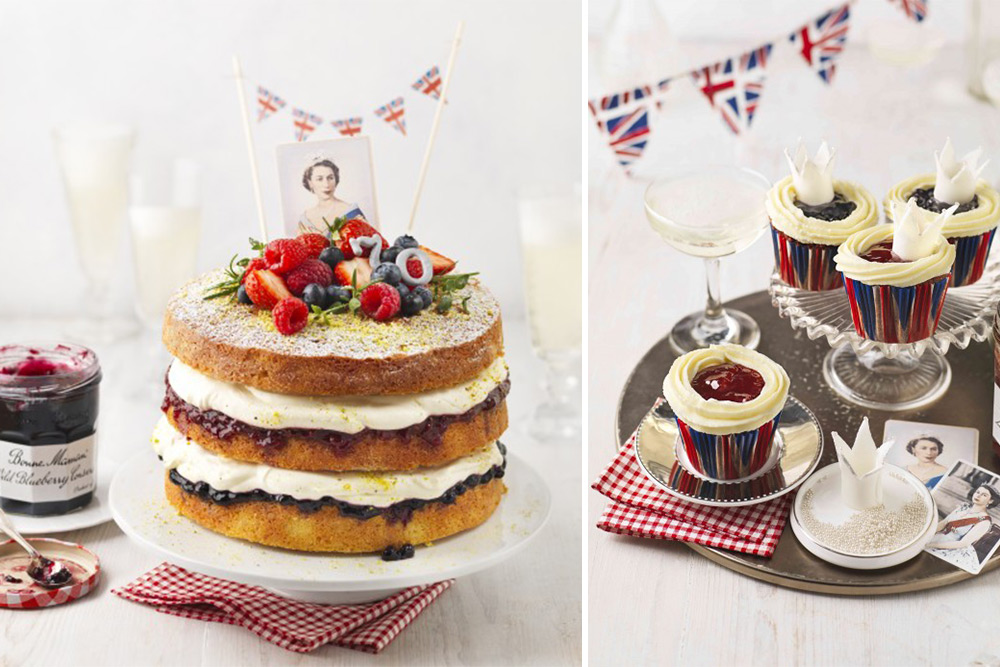 The special early June bank holiday for the Queen's Jubilee is definitely a time to showcase the red, white and blue with some truly delicious and patriotic celebratory cakes for parties big and small.
Bonne Maman's Jubilee Cupcakes are great fun to make with all the family and add a suitably royal presence to the afternoon tea table. Made with a rich red chocolate sponge, then topped with Bonne Maman Strawberry or Wild Blueberry Conserve, a generous swirl of vanilla cream frosting and some edible, sparkling flower mini crowns.
It's time to bring out the bunting and toast Her Majesty's incredible 70-year achievement with this wonderful Lemon and Pistachio Celebration Cake showstopper. A light lemon and pistachio sponge, layered alternately with Bonne Maman Raspberry and Wild Blueberry Conserves, luscious, whipped cream and then topped with fresh fruits. These are best accompanied by a glass of fizz.
Visit bonnemaman.co.uk
9. Wensleydale Creamery's Platinum Jubilee Cheese Box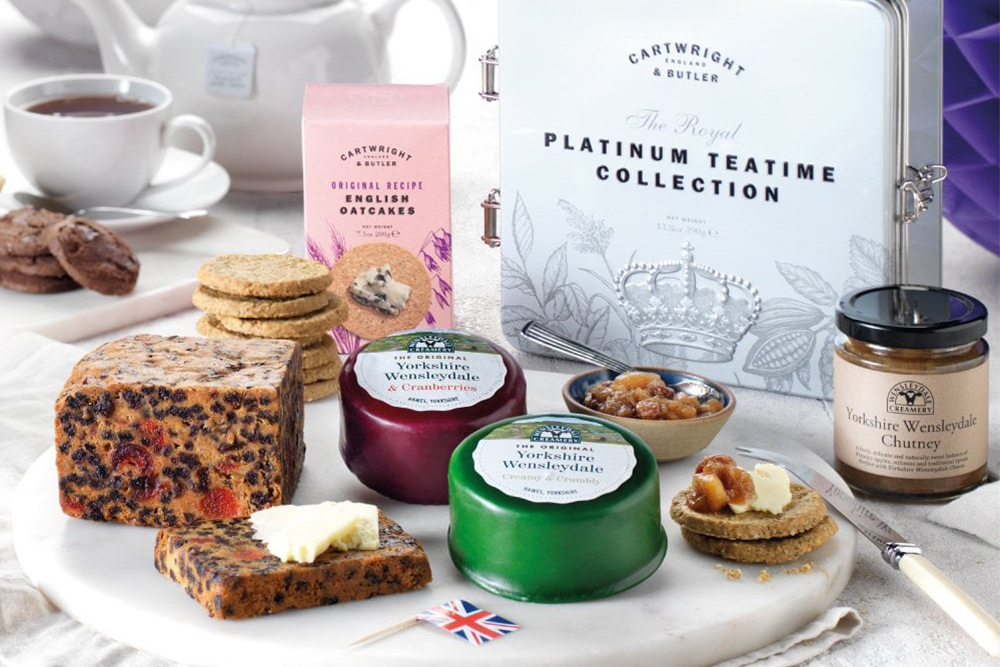 To celebrate a momentous occasion for the monarch, the Wensleydale Creamery has launched a brand-new, exclusive Platinum Jubilee Box, containing all you need to enjoy an afternoon tea with an ultimate cheese tasting experience.
Available to order for home delivery, and containing everything you need to create a brilliant afternoon tea experience, The Platinum Jubilee Box is filled with delicious cheese and treats to accompany your celebrations for hosting a luxurious afternoon tea at home, a street party or bank holiday gathering.
Filled to the brim with exceptional quality, artisan produce, the special edition cheese box is just £45, available from the Wensleydale Creamery website, with a pre-order service available with delivery in time for the Jubilee celebrations.
Visit wensleydale.co.uk
10. Hackney Strawberries and Cream Ice Cream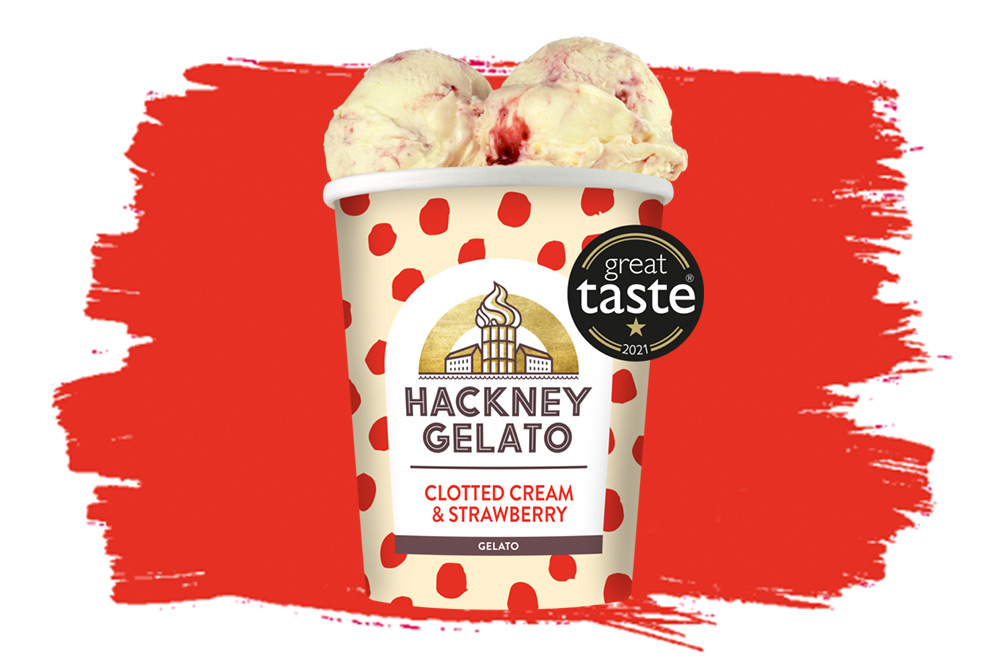 For the best Jubilee party food, how about the incredible Clotted Cream & Strawberry ice cream from Hackney Gelato?
A Great Taste award winner, this recipe is made by rippling homemade strawberry jam into a Cornish clotted cream gelato. It's very British and molto Italiano and it's the food equivalent of Vivaldi having afternoon tea with Her Majesty on the lawn of Buckingham Palace – perfect to celebrate the Queen's Platinum Jubilee!
Hackney Gelato is stocked in supermarkets and restaurants across the UK and London including Harrods. There is no better inclusion for a street party.
Visit hackneygelato.com

To see your company in any upcoming features we are arranging please email editorial@hurstmediacompany.co.uk