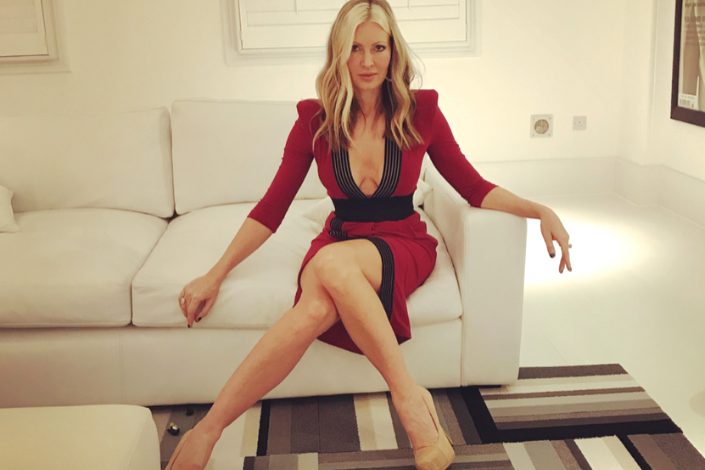 Model-turned-entrepreneur Caprice has had a hugely successful and varied career. Rising to fame after landing her first front cover with Vogue, she became one of the world's most photographed women. Since then, she has gone on to launch her multi-million-pound lifestyle brand, By Caprice, where she has become known for her business acumen.
Despite juggling her empire, looking after two young children and preparing for this year's Dancing On Ice, the mum still manages to look and feel her best. She shares her tips for living a healthy lifestyle, encouraging her family to keep fit and how preparing for the ITV show has impacted on her fitness levels…
By Laura Forsyth
As a very driven career woman, how do you keep your life in balance?
'To be honest, I am still trying to figure this out! There is no easy answer and as a busy career woman and mother, I, like many women, have to juggle family and work responsibilities. You will often find me running from a meeting with the By Caprice team to picking up the boys from school. I try and look after myself and swear by meditation. I aim to do a short meditation session every morning to set my mind and body up for the busy day ahead. This really helps me. I also only eat organic foods and take high quality vitamins. Listen to your body and take a rest day when you need one. I no longer feel guilty about having a Netflix day on a Saturday either!'
Do you have advice for women looking to get ahead in the business industry?
'For any woman looking to start their own business, or those who are trying to climb up the corporate ladder, I think it is important that they know their worth and don't sell themselves short. It is still a man's world out there; it might be slowly improving but there is a long way to go. That is why it is so important women have a support network around them, to help encourage and guide each other. There are networking groups nowadays that were not there 10 years ago, so make sure you utilise them.
'Also In terms of starting a business, the most important advice I can share is know your cash flow. If you run out of money, then you will lose your business. I know my cash flow for By Caprice Home for the next eight months. It is so integral for the future and growth of any business.'
Do you think that women are still being held back then?
'Women started out on an uneven field and we are unfortunately still fighting for equality in the workplace and in business.  In my experience, stereotypes, whether they are conscious or unconscious, affect women's progress. The problem is these harmful perceptions and attitudes can go unnoticed, which is why we are finding change such a challenge. Women need to be fairly represented in business and the workplace and this is still not happening. How do I know this? As a former model I used to get stereotyped in the early days of building my By Caprice brand. Buyers thought I would be out of the market in five minutes and would not take a chance on stocking the brand. It took time to prove my numbers and show them I am a serious businesswoman. Now it's easier because I have the figures to back me up, but there are still stereotypes and challenges of being a woman in business.'
What can we do to stop this?
'I think businesses who are starting to be transparent about the gender pay structure are doing the first step in this process. It shows these businesses are being conscious about wanting equality, so in my opinion it is a great stepping-stone. There are also too many unbalanced roles within organisations, and I feel women need to be encouraged in the workplace to explore their options early on, so they don't get overlooked for career progression and a 'star' role.'
As a successful model did you ever feel pressurised to look a certain way?
'Of course – these girls who say they have good genes and are skinny naturally are lying! I have always loved my food, but I used to train hard and would do tennis lessons multiple times a week. It was good fun though and it really does get you in super-fit shape. I would not eat after 5pm to give my body time to digest my food so I wasn't lying on a full stomach at night-time. But now? I embrace my cellulite and wrinkles!'
Do you think there is less scrutiny for women now – or do we still have a long way to go?
'There's a little less scrutiny. but I feel men are subjected to looking a certain way, too. There are beauty standards and ideals in society that both men and women are subject to, which are unfair.'
Have your eating habits changed since you started training for Dancing On Ice?
'I have always had a big appetite, but I have definitely been eating more protein and warm foods, because it is cold when you come off the ice.'
Do you have much experience in ice skating?
'Not much prior experience at all, however, when I lived in Los Angeles, I used to go rollerblading with my sister almost every Saturday. That was years ago, but it has helped for sure.'
Have you noticed any change in strength since starting?
'I am building muscle that I have not had before – you should see my arms! I look lean and really toned!'
What are your other favourite ways to keep fit?
'I still love the odd game of tennis, but it is difficult to find the time nowadays. I mix meditation with yoga often – it is really easy when you only have 20 minutes to spare. And during the summer I love to swim.'
By Caprice Home is available at leading UK retailers and online at bycapricehome.com
Read Caprice's full interview in the New Year's Resolutions issue of Celebrity Secrets, out in OK! mag bumper packs from 7th January 2020.